The fantasy season is almost upon us, and every year we like to take the preseason to break down each position individually. We'll be starting this year with the Quarterbacks. This article will focus on QB's that have good draft value, and others that do not. Remember, this isn't exactly who's going to land in or out of the top 10 this year, but it's who you can target, or avoid, in a draft to get yourself the best roster.
For a more in-depth discussion, check out our podcast from 8/18/15, The QB Show!
QB's that have good value: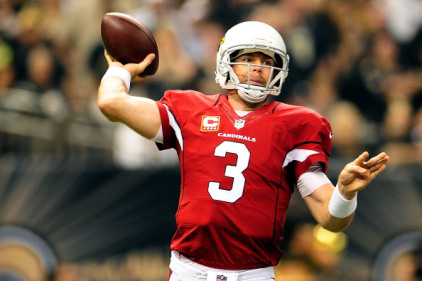 Can Palmer start all 16 games this season?
Carson Palmer - #11 on our rankings, Palmer is an excellent QB, when healthy. The Cardinals have a decent offense which was able to move the ball when Palmer was out last year. Their defense will make sure the offense gets plenty of possessions. Palmer has an ECR of 19, giving him the largest gap of any QB on our list. His ADP of 22 (153 overall) means that you can take him at the end of nearly every draft, and have a guy that we think should finish just outside the top 10.
Palmer Targets: Fitz!, Michael Floyd, Jaron & John Brown, Andre Ellington, CJ?K, Whoever starts at TE.
Relevant stats: Arizona threw the ball 35.1 times per game in 2014, right in the middle of the pack for the NFL. Palmer is on a 3-year trend upward (extrapolating last year's stats over 16 games). The Cardinals' window is closing fast, look for them to pull out all the stops to make a Super Bowl run this year.
Tom Brady - #8 on our rankings, he has an ECR of 14, mostly, I suspect, due to his looming suspension. If he plays all 16, I think he'll go up a bit. Overall, I think we underestimate Tom every year, and every year he's playing in January, so he must be doing something right. What we do know about Brady is that he has Gronk, and it doesn't really matter who else is there.
Brady Targets: Edelman, Gronk!, Tyms, Amendola, Bolden/White/Blount/Gray, Reggie Wayne (New!), LaFell
Relevant stats: The Pats threw the ball 38.6 times per game last year, 7th most in the league. Brady has thrown over 30 TD's in 4 of the last 5 seasons, and usually keeps the INT's low. Don't be fooled by the lack of targets, it's never bothered Brady.
Tony Romo - #5 on our rankings, he has an ECR of 9 and an ADP of 8. Romo's value is going up, he's currently being drafted about 1 round higher than his overall ranking would put him, however we rank him even higher, so there is still value to be had here. Romo is a tough QB leading what is likely to be a top 5 offense in the NFL this season. Romo is the highest tier QB with a good value rating.
Romo Targets: Dez Bryant (over 135 targets each of the last 3 years), Witten, Williams, Beasley, Randle/Dunbar/McFadden
Relevant stats: Last year, Dallas threw the ball only 29.2 times per game, the second fewest in the league. Romo made the most of the times he did throw the ball, leading the league in completion % (69.9), TD % (7.8) and yards per pass attempt (8.5). He has been trending up in TD's and down in INT's over the last 3 years. Romo is playing better than he ever has and will need to pick up the slack after Demarco Murray's departure. Don't worry about his age either, he may be over 35, but he's only started 20 more games than Rodgers, so he has plenty of football left in him.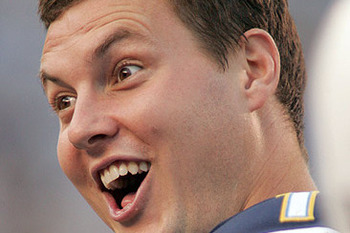 This guy got $65 million...
Philip Rivers - #10 on our rankings, his ECR is 13, so we're not too far off there, but it's a game of inches, isn't it? Rivers just got a huge new contract, with something like $65 mil GUARANTEED. That means it's his job to now go out and prove to the team that he deserves it. The Chargers' ground game got a big upgrade this season, drafting Melvin Gordon #14 overall. This should take a bit of pressure off Rivers. Rivers had 31 TD's, but also 18 INT's. He's generally not that errant of a passer, so if he can cut down on the picks, he will finish in the top 10 yet again.
Rivers Targets: Allen, Malcom Floyd, Jacoby Jones, Stevie Johnson (dave's guy!), Gates/Green, Gordon/Woodhead/Oliver
Relevant stats: San Diego threw the ball 35.9 times per game last season, 14th in the league, but threw it 43 times per game in the last 3 games, two of which were against division opponents. Rivers has gone over 4000 yards in 6 of the last 7 seasons and over 30 TD's in 5 of them. He's wonderfully consistent and can be counted on to be in the top 12 every years. Pick him up when he's available late. Oh yea, the new contract doesn't hurt his outlook any.
QB's that are overvalued:
Colin Kaepernick – Kaepernick is ranked 22 on our sheets and has an ECR of 15. He won't be drafted as a starter in standard leagues anyways, but I wanted to just reiterate how much we do not like the 49ers offense this year. The rankings, thankfully, agree with us. His overall stats for the last 3 years have been underwhelming, so let someone else reach for him as their backup QB.
Kaepernick Targets: Boldin, Smith, Davis, Hyde/Bush – See why we aren't hyped?
Relevant stats: the 49ers threw the ball only 30.4 times per game last year, good for 29th in the league. Kaepernick already only completes 60.1% of his passes through his career, so you need to rely on his feet to get you big points. The problem there is that his rushing TD's have gone from 5 to 4 to 1. Are you ready to bet it's going back up to 5? His Int's are the other alarming trend, going up each year that he's been in the league.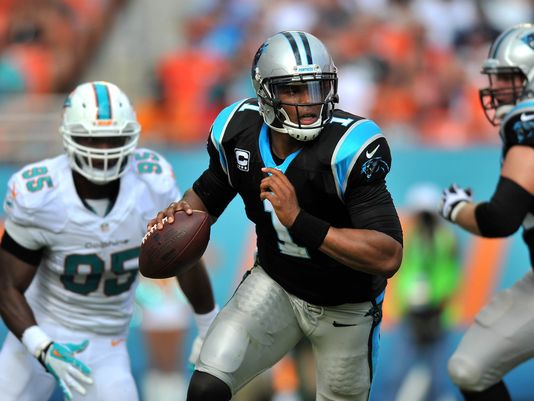 Cam's job got a lot harder with Benjamin going down.
Cam Newton – Newton has a rank of 13 on our sheet, but an ECR of 7. He's clearly favored by pundits and fans alike, but our rankings sheet is not so high on him. Newton has slightly regressed in his stat line every year since he broke into the league back in 2011. Even though it may "feel" like Newton is due to rebound back to what he had his rookie year, his risk is not worth the price you have to pay. His ceiling is actually rather low, especially considering he will run less and less as he gets older. It's not worth it, in my opinion, to draft a guy as the 7th best QB when he really only has a shot at being #5 at the very highest.
Newton Targets: Benjamin, Ginn, Funchess, Cotchery, Corey Brown, Olsen, Stewart/Tolbert/Whittaker
Relevant stats: Carolina threw the ball 34.1 times per game last season, but Newton only has a career 59.5 completion %. Newton has also only thrown the ball about 31 times per game in his career, so I expect his pass attempts to stay flat, at best. Newton was only the 16th best fantasy QB last year, right above our buddy Kaepernick. At least he's above the Andy Dalton line.
Ryan Tannehill - #14 in our rankings, Tannehill is a guy who we have been pumping up all year, and it looks like we're not the only ones. His ECR is 10, so the experts like him, and his ADP of 13 indicates that he hasn't quite caught up to his ECR in the rest of the fantasy world. Here's the thing though, Tannehill is the QB who is being hyped as the best value or biggest jump from last year. News like this spreads like wildfire and the draft season is now in full swing. Just this past weekend, I was in a draft where he was the 7th overall QB taken, late in the 6th round.
Tannehill Targets: Landry, Cameron, Jennings, Parker, Miller, Stills
Relevant stats: Miami was in the top half of the league, throwing the ball 37.2 times per game in 2014. Tannehill's stats have generally been trending up over his first three years in the league. They just got Jordan Cameron and drafted Devante Parker. Yes, things are looking up for Ryan Tannehill, but the secret's out. He's got a good shot at going too early in your draft. Give a silent nod and just move on. If he's available closer to his ADP of 13, then go for it.