Welcome back to the Rookie Report! A new season is almost upon us. You may have already drafted a fantasy team, but if you haven't, the rookies are always the hardest to predict. There's no track record to go off of, so it all becomes a guessing game based on role and perceived talent. With that in mind...I'm here to help. Each week throughout the season I'll breakdown which rookies you should start, which are borderline options, and which rookies you should sit. I'll also throw in a few deep league/cheap DFS sleepers each week as well. Since it's not quite week 1, today is about breaking down which rookies you want to own this season and why. I'll give you my quick top 10 redraft rookies, followed by a position-by-position preview. So, without further ado...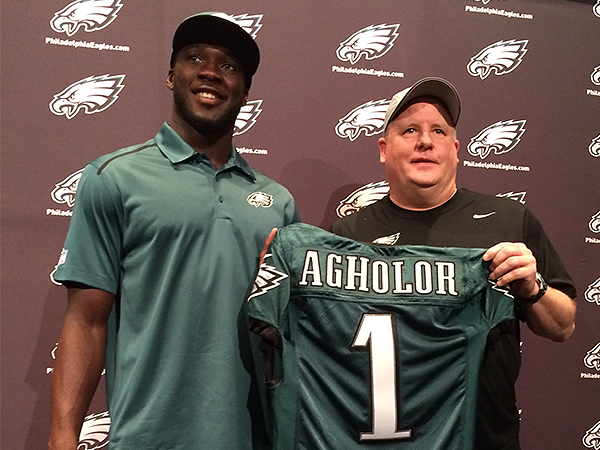 Top 10 Re-draft Rookies
1. WR Nelson Agholor, PHI: Melvin Gordon will lose touches to Danny Woodhead, Yeldon and Amari are on bad offenses. Nelson is ticketed for a big role in a high-volume attack. He's the safest rookie option.
2. RB TJ Yeldon, JAX: More on the reasoning later, but let's leave it at this - Yeldon should be a 3-down back while Gordon projects to be a 2-down back this year.
3. RB Melvin Gordon, SD: See above for reasoning
4. WR Amari Cooper, OAK: Clear-cut WR1 in an offense that will play from behind a bit.
5. RB Todd Gurley, STL: Would be number one on the list if we knew he would be ready to go at full strength week 1.
6. WR Devin Funchess, CAR: Injury to Kelvin Benjamin makes him the Panthers' WR1. His ceiling likely resembles what KB did last season.
7. RB Ameer Abdullah, DET: The longer it takes Joique to get onto the field, the larger the portion of his workload Abdullah will steal.
8. RB Tevin Coleman, ATL: Still unclear who will be the lead back in Atlanta, but Coleman was hand-picked by Kyle Shanahan in the draft. Expect a 50-50 split with Freeman at a minimum.
9. WR DeVante Parker, MIA: Parker's role is unclear with a crowded group of receivers, but the Dolphins' offense might break out in a big way, and Parker might be the most talented guy in the group. I wouldn't bet against him carving out a nice role this year.
10. WR Dorial Green-Beckham, TEN: Monster talent with a clear path the the #1 WR job in Tennessee's offense. It might not be a great offense, but if DGB's off-field troubles are behind him he could be a star soon.
Alright, there's the top 10, now onto the positional breakdowns...
QUARTERBACK:
Let's be honest, in re-draft there are only two QBs that are even worth considering. The rest of the crop may have some upside down the road...Sean Mannion is basically Mike Glennon part deux, Garrett Grayson could develop into a Joe Flacco-type at best (albeit with a weaker arm), Bryce Petty is the closest to a starting gig with only old man Fitz and inept Geno in front of him, but the rookie QB not in the top 2 with the most upside is Brett Hundley. He's just stuck behind Aaron Rodgers in Green Bay.
 I know, I didn't rank any in the top 10 rookies, and there's a good reason for that. It isn't that I don't like the top 2, I just don't see either guy being more than a low-end QB2, which means you really aren't playing either guy unless you're in a 2 quarterback league or as a bye filler. While both are borderline top-20 options at QB this year (I have Jameis at 19 and Mariota at 22), I'd give the edge to Winston because of the TD potential he has with the red zone giants he has to throw to. Both guys have illicited positive reviews in camp, but I just expect the Bucs to have a better offense than the Titans. I think the TD count for Jameis will be enough to offset the damage Mariota does on the ground, and I'm more likely to take a shot on Winston than Mariota in a 2QB league.
In dynasty leagues, I really like both guys, but I still give the edge to Jameis. Again, it mostly boils down to weapons. Mike Evans and Austin Seferian-Jenkins give Winston two excellent targets who will be around a long time. Mariota gets Kendall Wright, who is a great possession WR, but the only physical freak target he has, Dorial Green-Beckham, is a huge question mark long-term due to off the field and maturity issues. Some would argue that Winston has some of those issues himself, and he probably does, but crab legs and public vulgarity and the sexual assault case are only part of the story with Winston. He's also a player who's been breaking down coverages since he was a kid watching NFL games on TV. Reading defenses and anticipating what they're doing is 2nd nature to Winston, and that is the single most important attribute to be a good NFL QB. While Mariota is a great leader with a high footbal IQ and electric running ability, I don't see that as enough to overcome his below-average situation and make him a better dynasty option than Jameis. The Titans have been one of the worst run franchises in the NFL.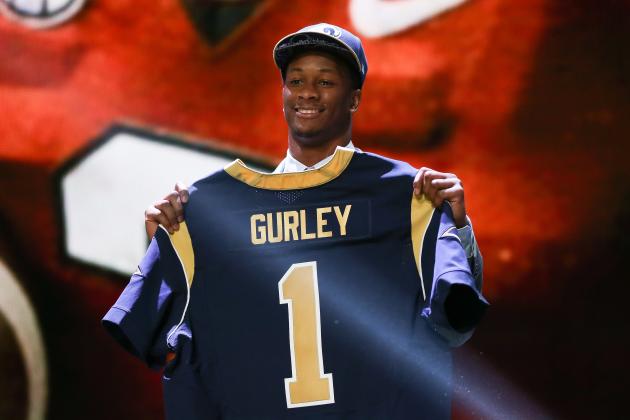 RUNNING BACKS:
The rookie running back crop should have one clear-cut number 1 fantasy asset (and in dynasty leagues it does), and that guy is Todd Gurley. Unfortunately, due to a torn ACL last year at Georgia, his early season status is up in the air, opening the door for TJ Yeldon and Melvin Gordon to move ahead of him in re-draft formats. All three fall in the range from mid-RB2 to high RB3. There's still a very real chance that Gurley becomes a league-winner if he's back sooner than expected, but all signs point to him being eased back in to begin with. For me, Yeldon is #1 amongst the running backs in re-draft leagues. What separates him from Melvin Gordon is his 3-down role. Gordon is not good in the receiving game or in pass protection, two areas where Danny Woodhead excels, so he will likely lose touches in 3rd down situations while Yeldon will not. Yes, Gordon is in a better offense, but I still like Yeldon better. In dynasty leagues, I like Gurley at number one, but I still like Yeldon better than Gordon as I feel the Jaguars' offense will be ascending over the next couple seasons.
Beyond that trio, the next two rookie backs worth consideration in re-draft leagues are Ameer Abdullah and Tevin Coleman. For me, I much prefer Abdullah. His athleticism is off the charts, and the offensive coordinator in Detroit is the same guy who oversaw the Saints' offense that made dangerous multi-purpose weapons out of Reggie Bush and Darren Sproles. The Falcons' defense still isn't very good, so game flow might lead to less carries for Coleman. In dynasty leagues, if your league counts points for receptions, I'd even consider Abdullah ahead of Melvin Gordon despite Gordon's clear year one advantage.
As for the rest of th group, I would rank them in this order in re-draft: Matt Jones, David Cobb, Duke Johnson, David Johnson, and Jay Ajayi. Anyone who has watched the Redskins in the preseason has seen that they won't be very good. Alfred Morris gives them nothing in the passing game. Jones has been exceptional this preseason, and is likely to eventually replace Morris in the long-term. He'll have a nice role this year that should only increase going forward. Cobb is still looking at splitting work with Bishop Sankey in Tennessee, and while Sankey has looked improved thus far in the preseason, I still expect Cobb to be a factor. Duke and David Johnson both look tabbed for change-of-pace and some passing down work. I like Duke's situation better because his team looks more likely to play from behind. With Ajayi, although the Dolphins have refused to give Lamar Miller a full workload over the past couple years, Ajayi may have to work his way past Damien WIlliams to even get backup work.
Top dynasty RB options after the top 5 in order: Matt Jones, Duke Johnson, David Johnson, Josh Robinson, Zach Zenner
WIDE RECEIVERS:
While the dynasty rankings at WR are bit up in the air, the re-draft ranks have a very clear top two guys: Amari Cooper and Nelson Agholor, and I prefer Agholor. The Eagles' offense is a juggernaut, and Agholor is ticketed for the role vacated by Jeremy Maclin's departure. The Raiders, meanwhile, are still trying to fight their way back to respectability. Both guys are legitimate borderline 2/3 WRs for this year, but I just like Agholor better because of the situation. Cooper could catch 90 balls this year, but Agholor won't be far behind and has much better TD potential. In dynasty leagues, it's a coin flip for me. I'd still prefer Agholor, but I think Cooper is slightly more talented.
The 2nd tier of rookie WRs in re-draft leagues consists of Devin Funchess, DeVante Parker, Dorial Green-Beckham, and Breshad Perriman, and I would draft them in that order. Funchess should be a legitimate WR3 with the upside for more in Kelvin Benjamin's role. Parker could be a WR3 if he's able to get himself healthy and carve out a role. It might take a few weeks for him to start making an impact as he battles back from a foot injury however. Green-Beckham might have the highest ceiling of any receiver in this class, but he has several red flags that make him a long-term risk. There's a clear path to DGB earning a big role in the Titans' passing game, but it's far from a certainty. As a result, Green-Beckham is a WR4 for this season, although he's being typically drafted lower than that. Breshad Perriman is also a WR4 this year, but due to his injury issues this preseason, he's a boom or bust option for this year. If healthy, he should be the number 2 WR on the Ravens after Steve Smith.
As for the rest of the WR class, the only other guys I'd strongly think about rostering in re-draft leagues are Tyler Lockett in Seattle and Ty Montgomery in Green Bay. There isn't much on the Seattle depth chart to overcome, and Lockett has been fantastic this preseason. He's a good WR5/6 option in PPR leagues who could really surprise.  Montgomery is worthy of WR 4/5 status just on the potential that he wins the WR3 job in an Aaron Rodgers offense. His dynasy outlook is hurt by the impending return of Jordy Nelson next season. Phillip Dorsett could make an impact in Indy, but he has to beat out Donte Moncrief for the third WR role to do so. Kevin White may miss the whole season in Chicago, and Devin Smith will open the season dinged up for the Jets. Neither is worth a draft pick in re-draft leagues. Jaelen Strong has a shot to earn a role with the Texans, but he's yet to make much of an impact in the preseason.
Top 12 Dynasty WRs in order: Nelson Agholor, Amari Cooper, Dorial Green-Beckham, DeVante Parker, Breshad Perriman, Kevin White, Devin Funchess, Tyler Lockett, Phillip Dorsett, Jaelen Strong,Ty Montgomery, Darren Waller
Other names to know: DeAndre Smelter, Chris Conley, Sammie Coates, Tre McBride, Kenny Bell
TIGHT ENDS:
The tight end position is typically useless in terms of rookie fantasy production, and this year looks to be about the same. The one rookie TE to be aware of is Maxx Williams in Baltimore. WIth Dennis Pitta still out and Owen Daniels gone to Denver, Williams will be expected to step in and play right away. I'd peg him as a low end TE2. I can't endorse banking on him to play a big role on your fantasy team. Outside of him, there isn't much. MyCole Pruitt might have a couple nice games in an H-Back role in Minnesota, but he isn't worth a draft pick, and Clive Walford could earn some meaningful playing time in Oakland, but that makes him maybe top-25 at the position.
Top 5 Dynasty TEs in order: Maxx Williams, MyCole Pruitt, Clive Walford, Tyler Kroft, Jesse James
That's it for the rookie preview. Hopefully it gives you a better grasp on who some of the guys are out there that you might not know much about if you don't watch much college football. Good luck with your fantasy drafts, and make sure to check back in each week for the Rookie Report to know what to do with your rookies on a weekly basis. And remember, have fun. Fantasy football is just a game.