Let's get ready for some football! In our discussion we'll mostly be talking about standard leagues unless otherwise mentioned. But, in general, just keep in mind that pass-catching RBs will be slightly more valuable in PPR leagues and we'll all be on the same page!
So last week we analyzed both the overvalued and undervalued QBs in the NFL this season by taking a quick look at our rankings for those players vs. the ECR (expert consensus ranking from fantasypros.com) and ADP (average draft position) that the players are currently going at. This week we'll attempt to do the same thing with RBs.
(Listen to the Fantasy Football Podcast, 8/25/15: The Preseason RB Show!) 
I say attempt, because with any offensive positional player in the NFL that is not a QB the variance is going to be higher and depend a lot more on outside factors than for quarterbacks. Not to mention the fact that the likelihood or injury goes up substantially for these players, RB especially.
John Paulsen (of 4for4.com) recently wrote an insightful column about this very subject. In trying to determine whether or not wide receivers are safer picks at various points in the draft, he crunched quite a few numbers. Ultimately, his research seems to indicate that although the top 2 RBs in any given year will generally outperform any of the other WRs in the draft, the drop-off after that point favors WR value until later rounds. For example, over the last 10 seasons (after the top 2 RBs have been taken out of the equation) 5 of the next 7 receivers offer relative value (difference between points scored and points scored by a baseline player at that position) above their trend line, while that is only true for 5 of the next 11 running backs.
Another interesting bit is that RBs taken just a little bit later (early 2nd round) tend to outperform those taken in the middle of the first round (relative to their draft position). Anyway, just something to keep in mind. Let's get back to it!
Undervalued RBs
Antone Smith - #52 on our rankings, ECR #75 and ADP #61. We value Antone more highly than a lot of our colleagues because he is a very dangerous playmaker on the field. Already 29 years old, Smith has never had a substantial amount of touches until the 2014 season and he ended the season with 366 yards and 5 TDs on only 36 touches. Unfortunately for Smith, he broke his leg toward the end of the season last year and finds himself striving for carries behind the split backfield of Devonta Freeman and Tevin Coleman but we know that when he gets the opportunity, he'll make the most of it. Make no mistake, this is a flier or deep league pick only, but one that could pay off quickly should Smith see the field more than a few snaps per game.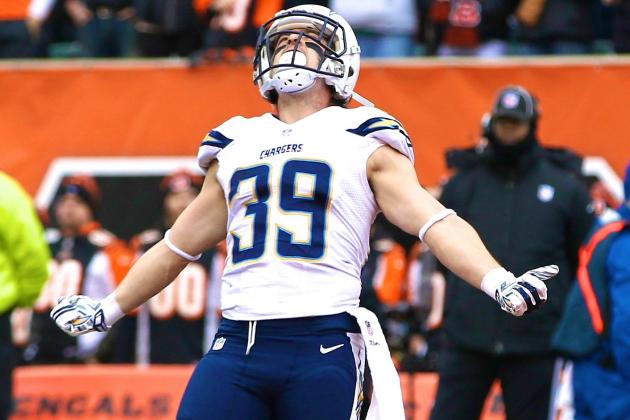 Danny Woodhead - #25 on our rankings, ECR #42 and ADP #47. Woodhead is the little RB that could. He's quick, scrappy and many people forget about the numbers that he put up during the 2013 season before he was injured at the beginning of 2014. In his first season on the Chargers, Woodhead rushed 106 times for 429 yards (4.0 YPC) and 2 TDs and put up 76 receptions for 605 yards and 6 TDs. Those numbers made him the #19 RB overall in standard scoring leagues in 2013. All signs point to Woodhead being healthy this year, and resuming his pre-injury role as a 3rd down passing back and safety valve for Rivers which should lead to similar stats this year (although we will always plan for a regression from a career year).
Giovani Bernard - #18 on our rankings, ECR #28 and ADP #27. Bernard had a slight sophomore slump in 2014 and dealt with an injury toward the middle of the season. It seems that he is now firmly planted as the 3rd down back behind Jeremy Hill, but even though we're penciling Bernard in for less than 10 touches a game (down from the 16 that he averaged in 2014) he excels in the passing game and will certainly see more work in games where the Bengals fall behind on the scoreboard. At first glance it may appear that he is just a complementary back to Hill this season but the numbers say otherwise.
Chris Ivory - #20 on our rankings, ECR #27 and ADP #31. Ivory had some breakout performances in his first year with the Saints in 2010, but injuries held him back from being productive in subsequent years until he was traded to the Jets for the 2013 season. He has steadily improved there (putting up 7 TDs and almost 1000 all-purpose yards last year on 216 touches) and the other Jets' RBs are underwhelming, to put it lightly (Bilal Powell, Zac Stacy, Stevan Ridley). With the recent news that Ivory may start being more active in the passing game and the current lack of quality depth at the position, we may see him in more of a 3-down role which more than warrants his position here.
Overvalued RBs
Rashad Jennings - #42 on our rankings, ECR #30 and ADP #24. Jennings had the #1 RB job for most of the 2014 season, with Andre Williams filling in at some spots and vulturing some carries as well. We've seen Jennings perform well, putting up 4.5 YPC in 2013 for Oakland and scoring 6 TDs that same year, but unless lightning strikes for Jennings it is likely he performs closer to his middling performance last year (only 3.8 YPC) and the Giants will form some kind of committee with Shane Vereen and Andre Williams preventing too much relevant production from Jennings this year.
Bishop Sankey - #56 on our rankings, ECR #38 and ADP #42. Sankey struggled mightily in 2014 despite being basically handed the job as lead back in Tennessee (3.7 YPC and only 2 TDs on 152 carries). With rookie David Cobb and scatback Dexter McCluster also on the squad, Sankey looks to settle in to a role as the 1a of a big committee. We've seen Sankey on sleeper lists and as someone to target in deep drafts but I don't see any pluses here, especially as a part of such a young offense that has yet to prove themselves (and veteran talent Hakeem Nicks and Harry Douglas don't exactly inspire trust).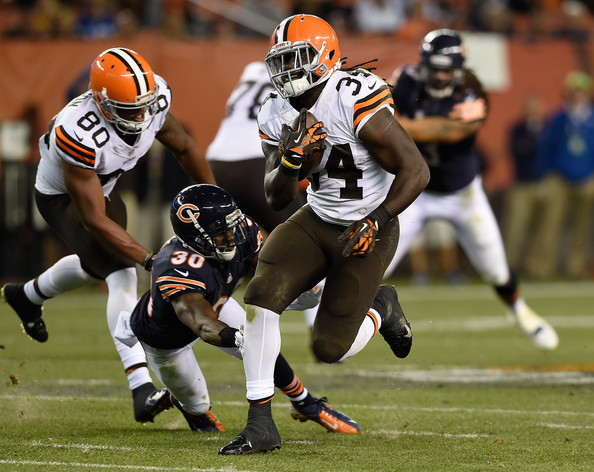 Isaiah Crowell - #43 on our rankings, ECR #33 and ADP #33. Cleveland Browns.. need I say anymore? Alright, Crowell does have a little upside having scored 8 TDs last year and averaged just more than 4 YPC, but we haven't seen either Crowell or Terrance West (both involved in a battle of irrelevancy last year for the lead back position in Cleveland) really show well on the field, which means that rookie RB Duke Johnson could just as easily find himself with the job. Seems that the overvalued RBs we've discussed are all having issues solidifying a role in their respective offenses.. Crowell is no different.
Carlos Hyde - #27 in our rankings, ECR #19 and ADP #17. Here's another tough situation: although Hyde currently replaces Gore as the RB1 in that offense (which did add Reggie Bush as a passing-down back), it's impossible to project Hyde as a top 20 pick based on his limited demonstrated skills in the NFL. Only rushing 83 times for 333 yards (4.0 YPC) last year does not tell us much, unfortunately. Even if Hyde does get the bulk of the early down work for the 49ers, though, their personnel list has been devastated in the off-season and those losses and the change to new team management does not bode well. No, it's more likely that their offense has to pass the ball more because they fall behind in games without a dominant defense and Bush will probably factor more into that game plan than Hyde.