Wide receivers are everywhere. They're the most plentiful of any position in fantasy football, and most leagues have the most WR starters than any position. Hell, some leagues are centered on a bonus that people get from catching the ball! Suffice it to say, they're damn important. All the rankings, ECR and ADP are based on standard scoring leagues, unless specified. Check out the Quarterbacks and Running Backs that we evaluated as well.
(Listen to the Fantasy Football Podcast, 9/1/15: The Preseason WR Show!)
Undervalued Wideouts.
These are guys that we rank a lot higher than the ECR (expert consensus ranking). This doesn't mean they need to be taken at the spot we rank them, but it does mean you should be taking them before the ECR says so.
Percy Harvin (BUF) – Rank 38, ECR 59, +21 – Harvin is a big injury risk, but he's an interesting flier pick. With an ADP of 52, he's not being taken in most standard leagues, but his upside is undeniable. Rex Ryan loves to use exciting players, and few are as explosive as Harvin at his best. Coach Ryan has insisted that Harvin will be starting week 1, so if Tyrod Taylor works out and Harvin stays healthy, your very late round flier could turn into an every week starter early in the season.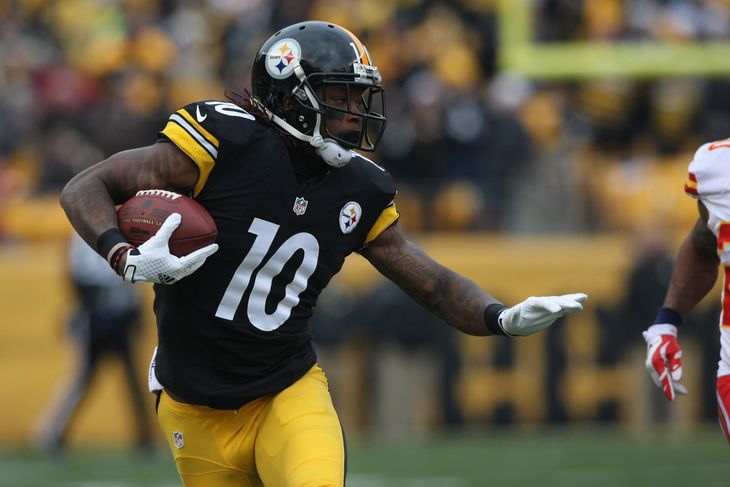 Bryant is a wideout worth waiting for.
Martavis Bryant (PIT) – Rank 21, ECR 38, +17 – Bryant recently failed a series of drug tests and netted himself a 4 game suspension. Maybe he's just trying to get traded to Denver or Seattle. He's missing 4 games, you say, surely he cannot be ranked so high! First of all, don't call me Shirley, secondly, Bryant is a true threat to score every time he touches the ball. We've been over why we like him so much, but I must reiterate – he averages 3.59 fantasy points EVERY TIME HE TOUCHES THE BALL. In just last week's preseason game, he had 3 receptions for 138 yds and a TD. Expect lots of stat lines like this once he comes back in week 5.
Jeremy Maclin (KC) – Rank 14, ECR 25, +11 – Last year was a career season for Maclin. Don't read too much into it that the Eagles didn't keep him. Chip Kelley is a mad genius, nobody is going to understand exactly why he makes the moves he makes. Back to KC though, where an already established offensive genius, Andy Reid, is at the helm. In the third preseason game, Maclin was force fed the ball (a theme throughout the preseason) and caught 7 of 7 targets. Maclin has scored 10 TD's twice in his career and I expect the KC wideout TD drought to end in week 1 when Maclin finds the end zone. Charles and Kelce will provide balance in this offense that is poised to take a big step forward form last year.
Vincent Jackson (TB) – Rank 20, ECR 27, +7 – Vjax has been a stud for years (over 1000 yards in his last 6 full seasons) and at 6'5", 241lbs, he's still much bigger than any defensive back. He and Mike Evans will be ushering rookie Jameis Winston into the league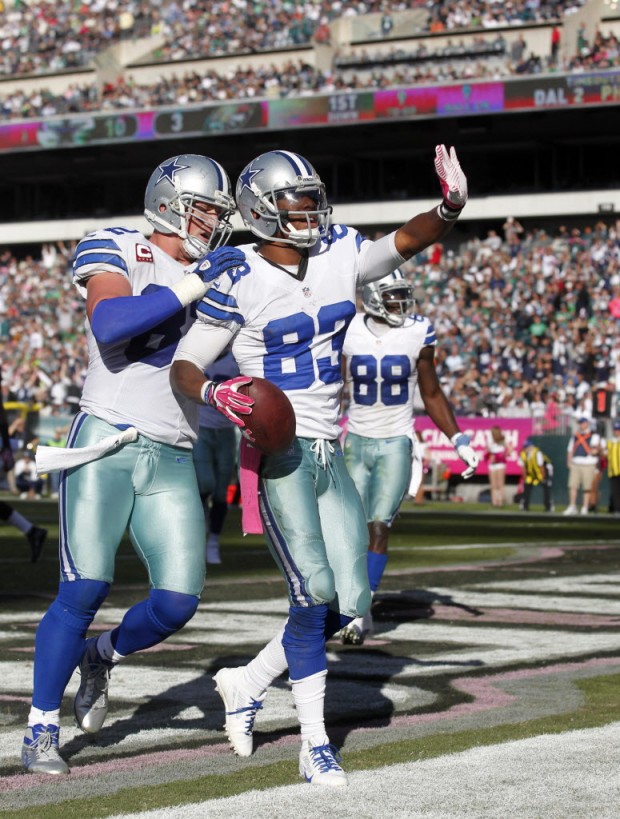 and should be able to go up and get any jump ball he throws. His status has fallen in recent years with QB's like Freeman and McCown throwing him the ball, but he soldiers on, catching 70 or more passes every year he's been in Tampa Bay. His undisputed #1 status in the offense should net him a similar amount of work this season. Don't let him slip too far. He's a much safer and steadier option that guys with a similar ECR and ADP.
Terrance Williams (DAL) – Rank 44, ECR 51, +7 – Thus far, Williams has been a very late round draft pick, mostly someone's afterthought for bench depth. Williams is on an offense that lost the best RB of 2014 and currently has nothing certain to fill the void. Tony Romo can make up for some of that work through passing, and Dez Bryant just isn't going to see a huge increase in work (mostly because he's already getting as much as he can handle). Williams is poised for a classic third year breakout and should be a relevant WR3/flex starter when lining up opposite Bryant. If Bryant happens to go down, then you've got a guy who could possibly finish in the top 10. Not bad for end of the bench depth!
Overvalued wide receivers.
These guys are just being hyped too much. I'm not implying with any of them that they will be bad or not worth starting, it's just that the draft value is not worth it. Let someone else reach for these players.
Andre Johnson (IND) – Rank 35, ECR 16, -19 – Andre Johnson had his coming back to earth year last season. As people get older, we do expect them to regress a little bit. Even if you cancel out that age related regression with the bonus of moving into Andrew Luck's offense, you still wind up with a low end WR3 at best. He's currently being drafted as a mid-level WR2, and that's just not happening for a guy who averaged only 11 yards per catch last season. His career numbers are on a clear 3-year downward trend and he's always had a hard time finding the end zone. Let someone else run this experiment.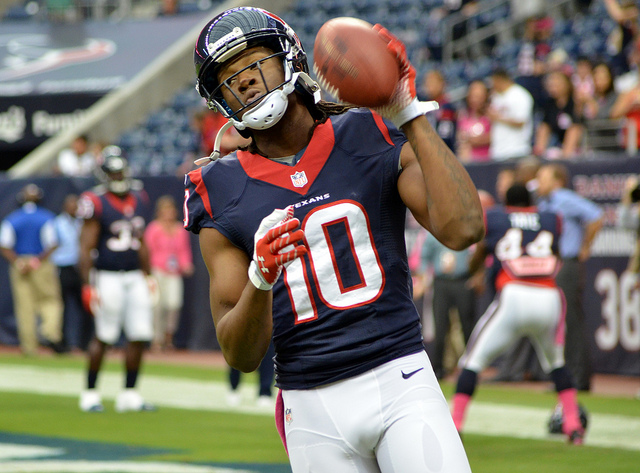 Hopkins may be good, but he's not OBJ good.
DeAndre Hopkins (HOU) – Rank 24, ECR 12, -12 – Hopkins is replacing Johnson in Houston. He has all the talent in the world to do it, and really does have the potential to finish in the top 10…once he is on a team with a good QB. Brian Hoyer is not that QB. The hype surrounding Hopkins is simply at the point that someone is going to draft him far too high, either thinking they are clever, or smart, or both (worst case scenario, I know). If Brian Hoyer winds up being a world beater this year, fine, but are you really going to invest a 3rd round pick on a guy that has to rely on Brian Hoyer every time he gets the ball? Someone is bound to reach for this guy anyways. Just talk him up at your draft a little bit to help drive up the value to the territory you know you won't go into.
Davante Adams (GB) – Rank 31, ECR 23, -8 – Adams saw his value go up with Jordy Nelson going down for the season, and rightfully so. The reaction was, however, too great. His ECR places him in territory of more proven guys like DeSean Jackson, Jeremy Maclin and Sammy Watkins. All of these guys are better options than Adams, a guy with pretty underwhelming stats from his rookie campaign in 2014. I expect the Packers to do a good job spreading the ball around (they have Aaron Rodgers, after all) and to lean heavily on their stellar run game. Adams will likely be a WR3, but most people are drafting him and expecting Jordy Nelson type numbers, which is just not gonna happen.
Jarvis Landry (MIA) – Rank 42, ECR 28, -14 – "But Jason", you say, "You guys loved Jarvis Landry last year!". Yes, we did, and we still like the guy, but the fact is that he's a PPR darling who doesn't find the end zone often enough. He's a possession receiver on a team that just got a great possession guy in Jordan Cameron and a legit deep threat in Kenny Stills (which will eliminate the need for some 3rd downs). Landry's games where he sees the most work are when the Dolphins are losing (they only won 2 of 7 games where he was targeted 8 or more times). The Dolphins will improve, Landry will likely get the same amount of catches (he had 84 last year as a rookie) and only averaged 9 yards per catch. He's the hot guy to take in Miami right now, but nothing in his situation tells me that he's going to be stepping into the 1000+ yard club. Like the rest of the overvalued players, just let someone else reach for them (and then trade for him when they are disappointed!).