Welcome back to the Rookie Report! Week one was full of surprises...the Bills topped the Colts, Peyton Manning's poor finish to 2014 seemed to carry over to 2015 despite the Broncos' win, and Dez Bryant suffered a broken foot. The surprises weren't limited to the veterans, however. Marcus Mariota and Ameer Abdullah both put up epic debuts, Jameis Winston had a premeire to forget, Nelson Agholor was almost invisible, and Rashad Greene was targeted a whopping 13 times. What does it mean for week 2? Let's take a look at what to expect...

Rookies to Start:

QB Marcus Mariota, TEN (Wk. 2: @Cle.): What a first impression, right? The former Duck was on fire in week 1, piling up 4 TD passes in his first pro game. The Titans were up so comfortably he threw just 4 passes the entire second half. That won't be the case every week. Most importantly, he was decisive with the ball, he didn't turn it over, and he was throwing downfield. He was fantastic in week one and he didn't even unleash his running ability. The Browns struggled mightily to slow down the Jets' offense, and I'd expect another decent outing out of Marcus. He should be a solid QB2 this week, and is worth consideration in deep 1 QB leagues. I am starting him in a 2QB league over Joe Flacco.'

RB Ameer Abdullah, DET (Wk. 2: @Min.): Ameer wasn't as impressive as Mariota, but he made a pretty big impact in his own right, piling up 94 total yards and an impressive 24-yard TD run on his first career carry, all while out-touching Joique Bell 11-8. It was a pretty harrowing week for Bell owners. If Abdullah keeps this up, his role should stay similar as the season rolls along. Bell will still get goal line work and a healthy share of the carries, but Abdullah is a great flex option in PPR leagues, and more of a borderline proposition in standard this week against the Vikings, who struggled mightily to contain the run game on Monday night. The short week won't help them get ready for Detroit.

Borderline Rookies: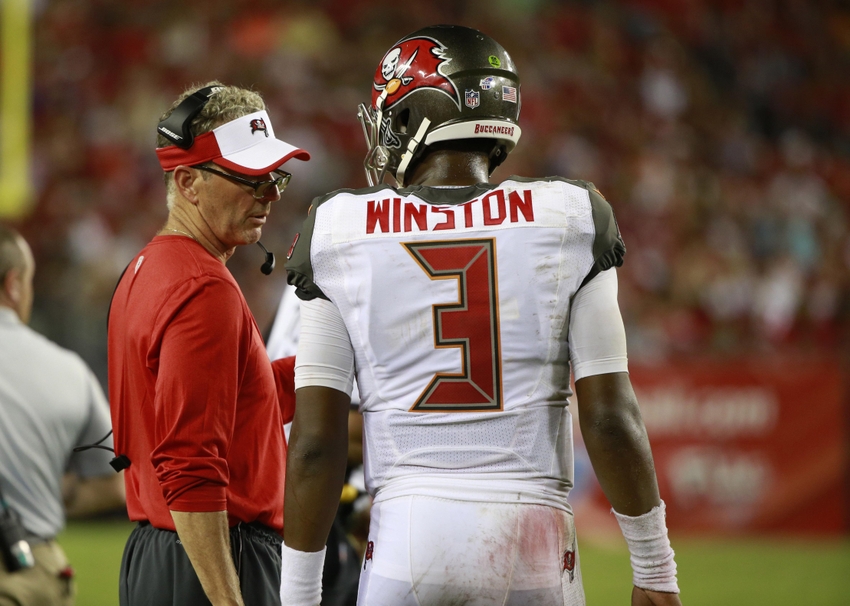 QB Jameis Winston, TB (Wk. 2: @NO): I know, this sounds crazy after week 1, but this is just for 2QB leagues. If there is a defense that could give the Bucs a run for worst in the league, it resides in New Orleans. Jameis isn't as bad as he looked last week, and he'll undoubtedly be better if he has Mike Evans back on the field. I think 2 more TDs are very much in play this week, and the yardage number has a chance to go up as I expect the Saints offense to bounce back in a big way this week and keep Tampa throwing.

RB Tevin Coleman, ATL (Wk. 2: @NYG): Coleman was very involved in week one, toting the rock 20 times for 80 yards, but I think the Falcons will realize they need to get him involved in the passing game. He has big-time speed and operates well in space, and the Giants just gave up 12 catches and 131 receiving yards to the Cowboys' RBs last Sunday. Devonta Freeman will undoubtedly get a fair share of the passing down work, but if Coleman can steal a little bit of it, he could be a strong flex option against a sub-par defense. He's my favorite rookie RB this week not named Ameer Abdullah.

RB T.J. Yeldon, JAX (Wk. 2: vs. Mia.): I was very impressed by what Yeldon was able to do in the first half last week against the Panthers...I just wish he would have carried it over to the 2nd half. Despite adding Ndamukong Suh in the off-season, the Miami run D did not look impressive in week one, allowing 160 yards and a 4.7 ypc average to the Redskins' backs. Game flow may work against him, but I'd set the expectation at around 65-70 yards with the hope for a TD (less than 50/50 bet). That makes him more of a low-end flex option.

RB Duke Johnson, CLE (Wk. 2: vs. Ten.): Johnson got 7 carries a week ago shortly after being cleared from a concussion. While his 3.1 ypc weren't impressive, they were much better than the 1.7 average that Isaiah Crowell put up. I wouldn't expect Duke to overtake Crowell this week, but the Titans' D isn't nearly as imposing as the Jets', and I expect Johnson to be more involved in the passing game this week. He's an low-end PPR flex option, and I'd expect double-digit touches this week.

WR Amari Cooper, OAK (Wk. 2: vs. Bal.): The Ravens' corners are fantastic, and there's a chance that the Raiders don't have Derek Carr this week. Cooper was able to put up just a 5-47 line on 9 targets a week ago, and the Ravens have just as good a secondary as the Bengals. Amari will continue to be peppered with targets, so there is upside, but I wouldn't expect a lot more than he did last week.

WR Nelson Agholor, PHI (Wk. 2: vs. Dal.): Agholor was a big let down last week, with just 2 targets, resulting in one catch for 5 yards. The good news? He was on the field a ton, and ran the second-most routes on the team (42), behind only Jordan Matthews (47). Eventually the targets and stats will come. This week's game with the 'Boys could be a shootout, and a 5-60-1 type of line from Nelson wouldn't be crazy. I could see trying him as a flex in deeper leagues.

Rookies to Sit:

RB Melvin Gordon, SD (Wk. 2: @Cin.): The Bengals allowed a ridiculous 14 catches and 2 receiving scores to Oakland's RBs last week, and while Gordon had 3 catches in week one to Danny Woodhead's 4, the real issue for Gordon comes from last week's red zone usage. Danny Woodhead got all 8 of the Chargers' rush attempts inside the 20, cashing in 2 of them for TDs. I'd expect that to continue this week. It doesn't help that the Bengals are formidable up front against the run with th return of a healthy Geno Atkins. They allowed just 55 yards rushing on 15 carries to the Raiders' RBs on Sunday.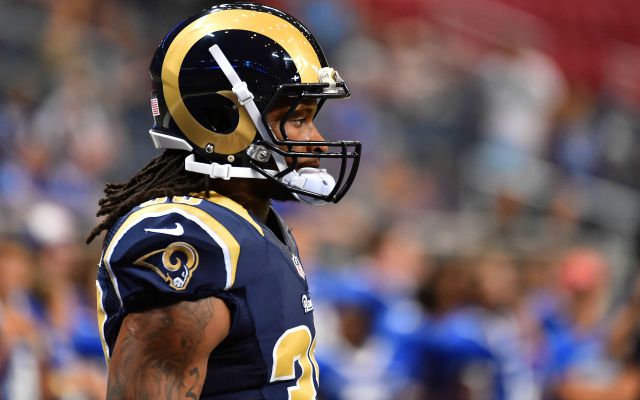 RB Todd Gurley, STL (Wk. 2: @Was.): I know it's exciting that Gurley may see the field week 2. He was a full participant at practice Tuesday and looks like he should be active Sunday, but pump the brakes a bit. Jeff Fisher did just hold out Brian Quick as a 'healthy scratch' as he rehabs from a shoulder injury, so they might hold off just a bit longer. If Gurley does play, he'll almost certainly be on some sort of pitch count and faces a better than you think 'Skins run defense. They were among the best in the league last year vs. the run and allowed just 53 RB rush yards to the Dolphins in week 1. The coming out party is coming, just not in week 2.

RB Karlos Williams, BUF (Wk. 2: vs. NE): The Pats looked vulnerable against the run in the opener against D'Angelo Williams, and Karlos looked great in his limited touches behind Shady McCoy in week 1, but I doubt he does as much damage this week. He was able to get some of his work with the Bills up comfortably on the Colts and able to pound the ball. I don't expect them to be up more than one score all game against New England, which should keep McCoy dominating touches. Williams would have to break another long TD run to be worth a play. He was out-touched in week 1 20-6 by Shady, and McCoy had 3 red zone carries to Williams's one.

RB Matt Jones, WAS (Wk. 2: vs. StL.): Alfred Morris, who many (myself included) were ready to write off as done in Washington, proved reports of his demise were greatly exaggerated. Jones did a decent job with the touches he did get, but Alf should be the clear number 1 until his performance slips. The Rams did do a nice job of limiting Marshawn Lynch last weekend as well.

WR DeVante Parker, MIA (Wk. 2: @Jax.): He was a non-factor in week one with Rishard Matthews starting and the passing game revolving around Jarvis Landry. I expect him to work his way in to the scheme eventually, but for now he's best left on the pine.

WR Rashad Greene, JAX (Wk. 2: vs. Mia.): Greene did see a ridiculous 13 targets in a surprisingly conservative Jags' passing attack in week 1, but he averaged just FOUR yards per catch on 7 grabs. I wouldn't expect that target volume to continue, but even if it does, that efficiency just isn't going to get it done. Greene was very productive at FSU over the past 2 years, so he could work his way into reasonable PPR value, but he's still 3rd in the pecking order after A-Rob and Hurns. Don't bet on a repeat this week.

WR Dorial Green-Beckham, TEN (Wk. 2: @Cle.): Pretty simple here, DGB was on the field for just 3 snaps in week one despite the team only carrying 4 WRs. You have to leave him benched for now until his playing time starts to increase. I would have no problem dropping him for now in shallower leagues. He will eventually find his way onto the field more, though, so monitor his playing time as the season progresses.

TE Maxx Williams, BAL (Wk. 2: @Oak.): The Ravens' pass attack looked to be desperately in need of more play-makers in week one with Torrey Smith gone and Breshad Perriman on the shelf, and Maxx Williams could eventually be that. I don't think it'll be this week. The Broncos' defense deserves much of the credit for shutting the Ravens down, and the Raiders won't be as stiff a test. Williams was targeted twice a week ago, and even if he doubles that this week he won't be worth a start. There are better options out there.
Deep League Sleepers and Cheap DFS Options:

RB David Johnson, ARI (Wk. 2: @Chi.): Johnson got just one touch in week one, and it went for a 55-yard TD. Andre Ellington will be out a couple weeks, and although Bruce Arians called Chris Johnson their lead dog, I'd expect a decent chunk of work to go to David. 10+ touches are a real possibility, and he's already showed he's explosive and gets a poor Chicago defense this week.

WR Devin Funchess, CAR (Wk. 2: vs. Hou.): The Panthers' pass attack struggled mightily against the Jaguars a week ago, and Funchess could help that situation improve sooner rather than later. His role will increase dramatically soon. Part of his limited role week one could have had to do with his limited preseason reps due to injury. He's the type of playmaker the Panthers could have desperately used Sunday, and he should be the best bet for a Carolina WR to score a TD this week.

WR Tyler Lockett, SEA (Wk. 2: @GB): For leagues that count return yards, Lockett is a must own. He's one of the few return men who will also have a role in the offense. He should quickly ascend the pedestrian WR depth chart and become a weekly PPR WR3 option. For now he's still under the radar, but I'm not sure how long that will last. The Packers' defense was solid in coverage versus the Bears' banged up WR group, but with the focus likely on Marshawn Lynch and Jimmy Graham, Lockett will have a chance to make plays.

WR Phillip Dorsett, IND (Wk. 2: vs. NYJ): This projection only holds up if Hilton is out this week. Donte Moncrief would move into a starting spot opposite Andre Johnson (who underwhelmed in week one), and Dorsett would man the slot in 3-WR sets. The Jets' slot corner Buster Skrine might move outside if Antonio Cromartie is out, which could open up the middle of the field for Dorsett big time. Keep an eye on the Jets' cornerback plans for the week. Dorsett is the type of player who could break one for a TD at any time, and it would certainly help if he gets a burnable corner to face off with in the slot. He's likely not worth a start in most leagues, but he could be a sneaky DFS play.

That's all I've got for this week. Hopefully it helps you a bit with your tough rookie lineup decisions this week. As always, good luck, trust your gut, and have fun. It's just a game.