Week 2 was full of successes and missteps, as it always is. It was also a week that included tons of unexpected wins or losses for teams with different expectations (here's looking at you, Eagles). It's important to remember that the first few weeks of every NFL season are filled with turmoil, and should be treated as such. Don't make any rash moves by dropping under-performing players just yet, but absolutely scoop up and stash a few of our weekly waiver picks while they are still available. The trick is to get these guys while the getting is good. Good luck!
Quarterbacks
Tyrod Taylor, BUF – (owned in 15% of leagues) Taylor impressed in week 1 and was included in our initial waiver wire picks. Week 2 only brought more production from the rookie QB as he ended the day with 3 passing TDs and ran one in himself as well. There are downsides still, though, and Taylor did have 3 INTs in week 2. As he gains experience those mistakes should be tempered but the upside is what we're looking for here. Taylor likely won't be available in most leagues after this week.
Andy Dalton, CIN – (owned in 30% of leagues) Dalton is the line by which we generally measure all of the other QBs in the NFL. The 'Andy Dalton Line' determines whether a QB is above or below average. This year may change that, though, as Dalton has thrown 5 TD passes and no INTs over 2 games and the Bengals' passing offense looks to be running on all cylinders in 2015. Barring injuries to guys like Green, Kelce, Jones and Bernard, Dalton could make a case to be started on a week-to-week basis going forward.
Other players to consider are Blake Bortles (owned in 9%) who has developed great chemistry with Allen Robinson and Julius Thomas's impending return to the field will also add value. Derek Carr (owned in 14%) will likely be throwing passes from behind for most of the season and that generally bodes well for some garbage time touchdowns. Amari Cooper is also coming into his own on the Raiders.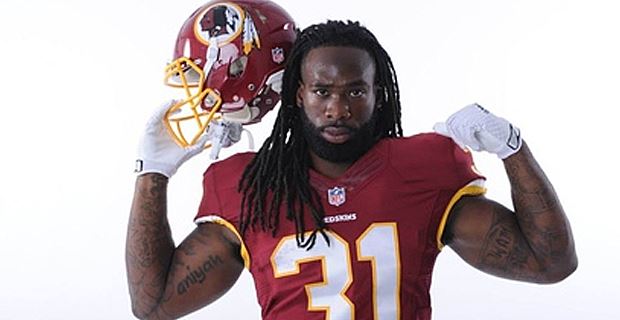 Running Backs
Matt Jones, WAS – (owned in 23% of leagues) Jones was drafted to be the passing down complement to Alfred Morris's early down role, but his current trajectory has him on course to eclipse Morris's touches eventually. In week 2, Jones was just a few touches shy of Morris and he continues to impress not only in 3rd down situations but also in early down use, spelling Morris. A pickup on the waiver wire now may be the only time that Jones is available for the rest of the season.
David Johnson, ARI – (owned in 34% of leagues) Johnson was billed as the bigger, faster version of Andre Ellington and he has certainly proved to be a valuable commodity on the Cardinals so far this season. Johnson has the highest points per touch in the NFL so far this year and the only issue is how much production Bruce Arians will allow him to have on a weekly basis. If there is any time to play him, though, it's now - when Johnson needs to prove his worth while Ellington is out.
Other players to consider are James Starks (owned in 11%) because Eddie Lacy exited the game in week 2 with an ankle injury and is not a lock to play in week 3. If Lacy should be inactive this week, Starks is immediately a RB2. Ronnie Hillman (owned in 36%) could take over the lead back role in Denver if C.J. Anderson continues to struggle after his week 1 injury. He's worth a pickup because whoever ends up with that job will get enough work to be an every week starter.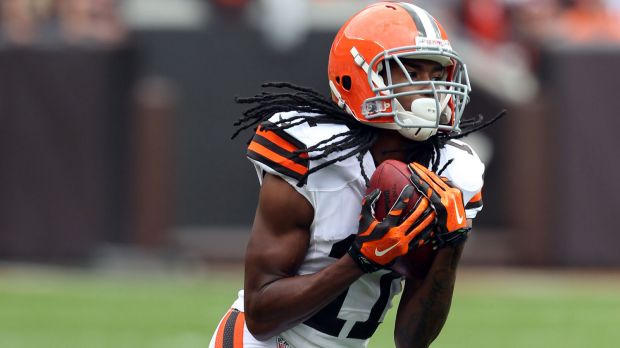 Wide Receivers
Travis Benjamin, CLE – (owned in 14% of leagues) Benjamin has scored 3 TDs on only 6 receptions over the past two weeks. His stats are gaudy and he is worthy of a pickup in every league, but you must be wary with this sort of situation: not only does Benjamin seem like a boom or bust player, but the Cleveland offense is very much not locked in to any kind of rhythm. Still, even if you're not starting Benjamin you need to put in a claim for him if you are needy at wide receiver.
Michael Crabtree, OAK – (owned in 23% of leagues) As I mentioned earlier, Derek Carr is definitely an up and coming QB in the league and his main weapons (Amari Cooper and Michael Crabtree) will enjoy a high amount of targets in most games this season. Crabtree is a talented receiver with a good pedigree who only really broke out in 2012 while playing for the 49ers. He has the opportunity in 2015 to become fantasy relevant once more, now that he is playing across from the newly drafted Amari Cooper, who should draw the coverage away.
Marvin Jones, CIN – Jones had more snaps than Mohamed Sanu this past week, and things look good for Jones to finally make an impact. Remember, Jones was playing out of his mind in 2013 and scored 10 TDs before being lost for the entire 2014 season due to the same kind of injury that Dez Bryant suffered in week 1. With all of the weapons that Dalton has, Jones should have the opportunity to get free downfield on a regular basis and turn that into fantasy points.
Other players to keep an eye on are Dorial Green-Beckham (owned in 19%) who has monster size, speed and potential, and Rishard Matthews (owned in 2%) who is becoming a favorite of Ryan Tannehill's when he can't find Landry downfield.


Tight Ends
Crockett Gillmore, BAL – (owned in 4% of leagues) Gillmore is a big target that didn't get much of an opportunity to produce last year, but is being leaned on big time in 2015 with Breshad Perriman sidelined until next month. Here is a guy that could solve your TE woes, at least until the Ravens get Perriman back from injury. I'm betting that Gillmore will still have a fantasy impact as a high end TE2 even afterwards, though.
Other players to look for are Richard Rodgers (owned in 8%). The appeal of "Rodgers to Rodgers" is just too seductive. But seriously, Rodgers impressed me with his physicality in his week 2 start against Seattle.

Kickers
Josh Brown, NYG – (owned in 25% of leagues) Brown performed well last week, and the Giants will be facing the Redskins in week 3 who have a fairly formidable rushing and passing defense so far in 2015. This translates to more field goal opportunities for a Giants team that can move the football downfield but may have trouble getting it into the end zone this week.
Josh Lambo, SD – (owned in 3% of leagues)
Defense/Special Teams
Cincinnati Bengals – (owned in 13% of leagues) The Bengals are among the top 10 defensive units in fantasy right now but are only owned by 13% of teams. This week, they play the Baltimore Ravens, who have provided a ton of fantasy points to defenses so far in 2015.