There's lots of guys that are injured every week in the NFL, it's really just a part of the game. We're here to help you stay on top of what's going on with them so you can field the best possible team going into next week.
Quarterbacks
Tony Romo (Replacement: Brandon Weeden) – Tony Romo injured his collarbone while being sacked in Sunday's contest against the Eagles. Romo is expected to be out at least 8 weeks as he has been put on the IR/return list. He cannot return to the field any earlier than week 11, and it's a strong possibility that he isn't back until Thanksgiving or later. This is far too long to wait for him to return – pick up the best available QB on your waiver wire asap. No, Brandon Weeden is not a sufficient replacement on your team.
Drew Brees (Replacement: Luke McCown) – Brees injured his rotator cuff in the loss to the Bucs on Sunday. Initially, it seemed like he might miss several weeks. After a second opinion, it seems that he has a shot to play this week against Carolina. We will know more about this situation once the injury reports are released on Wednesday, so make sure to pay attention. This is a short-term injury, so do not drop Brees for a backup. Also, look elsewhere for a fill-in, McCown is almost certainly not the best option on your waiver wire.
Cutler is expected to be out for two weeks.
Jay Cutler (Replacement: Jimmy Clausen) – Cutler hurt himself (hamstring) yet again while chasing down a defender who had picked him off. This seems to be something that Cutler just kind of does once per season. If we had any sort of real backup, the fans in Chicago might even be happy, however Clausen is no legit NFL starter. The year that he started, he had 3 passing TD's in 10 games. He should have accidentally gotten to 5. Cutler will be back in a few weeks, in the meantime, just stay away from any Bears player not named Matt Forte.
Matt Stafford (Replacement: none) – Stafford has been banged up the last few weeks and the Lions don't have any wins to show for it. Stafford had x-rays on his ribs which came back negative, but it's clear that he'll be playing with some pain in week 3. The Broncos defense has been outstanding in the first two weeks, and Stafford's ineffectiveness combined with potential rib injury lead me to recommend you start anyone else in week 3, even in a 2 QB league.
Running Backs
Eddie Lacy (Replacement: James Starks) – Lacy had an early exit from Sunday night's game as apparently everyone in Green Bay had an ankle injury. Lacy doesn't play until Monday night in week 3, so he has an extra day to get ready. As of now, he's probably going to play, but as always, wait for the injury report to come out. James Starks is one of the best backups in the league and can be inserted immediately into your lineup if Lacy does not start, so pick him up as an insurance policy, if he's still available.

Tevin Coleman (Replacement: Devonta Freeman) – Coleman missed the entire second half of the game this past Sunday against the Giants after he was carted off with a broken rib. This is the kind of injury that has a lot to do with pain threshold and less to do with the body working mechanically correctly. Coleman has looked very good so far and has out-carried Devonta Freeman, so keep him on your roster until he's healthy again. Freeman is an OK replacement, not as good as James Starks, but he's much closer to the performance of Coleman than some of the previously mentioned backup QB's are to their starters. Coleman should be back in a couple of weeks, keep your eyes on the injury report and if he's been practicing.
Lamar Miller (Replacement: Damien Williams) – Miller says that he's going to be OK after suffering an ankle injury during Sunday's game in Washington. He's basically day-to-day at this point, so you shouldn't worry too much about his status for week 3. What's more worrisome are his stats in the first two weeks – he's only gaining just over 50 yards per game on an offense that is supposed to be improving. Damien Williams would get the start if Miller doesn't go, but against the Buffalo defense, you might want to just find another option.
Denard Robinson (Replacement: T.J. Yeldon, Bernard Pierce) – Robinson has been diagnosed with an MCL sprain which could leave him out for 1-2 months – the timeline is not very certain this early in the injury. Robinson was already taking a backseat to Yeldon, who has been impressive in the early going of 2015. Yeldon is not likely to be available in any leagues - if he is, please take all of your opponent's money mercilessly as that's one easy fantasy league. Pierce is unlikely to be useful anywhere but in the deepest of leagues, and as a handcuff for Yeldon.
Wide Receivers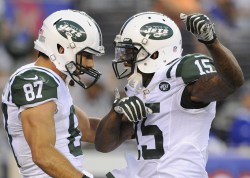 The Jets' dynamic duo.
Eric Decker (Replacement: Chris Owusu, Quincy Enunwa) – Decker suffered a PCL injury during Monday night's game and wasn't heard from for basically the entire second half (thanks Decker, couldn't get another 1 point?). Decker has had success this season with Fitzpatrick, so if he plays, go ahead and slot him in. If he doesn't' play, Chris Owusu and Quincy Enunwa will probably take targets away from each other. (Note: Owusu is out for a couple weeks, but it doesn't really help Enunwa anyways) The tandem of Decker and Marshall looks to be a strong one this year, so stick with them while they play, but there's not likely to be anyone filling their shoes if they don't.
Davante Adams (Replacement: Ty Montgomery, James Jones) – Adams went down with an ankle injury briefly on Sunday night. Apparently, those injuries are contagious. Adams struggled during the game, but who wouldn't struggle when you have Richard Sherman covering your every move. Since Adams was able to return, I expect him to be ready to play next Monday night. He's definitely lost some of the work everyone thought he was going to get to James Jones, so keep that in mind if you want to start Adams. If Adams can't go, Ty Montgomery did have an OK game, collecting 4 receptions on 4 targets. I like his potential if given an entire game.
Jerricho Cotchery (Replacement: Ted Ginn Jr.) – Cotchery suffered a high ankle sprain on Sunday, an injury which typically lingers in NFL players. Cotchery may be able to tough it out and play in week 3, but seeing as he's the only real veteran receiver they have, Carolina might be smart to let him sit a week or two. Ted Ginn Jr. and Greg Olsen will be the ones to absorb Cotchery's targets, though that number has never been too high. The receivers in Carolina are very sketchy at best – stick to starting Cam, Greg and Jon (athan Stewart).
Tight Ends
Jordan Cameron (Replacement: Jake Stoneburner) – Cameron exited his week 2 game with a groin injury, but at least had the courtesy of putting up a few fantasy points before doing so. Cameron has suffered from so-called soft tissue injuries in the past, so this could definitely put him on the sidelines a couple weeks. As always, keep an eye on injury reports and practice status before making a final decision. Backup TE Jake Stoneburner will step into Cameron's role, and already has caught a TD and secured both targets sent his way from Ryan Tannehill. This isn't exactly a direct replacement you can plug in, however his TD in week 1 is intriguing, so he is worth a flyer.
Jason Witten (Replacement: Gavin Escobar) – Witten is already banged up after two weeks into the 2015 season with two bad ankles and a sprained knee. Even veterans usually don't see this kind of wear and tear until late November or December. Witten will play through most everything he can, and even be effective while doing so. The exception to this is when Tony Romo is not out there throwing him the ball. Witten should not play this week because the Cowboys have already lost their two most important offensive players. If they lose Witten for the season because they pushed him in week 3, that will just be icing on the injury cake that Jerry Jones is currently choking on. Gavin Escobar would normally jump into a top 10 TE role right away with Witten out, however with Weeden throwing him the ball, Escobar is worth a roster spot if you're hurting, but I'd wait a week to see if you should be starting him.
Austin Seferian-Jenkins (Replacement: Brandon Myers) – ASJ had an incredible week 1 and a back-to-earth week 2. I do expect him to do well in the long run with Jameis Winston, however you can chalk week 1's performance up to a fluke (and really, garbage time points). ASJ is out for 4-6 weeks now with a strained shoulder, so drop him and look elsewhere for a TE to fill your roster. Maybe our waiver wire picks? Brandon Myers is not the answer here, so avoid him everywhere but in the deepest leagues.