Welcome back to the Rookie Report! Week 3 was full of explosive performances from some expected and some unexpected places. A.J. Green, Julio Jones, Aaron Rodgers, Randall Cobb and Jamaal Charles are supposed to blow up on a regular basis. Devonta Freeman, Joseph Randle and Rishard Matthews are not. Some rookies got into the act as well...Amari Cooper cleared the century mark again, as did Thomas Rawls and Karlos Williams on the ground. Williams also found the end zone for the 3rd consecutive week (the only player in the league to do so). Hopefully the big days in week 3 worked in your favor, but even if not, lets see what we can do about getting the right rookies in the lineup for week 4...
Rookies to Start: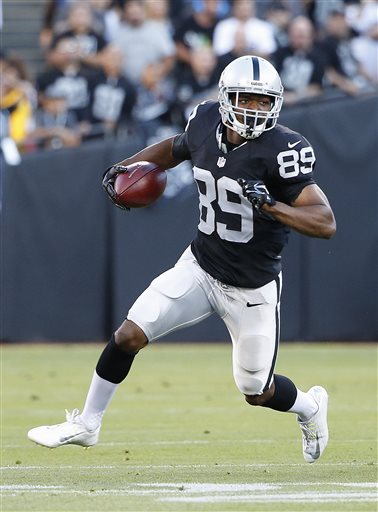 Amari Cooper has really impressed this year
RB Karlos Williams, BUF (Wk. 4: vs. NYG): Williams finally got double-digit touches with LeSean McCoy hampered by a balky hammy, and he didn't disappoint, racking up over 100 yards with a TD on just 12 carries. He now boasts a ludicrous 7.75 ypc average for the season on 24 carries and should get the start against a defense that has allowed over 18 fantasy points per game to opposing RBs. As long as McCoy sits, Karlos is a rock solid RB2 this week with RB1 upside.
RB Melvin Gordon, SD (Wk. 4: vs. Cle.): Gordon hasn't had a role in the red zone, but he continues to run for respectable yardage totals and has his most favorable matchup of the season-to-date. The Browns are allowing about 5 yards per carry and a league-worst 158 rush yards per game so far. Gordon should even have a reasonable chance to break a long TD. Cleveland has given up 4 rushes of 20 or more yards so far, 2 of which went for 40+. Fire him up as an RB2 this week.
WR Amari Cooper, OAK (Wk. 4: @Chi.): In case you need any reason from me to know you should play Cooper this week, the Bears allow the 4th-most WR fantasy points per game in the league, and have allowed averages of 12.6 receptions, 153 yards, and 2.3 TDs per game to opposing WRs. I would expect Cooper to be good for at least half of that, and he could have WR1 upside in a cake matchup.
Borderline Rookies:
RB TJ Yeldon, JAX (Wk. 4: @Ind.): After last week, there's obviously reason for pause before firing up Yeldon considering that the Colts' high powered offense could have the Jags playing from behind again. With that said, Indy's defense has given us very little reason to trust their ability to stop the run, allowing 18 RB fantasy points per game and 4 RB scores in 3 games. I'd say there's a 50/50 shot that Yeldon gets his first TD this week. He's more flex play than RB2, but he could have a nicer day than expected.
RB Duke Johnson, CLE (Wk. 4: @SD): San Diego has been absolutely shredded by opposing run games the past 2 weeks, and Crowell was back to being inefficient last week against Oakland. The Chargers have allowed over 500 total yards and 5 TDs to opposing RBs in just 3 games, and the Browns did finally involve Duke in the passing game last week. I expect him to factor back in to the rush attempt mix a little bit this week as well. I have a feeling he comes up with a solid PPR-Flex game this week.
WR Ty Montgomery, GB (Wk. 4: @SF): The 49ers have been just as bad as the Bears in terms of WR fantasy points allowed. After Monday night, you'd expect there to be an increased focus from the defense to stop Randall Cobb, which should open things up for Montgomery and Jones. There is some risk here. Davante Adams might be able to play, which would kill Ty's value. Jeff Janis could run ahead of him due to the mental mistakes and silly penalties Montgomery committed against the Chiefs. Still, most signs point to him being the WR3 for GB this week, which should get him WR3 consideration in your lineup.
Rookies to Sit:
QB Jameis Winston, TB (Wk. 4: vs. Car.): Last week wasn't particularly pretty for Jameis, and things don't get much easier this week. The Panthers' DBs have been a nightmare on opposing WRs, especially Josh Norman, and Jameis may struggle to get going this week. Duplicating last week's stat line is about all you can expect this week. Anything more would be a nice bonus.
RB Matt Jones, WAS (Wk. 4: vs. Phi.): While it was a great sign to see Jones running ahead of Alfred Morris last week, this matchup doesn't set up particularly well for Jones, and Morris isn't exactly going to vanish either. The Eagles have allowed just 3.1 ypc, and have yet to allow a RB touchdown. The one place they've struggled is against RBs catching passes out of the backfield, but thus far, Chris Thompson has pretty much had that role to himself in the Redskins' backfield rotation. Jones is always a threat for a red zone TD, but I'd shy away this week if I have reasonable options.
RB Ameer Abdullah, DET (Wk. 4: @Sea.): The Seahawks at home are just an opponent you don't want to play skill players against unless they are every week studs. When you have Matt Forte there, you leave him in and hope for the best. With Ameer Abdullah, a part-time player in a 3-back rotation? Not so much, even if he is the best talent of the trio. Seattle is yet to allow a TD to an opposing RB on the year. Abdullah should be avoided this week.
RB David Johnson, ARI (Wk. 4: vs. StL.): The Rams defense looks daunting on paper, but they're vulnerable on the perimeter. Yes, Chris Johnson has looked good, but David has still been a factor in this offense. Unfortunately, it looks like Andre Ellington will be back this week. If for some reason Andre sits again, David has some value as a flex option, but his floor is scary low if he's fighting both CJ and AE for touches.
RB Todd Gurley, STL (Wk. 4: @Ari.): It was nice to see Gurley back on the field, even if the results weren't impressive. On the plus side, he did look healthy, but he gets a tough matchup this week. I believe he's close to being handed bellcow duties, but I don't think this is the week where it comes together. Arizona has been throttling teams so far, and if the Rams fall behind, I'd expect a fair amount of Benny Cunningham.
WR Nelson Agholor, PHI (Wk. 4: @Was.): Agholor has been mostly invisible this season despite playing plenty of snaps. He was barely targeted at all last week, and if he were to put up even 4 catches and 50 yards this week in a plus matchup, it would be a pleasant surprise. You can do better.
WR Phillip Dorsett, IND (Wk. 4: vs. Jax.): Dorsett found the end zone last weekend, but his volume hasn't been consistent enough to trust going forward. I still feel like the Colts want to get Andre Johnson more involved at some point (If Andre is still capable), and banking on another TD from a guy who is only going to see a few targets isn't often a recipe for success.
WRs Devin Smith & Quincy Enunwa, NYJ (Wk. 4: @Mia.): The matchup seems ripe for the picking after Tyrod Taylor shredded the 'Fins on Sunday, but Eric Decker is likely to return this week and severely cut down on the snaps and targets this pair will see. If you had to pick one, Smith is the choice due to the threat of a long TD against a shaky secondary. With that said, I wouldn't want to play either in a season-long league.
WR Willie Snead, NO (Wk. 4: vs. Dal.): I like Snead a lot, but I'd like him a lot more if I was confident that Drew Brees was going to go back to being Drew Brees at some point. He's not quite the matchup nightmare that 6'6" Brandon Coleman is, but I would argue he's already got a better rapport with Brees and is the option the QB trusts more of the 2. The problem is that this offense just isn't very good right now. Even if Brees plays, I wouldn't feel good about playing Snead even in really deep leagues this week.
Deep League Sleepers & Cheap DFS Options: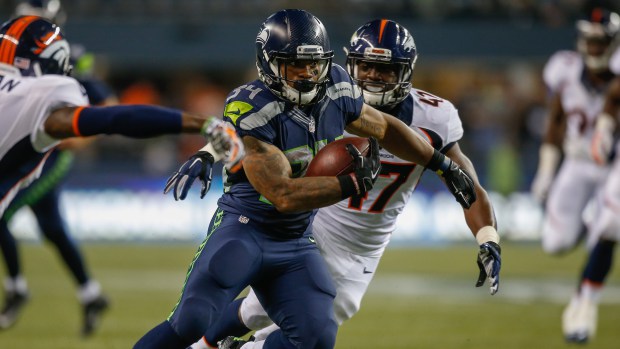 RB Thomas Rawls, SEA (Wk. 4: vs. Det.): It sounds like Marshawn Lynch should be fine and ready to roll for week 4, but keep an eye on the situation. If Lynch were to miss this one, it would be another plus matchup for a back that just put up over 100 yards in his first real action as a pro. The Lions have allowed over 130 ypg and 4 rushing TDs to RBs through 3 games. There are also some out there who feel that what we've seen so far is the beginning of the end for Beast Mode. If that's the case, Rawls would make a nice stash in case something happens, and should absolutely be owned in Dynasty formats. With Christine Michael and Robert Turbin gone, Rawls is the heir apparent in Seattle.
RB Jeremy Langford, CHI (Wk. 4: vs. Oak.): Rumors have been rampant that the Bears are shopping Matt Forte, and if they move him, Langford would likely become the starter. He, like Rawls, is worth a speculative stash for the next few weeks in case Chicago does pull the trigger, but don't be surprised if the Bears look to get him more involved if they are actually planning a trade. The Raiders' run defense is nothing special, so Langford might surprise this week if he gets some work.
WR Devin Funchess, CAR (Wk. 4: @TB): Trust me, it's coming for Funchess. He still has just 4 catches through 3 games, but the Bucs are weak in the secondary. This should be another great opportunity for Funchess to make an impact if the Panthers let him. I wouldn't trust him in a season-long league, but he could be a pleasant surprise in DFS.
WR Tyler Lockett, SEA (Wk. 4: vs. Det.): The usage in the passing game still isn't where you'd like to see it to use him in regular leagues, but he has 2 return TDs in 3 games, and will be a solid WR3 in return yardage leagues before long. Detroit has allowed 22.3 points per game to opposing WRs, and after Doug Baldwin, very little of the WR target volume is spoken for. Lockett still has plenty of upside despite limited usage so far.
TE Maxx Williams, BAL (Wk. 4: @Pit.): The Steelers 14 points per game allowed to opposing TEs is misleading. All 4 TDs they've given up to the tight end position occurred in week 1 against New England (3 to Gronk and 1 to Scott Chandler). They've been much better since then, but Williams will undoubtedly be a factor this week. He already set career bests last week with 3 catches on 7 targets for 44 yards. Most of that came in the second half after Crockett Gillmore went out with injury, and Gillmore isn't expected to play Thursday. Williams has sneaky TE1 upside based on volume alone.
That's it for week 4. If you have any questions or angry rants, feel free to reach out on twitter and let me know (@shawn_foss). Hopefully this info helps you this week. As always, good luck, trust your gut, and have fun. It's just a game.