The Chicago Bears have shown their cards after starting the season 0-3. Jared Allen was shipped off two days ago, followed by Jonathan Bostic as Rookie GM Ryan Pace sheds ill-fitting pieces left over from the Phil Emery era. These two moves have opened up a TON of cap space for the rebuilding Bears, but I don't think we have seen the end of the wheeling and dealing.
Rumors surfaced immediately about Matt Forte being on the trading block after the Allen and Bostic news broke. An abundance of sources are being cited left and right; some claiming Forte is definitely on the block, while others are claiming he isn't. I might not have the sources, but I can look at this from a pure business sense and tell you that it makes sense for the Bears to move Matt Forte.
First, Forte is 29 years old (turning 30 in December) and is in the final year of his contract. His resume boasts five 1000+ rushing seasons and he holds high marks in the passing game. From the Bears point of view they are in total rebuilding mode. It makes no sense for the Bears to invest in Forte when their path to relevance only leads into his declining years.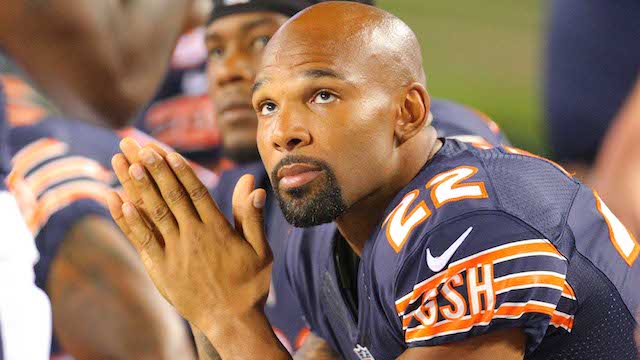 Second, his contract extension, or lack thereof, was an early sign. I have to hand it to Matt Forte for the way he handled the off season media blitz surround his potential contract extension. He stayed out of it for the most part and didn't hold out. That doesn't mean he didn't vocalize his disappointment. In an Interview with NBC 5's Mike Adamle, Forte says this about his future, "I've come to the realization that this might be my last year here, so I'm gonna make it the best year I can possibly make it. So if I'm a free agent at the end of the year I might have to go somewhere else."
Lastly, the Bears have no reason not to try to trade Forte before the deadline. From a business standpoint he is worth nothing to them once he explores free agency. Trading him for a draft pick is the best they can do in the position they are in. Ryan Pace has already shown that he is in full-on rebuilding mode and his plan has to include stashing draft picks.
Where does Matt Forte Get Traded?
Dallas Cowboys – This was one of the first teams involved in the trade talks as the rumors swirled. As a Bears fan I like this destination simply because Jerry Jones is most likely to give the most if a bidding war was to take place. Jerry doesn't like to lose. Looking at their team depth chart, the Cowboys don't really have a need for Matt Forte. Joseph Randle is running well behind that stout offensive line, Lance Dunbar covers the pass catching role while Darren McFadden subs in for change of pace. They also have Christine Michael in the wings. Not saying a deal couldn't get done between these two teams, but it would be complicated from the Dallas Cowboys stand point when looking at the running back depth they already have.
Baltimore Ravens – This is a popular pick for a potential Matt Forte trade. Justin Forsett is struggling early this season with only 124 yards through 3 games. There is also no denying that Joe Flacco would benefit from Forte's pass catching abilities. We also need to discuss the obvious link between Matt Forte and Marc Trestman. Trestman is the offensive coordinator in Baltimore now and must be lobbying to trade for Forte. Forte has had his two most productive seasons when Marc Trestman was running the Bears offense as the head coach.
Carolina Panthers – The Panthers running back woes are very similar to those in Baltimore. Jonathan Stewart has only 170 yards through 3 games. Unlike the Ravens, however, the Panthers are off to a great start this season at 3-0. A Matt Forte trade to Carolina actually makes a lot of sense. Stewart is unproven as a lead back after multiple seasons of splitting time with DeAngelo Williams. Carolina could use Forte's talents and leadership after the good start. When Kelvin Benjamin went down the Panthers lost a major offensive play maker. Greg Olsen is the lone threat right now with Ted Ginn Jr. being the only other worthwhile target.
Arizona Cardinals- This is my very own dark horse trade destination. Chris Johnson appears to have earned the starting role in Arizona, even after Andre Ellington returns. His game last week against the 49ers was impressive with 110 yards on the ground and 2 TD's. That being said, I still like Matt Forte in this offense, and the timing seems to make sense. Carson Palmer is playing great despite his age (35) and Larry Fitzgerald is off to a good start with 333 yards and 5 touchdowns despite being 32. My point here is that Arizona's chance for a Super Bowl is on the clock. Putting Matt Forte in the mix instantly makes them an offensive juggernaut.