As the general manager of a fantasy team, each week you are presented with many decisions to make. The choices you make can then have dire consequences on the fate of your team for the remainder of the season. It's important to weigh these start/sit questions very heavily against the health and recent performance of the player, the efficiency of the defense they are facing and the ability of the offense in which they play to score points on a week-to-week basis. We'll help to make some of these decisions easier, but ultimately it's up to you which way you decide to go! Here are our Week 4 Rankings, and feel free to use the start/sit tool here on the site as well.
Quarterbacks

START Tyrod Taylor (BUF) vs. NYG – We've been telling everyone that we can find every week to pick up Tyrod Taylor as part of our waiver wire picks, and he is finally owned in more than 2/3 of Yahoo leagues. Took long enough! As the 5th highest scoring QB in standard leagues so far this year, it would be borderline insane not to start him now on a weekly basis. The Giants passing defense also happens to be the worst in the NFL so far this year, allowing more than 1000 yards of passing offense over just 3 games. Enjoy!
SIT Philip Rivers (SD) vs. CLE – Rivers has a worse-than-average matchup this week against a good Cleveland secondary, and is sorely missing Antonio Gates. Over the past 3 games he has put up 5 TDs and 4 INTs. Rivers is now - for all intents and purposes - a QB2 with some upside, and we're staying away from him until he can show us otherwise.

Running Backs

START Justin Forsett (BAL) vs. PIT – Forsett has had some trouble getting it going this year (and some of that blame can be put on the overall Ravens' offense and play-calling, as well), but he should have a good game this week against the division rival Steelers' front without Ryan Shazier. Both teams may have some issues generating offense early in the game and will lean on the run to some degree. I'm predicting he has the best game of his year so far against Pittsburgh on Thursday night.

START C.J. Spiller (NO) vs. DAL – Spiller will continue to get more opportunities in the backfield starting with this week's game against Dallas. Finally healthy, he should be able to produce against the Cowboys at a FLEX level at least - especially in PPR leagues. I saw Spiller dropped in a few leagues already - those teams will be regretting that decision after his performance in week 4.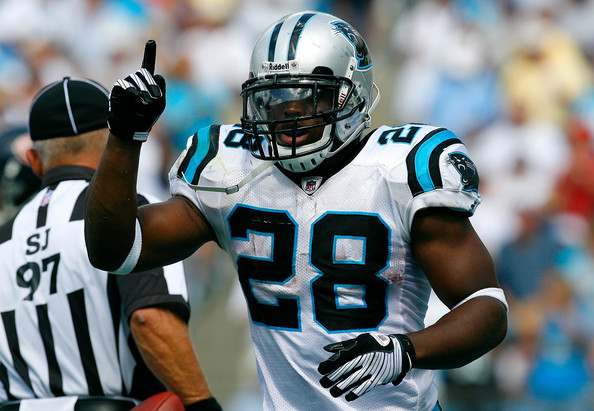 SIT Jonathan Stewart (CAR) vs. TB – Stewart has not been playing well this year and Cam Newton has had to shoulder most of the load, along with Greg Olsen. With Stewart's recent injury (knee) he is not going to be a start even if he does give it a go on Sunday. This is a situation where you need to be extra cautious, because he could go out there and only touch the ball 8 times. I'd rather start a running back with less upside this week, along as they're healthy.


SIT Ronnie Hillman (DEN) vs. MIN – The rumors of C.J. Anderson's demise have been far overblown. True, Hillman has seen the field a lot while Anderson has been nursing an injury, but the Broncos' coaching staff has repeatedly said that they are still looking at C.J. as the main guy in Denver and has been getting the snaps in the situations that count.

Wide Receivers

START Calvin Johnson (DET) vs. SEA – Yes, they're playing the Seahawks. Yes, the Lions have had all sorts of issues with their offensive line and play-calling. Still, it's likely that Detroit will need to chuck the football in order to keep pace in this game and Megatron is the #1 target that they'll be going to. He scores 100 yards and a TD in this game for sure! Quote me on that.

START Marvin Jones (CIN) vs KC – It's been disappointing to be a Marvin Jones owner over the past few years. The guy is extremely talented but never seems to stay healthy when all the planets are aligning for him to excel. This year he gets another shot: the Dalton machine is running better than it ever has before and Jones has locked up the #2 WR role in this offense. Expect consistent high-end production on a week to week basis from here on.
SIT John Brown (ARI) vs STL – The Rams have one of the better passing defenses this year, allowing just over 200 yards per game and only 2 TDs over the past 3 games. Not that Arizona will have too tough a time moving the ball, but I think that they will be passing the ball around a lot and utilizing their newly found running game as well. Brown is still getting a few receptions per game but he has not shown as much of that big play ability that made him such an attractive pick on draft day. Sit him!

Tight Ends

START Maxx Williams (BAL) vs. PIT – C'mon, the guy's name is MAXX! Anyway, the lack of targets in Baltimore has forced Flacco to keep checking down to his tight ends and without Crockett Gillmore (out, calf), Maxx Williams steps up to the plate. We've seen this guy grab a pass and knock through a few defenders like bowling pins and I'm expecting that to happen a few times in this game against a pretty weak passing defense.

SIT Eric Ebron (DET) vs. SEA - Ebron has been performing well this year, much to many fantasy expert's chagrin. I think that is mainly due to the inability of the offensive line to give Stafford time to throw to his receivers but I expect Detroit's scheme and play-calling to get better. Hope you enjoyed your time in the spotlight, Ebron - I think we'll be seeing less production from you in the weeks going forward.