WK 4 is over and done, but the heartache continues for a lot of fans. Well, to avoid any unnecessary heartache for you Fantasy Football Fans, I'm passing on a little info I heard. Don't bet with Fanduel, they caught employee's rigging stuff for self wins. One guy did it and won $350K. You know the story, if I'm passing it on, he got busted. Supposedly, as a result of this scam, no Fanduel employee's can play. Might be helpful or might not, but had to put it out there for you Fantasy folks. Enjoy WK4 update.

TNF: 10/1/15 - Baltimore Ravens vs. Pittsburgh Steelers.
The Ravens won this one 23-20 but they shouldn't have. For the first time, we can honestly blame Scobee the kicker & Coach Tomlin for the Steelers loss of this one.  First he makes a 58yd FG, good for 3.  Then he missed two crucial FGs, that would have put them on top by at least 6 with maybe 5mins left in the 4th.  Well, you know what happens next, the Ravens get the ball, Flacco is pushing it down the field as he does on a regular and yep, they got a FG with maybe 32 seconds left. We got us some OT people. So the Steelers received the first kick off. Didn't score and they were 4th & 2. Tomlin, not feeling his kicker, decided to have Vick run the ball to try & get a first down. Well, everybody knew that was coming and they stopped him short of the 1st down. Even the announcer said it was a bad call, he should have let the kicker go for it. Well, the rest is in the books. Flacco took his team down but only to the pt where their kicker had to try a 52yd FG for the win. Well, he did & they won. Vick was solid in this game. Even the announcers gave him credit, he looked good out there. But it won't be long, Big Ben was chomping at the bits to get back out there. Take it slow man, don't force it, just relax and let it go. The Tweets against the Kicker & Coach Tomlin were unmerciful. So much so that Scobee, Pittsburgh's kicker, deleted his tweeter account. Coach Tomlin, well you know, he don't care what y'all got to say. J. Flacco threw for 189yds, 1 TD & 1 int. J. Forsett had 27 carries for 150yds & K. Aiken had 5 receptions for 77yds & 1 TD. M. Vick threw for 124yds & 1 TD. L. Bell had 22 carries for 129yds & 1 TD. No receiving stats worth writing about.
​MFN: 10/5/2015 - Detroit Lions vs. Seattle Seahawks.
Detroit fought back in this 13-10 loss to the Seahawks. Seattle truly won this one on a bogus NON call. Detroit was about to win this one. One thing rang clear, K.J. Wright intentionally batted the ball out of bounds, which is a clear penalty, except the refs didn't call it. I kept looking at the replay and asking myself, can he do that, just bat the ball out of bounds?  Well, if you are a Seattle player and you are in Seattle and you are about to lose to your home crowd, sure you can, the refs got your back. I checked out several sports shows last night and that should have been a call. I also read that had the Seahawks lost this game, they would only have had a 35% chance of making it to the playoffs this year. With this win, they now have a 60% chance. Something smells fishy around here. The "GURU" of football, Mike Pereira said that The illegal bat is not a reviewable play, but how could you miss the play? It was right there in the refs face. Lions were clearly robbed of this one. C. Johnson said that he doesn't have any excuses, it was his fault. I can't believe I'm saying this, but I side with Detroit on this one. R. Wilson threw for 287yds & 1 TD. No rushing yards worth writing. J. Kearse had 2 receptions for 84yds. M. Stafford threw for 203yds. No rushing yards worth writing. C. Johnson had 7 receptions for 56yds & 1 fumble.

​
NFC NORTH:
Green Bay Packers: 4-0
What else is new, GB played, GB won. This time they whopped it on the San Francisco 49'ers. They are now 4-0 with a handful of other teams, this is their first 4-0 start since winning the initial 13 games in 2011. The outcome wasn't a beat down, 17-3. But with this win against the 49ers, it snapped a 4 game losing streak to San Francisco, which included a pair of playoff defeats. Green Bay made just enough plays to win this one, Aaron even had to run 17yds to set up a TD. Randall Cobb had his streak of 7 games with either a TD or 100+ yards receiving snapped today. Watching this game, I thought it would be more. Kap, who had played some of his best games against the Packers, ended up with a 55.4 passer rating. They were eating up Kap like he was rice crispy treats, he was sacked 6x and getting hit by C. Matthews or J. Peppers, ain't no fun, doesn't make for a good Sunday evening at home. Kap threw his 5th interception in 2 games and they have been limited to 28 total points over three games while giving up 107pts. Kap was booed in the 4th Qtr along with rookie punter Bradley Pinion. Don't take it personal Kap, most fans are only real fans when you are winning, period. Except me, I never give up. The 49ers did sack Rodgers 3x, you don't see that too often. A. Rodgers threw for 224yds & 1 TD. E. Lacey had 18 carries for 90yds & J. Jones had 5 receptions for 98yds. C. Kaepernick threw for 160yds & 1 interception. Kap also had 10 carries for 57yds. T. Smith had 2 receptions for 54yds.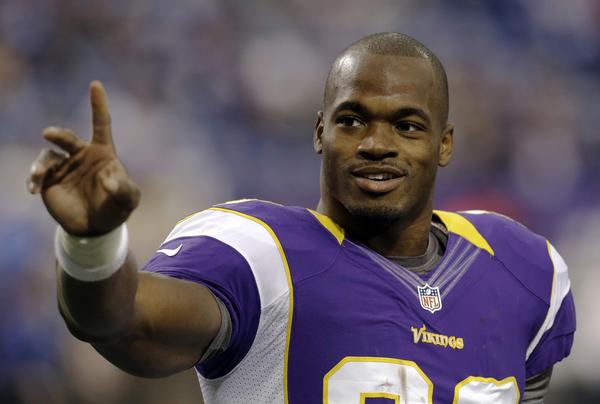 Minnesota Vikings: 2-2
Yeahhhh, they lost. Denver handled business and put them away, 23-20. On this loss, all Peterson had to say was that he is still the best RB in the NFL and that he feels he could have played in the NFL at 18. Really, I could have been rich had I invested in technology when it first came out.  You don't see my crying or lingering in the past, move on AP. Read Denver's update for the details on this loss.

Chicago Bears: 1-3
Just when I thought I was over you, Just when I thought I could stand on my own, you go and win a game for me. Yes, my Bears did it folks, 22-20, beating the Raiders for their 1st win of the season. I don't care if they had beat the Bad News Bears, they won and that's what counts. Of course, Jay put the fear of foreclosure in me when he threw the expected 4th Qtr TD to Charles Woodson. That turned into a FG by Janikowski with a little over 2 mins. left. I was like, nooooo, please don't give this one away. I need to keep my sanity. He didn't, he threw for 2 TDs & redeemed himself following the interception by helping set up a 49yd FG by Gould in the closing seconds. He lead the Bears from their 20 to Oakland's 32 so that Gould could nail the winning FG. The man of the day was Roby Gould. BTW, Gould was named NFC Special Teams Player of the week. Coach Fox, who just got his 1st win as the Bears coach said, "I was really happy to see smiles in  there, I'm really happy for our fans because we haven't exactly lit it up here at home in the first two tries." Let's keep it moving forward now coach. Center W. Montgomery is gone for the season with a broken leg, I saw that one, it was ugly. Slauson moved from left guard to center. Cutler threw for 281yds, 2 TDs & 1 interception. M. Forte had 25 carries for 91yds & 1, not usual, fumble. D. Carr threw for 196yds, 2 TDs & 1 interception. No rushing yards worth mentioning. M. Crabtree had 5 receptions for 80yds.
Detroit Lions: 0-4
Read about the loss to the Seahawks in the MNF update. They shouldn't have loss. I believe the refs blew the "batted ball" call  for the Seahawks to stay alive for the Season. Busters!!
NFC SOUTH:
Atlanta Falcons: 4-0
If you are on a winning streak, might as well pile up the points on your victims. The Falcons roped the Texans 48-21. With this win, there are mumbles of Atlanta being Super Bowl contenders. It's way to early to start that chatter. All of the undefeated teams are SB contenders. The Falcons do have the best receiver in the game in Julio Jones, that's what I read at least. They also have the NFL's leading scorer in Devonta Freeman, 7 rushing TDs for 42pts, that's a fact jack. They have the league's top red-zone offense (12 of 15 for 80 percent), and a plus-6 turnover ratio (8 takeaway, 2 giveaways), and the season is just getting started. And they say that Matt Ryan hasn't even played his best ball. It all sounds good on paper, but the proof is on the field. Remember too, the Falcons entered the season with the league's weakest schedule based on the combined 2014 winning percentage of their opponents. The still have New Orleans, Titans, Tampa Bay & the 49ers. This is looking good for them, but I still wouldn't say SB contenders just yet. But, will they win the division with the Panthers also 4-0? According to the ESPN's Football Power Index, the Falcons have a 97.1 percent to make the playoffs -- something they haven't done since the 2012 season -- and a 79.3 percent chance to win the division. They did send the Texans home crying like somebody stole their Halloween candy and Ryan Mallett & Brian Hoyer are playing musical bench. Nuff said about this one. M. Ryan threw for 256yds & 1 TD. T. Ward had 19 carries for 72yds & 1 TD. L. Hankerson had 6 receptions for 103yds & 1 TD. You can't forget D. Freeman, he had 14 carries for 68yds & 5 passes for 81yds with 3 TDs. I don't think T. Coleman will get his spot back with the way Freeman is playing. B. Hoyer threw for 232yds & 2 TDs. C. Polk had 3 carries for 27yds & a mention because he had 1 TD. D. Hopkins had 9 receptions for 157yds.
Carolina Panthers: 4-0
Panthers easily take down Tampa Bay, 37-23. Instead of rejoicing, the whole team is crying foul. I guess the Falcons are getting more press & media coverage. While they are both 4-0, the Panthers feel undervalued by the media & public. The word on the street & with the media is that the Panthers are the worst of the NFL's 6 remaining undefeated teams. lol, I can see Cam whining about that as I write. It has been said that they have one of the more easier schedules this season, as they have said about the Falcons. Coach Rivera pretty much said, "we don't make the schedule, the schedule says this is who we play and that's what we do." Well let's just check out the stats on this one game. 1st downs, P-17, TB-25, total plays, P-57, TB-75, total yds, P-244, TB-411 and total passing, P-111, TB-270. If you ask me, and I could be wrong.  The Panthers aren't doing anything spectacular, they were out played on paper but paper don't win the game as these stats can prove. Stop whining, and try to keep winning is my advice. They said that David would fall to Goliath, guess who was left standing when the dust cleared. Why would you guys even care? Play ball, quit crying and take it like men. Prove them wrong, even though I agree, I'm just saying.  C. Newton threw for 124yds & 2 TDs. C. Newton had 12 carries for 51yds & 1 fumble. B. Bersin had 4 receptions for 54yds. J. Winston threw for 287yds, 2 TDs & the killer, 4 interceptions. D. Martin had 20 carries for 106yds & 1 TD and V. Jackson had 10 receptions for 147yds & 1 TD. See what I mean, killed the Panthers on paper.
Tampa Bay Buccanners: 1-3
They lost this one to the Panthers 37-23. Check out the update above for a few details.
 

New Orleans Saints: 1-3
These are the boys that should be crying, starting the season 1-3. Instead they pulled themselves up for this game and beat the Cowboys, 26-20. It took OT to win this one and for D. Bree's to throw his 400th career TD pass. He hits C.J. Spiller with a short pass that the RB turned into an 80yd TD on the 2nd play of OT. Dallas safety, Barry Church had the best chance at stopping Spiller with a game saving tackle, but was no match for Spiller's speed. Spiller was signed as a free agent last off season. They would have not needed the OT had first year kicker, Hocker, who had hit from 51yds earlier missed a 30yd game winner. Hocker was nervous, he was filing in for regular punter Tom Morstead who was icing a quad injury. But the Saints won the toss and took the ball first. The rest you know. This gave the Saints their 1st win for the season. Brees is the 5th QB in NFL history to throw 400 TD passes. He did it in 205 games, faster than the other 4. QB for Dallas, Brandon Weeden did come through with a 91yd TD drive to tie the game in the final minutes of regulation, only to lose his 10th straight start overall. Cowboys fear that RB, Lance Dunbar tore his ACL & MCL, talk about bad luck for a team. Jerry Jones said he is NOT looking for a new QB, Romo will be back. D. Brees threw for 359yds & 2 TDs. M. Ingram had 17 carries for 77yds & C. Spiller had 5 receptions for 99yds & 1 TD. B. Weeden threw for 246yds & 1 TD. L. Dunbar had 3 carries for 54yds before a serious injury. B. Butler had 1 reception for 67yds.
Dallas Cowboys: 2-2
The Cowboys aren't going to make it this season. They to beat up and broke down. If Romo & Bryant do return, they will be to far down the rabbit hole to make a difference. Read the details in the Saints update.
N.Y. Giants: 2-2
Awwwhh snap, Giants win their 2nd game of the season. They wrangled the Bills 24-10. Rashad Jennings eluded 3, would be tacklers to score on a 51yd catch & run midway through the 4th Qtr to secure the 24-10 over the Bills. For this week, the reputation for blowing 4th Qtr leads would be put to rest. Beckham said that somebody had to step up and make a play and Jennings made a big one. Manning's final pass was intercepted, ending his streak at 142 attempts from the start of the season. He don't care, as long as they won. The Bills had just made mince meat of the Dolphins a week ago, 41-14 at Miami. In this game though, offense combined for just 77yds & 2 first downs on it's first 9 possessions. Then add on the problem of penalties. The Bills had a total of 17 for 135yds, two weeks after they were penalized 14x for 140yds in their 40-32 loss to New England. That's gotta be one of the main things beating them, you gave up 275yds in two games, smh. These were point costing fouls, one was a 31yd TD take back by a holding call. Add to that a 32yd TD catch was negated when Richie Ingognito & Cordy Glenn were flagged for a chop block. I think they asking for problem with Richie on the team anyway. Rowdy Coach Ryan said,"Can we play a lot smarter? Absolutely. Say what you want, but I'll take a team that will fight." Even if it has nothing to do with the game, just beat the crap out of the other players, but try to get away with it, play smarter, don't get caught.  That's what I just heard in his statement. I heard Beckham was throwing some dirty punches in the game too. They must be talking about the 5 catches for 38yds that upped his total to 1,612yds, the most by an NFL player through 6 games. Orrr, he was just fighting the Bills back. LOL. E. Manning threw for 212yds, 3 TDs & 1 interceptions. R. Jennings had 9 carriers for 38yds & added 2 receptions for 54yds & 1 TD.  T. Taylor threw for 274yds, 1 TD & 1 interception. No rushing yards worth writing and C. Clay had 9 receptions for 111yds.
Washington Redskins: 2-2
OK, now you know when you have Matthew McConaughey, give you a pep talk, it's all down hill. If he is not talking to himself in a Cadillac, he's trying to persuade a Big Bison Buffalo to move. What happens?  He turns around and leave, not the Buffalo. I would think about that first guys before I take any advice. But they did win, 23-20 over the Eagles. So either the Eagles suck worse than the Redskins or the pep talk worked. While K. Cousins has thrown for more interceptions than TD passes in the NFL, he made this one TD count and had 0 turnovers. He probably still dancing about that. Cousins concluded a 90yd drive with a go ahead, 4yd TD toss to Pierre Garcon with 26 seconds left Sunday, flying the Redskins pass the Eagles. QB for the Eagles, Sam Bradford threw 3, 2nd half TD passes for the Eagles who trailed 13-0 at the half. He started this game with only 3 TD tosses all season and hadn't completed a pass of at least 40 yds until one that went for 45 to Nelson Agholor in the 2nd Qtr. Things may be looking up for Sam. Not so much for their new kicker, Caleb Sturgis who missed an extra point attempt & a 33yd FG try. That's 4 big points in what turned out to be a 3pt, back and forth game. No surprise here, DeMarco Murray has voiced disappointment with the way he's being used by Kelly. I think they meant to say, he is pissed. He was asked if he is getting the ball enough, he said no, I think they meant he said, hell no. He said it's how the plays are being called. With the Eagles he has 29 carries for 47yds (he's only missed one game) after leading the NFL in rushing last season for Dallas. Grass ain't always greener on the other side, is it DeMarco? He said he loves playing with the Eagles, LMAO. K. Cousins threw for 290yds, 1 TD and NO interceptions. A. Morris had 17 carries for 62yds & J. Crowder had 7 receptions for 65yds. S. Bradford threw for 270yds & 3 TDs. No rushing yards worth writing. R. Cooper had 2 receptions for 72yds & 1 TD. What doe's he use on his hair? It's so nice & shiny, I need to know. Just keeping it real people, a good tip is always good.
Philadelphia Eagles: 1-3
Talk about a bunch that can't get it together. Read about their 23-20 loss to the Redskins in that update. Go ahead, look up.
Arizona Cardinals: 3-1
This was a shocker, I was so sure that the Cardinals would stay in the undefeated column for a bit. It was not to be on this day. They got beat by the Rams of all teams, 24-22. Read the details in the Rams update below.
St. Louis Rams: 2-2
I know they are still saying, I can't believe we beat the Cardinals. They may not admit it, but they are. I watched this game, it was good, but I sat there saying, Arizona got this. Nope, not today. St. Louis scored after Arizona rookie David Johnson fumbled away the opening kickoff, the 1st time the Cardinals have trailed this season and never relinquished the lead. Johnson also dropped a TD pass, but he did had some big plays late in the game. Too late, damage already done. Coach Arians said Johnson played like a rookie today, uhhhh, coach, he is a rookie, just in case you didn't remember. Just 2 weeks ago, Johnson had a 108yd return on the opening kick. But, it's not what you did in previous games, it's what you do each game going forward. The man of the hour was Rookie RB, Todd Gurley, he rushed for all but 2 of his 146yds after halftime and the Rams held on to beat the undefeated Cardinals, 24-22. Bruce Arians said that he is "a heck of a back."  His pro debut was delayed due to a knee injury, he came out today and made up for lost time. On top of that, Nick Foles throws for 3 TDs, two after Arizona turnovers and St. Louis defense held the Cardinals to FGs on 4 of 5 trips inside the red zone. Arians also said that you are not going to win many games kicking FGs in the red zone. The Cardinals scored TDs in 11 of 12 trips to the red zone in their first 3 games, this time they were 1 for 5. It was only the 4th loss in the Cardinals 19 home games under Arians. Palmer lost for the first time in 10 starts. The Rams made their presence known in this game with 4 sacks on Palmer who had only been sacked once in the previous 3 games. St. Louis LB Alec Ogletree broke an ankle in the 1st half and it will require surgery. N. Foles threw for 171yds & 3 TDs, T. Gurley had a super debut with 19 carries for 146yds & T. Austin had 6 receptions for 96yds & 2 TDs. C. Palmer threw for 352yds, 1 TD & 1 interception. C. Johnson had 16 carries for 83yds and my L. Fitzgerald had 7 receptions for 99yds and a rare fumble. 

Seattle Seahawks: 2-2
To show you how stupid things can just come out of people's mouth, Mike Bennett said he doesn't like Stafford because he was born in Dallas and they killed JFK. Fool, you wasn't even born back then. Well, I don't like you because you play for Seattle. You and Kam Chancellor, with his leprechaun hat can get lost. Ohhh, sorry, I got carried away. Read about their break from the refs to get this win in from the Lions in the MNF update.
San Francisco 49'ers: 1-3
Read about their loss to the Packers in that update.
Cincinnati Bengals: 4-0
The Bengals are on the prowl.  They beat the K.C. Chiefs 36-21 to remain unbeaten going into WK 5. Dalton completes his first 10 passes of the game, the defense holds K.C. to 7 FGs and the end result is a 4th straight win. They matched the 3rd best start in franchise history, two wins shy of a club record. Jeremy Hill had 3 TDs as the Bengals got off to a fast start and stayed ahead, never looking back. Dalton has been the glue throughout the wins, ascending to the top of the AFC passer list. He had another on point day, completing 17 of 24 for 321yds with the long TD pass to Brandon Tate during a scramble. Alex Smith, well, to say that today wasn't his day, would be putting it lightly. He was under pressure most of the game and was sacked 5x. The Chiefs have been beaten by P. Manning, Aaron Rodgers and Dalton in the past 3 weeks. In the past two, Rodgers & Dalton went a combined 41 of 59 for 654yds & 6 TDs. Dalton came into the game trailing only Rodgers on the league's passer rating list. It was Dalton's 2nd straight 300yd passing game and the 16yth of his career. They've got the look of a team finally capable of not only reaching the playoffs, but winning once they get there. They better be glad that don't play my Bears this year, we ready too man, lol. A. Dalton threw for 321yds & 1 TD. G. Bernard had 13 carries for 62yds & 1 TD. M. Samu had 4 receptions for 84yds. A. Smith threw for 386yds and no TDs, crazy. J. Charles had 11 carries for 75yds & J. Maclin had 11 receptions for 148yds. The Kicker Cairo Santos kept them from embarrassment by making all 7 of the FGs that were presented to him for 267 total yards, 2 were for 51yds.


Pittsburgh Steelers: 2-2
You will lose a game, when your kicker miss 2 crucial FGs and the Coach loses faith and doesn't give him a 3rd try. Read about their 23-20 loss to the Ravens in the TNF update. Bad call Tomlin.

Baltimore Ravens: 1-3
They won it fair and square against the Steelers. Check out the TNF update for details.
Cleveland Browns: 1-3
They lost, again, against the San Diego chargers 30-27. Read the details in the Chargers update.
AFC SOUTH:
Indianapolis Colts: 2-2
Looks like the Colts are trying to get the steam roller moving. They beat one of the underdogs of the NFL, Jacksonville Jaguars 16-13 but they barely closed this one out. They were playing under the veteran QB Hasselbeck. This must be the "over the hill gang" and they are still going strong. Hasslebeck is 40 & the kicker Adam Vinatieri is 42. Hasselbeck led the Colts on a 53yd drive in OT on Sunday & Vinatieri finished it with a 27yd FG for the victory over the Jaguars. Like they say, nothing substitutes for wisdom and experience which both of these guys have. This is the first week without Luck who is out with a right shoulder injury and the old men pulled out the win, barely, but they did it. This was Matt's first start in nearly 3 years with no interceptions in this game. The Jaguar's, well Blake Bortles did his job, so did T.J. Yeldon & Allen Hurns. Jaguars kicker, Jason Myers blew it. He missed a 53yd wide right with 6 seconds left, then got a do over because the Colts called a timeout. The next one sailed wide right too. His next chance came with 8:13 left in OT, that one sailed wide left. He must be related to the Steelers kicker, Scobbe, I'm just saying. Vinatieri broke Mike Vanderjagt's franchise scoring record with his first FG, a 54yder, then became the first player in NFL history to top 1,000pts with 2 different teams on his 2nd FG. He won it with his 3rd kick. I heard that Luck won't be playing TNF this week and truth be told, me myself would prefer to watch Hasselbeck than Luck, I'm just being truthful. It looks as though Luck's, luck, is turning around with a dependable back up. I'll take Matt over Claussen, any day and any time. I know this is pretty much about the ole timers this time, but they deserve it. This win puts them back on top of the AFC South. It also allowed Indy to tie the NFL record for consecutive wins against one division (15), which was set by the 1972-73 Miami Dolphins. The Colts can break the record this Thursday against the Texans, with or without Luck. You get the gist of the game, so I'm done with this one. If not, get the ESPN app and catch up on all games. M. Hasselbeck threw for 282yds & 1 TD. F. Gore had 17 carries for 53yds & 1 fumble. C. Fleener had 9 receptions for 83yds & 1 TD. B. Bortles threw for 298yds & 1 TD. T. Yeldon had 22 carries for 105yds & A. Hurns ended the day 11 receptions for 116yds & 1 TD.

Tennessee Titans: 1-2
The Titans did not play in WK4. At least they are still 1-2. Better than a bunch of team right now.

Houston Texans: 1-3
With this 48-21 loss to the Falcons, J.J. needs to concentrate on cheering on his teammates instead of all of the fans on the American Family Insurance commercial. I'm just saying. Read the details in the Falcons update.
Jacksonville Jaguars: 1-3
Well, considering the start of last season, they are doing great. They did lose to the Colts, 16-13, checkout that update.
New England Patriots: 3-0
The Patriots did not play in WK4. However, I was reading that they have a 4.4% probability of going undefeated. Yeah, I agree but the question is, can they do it without cheating? LOL, sorry, had to put that out there. 

N.Y. Jets: 3-1
The Jets easily carved up the Dolphins for bait to the tune of 27-14. They piled up yards, good & bad and won in the end. They gained 425yds of total offense, including a career high 166 for RB Chris Ivory. They went all the way to London to kick their butts. But, as much as the offensive yards helped, it was the 163yds given up on 14 penalties that kept the Dolphins in the game. Probably should have been a real beat down instead of a warning of a beat down. Fitzpatrick got it going with a 58yd pass to Brandon on the teams first play from scrimmage. Who might I add, is fitting in quite well, I miss you man. Ivory then ran 12yds & scored from the 3 on the next 2 plays, he and the ball would be as one on this day. This ended with Ivory having his 9th career 100yd game. The offense line shut down Dolphins tackler Suh all day long. Suh is the highest paid defensive player in league history, had only 3 tackles with the 1st one coming in the 3rd Qtr. Kinda like Jay, get paid big, singing easy money everyday. Both teams have byes next week, which is the usual for teams playing in London. This is Miami's 3rd straight loss.  They both return to the filed on Oct., 18th. Dolphins vs. Tennessee & the Jets vs. the Redskins. I'm going to call it right now. Dolphins over the Titans by 10+ and the Jets over the Redskins by 20+. I do know this. The Dolphins must win if they have any chances on making something respectable of this season. The Jets need to stop the penalties, against a better team, they would have lost this one for sure. Keep your hands to yourselves guys. R. Fitzpatrick threw for 218yds, 1 TD & 1 interception. C. Ivory had 29 carries for 166yds & 1 TD. My guy, B. Marshall had 7 receptions for 128yds. As of the end of WK4, Marshall has a total of 400 receiving yds, 3 TDs & 1 fumble. Just my personal stats. R. Tannehill threw for  198yds, 2 TDs & 2 ints he ain't no Marino. No rushing yards worth mentioning. K. Stills had 5 receptions for 81yds & 1 TD.


Buffalo Bills: 2-2
The Bills bowed to the Giants in this 24-10 loss. Check out the Giants update.
Miami Dolphins: 1-3

Lot's of chatter going around about the big fish. Things like, will Tannehill remain Dolphins franchise QB after coaching change? Also, word is that Philbin told the practice squad players to go easy on Tannehill. I told y'all, he's an OK QB. But I have to say it again, comparing him to Dan Marion is just laughable. Philbin said he wasn't worried about his job, then got fired like 1/2 day later. I think I mentioned this in last update, but wanted to be sure. BTW, they lost again to the Jets, read that update for details.

Denver Broncos: 4-0
The Broncos barely slid past the Vikings, 23-20 to stay perfect for the season. They played it close. Peyton was picked off 2x and the Vikings turned those pics into 10pts. Ronnie Hillman had a 75yd TD run, it was the longest TD run by a Broncos RB in 15yrs. This was his 3rd career 100yd game. He said that he and C.J. Anderson got tired of people telling them they can't run the ball. He said they had 3 bad weeks, but do believe they got it going now. A. Peterson did get a 48yd TD run on 4th & inches to pull Minnesota to 20-17 with 10 minutes left. Von Miller said that they came into this game knowing the Peterson was going to make plays. He was just glad it was just that one play. Free safety, Harrison Smith's interception, 2 plays later set up Blair Walsh's tying FG from 33yds with 5:11 left. Next, Manning drove the Broncos 55yds in 9 plays & Kicker McManus made a 39yd FG with 1:51 left to break the tie and it would be the game winner. They let Teddy have it, 7x to be exact. I know he was like, what the hell is going on?  I can't get up long enough before I'm put back down, smh. Manning joined Brett Favre as the only QBs to win 100 home starts in the NFL. Manning has now led his teams to a 4-0 start 7x, most in NFL history. Next up is my guy, Fran Tarkenton with 4. P. Manning threw for 213yds, 1 TD & 2 interceptions. R. Hillman had 11 carries for 103yds & 1 TD. D. Thomas had 9 receptions for 93yds. T. Bridgewater threw for 259yds & 1 TD. A. Peterson had 16 carries for 81yds & 1 TD. s. Diggs had 6 receptions for 87yds.
Oakland Raiders: 2-2
They lost to my Bears, what did y'all expect, lol. Read my Bears update for details.


San Diego Chargers: 2-2
Trying to pile em up weekly, the Chargers added another win against the Cleveland browns, 30-27. Check out this twist of fate. Lambo pushed a 39yds FG attempt wide right with 2 seconds left and the Cleveland sideline erupted and jumped up & down, thinking they'd forced OT. Slow down Browns, it ain't over yet. Cleveland's Tramon Williams was whistled for offside, giving Lambo another shot. He sent a 34yder through the uprights, his 3rd of the game. The Chargers break a 2gm losing streak and the Browns are left in disbelief. The winning kick preserved another great game by Rivers. Rivers threw TD passes of 28yds to Keenan Allen in the 1st qtr, 19yds to Ladarius Green for the go ahead score in the 3rd qtr and a 1yder to John Phillips in the 4th. The Browns had tied it at 27 on J. McCown's 1yd pass to Gary Barnidge with 2:09 to pay and a 2pt conversion pass to Taylor Gabriel. That score was set up when the Browns won a challenge of McCown's 19yd pass to Barnidge that originally was ruled incomplete.  McCown said it so truly, "You come home with a loss, it doesn't reflect the effort that was put into that game." He was sacked 4x in this losing effort. Now, it's over. P. Rivers threw for 358yds & 3 TDs. D. Woodhead had 8 carries for 54yds & d. Inman had 3 receptions for 68yds. J. McCown threw for 355yds & 2 TDs, he did his job. I. Crowell had 12 carries for 63yds & D. Johnson had 9 receptions for 85yds & 1 TD.

Kansas City Chiefs: 1-3
It was another rough day all around for the Chiefs. Read the details on their 36-21 loss to the Bengals.