Working the waiver wire is an important skill for all fantasy team managers, regardless of their team's record. Sure, it may be easier to sit back and relax if your team has been performing at a high level these past several weeks - but that's exactly what you shouldn't be doing. There is always someone who is not performing up to expectations and there are always up and coming players on the wire to bring onto your roster and hope that they will end up being the Victor Cruz or Devonta Freeman of that year. Generally, we recommend not sticking with players week after week who are under-performing and instead picking up one of our waiver wire picks and crossing your fingers. On the other hand, teams that have been performing poorly can catch back up with a great pickup like Charcandrick West or Brandon LaFell. So choose wisely this week as you're browsing the waiver wire and keep our picks in mind. Happy hunting!
Quarterbacks
Josh McCown, CLE – Wasn't this guy coaching high school football like 3 years ago before the Bears called? It really should come as no surprise that a journeyman QB like Josh McCown is finding success with the Browns. In any case it doesn't really matter who it is or what team. The bottom line is that in his last 3 games he has 1154 yards with 6 touchdowns and 1 interception. There are plenty of underperforming quarterbacks with better names out there. You know who they are and if you're one of them then you should pick up McCown.
Jay Cutler, CHI – He makes his second consecutive appearance this week. While his fantasy scores have yet to truly impress his attempts and consistency are important to look at. The Bears continue to battle and Adam Gase seems to be getting the most out of Jay Cutler. His numbers are also being hindered by the fact that he is working with inexperienced WR5's and 6's. I really like Jay Cutler's matchup next week against a dismal Detroit Lions team.
Running Backs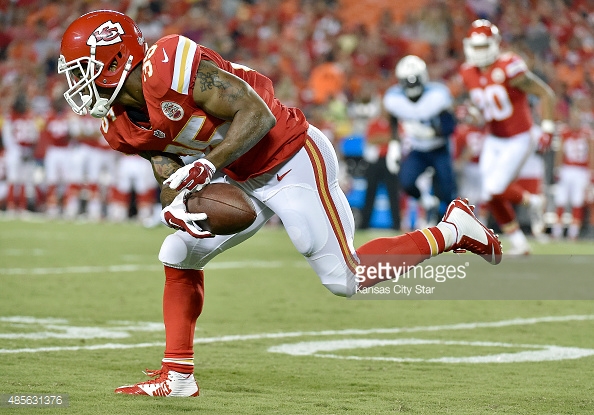 Charcandrick West/Knile Davis, KC – It's always a sad day when a top running back goes down. At least for the owner who drafted him it is. This one is a double dose but I am leaning towards Charcandick West as the pick up here. West proved himself and was the backup before Jamaal Charles went down. Knile Davis will no doubt see an increased roll as well. Andy Reid seems to like West more at this time and he should be targeted first.
Charles Sims, TB – The second repeat of the week. Charles Sims is still only owned in 19% of leagues. He now has 3 weeks of consistent numbers to go on. He added four more receptions in week 5 for 85 yards. While Doug Martin continues to impress in Tampa Bay I don't see them changing what's working. That means Sims remains a high end prospect when it comes to RBBC players as he continues to hit double digit fantasy points three weeks in a row.
Wide Receivers
Jamison Crowder, WAS – Over the last 3 games Jamison Crowder has 197 yards on 21 receptions. Much of his usage is due to DeSean Jackson and Jordan Reed being sidelined with injuries. That being said in week 5 he caught all 8 of his targets and is developing great report with Kirk Cousins. It would be nice to see him get in the end zone. Again, it's week 6 and the pickings are getting slim as we focus on less than obvious waiver targets. Jamison Crowder is a good pick up that you can stash when Jackson comes back. Honestly I could see his value stay strong even on Jackson's return as the field will be spread more.
Brandon LaFell, NE – It is that time to consider reaching out for Brandon LaFell. He is still on schedule to return in week 7 or 8. He was the clear number 2 in New England last year as he set personal bests in receptions, yards and touchdowns. The way the Patriots continue to play (cheat) makes LaFell a much anticipated return for fantasy owners.  If you have the room on your bench and can wait a couple of weeks for his return then go ahead and grab him early.
Tight Ends
Jacob Tamme, ATL – A prime example of week 6 thin pickins. Tamme had a great week last week with Leonard Hankerson exiting the game and Julio Jones nursing an injury. Those injuries are exactly why I like Tamme for one more week at least. It's a Thursday night game so the Falcons have little time to rest their wounds. The New Orleans defense is also pathetically bad this season.
Kickers
Robbie Gould, CHI – Chicago has surprised the last two weeks with comeback victories. Robbie Gould is actually the 7th best kicker when you look at fantasy points this season. The Bears have an ability to move the ball, without actually getting in the end zone; A big plus for fantasy kickers. He is also one of the most accurate kickers in the game today. It's pretty offensive he is only owned in 23% of leagues.
Defense/Special Teams
Atlanta Falcons – Streaming defenses is a fickle thing. You're going to have a better idea in your individual leagues depending on who is available. If you are looking for a little advice heading into week 6 then my suggestion is Atlanta. They have New Orleans on Thursday night in week 6. Traditionally Thursday Night Football is underwhelming due to lack of preparation so it's a plus for defenses. They also have a pretty nice schedule over the next four weeks with New Orleans, Tennessee, Tampa Bay and San Francisco.