Welcome back to the Rookie Report! Week 5 was another exciting one, with a breakout game from Thomas Rawls, the first career touchdown for TJ Yeldon, and Melvin Gordon actually being targeted in the passing game. Jaelen Strong and David Johnson each scored 2 TDs and Ty Montgomery found paydirt as well. All in all, it was a solid week from the rookies, not exactly a banner week, but you can really see the emergence of some of these young guys as they get more comfortable with the NFL grind. Let's dive into what to expect in week 6…
Rookies to Start: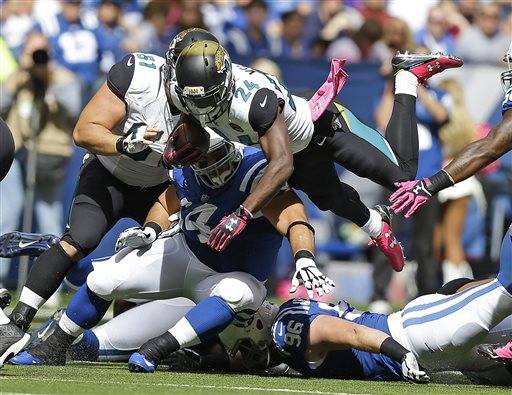 RB TJ Yeldon, JAX (Wk. 6: vs. Hou.): Yeldon has to play to be startable obviously, but he continues to see enough volume that his weekly floor is a low RB2. He's had at least 63 yards from scrimmage in 4-of-5 games, and the Texans just got done letting Frank Gore get loose for the second time all year last Thursday. The Texans have given up 7 RB touchdowns in 5 games, and Yeldon has seen the vast majority of the Jaguars RB touches. If TJ sits, Denard Robinson might have some flex appeal as he looks about ready to return from injury.
RB Javorious Allen, BAL (Wk. 6: @SF): With Lorenzo Taliaferro on injured reserve and Justin Forsett still questionable for this week, Buck Allen might be in line for lead back work against a 49ers defense that has allowed 730 scrimmage yards and 7 TDs to RBs in just 5 games. If Forsett sits out, Allen would be a great flex option and probably a decent RB2 as well this week. He did look impressive on a couple carries last week against a bad run defense, and could do so again this week.
RB Charcandrick West, KC (Wk. 6: @Min.): This is the only week West will be listed here. He's technically not a rookie, but I wanted to touch on the opportunity in front of him. This week will tell us a lot about West's fantasy value going forward. He's a boom or bust RB2 this week, but he undoubtedly has a more similar skillset to the injured Jamaal Charles than does Knile Davis. If the Chiefs don't intend to revamp their offense to be more power run-oriented, they're going to have to treat West as the number one guy and Davis as the backup. West won't get the same volume as Charles was seeing, but he'll get enough touches to be playable on a weekly basis, and have big upside in the right matchups. The Vikings are a solid run defense, but not invincible.
Borderline Rookies:
QB Marcus Mariota, TEN (Wk. 6: vs. Mia.): Mariota had easily his worst game as a pro last week in a loss to Buffalo, but he should have a great shot at a bounce back this week. The Dolphins are fresh off of firing their defensive coordinator during their bye week, and they weren't exactly playing well before that. There's always a chance that they get some extra juice from the coaching upheaval this week and play with a different attitude than we've seen, but there's also a chance that they struggle even more adjusting to a new defensive scheme on the fly. If you believe the Dolphins coaching change helps them turn it around, you should probably avoid Mariota in this one. If you think the dumpster fire in Miami keeps burning, fire him up. He has low end QB1 upside against a defense that is giving up 19 QB points per game over its past 3 contests.
RB Melvin Gordon, SD (Wk. 6: @GB): Gordon is still ceding too much work to Danny Woodhead, and he's still yet to score a touchdown, but there were positive signs that his role is increasing last week. He had more targets and catches (9 and 7) in week 5 than he had in the first 4 weeks combined (7 and 6). He also out-touched Woodhead 22-to-9 in week 5, and has had 2 red zone carries to Woodhead's zero in the last 2 games. It's not a full-fledged shift to Gordon as the bell cow, but it's at least a start. The Packers are slightly above average vs. fantasy RBs, and SD could fall in a hole and abandon the run early, but Gordon has definite upside if the Chargers can hang around. Hopefully for his owners, his role continues to grow as the season progresses.
RB Duke Johnson, CLE (Wk. 6: vs. Den.): The Broncos' defense is a fearsome unit this season, but they have been susceptible to receiving running backs, allowing the second-most RB catches (43) in the league behind only the Falcons (49). Duke had an impact against a plus defense a week ago in the Ravens, and I expect that to continue this week. Without a true number 1 WR, the Browns have had to rely on Duke and Gary Barnidge to sustain their passing attack, and I expect it to continue this week. In standard leagues, Duke is more of a dicey borderline option, but he has great upside in PPR as usual.
WR Ty Montgomery, GB (Wk. 6: vs. SD): Montgomery has been a tough guy for me to peg. I liked him two weeks ago against the 49ers, and he did next to nothing. I didn't like his matchup with the Rams, and he puts up a 4-59-1 line. This week he draws San Diego, who has allowed the 2nd fewest WR fantasy points in the league. I don't love the matchup, but his role in the offense seems secure with Davante Adams likely out again, which puts him right back on the WR3 cusp this week.
WR Nelson Agholor, PHI (Wk. 6: vs. NYG): I was hopeful that Agholor was in line for more touches after his semi-breakout performance in week 4, but an injury knocked him out of a very favorable matchup with the Saints last Sunday. He's said all week that he'll be playing when the Giants visit, but as of Thursday he's yet to practice this week. If he does get the start, he'll be right back into that WR3/WR4 no man's land where you have no idea what to do with him. For what it's worth, when healthy, the snaps have been consistent. He just needs to start converting more targets into production.
WR Keith Mumphery, HOU (Wk. 6: @Jax.): Mumphery didn't get the headlines after fellow rookie Jaelen Strong scored 2 TDs on just 2 catches last week, but he was targeted 8 times and caught 4 passes. If Nate Washington and Cecil Shorts can't give it a go this week, I'd expect similar volume to the 8 targets from a week ago, which should get him on the WR3 radar, even against a Jacksonville secondary that has been better than you'd think vs. WRs.
WR Jamison Crowder, WAS (Wk. 6: @NYJ): Crowder has emerged as a PPR monster in the absence of DeSean Jackson, and Jackson reportedly pulled himself out of practice Thursday after feeling a twinge in his injured hamstring. He appeared to be on target to play this week, but may again be sidelined. The Jets boast a fantastic secondary, but they also are likely to shut down the run as well. For Washington to move the ball, I think it will take a lot of the short passing game with Crowder and RB Chris Thompson to do it. I'd feel pretty good about firing him up as a PPR WR3 if Jackson doesn't play.
Rookies to Sit: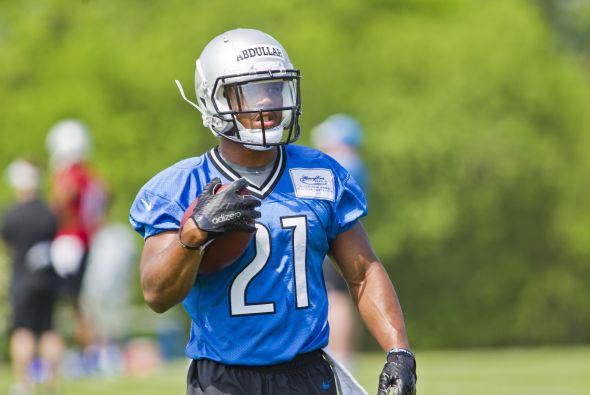 RB Ameer Abdullah, DET (Wk. 6: vs. Chi.): The Lions simply can't run the ball. You would think the Bears would be the perfect tonic for what ails the Detroit run game, but the Bears' run D has been better this year than it was the past two. Abdullah scored a 24-yard TD on his first pro carry. He's tallied just 19 points since in almost 5 full games. Is that someone you want in the lineup?
RB Tevin Coleman, ATL (Wk. 6: @NO): It looks like Coleman's injury has cost him his role in the offense. Devonta Freeman is running like a man possessed, easily tallying the most RB fantasy points in the league over the last 3 weeks, and I see no reason why the Falcons should suddenly give Coleman a big share of the workload. This is Devonta's job for now. Coleman is fighting for leftovers.
RB Karlos Williams, BUF (Wk. 6: vs. Cin.): It's looking like Williams will be out again this week, but even if he plays, it looks like LeSean McCoy will play as well. The Bills will want to lean on the run game if Tyrod Taylor misses this game, but the Bengals boast an above average run defense and trotting 'Los out there in your lineup is a desperate move.
RB Matt Jones, WAS (Wk. 6: @NYJ): Jones is dealing with a toe injury, and more than that he's dealing with a muddy backfield situation. The Jets' defensive front gets offseason knucklehead Sheldon Richardson back this week, so the sledding will be brutal for both Jones and Alfred Morris. The Jets were already 3rd in the league at limiting RB fantasy points without Richardson. This shapes up as more of a Chris Thompson week for the Washington backfield.
RB David Johnson, ARI (Wk. 6: @Pit.): His production is simply not sustainable on the touches that he's getting. It's ridiculous really. He has offensive touch totals of 1, 6, 10, 7, and 3, and point totals of 11, 16, 3, 11 and 12. Odd that the only game that he touched the ball 10 times was the only one he didn't score 10 fantasy points. Like I said…ridiculous. To play him means you're banking on him finding the end-zone again on 5 or fewer touches. Good luck!
WR Dorial Green-Beckham, TEN (Wk. 6: vs. Mia.): There was optimism that the Titans would get Green-Beckham more involved after the bye week, but those hopes were dashed last week. He played a season high snap total, but wasn't targeted even once. Ken Whisenhunt has complained to the media that his receivers aren't doing a good enough job of winning contested catches, meanwhile he keeps a weapon who specializes in this standing on the sideline. It's time for coach Whiz to understand what's wrong with this picture.
WR Devin Funchess, CAR (Wk. 6: @Sea.): Same as Green-Beckham. He's just not getting the snaps and targets needed to be a worthwhile option right now. The Titans didn't use their bye week to get DGB more involved…let's see if the Panthers did with Funchess.
WR Tyler Lockett, SEA (Wk. 6: vs. Car.): Lockett remains a return yardage league-only option for the moment. He even posted his lowest return yardage total of the year in week 5 to go along with just 2 catches. The passing offense volume just isn't consistent enough to trust Lockett in season-long leagues right now.
WR Jaelen Strong, HOU (Wk. 6: @Jax.): Don't be fooled by the 2 TDs last week for Strong. He was on the field for just a handful of plays and was targeted just those two times. I'm not sure what the FIVE Colts DBs standing next to Strong were doing on the hail mary to end the first half, and another blown coverage opened him up for the second TD. He's got a lot of talent, but until his playing time increases it's hard to trust him to continue to produce even if Shorts and Nate Washington are out again. This isn't going to be a repeat of Martavis Bryant in 2014, who broke out after not being active for the first 6 weeks.
WR Phillip Dorsett, IND (Wk. 6: vs. NE): Dorsett is always a big play threat, but it's obvious at this point that he's the number 4 receiver, and they like to use 2 TEs a bit as well. It wouldn't shock me to see the Colts use Dorsett in some gadget plays this week trying to catch the Pats off guard, but he's unlikely to see much volume at all. He's just too buried on the depth chart.
TE Maxx Williams, BAL (Wk. 6: @SF): He's still not producing enough in the opportunities he's getting to warrant getting more of them. Crockett Gillmore looks likely to play this week, further hurting Maxx's value.
Deep League Sleepers and Cheap DFS Options:
WR Stefon Diggs, MIN (Wk. 6: vs. KC): Most people are excited about Mike Wallace's week 6 outlook as he had his best game of the season right before the team's week 5 bye, and this week gets to face the league's worst defense against WRs by far. The Chiefs allow almost 6 full points more to WRs than the next team (Baltimore) per game. While Wallace was good in week 4, Diggs was equally impressive with 6 catches for 87 yards. Charles Johnson is still battling a rib injury, and if he's unable to go, Diggs would make a nice WR3 this week in 12-team leagues and deeper. If Johnson does play, I like CJ to have his best game of the season.
WR Devin Smith, NYJ (Wk. 6: vs. Was.): Smith hasn't been particularly efficient since getting on the field for the first time two weeks ago, catching just 5 of his 16 targets, but the fact he's been targeted so much is promising. The Redskins are stout up front against the run, but can be beaten on the back end. I like Smith's chances of getting behind the defense at least once in this game.
WR Cameron Meredith, CHI (Wk. 6: @Det.): Converted Illinois State QB Meredith flashed in the preseason, and he made the most of his opportunities in week 5, catching all 4 of his targets for 52 yards. The Lions haven't exactly been bleeding points to WRs like the Chiefs have, but they haven't been good either. Both Eddie Royal and Alshon Jeffery practiced on Thursday, so it looks like both have a solid shot to play, but we've said this for a couple weeks about Alshon, and we all remember how coy they played it with Kevin White's injury in training camp. If Royal and Alshon are out, I like Meredith to exceed his output from week 5.
WR DeVante Parker, MIA (Wk. 6: @Ten.): Parker is one of the most talented WRs on the Dolphins, and with Joe Philbin out, interim HC Dan Campbell might try something different to jumpstart the offense. Getting Parker involved would be something different. It's likely not enough for you to want to play him in your lineup, but he's worth some consideration as a punt option in DFS tournaments.
That's all I've got for this week. Hopefully it helps you make some of the tougher lineup decisions. Feel free to hit me up on twitter if you have a complaint or question (@shawn_foss). As always… good luck, trust your gut, and have fun. It's just a game.