Marching right along to Week 6, aren't we? Here are some starts and sits to keep in mind for this week's games. Do you have any specific questions? Feel free to leave a comment or email me directly at This email address is being protected from spambots. You need JavaScript enabled to view it. and I'll be sure to respond quickly. Good luck to all of you this week and remember: consistency is generally the name of the game in fantasy unless you're down on your luck with injuries, etc. In that case, it's okay to throw caution to the wind a bit and play someone with more of a risk/reward situation.
Week 6 Quarterback Starts
Josh McCown (CLE) vs. DEN - McCown has been throwing the ball a crazy amount of times each game and that looks to continue this week. Can we trust newcomers to fantasy football relevancy like Travis Benjamin and Gary Barnidge? For as long as they are putting up points, of course we can! Denver has a great defense this year, but McCown will still need to sling the football around in order to give Cleveland a chance in this game. At the time this column was written, McCown was our #11 QB for Week 5. That makes him a great bye-week fill in or even a low end starter.
Week 6 Quarterback Sits
Andrew Luck (IND) vs. NE - Yes, we know that he is Andrew Luck. Lots of experts are very high on him this week. Our advice is to let him sit for one more week and throw in whatever replacement that you were previously using, if possible. The Colts offensive line still looks as bad as it did early on in the season and Luck will be under pressure from a good New England defense during this match-up. Classic recipe for a disappointing performance.
Week 6 Running Back Starts
Danny Woodhead (SD) vs. GB - Woodhead lost a few snaps to Melvin Gordon last week against the Steelers, but continues to show that he is productive every time he touches the football. Gordon looked better, but still not as good as Woodhead when catching the ball in the backfield and operating on 3rd downs in general. Expect Woodhead to have more opportunities in a game against the Packers where they are likely to be playing from behind.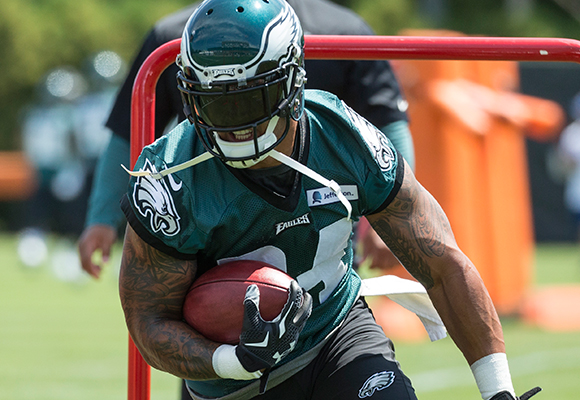 Ryan Mathews (PHI) vs. NYG - Mathews had 73 yards and 1 TD on just 8 carries in last week's game against the Saints. He also added on a few receptions to that total. Chip Kelly is starting to realize that using Mathews and Murray as more of a tandem (and ceding goal-line carries to Mathews) may end up being a better offensive strategy. Look for more of the same for Mathews this week from a Giants defense giving up 17+ points per game to Running Backs.
Week 6 Running Back Sits
Ronnie Hillman (DEN) vs. CLE - For some reason, Hillman keeps popping up on RB rankings in the top 25. He simply does not get enough opportunities to be treated as an every week RB2 or flex start. Add to that a hamstring tweak from last week and the Broncos' offensive woes in general. Nope.
Alfred Morris (WAS) vs. NYJ - Morris used to dominate all short yardage and goal-line work for the Redskins. The only way he was fantasy relevant was by compiling the majority of carries in any given match-up. Now that he has been joined by two other touch-hungry running backs (Matt Jones and Chris Thompson) in the backfield, this is a full-blown RBBC and it will be difficult to every play Alfred Morris again in a starting role.
Week 6 Wide Receiver Starts
Torrey Smith (SF) vs. BAL - Here's a bold one.. I've seen Torrey Smith out on some waiver wires already this year - and while I don't entirely disagree with that move based on Smith's boom or bust way of playing lately, I'm looking at Smith to perform at a high level this week against the dismal Ravens' secondary. WR2 numbers, maybe? At least 80 yards and a TD will be on Smith's stat sheet after week 6.
Mike Wallace (MIN) vs. KC - Wallace is developing some chemistry with Teddy Bridgewater in a time that really calls for some passing plays downfield. The Vikings are starting to realize that they need to throw more in order to balance their offense, and Wallace is becoming the go-to guy in Minnesota. Originally we thought it would be Charles Johnson after some great performances down the stretch in 2014, but injuries have put a damper on his production so far this year. The Titans are giving up almost 20 points a game to opposing WRs - expect Wallace to get most of that.
Week 6 Wide Receiver Sits
Donte Moncrief (IND) vs. NE - Assuming that T.Y. Hilton plays, he should continue to sop up the most targets from Andrew Luck, but I'm looking at the mid-season resurgence of Andre Johnson as the Colts' WR2. After gaining more self confidence in last week's 'grudge match' against his former team, Johnson should continue to perform at a high level. Also, the addition of Ahmad Bradshaw in passing downs should give Luck a great target to dish the football off to when being pressures. Don't get me wrong, I like Moncrief - but he'll have less opportunities than he previously found himself with.
Week 6 Tight End Starts
Ladarius Green (SD) vs. GB - Even though Antonio Gates is back on the warpath, the Chargers are using Ladarius Green fairly heavily throughout the game. Makes sense, considering their other passing options have not been performing up to their expected potential. We should see Green out there by himself as well as in two tight end sets along with Gates. I expect high-end TE2 production for the foreseeable future.
Week 6 Tight End Sits
Zach Ertz (PHI) vs. NYG - Ertz stepped up last week against the Saints, but still has no touchdowns and has been generally disappointing so far in 2015. Some of that can be blamed on the performance of the offense in general, but remember that the Eagles are still splitting snaps between Ertz and Celek. In what could be a tight game between the Eagles and Giants, I think we'll see a lot of Celek because of his skill at blocking. It's all about opportunities, people!