TNF: 10/8/15 Indianapolis Colts vs. Houston Texans
AARP member Matt Hasselbeck saves the day for the Colts. He teamed up with 34 year old Andre Johnson and hit him for 2 TDs. They tried to give it away but Matt & Andre had taken an extra swig of Geritol and were ready to go. Johnson's 2yd score in the 4th Qtr put them ahead to stay. A. Johnson was released by the Texans in March after 12 seasons with them, he tallied up 6 catches for 77yds & 2 TDs. Hey, it's 25yr old guys who can't do that on a daily basis. Sure it might be he his last year, but he looks like he's going out with a bang. They won 27-20. With 2:08 left in the 2nd Qtr, Nick Novak hit a 36yd FG to finally put the Texan on the score board. The Texans would get the ball one more time in the 2nd QTR with maybe 1 min left.  Hoyer kept moving it down the field, no sooner than I said it, it happened.  Hoyer threw a pretty Hail Mary pass into the end zone with 0 seconds left on the clock and Jaelen Strong caught it.  He was as open as a convict giving testimony to get time off his sentence, LOL.  There were 3-4 Colts around him but they were busy knocking each other around while Strong caught the pass and after the 1pt kick, we had a game 13-10 going into the half. I kept telling Indy that Hoyer was going to throw it. Ryan Mallett wasn't cutting the mustard so they sat him down, early. Oh yeah-Hasselbeck was so ill he couldn't even speak at meetings Wednesday night, so the injured Andrew Luck spoke for him. Luck was saying that Matt said, "this is your team man, I'm just happy I could help." Yeah right. Luck better be glad Matt is 40 or he would give him a run for the money, just my thoughts. He went to the emergency room on Monday and was discovered to have a really bad bacterial infection. Hasselbeck is 40 and prior to this season, he hadn't started and won a game in the NFL since 2012. Yet here he is, taking over for Andrew Luck amid a disappointing 0-2 start, leading the Colts to consecutive victories in the division. Same ole story with the Texans, though they tried, they could not win. Mallett, who started for the Texans had the wind knocked out of him on an illegal hit midway through the 2nd Qtr & was replaced by Hoyer. Nuff said about this one. M. Hasselbeck threw for 213yds & 2 TDs. F. Gore had 22 carries for 98yds & 1 TD. T. Hilton, who, 2 years ago that he would be the best receiver to every play in the NFL, had 5 receptions for 88yds. You got a long way to go man. B. Hoyer, threw for 312yds, 2 TDs & 1 int. He received a game ball along with A. Johnson of the Colts for their work today. No rushing yds worth writing, where you at A. Foster? 41yds, that's ridiculous. D. Hopkins had 11 receptions for 169yds. Could you please help out Hilton.
MNF: 10/12/15: Pittsburgh Steelers vs. S. D. Chargers.
I can't believe the Chargers let this one get away, it was a good game. But the Chargers would bow to the Steelers 24-20 when all was said and done. They seem to have forgotten that Vick is a running QB, he don't sit still unless they tell him to. It was a sweet pass to Le'Veon Bell from Michael Vick for a 1yd, game winning TD as time expired. Vick was having a bad game for the most part but redeemed himself by the time the clock was done, he said, "It's not how you start, it's how you finish." Of course, they had to review it and I'll be darn, they let it stand. I saw a TD but not sure if the refs would agree. They were down by 3pts with the ball inside the 1 with 5 seconds left. Bell said it was the most meaningful TD of his 3yr career. He said he dreamed about "being the one that catches the game winner on the last play of the game." Besides, Tomlin was not putting his kicker out there, he still salty about that last game. Vick also hooked up with Markus Wheaton on a 72yd TD on a stop and go route to tie it at 17 with 7:42 left. The Chargers battery had run down, Lambo, who kicked a 34yder as time expired for a 30-27 win over Cleavland, was short & left on a 60yd attempt just before halftime. Antonio Gates returned from a 4 game PED suspension. He had 2 TDs to contribute. Gates has 101 career TDs, joining Tony Gonzalez (111) as the only tight ends to reach that milestone. Rivers have thrown 74 TD passes to Gates, the most from a QB to a TE in NFL history. Antwone Gates of the Steelers intercepted a River's pass & return it 70yds for a TD. Rivers 3rd pick-six of the season. M. Vick threw for 203yds, 1 TD & 1 interception. L. Bell had a good day at work with 21 carries for 111yds & 1 TD. M. Wheaton had 1 reception for 72yds & 1 TD. P. Rivers threw for 365yds, 2 TDs & 1 interception. M. Gordon had 15 carries for 42yds & 1 fumble. Not worth writing but somebody might want to know. A. Gates had 9 receptions for 92yds & 2 TDs.
​NFC NORTH: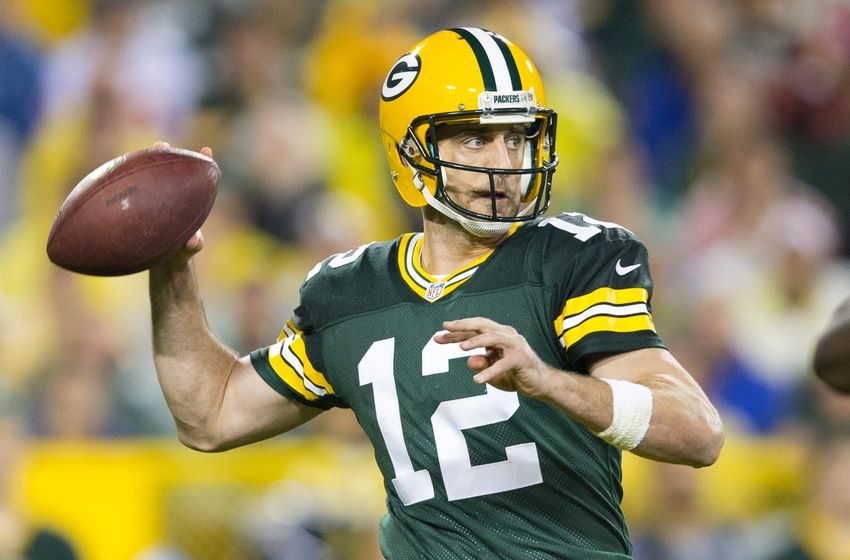 Green Bay Packers: 5-0

You know what really grinds my gears? The fact that green, is my favorite color and when I wear it, with my green gym shoes & cap, I get these insults like, "hey, you a Packers fan?" I just walk away shaking my head. lol. A girl can't have a favorite color anymore. As far as this pack of green people, they did it again, this time to the Rams, 24-10. Aaron Rodgers remarkable run of mistake-free football at home is over, even though they are the Kings of the NFC North. The defense did their job in this one with 3 sacks & 4 interceptions to hold off the Rams. But Rodger NFL record streak of 587 pass attempts & 49 TD passes at home without  an interception ended in the 1st Qtr on LB James Laurinaitis diving pick of a tipped ball for the Rams. Then he threw another one in the 2nd Qtr before losing a fumble in the 3rd on a sack. Rough day at the office. When the press asked him which one bothered him the most, he said all of them. Nick Foles said of his 4 interceptions, I've got to make better decisions. Here's a tip, learn how to play. You wasn't all that with the Eagles either. You had your wonder season already, it's over. A. Rodgers threw for 241yds, 2 TDs & 2 ints. A. Rodgers had 8 carries for 39yds & 1 fumble. J. Jones had 2 receptions for 77yds & 1 TD. N Foles threw for 141yds, 1 TD & 4 ints. T. Gurley had 30 carries for 159yds & S. Bailey had 3 receptions for 73yds.


Minnesota Vikings: 2-2
They did not play in WK 5, so therefore, they did not lose. A. Peterson just proclaimed himself to be the Michael Jordan of football. Get over yourself already.
Chicago Bears: 2-3
You made me sooooo very happy, I'm so glad youuuu, won another game. LOL. Yeah, my Bears won their 2nd game, 18-17. So naturally, I'm getting the "they only won by one point" So, what y'all trying to say?  If you ever read my blog, one thing you should have heard a bunch of times is that, "a win is a win." So get off my back people, you can't break me. Now, I'm not going to lie, the Bears had me shaking in my boots, this is definitely one of those games where you don't want to turn your head or you are going to miss something. What it boiled down to was this, Cutler led the Bears to 2 TDs in the closing minutes Sunday. An alert toss to Matt Forte with 18 seconds remaining, putting us in the lead for good. Mind you he dropped the snap, picked it up and look straight down the field and hit Forte in the end zone and there were Chiefs literally grabbing at his fee. After Robbie Gould's 2nd FG got them going, Cutler led an 88yd drive that he capped off with a 22yd pass to Marquess Wilson. The 2pt conversion came up short, but the Bears defense responded by forcing a quick 3 and out. Sadly, the Chiefs paid for this loss in more ways than one.  Star RB Jamaal Charles with a torn ACL & I do believe a torn MCL as well, either way, he is done for the season. It was a freak accident, no hit was involved, he just made this cut and you can see the weird way his knee turned. That's sucks, for anyone. Well, I guess I'll have some wine and check out a few more games, yeahhh meeee. Cutler threw for 252yds & 2 TDs. M. Forte had 18 carries for 71yds & M. Wilson had 6 receptions for 85yds & 1 TD. A. Smith threw for 181yds & 1 TD. J. Charles had 12 carries for 58yds before leaving the game with an injury. J. Maclin had 8 receptions for 85yds.

Detroit Lions: 0-5
Man, I can't even imagine being a Lions fan right now. This has to suck for the fans especially. Lions slain by Cardinals, check out that update. I really don't want to play them, win less teams are the hardest to beat. Ughhhh.
NFC SOUTH:

Atlanta Falcons: 5-0
Next I'll be losing 25lbs. I mean it when I say, I could guarantee you that nobody saw Atlanta coming out the gate, 5-0. Maybe there is hope for me yet. They stayed in the "y'all can't take us down club" with the 25-19 win over the Redskins, which was really no surprise. Atlanta trailed 16-12 before D. Freeman's 6yd scoring run with 24 seconds remaining in regulation. Redskins kicker, Dustin Hopkins 52yd FG on the final play of regulation forced OT. I see the studying that Robert Alfred did of Kirk Cousins, 3-step drops, paid off in OT.  Alfred returned an interception 59yds for a TD in over time that kept the Falcons undefeated. The Redskins had 1st possession in OT and Cousins moved the team to midfield. On 2nd & 8 from the 50, Ryan Grant slipped while trying to adjust to Cousin's pass. Alford was in perfect position for the pick six and eased on down the sideline for 59yds for the winning TD. He said he trusted his instincts and the film study. Lesson 101 guys, study your opponents. M. Ryan threw for 254yds & 2 ints. D. Freeman had 27 carries for 153yds & 1 TD. J. Freeman is the 1st NFL player with 7 rushing TDs in his first 3 starts. J. Tamme had 8 receptions for 94yds. K. Cousins threw for 219yds, 1 TD & 2 ints. M. Jones had 11 carries for 20yds and 1 TD, which is what even got him a mention, 20yds, really, that's like 1.82 yds per carry. J. Crowder had 8 receptions for 87yds.
Carolina Panthers: 4-0
They did not play this week, thus they are still undefeated.
Tampa Bay Buccaneers: 2-3
First they came out with the iPhone, now the Bucs are 2-3, what other miracle will happen next? Well, here it is, they beat the Jaguars, 38-31 and they both put some points up.  If you play a pool, I would always put this match down for only 3pts, you can never be sure how it turns out with these 2. With this win the Bucs end an 11-game home losing streak. The Bucs ran the ball with authority, young QB J. Winston didn't make any costly mistakes and an improving defense did it's part too. Add all that up and it = victory. Winston said, "This was just smash-mouth football. We lined up in two-TE formations, two-RB formations and pounded that football. When you are able to force your will upon somebody else, and you've got a RB that's just getting 4 & 5 yds and then popping one for 20, that's great football." Well, nothing else to say here, he said it all. It was a bad day for B. Bortles, he threw 4 TDs but was sacked 6x, that's going to leave a bruise. He also threw an interception that led to a Bucs TD. The Bucs won for the 1st time at home since beating Buffalo 27-6 on Dec. 8, 2013, one week after Jacksonville last won on the road, 32-28 at Cleveland. J. Winston threw for 209yds & 1 TD. D. Marting had 24 carries for 123yds & 2 TDs. C. Sims had 4 receptions for 85yds. B. Bortles threw for 303yds, 4 TDs & 1 costly interception. No rushing yds worth mentioning. A. Hurns had 5 receptions for 116yds & 1 TD.
New Orleans: 1-4
Ain't no sunshine when they gone, only darkness everyday. I'm sure that's the saints theme song since Sproles and Graham have both left. And, the buzz is getting louder & louder that Graham is not happy with Seattle. Seattle is also not happy, they said he is not fitting into their system the way they thought he would. They lost to the Eagles 39-17, check that update for the 411.
NFC EAST:

New York Giants: 3-2
Bingooo, Giants win their 3rd straight game. They beat the already broken 49er's 30-27. Larry Donnell's spectacular catch over two 49ers with 21 seconds remaining lifted the N.Y. Giants over the hump and capped off Manning's sensational clutch performance. His perfect throw to Donnell finished off an 82yd drive with a 12yd TD. The two time Super Bowl winner passed for 441yds and became the winningest QB in team history with 102. They now lead the NFC East. S.F. has lost 4 in a row and let this one slip away after an impressive comeback. Carlos Hyde's 2yd run with 1:45 left gave the 49ers the lead. But on a night of huge plays & lengthy drives, Manning and Donnell had the topper. Beckhams speed & moves were too much for the 49ers. He set up the 1st TD by using his elusiveness for a 31yd reception down the middle. His 15yd catch led to a 17yd score on which he neatly spun & sped down the left sideline. The TD was his last reception, he left with a hamstring injury, something that has plagued his short pro career.  He returned only briefly on the winning series. E. Manning threw for 441yds, 3 TDs & 1 int. No rushing yds worth writing about. O. Beckham had 7 receptions for 121yds & 1 TD. C. Kaepernick threw for 262yds & 2 TDs. C. Hyde had 21 carries for 93yds & 1 TD. A. Bolding had 8 receptions for 107yds & 1 TD.
Dallas Cowboys: 2-3
There's going to be some heartache tonight. This can't be good for the Cowboys ego. They were walking in rhythm last season. Dez gets hurt then the very next week, their fearless leader Romo gets hurt. I'm sorry Cowboy fans, but I think you might have to chalk this season up and regroup for next year.  And Terrell Owens, said Dallas should give him another shot. It's about at that point T.O., hang around the phone for a bit. They just might do that. ​There might be a bright side, Dez Bryant was seen doing some light running as rehab continues. Read about their expected loss to the Patriots, 30-6 in N.E. update.
Philadelphia Eagles: 2-3

I gotta say, watching the Eagles play is like watching paint dry on a wall, just not the least bit interested in watching either one. But they won so I'll give them their props. They put the Saints away easily 39-17. All those "playmakers" Chip Kelly acquired made plays in the same game. Sam Bradford overcame 2 red-zone interceptions & threw for 333yds & 2 TDs, Ryan Mathews & DeMarco Murray each rushed for TDs and all that team work made for an easy win over the Saints. Fletcher Cox forced 2 fumbles on sacks to help the Eagles snap a 3 game losing streak at home that dated to last season. Drew Brees had 3 turnovers leading to 17pts for the Eagles. The Saints fell to 1-4 a week after an OT win against Dallas. S. Bradford threw for 333yds, 2 TDS & 2 ints. D. Murray had 20 carries for 83yds & 1 TD. J. Huff had 4 receptions for 78yds & 1 TD. D. Brees threw for 335yds, 2 TDs & 1 int. M. Ingram had 12 carries for 57yds & W. Snead had 6 receptions for 141yds.

Washington Redskins: 2-3
They lost this one in OT to the still undefeated Falcons, read that update for details. I just read that DeSean Jackson suffers injury setback in practice. You have to go read that one for yourself.
NFC WEST: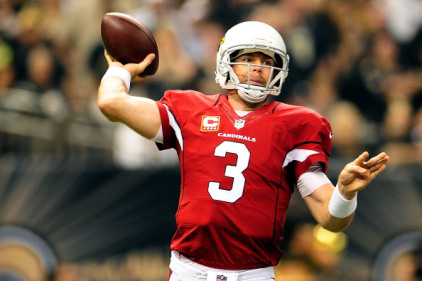 Arizona Cardinal: 4-1
It took exactly 7 days for the Cardinals to get over their surprising loss to the St. Louis Rams. They slayed the king of the jungle, the Lions, 42-17. Palmer threw 3 TDs and Stafford was benched after throwing a 3rd interception. Palmer had a 154.2 passer rating which was the second highest of his career that started when Cincinnati drafted him No. 1 overall in 2003. Palmer was poised & efficient as he threw a 14yd pass to Darren Fells, an 18yd connection to John Brown and a 2yd strike to Larry Fitzgerald for scores. Even though they won, they only have a 2 game lead in the NFC West and Larry Fitzgerald said that no one on the team will be celebrating on the flight home. He said it's far too early. The Lions 0-5 have the dubious distinction of being the NFL's only win less team for a 2nd straight week, and are off to their worst start since becoming the league's only 0-16 team in 2008. Cory Redding who was part of that infamous team 7 years ago said that he hopes the Lions win 1 game. He said he wouldn't wish a 0-16 season on his worst enemy. Stafford will start against the Bears next week. Mannnn, I hate playing teams that haven't won yet, they usually get their 1st win on us, I'm just keeping it real. C. Palmer threw for 161yds & 3 TDs. C. Johnson had 11 carries for 103yds & J. Brown had 4 receptions for 73yds & 1 TD. D. Orlovsky threw for 191yds, 1 TD & 1 int. G. Tate had 8 receps for 74yds & 1 fumble.
St. Louis Rams: 2-3
The Rams were gobbled up by the green goblins, 24-10. They did break Rodgers "no ints @ Lambeau". Read about that in the Packers update.
Seattle Seahawks: 2-3
See what happens when the refs cheat for you, your bad karma comes back on you. Y'all know that was a bogus non-call in the Detroit game. So, good for y'all. Oh, they lost to the Bengals, 27-24 in OT. Read Cincinnati's update for details.


San Francisco 49ers: 1-4
Where's the love 49er fans, I heard you guys been walking out on your team lately, man up and take the beat downs. Read about their 30-27 loss in the N.Y. Giants update.
AFC NORTH:

Cincinnati Bengals: 5-0
Whoops upside ya head, I said whoops upside ya head. Yeah, the Bengals can pretty much talk all the smack they want to right now. They are flying high, staying undefeated going into WK6. Playing like an elite QB, Dalton led the Bengals from a 17pt deficit to a legacy victory over the Seahawks. Mike Nugent's 42yd FG in OT bounced off the left upright, but went through for a 27-24 win over Seattle. I thought for sure Seattle had this one. Dalton's looks like a totally different QB this season. He didn't look too bad last year, but he is looking great right now. This just wasn't a good come back win, it matched the 2nd biggest comeback in team history and came against the 2 time defending NFC champions, a signature moment for the unbeaten Bengals. Here's the deal, they were trailing 24-7 heading into the 4th Qtr. Dalton threw for a TD, ran for another and led the Bengals on a 69yd drive with no timeouts to get Nugent's 31yd FG on the final play of regulation. Dalton said, "For us to come back against a really, really good team is huge." The 17pt collapse matched the biggest in Seattle history. The Seahawks also blew such games in 2003 against Baltimore and 2004 against St. Louis, losing in overtime as well. Well, they ain't look all that good right about now, lol. That's all I got for this one. A. Dalton threw for 331yds, 2 TDs & 1 int. G. Bernard had 15 carries for 80yds. T. Eifert had 8 receptions for 90yds & 2 TDs. R. Wilson threw for 213yds, 1 TD & 1 int. T. Rawls had 23 carries for 169yds & 1 TD. D. Baldwin had 3 receptions for 70yds.
Pittsburgh Steelers: 2-2
The road is long, with many a winding turn. Seems like the Steelers going down every one of them, finding a win along the way. They beat the Chargers, 24-20. Read about that in MNF update.
Cleveland Browns: 2-3
Well, I can't talk about them to bad, my Bears have the same record. After being down 21-9 in the 4th Qtr, they did manage to pull this one out off against the Ravens, 33-30 in OT. Seems to be the theme for WK 5. One thing I can say, you should go and read the FULL recap on this one, it was something. I'll just add my two cents and keep it moving. Josh McCown bucked recent history and put his name in the Cleveland record book with a marvelous performance that went into OT. Travis Coons kicked a 32yd FG, which turns out to be the winner in OT. This was the Ravens 2nd straight OT game and they went 3 and out on their 1st possession. McCown then used more than 7 minutes to move the Browns 51yds before Coons kicked his 4th FG of the game with 6:43 left in OT. Justin Tuck did his part in kicking a 23yd FG with 25 seconds left in regulation to get the Raves an extra session. But, OT belonged to the Browns after a wild 4th Qtr. Cleveland had lost 13 of it's last 14 meetings with their AFC North foes, but the Brown rallied from 12pt deficit to leave the Ravens 1-4 alone in the division cellar. Baltimore has never been 1-4 and this marks the 1st time they lost their first 2 games at home. J. McCown threw for 457yds, that's almost 500, dangggg and 2 TDs. No rushing yds worth mentioning. G. Barnridge had 8 receptions for 139yds & 1 TD. J. Flacco threw for 210yds & 1 TD. J. Forsett had 21 carries for 121yds & 1 TD. K. Aiken had 4 receptions for 78yds.


Baltimore Ravens: 1-4
Who knew? I know I didn't, did you?  The Ravens got it bad and that ain't good. Read about the comeback for the Browns to beat them, 33-30, in OT, in that update.
AFC SOUTH:
Indianapolis Colts: 3-2
Read about how the Geritol Boys won this one, 27-20 over the worried Texans. Check out the TNF update. 


Tennessee Titans: 1-3

They lost by 1pt. I am sure they would have loved to win by 1pt, see what I mean when I say 1pt does make a difference. Read the details in the Bill update.

Jacksonville Jaguars: 1-4
Looking better than you did last year at this time. Read about their spanking from the Buccaneers in that update.
Houston Texans: 1-4
The big ole state of TEXAS must be feeling pretty small right about now. Neither Houston or Dallas is bringing nothing home this season as far as football. Read about their loss to the Colts in the MNF update.
AFC EAST:

New England Patriots: 4-0
Like my dad used to say, "ain't no fun when the rabbit got the gun." Say what you will about the Patriots, all you are doing is fueling the fire. I mean come on, the Cowboys can barely beat the Patriots when everyone is healthy. You got two of your star player out and one left? Come on man, this was like sending a sheep into a lions den, the sheep is done for. So were the Cowboys with the 30-6 loss to the Patriots. To add insult to injury, they whipped them in their new $1.2 billion showplace of a stadium. Brady threw a pair of TD passes in the 2nd half after surviving 5 sacks in the 1st half. The Super Bowl champion Patriots won their 7th straight game going back to the playoffs last year. Brady's sneak to put N.E. ahead for good in the 2nd Qtr was his first rushing TD since Dec., 16, 2012, when he had the last of his career high four that season. The Cowboys lost their 3rd in a row without Romo & Bryant, both out with injuries. They have at least 4 more before the two come back, maybe. Weeden, he has lost his 11th straight game a a starter going back to his time as a 1st found draft pick in Cleveland. The buzz is that he has been replaced this week by Matt Cassel when they come off their bye week. T. Brady threw for 275yds & 2 TDs. L. Blount had 13 carries for 74yds & J. Edelman had 4 receptions for 120yds & 1 TD. B. Weeden thew for 188yds & 1 interception. J. Randle had 15 carries for 60yds. D. McFadden had 9 receptions for 62yds.
New York Jets: 3-1
Well now, look whose right on the Patriots heels. The Jets are doing well for the start of the season, wonder how long this is going to last. They had a bye this week so they are home chilling. They have the Redskins Sunday, should make them 4-1.

Buffalo Bills: 3-2

The Bills were determined not to lose this one. They beat the Titans 14-13, 1pt. I'm just curious why everyone at work ragging me about our 1pt win. Anyway, the Titans had a 10pt lead and gave it up. They said that QB Tyrod Taylor came through by doing a little bit of everything, even catching a pass. Taylor threw a TD pass and ran for another in rallying the Bills over the Titans, saving the day. Rex Ryan said that "Taylor has the biggest heart, it was tough sledding, but he's got guts, he's got heart. He wasn't playing great but at the end of the day, he's the reason we won the game." Taylor rand for 76yds as the Bills snapped a 5 game skid against Tennessee. The Titans blew a 2nd straight double digit lead at home, this by 10pts. They have lost 2 straight by a total of 3pts. All I can say is, move over Cam, there's a new super man in town. T. Taylor threw for 109yds & 1 TD. T. Taylor had 8 carries for 76yds & 1 TD. C. Hogan had 3 receptions for 52yds & 1 TD. M. Mariota threw for 187yds & 1 int. M. Mariota also had 5 carries for 47yds. No receiving yds worth writing.

Miami Dolphins: 1-3
Good thing there is a great night life and beautiful beaches in Miami or you guys just would not get over the sucky season the big fish are having. But, the good news, they didn't play Sunday, so they are still 1-3 instead of 1-4. Just my opinion.


AFC WEST:
Denver Broncos: 5-0,
You guys know I love me some Peyton Manning. But, keeping it real, he is playing OK right now, not the usual I expect to see whenever he takes the field. His crew got his back right now, he is just along for the ride and to throw a few balls. I think he has lost a step and he is giving up way too many interceptions, like the two that Charles Woodson had in this game. He said he has waited 18yrs to pick off one of Manning's passes, he did one better and got 2.  The man that saved the day, Chris Harris Jr., he returned a 4th Qtr interception for 74yds for a TD and the Broncos overcame a shaky day from Manning to Beat the Raiders, 16-10.  Harris said, "You never know who it's going to be, but we've got a team full of play makers on defense, if we got to win on D, we feel we can do it. They've done it so far with 22 sacks, 14 turnovers and 3 defensive TDs as Manning and the offense have struggled for long stretches. Manning has more interceptions, (7) than TD passes (6) through 5 games for the 1st time since his rookie season. He was intercepted twice by 1998 draft classmate Woodson and failed to lead the Broncos to an offensive TD for the 2nd time in 5 games. The Raiders were done in by an interception midway through the 4th Qtr with Oakland in position for a possible go ahead FG. Carr's 3rd down pass over the middle was off target & Harris picked it off like a fresh peach off a tree and returned it for the score & the win. Silencing what had been a loud crowd in Oakland. The Raiders added a late 50yd FG by Sebastian Janikowski but Denver recovered the onside kick to seal it. P. Manning threw for 266yds and 2 ints. No rushing yards worth writing. E. Sanders had 9 receptions for 111yds. D. Carr threw for 249yds, 1 TD & 1 int. No rushing yard worth writing. M. Crabtree had 4 receptions for 54yds, barely worth writing.
San Diego Chargers: 2-2
I thought for sure the the Chargers would win this one. Good thing I didn't ask anybody to bet. They lost to the Steelers. Check out the MNF update for all details.
Oakland Raiders: 2-3

They were thisssss close and let it slip away. Read about it in Denver's update.

Kansas City Chiefs: 1-4
Read about not only the loss of the game to the Bears, 18-17 but also the loss of Jamaal Charles, he's gone for the season. Check out the Bears update.