Week 8 was one of the worst injury weeks in recent memory. Even the return of Dez Bryant and Ben Roethlisberger couldn't soften the blow. Several big names went down in a set of noon games that seemed to have a new injury every 15 minutes. So, pardon my slight exaggeration as we get on with this week's casualty report.
Quarterbacks -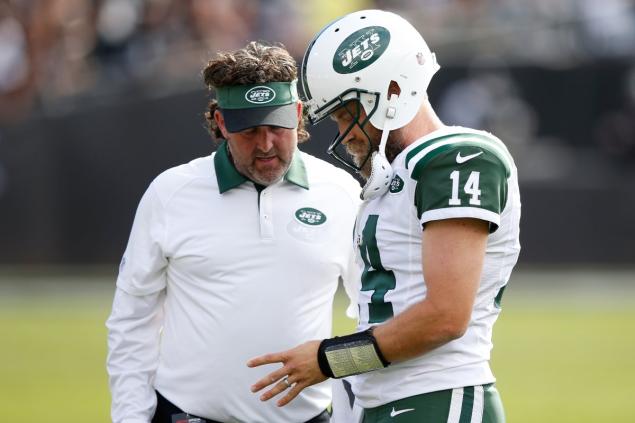 Josh McCown has been injured two weeks in a row. He hurt his shoulder week 7, and now his ribs in week 8. He left the game with a few minutes remaining, and now his status for week 9's Thursday night matchup with Cincinnati is up in the air. McCown has averaged 20 points/game over his last 6 games.
Ryan Fitzpatrick injured the thumb on his non-throwing hand and his status is currently day to day. Geno Smith inspired no confidence from the Jets, who were reportedly calling around for a QB before the game was even over. We'll know later on in the week if he'll be starting against the Jags Sunday.
Running Backs -
Le'Veon Bell has been placed on IR, and his torn MCL means that his season is done. He seemed to pick right up where he left off, so it's a shame that he goes down right as Big Ben comes back. He'll be back in full force next year, and for now, he makes Deangelo Williams the hottest waiver pick up this week.
Matt Forte exited Sunday's game against the Vikings, and of course, the Bears were very hush-hush about it. They did clue us in a little bit later on - Forte hurt his MCL, but doesn't need surgery and should only miss a couple weeks. Forte's absence makes Jeremy Langford possibly the second hottest waiver pickup this week.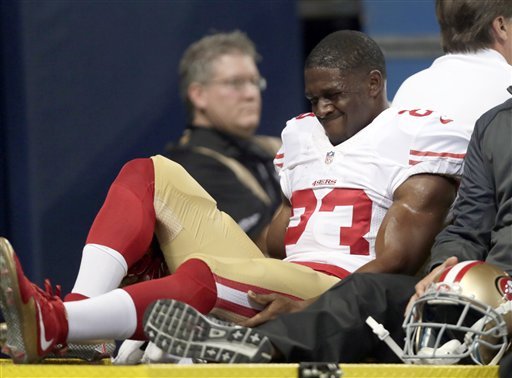 Reggie Bush slipped on some concrete and tore his ACL, ending his season, and possibly his career. The 49ers are one of the biggest messes in recent memory, so whoever does wind up replacing Bush will have a really hard time being fantasy relevant. The only hope for fantasy value there is when Carlos Hyde returns.
Khiry Robinson wins the most painful injury of the week award - the worst award you can win on a weekly basis. A broken tibia will end his season, where from fantasy football's perspective, he was just vulturing TD's from Mark Ingram. The Saints will likely sign a third guy, but look for Ingram to monopolize the Saints backfield for now.
Wide Receivers -
Steve Smith Sr. is a guy who I've come to really admire as an NFL player. He's of the toughest players that I can remember watching, so seeing him be carried off the field with a towel covering his face was a little hard to watch. I don't want to see this be his last moment on an NFL field, and hope, like Jim Harbaugh, that he comes back next year. For the rest of 2015, Kamar Aiken will move up to the #1 WR spot in Baltimore. Aiken is still young, and won't be able to produce anywhere close to Smith's numbers.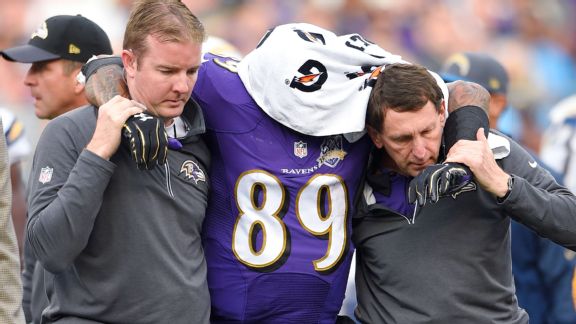 Calvin Johnson suffered an ankle injury which was probably minor, but since it occurred in a blowout loss, he didn't return to the game. The Lions have the week off coming back from London, so we won't know a lot about Johnson until next week, but there's no reason to think he'll miss week 10.
Keenan Allen has an interesting injury track from the game Sunday. He left, reportedly with a shoulder injury, then it was called back spasms, but now the Chargers report that he is out indefinitely with a kidney injury. It's pretty safe to assume that he will miss week 9 and try to get back after the Chargers' week 10 bye.
Kendall Wright suffered a sprained MCL, which reportedly feels "horrible". Hey, it's nice to know that not everyone has a canned cliché response about an injury. Wright's absence from the lineup may finally lead the way to Dorial Green-Beckham getting some action week 9, when Marcus Mariota is expected to return.
John Brown is a savage, apparently. Go read his twitter if you're trying to figure that one out. Brown disappointed everyone who started him this week by pulling the rare move of being active, but not getting into the game. Clearly, his hamstrings are an issue, but he has a bye week to heal up and we'll know more about his week 10 status a week from now.
Tight Ends -
Larry Donnell was carted off the field in New Orleans, but his injury was just apparently a muscle spasm in his shoulder or neck, which is good news (relatively speaking). It's not clear if he'll be playing week 9 yet, we'll know more by Wednesday. Either way, he's not fantasy relevant for now.
Ladarius Green was in line to get a lot of work with a hobbled Antonio Gates, but then went down with his own injury in the first quarter. With Gates back on the field, the Chargers won't rush Green back, though they really are hurting with injuries this year. The Chargers play Monday night, which means we won't have an official injury report until Thursday night.
Garrett Celek left the game with a concussion, but is now the top tight end in San Francisco with Vernon Davis being traded to the Broncos. Celek won't be a TE-1, especially on this anemic offense.