Rookie Report: Week 9
Welcome back to the Rookie Report! Week 8 was a brutal one with one season-ending injury after another. Hopefully your fantasy team survived unscathed, and hopefully your waiver position will allow you to pick up D'Angelo Williams. He'll be a top 15-RB the rest of the way. This isn't a waiver wire column, but there may be a few rookies who will prove worthy of a pick up over the next few weeks. Let's dive into what to expect in week 9, and I'll throw in a few rooks in the sleeper section who may be worth a flyer (Any fantasy point totals listed are based on ESPN standard scoring)...
Rookies to Start:
RB Todd Gurley, STL (Wk. 9: @Min.): With the way Gurley is running, you have to throw out the matchup in this one. The Vikings have been strong against opposing RBs since struggling against Carlos Hyde in week 1 (10 fantasy points per game for opposing RBs since), but Gurley's breakout started against the Cardinals, who have allowed just 11 RB points per game aside from the Rams game. The Vikings also allow 4.4 yards per carry, which is hardly impressive. Gurley should have success again.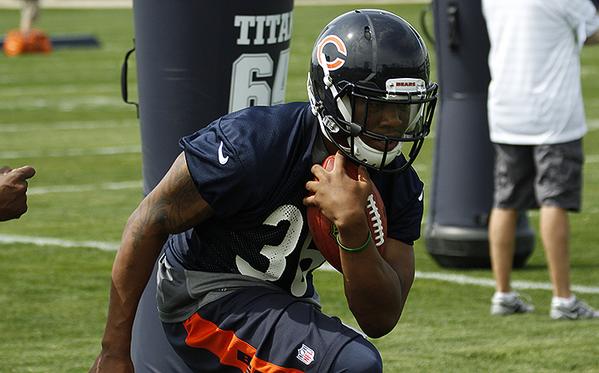 RB Jeremy Langford, CHI (Wk. 9: @SD): Matt Forte will likely be out for the next couple of weeks, and Langford should step into a major role at just the right time. He's the next best waiver add after D'Angelo this week if you can get him. He faces the Chargers, who have been awful against running backs...like worst in the league awful. The Chargers allow 5 yards per carry, 124 rushing yards per game, and have given up 8 rushing scores in 8 games. They've also given up an extra 450 receiving yards and 3 receiving TDs to RBs. Langford should at least be a passable RB2 in this plum matchup.
WR Amari Cooper, OAK (Wk. 9: @Pit.): Cooper should find the sledding easier this week after a rough go last week against the Jets. The Steelers do allow fewer WR points than the Jets, but thanks to Darrelle Revis, the Jets limit WR1s much more effectively than the Steelers. Pittsburgh is fresh off allowing an 11-118-1 line to AJ Green last Sunday. Cooper is safe to fire up this week as a WR3. The floor this week should be higher than his final numbers against the Jets.
Borderline Rookies:
QB Jameis Winston, TB (Wk. 9: vs. NYG): Jameis is starting to look like the number 1 pick he's supposed to be. He's put up at least 12 fantasy points in each start this season, despite struggling with turnovers early on in the year. He may have recently turned a corner. He hasn't thrown a pick in his last 3 starts, and has scored 19 points in each of the last two. This week, he gets the Giants, who allow a league-high 315 yards passing and just over 2 passing scores per game. They're also fresh off giving up 7 TDs to Drew Brees. With that said, they've also picked off 13 passes on the year. I'd expect Jameis to throw his first INT in 4 games this week, but there is also a ton of upside. He should be on the low-end QB1 radar.
QB Marcus Mariota, TEN (Wk. 9: @NO): Mariota seems to be on track to play this week, and he gets to face the defense that allows the most fantasy points to QBs in the league. The Saints have allowed a league-high 20 TDs through the air, and an additional 2 QB rushing scores. With Ken Whisenhunt gone, things might get better for Mariota. Interim head coach Mike Mularkey has vowed to tweak the offense to better suit Mariota's strengths. That should mean more running attempts, which would bump his floor up in a matchup that already has a high ceiling. Like Jameis, he's on the QB1 radar this week. I'd prefer Winston over Mariota since Jameis has a higher floor, but both are interesting streaming options.
RB Melvin Gordon, SD (Wk. 9: vs. Chi.): This actually isn't a bad spot for Gordon. He's been watching Danny Woodhead light it up in garbage time, but the Bears allow 128 rushing yards per game. They haven't allowed many long runs, and just two rushing TDs, but with Keenan Allen out the Chargers are likely to try to get the run game going more. This game sets up for Gordon to have RB2 upside.
RB TJ Yeldon, JAX (Wk. 9: @NYJ): Yeldon has been coming into his own recently, scoring 13 points per game in his last 3 outings, but he hasn't faced a defense like the Jets in that stretch. The Jets have allowed more than 6 points to opposing RBs just twice all season. Volume makes TJ an RB2/flex option this week, but not a great one.
RB Duke Johnson, CLE (Wk. 9: @Cin.): Duke managed a decent day yet again last week, and he did so despite just a few touches. His value isn't going anywhere. He remains a decent PPR flex play week in and week out, and coach Mike Pettine expressed this week that he knows Duke needs more touches. Isaiah Crowell and Robert Turbin have been an unimpressive tandem.
WR Stefon Diggs, MIN (Wk. 9: vs. StL.): Diggs isn't an automatic start this week against a tough Rams' secondary, but he's not a guy to avoid either. I would ride the hot streak while it lasts. He's the clear number one receiver for Minnesota right now, and the Rams should make it tough to get the running game going. Good passing attacks have had success against the Rams. I don't know if I'd classify the Vikes' attack as good, so Diggs is more WR3 than WR2 this week.
Rookies to Sit:
RB Matt Jones, WAS (Wk. 9: @NE): I think there's a chance Jones has a nice game, and I expect him to still see more work than Alfred Morris, but he will lose passing down work to Chris Thompson and Washington is likely to be playing from behind for most of the game. Those factors make him too risky to play this week. He's averaged just 3 fantasy points per game in his past 5 games.
RB Karlos Williams, BUF (Wk. 9: vs. Mia.): You should hold onto Williams in deeper leagues if you have the room, but a healthy LeSean McCoy saps some of his value. There will be some decent games down the stretch. Karlos tallied 50 fantasy points in the first 4 games of the season before suffering a concussion, and he did so on limited touches. Unfortunately it will be tough to tell which weeks will be the productive ones. If anything happens to Shady, Karlos is instantly a starting caliber RB, but for now he belongs on the bench.
WR Nelson Agholor, PHI (Wk. 9: @Dal.): Agholor should be back on the field this week, but that's not a reason for him to be in your lineup. There is upside this week, but he would have to show some production before you can consider putting him in the lineup.
WR Jamison Crowder, WAS (Wk. 9: @NE): With D-Jax and Chris Thompson returning this week, it'll be Crowder's targets that will take the biggest hit. Even with a plus matchup against a bottom-10 WR defense, Crowder is a dicey PPR WR4 this week.
WR Ty Montgomery, GB (Wk. 9: @Car.): Pretty simple here. Davante Adams is back, Montgomery is banged up, and the Panthers are a really tough matchup for any WR. Steer clear this week.
TE Clive Walford, OAK (Wk. 9: @Pit.): Nothing to see here this week. The Steelers may allow the 4th most points to opposing TEs, but the majority of the points they allowed were to Gronk and Antonio Gates. If you throw out the games against New England and San Diego, the Steelers have allowed just 4 points per game to opposing TEs, which would be good for 3rd fewest in the NFL. Walford will eventually get more involved, but it likely won't be this week.
Deep League Sleepers and Cheap DFS Options:
QB Bryce Petty, NYJ (Wk. 9: vs. Jax.): Ryan Fitzpatrick has torn ligaments in his non-throwing hand, and Geno Smith got banged up in relief of Fitz. It's a long shot, but there's a chance that they are forced to go to Petty this week. He played in a spread passing attack in college, so he may be okay in Chan Gailey's scheme. He does have a decent matchup. The Jaguars allow the 8th most fantasy points per game to QBs. If you're in a pickle in a 2 QB league and Petty gets tabbed to start...he might be worth a shot.
RB Tevin Coleman, ATL (Wk. 9: @SF): This is just a hunch...This game could get ugly. The 49ers are a dumpster fire right now. Why would the Falcons want to risk getting Freeman injured if they get comfortably ahead early? There is a strong chance for plenty of Coleman garbage time in this one. He could be a fun cheap option in DFS tournaments.
RB David Cobb, TEN (Wk. 9: @NO): Cobb may be poised to be activated from short-term IR this week, and his timing likely couldn't be better. You can't confidently start him this week, but there is hardly a clear lead back on the Titans at this point. Antonio Andrews had his best game of the season last week, but with the coaching change there should be an opportunity for Cobb to carve out a role. He's an intriguing deep league pickup who could provide solid value in the 2nd half of the season.
WR Dorial Green-Beckham, TEN (Wk. 9: @NO): I'm sure DGB isn't unhappy to see Whisenhunt go. Just a week ago, the former coach said he was in no hurry to make Green-Beckham a bigger part of the offense. That should change with Mularkey in charge. If he has any designs on shedding the interim tag, he should be getting the most talented players on the field more. I've mentioned Green-Beckham before, and he has struggled to break through, but this is as good a spot as any. The Saints have allowed 13 WR TDs on the season.
WR Justin Hardy, ATL (Wk. 9: @SF): Much like Tevin Coleman, Hardy could benefit from the mess that is the 49ers. It sounds like there is a real chance Leonard Hankerson is out again, and Hardy caught two passes in his pro debut last week. If Hank is out again, I think Hardy could be in line for 5+ catches in a game with plenty of playing time for the backups.
That's all I've got for this week. Hopefully it helps you overcome some byes and injuries, and helps you make some of those tougher lineup decisions. Feel free to hit me up on twitter if you have any questions or want to yell at me (@shawn_foss). As always, good luck, trust your gut, and have fun. It's just a game.