Week 9 Injuries:
Ben Roethlisberger (QB, PIT) sustained a foot injury on an Aldon Smith sack, which ended up being a mid-foot sprain and will likely sideline him until after the Steelers' week 11 bye. Initially, it was suspected that he may have sustained a LisFranc injury to his left foot, which could have ended his season. Big Ben is still trying to play in week 10, but we believe that the starter will be Landry Jones. Thankfully, Jones has shown that he is capable of running the offense to some degree (and unlike Michael Vick, he has been getting the football to Antonio Brown on a regular basis), but the Steelers have never wanted to start Jones and he doesn't perform well under pressure (as evidenced by his start against Kansas City earlier this season).
Teddy Bridgewater (QB, MIN) was knocked unconscious in week 9 and sustained a concussion, but he appears on track to start in week 10 against the Oakland Raiders. The Raiders are giving up 18.9 points per game to opposing fantasy QBs, so things look good for Bridgewater assuming that he is in good health.
Andrew Luck (QB, IND) has a partial tear of an abdominal muscle and a lacerated kidney. Yikes! These injuries will keep Luck off the field for a few weeks at minimum and bring in veteran QB Matt Hasselbeck to start under center going forward. Not good news for the Colts at all. Hasselbeck was previously able to score a few TDs when he filled in for Luck earlier in the season, but to rely on him for any more than a game or 2 at a time will likely spell trouble for fantasy production in Indianapolis.
Dion Lewis (RB, NE) was a huge pickup off the waiver wire for many fantasy football teams, but unfortunately he suffered an ACL tear in week 9 which will sideline him until 2016. This reinforces LeGarrette Blount as the primary RB in New England, but we will definitely see a committee of James White and Brandon Bolden on the field sucking up the snaps that Dion Lewis handled previously. As far as predicting which, if any, RB besides Blount will now be fantasy relevant? Might as well flip a coin.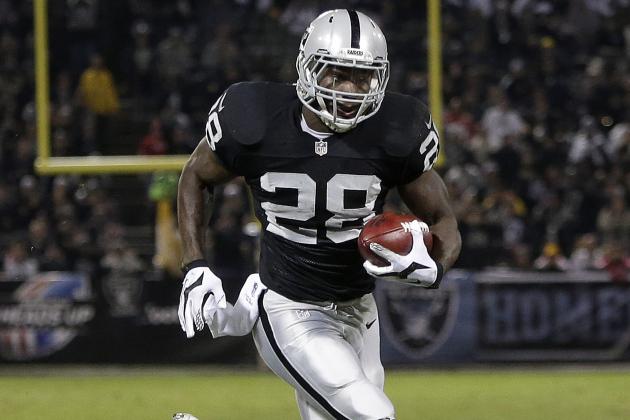 Latavius Murray (RB, OAK) suffered a concussion this past week, but looks to be on track to play in week 10 already. If he's not able to suit up, some combination of Taiwan Jones, Roy Helu and Marcel Reece will be in line to handle Murray's touches.
Eddie Lacy (RB, GB) was on the injury report with a groin injury from week 9. Only in his 3rd year, we expected Lacy's production to be similar to what it was in 2013 and 2014, but he's currently only on pace to reach about 50% of that production this season. It's hard to see James Starks carving out a permanent role as the lead RB for the Packers, but an underperforming Lacy is forcing that to happen. As of right now, Starks appears to be taking that job.
Allen Hurns (WR, JAX) was injured at the very end of the game in week 9 with a sprained left foot. Hurns has been great, turning in a touchdown in each of the last 6 games and as long as he can dress for week 10's match-up against Baltimore, he should continue that trend. We'll have to wait until later this week to see if Hurns has shed the walking boot and is able to practice.
Malcolm Floyd (WR, SD) suffered a torn labrum on Monday night and will likely be out for the remainder of the season and perhaps be done for his career. This points to Stevie Johnson, Antonio Gates and Danny Woodhead sucking up all of Rivers' passes for the rest of the season. Fantasy gold, Jerry! Especially in PPR leagues.
Previous Injury Updates:
Tony Romo (QB, DAL) is still expecting to return in week 11, against the Dolphins.
Matt Forte (RB, CHI) news is not forthcoming, but the current expectation is a return in week 11 against the Broncos.
Carlos Hyde (RB, SF) had a stress fracture and there are no new updates on his recovery, though he could very well be out for the rest of 2015.
Kendall Wright (WR, TEN) is still sidelined with a sprained MCL and won't return this week unless he can get out on the practice field.
John Brown (WR, ARI) said he would 'be healthy after the bye [week 9]' and we expect him to be ready for the Seahawks in week 10.
Breshad Perriman (WR, BAL) has not yet been able to practice after sustaining a knee injury in training camp. With Steve Smith out for the season, the Ravens need him to return and provide a boost to the passing offense. As of now, we don't expect him to play in week 10.