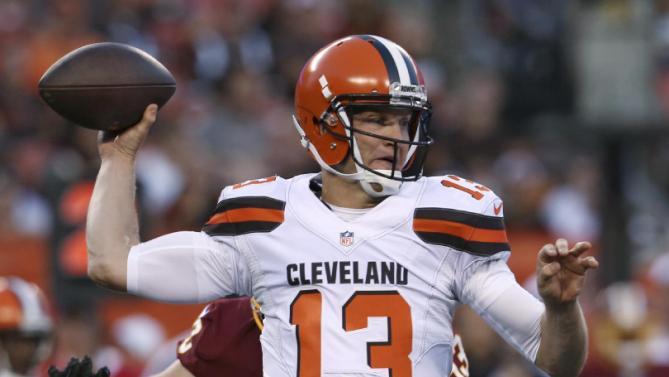 Josh McCown named the starter in Week 12
Johnny Manziel has been benched in favor of Josh McCown going forward. Manziel moves into the #3 spot for now, backing up Austin Davis.
After tanking last year as the starter in Tampa Bay, Josh McCown has been performing at a fairly high level in Cleveland, racking up almost 2,000 yards and 11 TDs so far this season. After suffering some injuries throughout the early weeks of the season and struggling, the inimitable Johnny Manziel was named starter for the Browns going forward. The Browns were planning for the future by going with Manziel, and hoping that they would be able to expedite his maturity as both a football player and a human being.
Looks like that is not in the cards though, at least for this season, as it was just announced that Manziel is now being relegated to the #3 QB on the Browns behind both Josh McCown and Austin Davis. It did look like Manziel was traveling a little closer to the straight and narrow path this season, but after an alleged domestic incident involving alcohol earlier this year and now a video that was just released showing Manziel partying over the Cleveland Browns' bye week, management has apparently had enough.
From a fantasy perspective this is good in the short term for the Cleveland Browns, as Josh McCown has a much firmer grasp of the offense and how to behave as a QB on an NFL team. Looks like if Manziel is going to get another chance at making it in the NFL, it's not going to be in 2015.
Source: ClevelandBrowns.com