Injuries are one of the biggest pitfalls to your fantasy football team. Unpredictable and quick to rear it's ugly head, the injury bug is most prevalent during this middle stretch of the season when everyone is tired and physically drained. If you stay on top of the injuries, though, you can make good decisions with fill-ins and replacements. Take a look at our Week 12 Waiver Wire Picks for more helpful advice.
Quarterback Injuries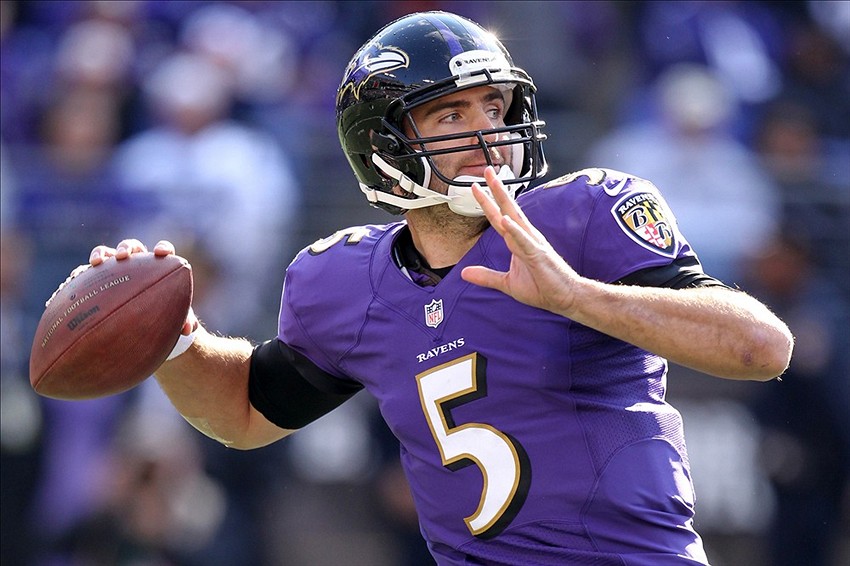 It will be rough sledding for the Ravens with Flacco outJoe Flacco (QB, BAL) – Flacco is officially out for the season with a torn ACL and MCL. In what can only be described as a disaster of a season so far in 2015, the Ravens are losing weapons by the second. Matt Schaub will start immediately but is without fantasy value, and the Ravens picked up Jimmy Clausen – ex Chicago backup who was just waived – to hold the clipboard on the sideline.
Tyrod Taylor (QB, BUF) – Anyone who watched Monday Night Football (NE vs. BUF) could see that Taylor was obviously in pain at least during the last quarter of the game. Continually clutching at his shoulder/collarbone area after passing the football is never a good sign. Coach Rex Ryan said that he would be ok, but it's something to keep an eye on if your intention is to start Taylor against the Chiefs.
Running Back Injuries
Justin Forsett (RB, BAL) – Forsett was not on track to match his impressive 2014 performance this year, but he was obviously the lead back on the Ravens. After breaking both bones in his forearm against the Rams in week 11, it looks like rookie Buck Allen will be filling in as the uncontested starter for now. He had 22 carries for 67 yards and caught 5 passes for 48. The Ravens did just recently acquire Terrance West, but it's not likely that he gets meaningful playing time at this point.
Marshawn Lynch (RB, SEA) – Lynch has been battling injury all year, and it looks like that injury may end up being diagnosed as a sports hernia.. which will either continue to cause Lynch pain and missed games, or require possible [regular] season-ending surgery. In either case, Thomas Rawls is the man in Seattle until Lynch suits up again and that may not be for quite a while.
Charcandrick West (RB, KC) – Obviously Kansas City has a pretty killer offensive line and whoever their 'RB of choice' is will have some nice production. West was showcasing a lot of talent since he was called upon to fill in for Jamaal Charles at the position, but is having an issue with his hamstring. However long West is sidelined, Spencer Ware should be able to provide a big portion of that production. West may go ahead and play this week, though, which would make Ware's week 11 performance nothing more than a blip on the fantasy radar.
Ryan Mathews (RB, PHI) – A concussion leading up to this short week for the Eagles will likely keep Mathews sidelined.
Devonta Freeman (RB, ATL) – Another concussion knocked Freeman out of the game, but it looks like he is on track to play.
Wide Receiver Injuries
Michael Floyd (WR, ARI) – Floyd put up some big numbers in his last two games, but has been nursing a hamstring injury recently and it doesn't look like he'll be hurried back. If that's the case, we could see rookie J.J. Nelson who put up 142 yards and 1 TD on 4 receptions this past week continue to be a go-to target in the offense.
Danny Amendola (WR, NE) – Amendola went down on Monday night with a non-contact injury (the kind that doesn't look bad but can turn out to be way more serious than initially thought). Thankfully it looks like the extent of the injury is just a sprain but we won't know any more about his availability going forward until injury reports come out on Wednesday.
Aaron Dobson (WR, NE) – On a tough day for the Patriots, more wide receivers went down including Dobson. Looks like this injury is fairly serious, and so we may see more of Chris Harper and Scott Chandler. At this moment, the only healthy and experienced receivers that the Patriots have are Brandon LaFell and Rob Gronkowski.
Tight End Injuries
Zach Ertz (TE, PHI) – A concussion will probably keep Ertz from playing this Thursday, allowing Brent Celek to step into his role as a primary pass-catcher. Celek is no Greg Olsen, but he has brought down 11 receptions for over 200 yards in the past two weeks and a questionable passing offense will likely continue to look to Celek to produce.
Jordan Reed (TE, WAS) – MCL sprains can sideline players for weeks, but it looks like this injury may heal rather quickly and the team doctors and management are currently expecting Reed to play this weekend.