Week 13 looms ahead of us in the fantasy football season and that means that the end is near! What it doesn't mean, is that your options on the waiver wire are running dry. Because of injuries to key players like Rob Gronkowski, Chris Johnson and others, we'll see a few players that have been waiting in the wings all year step up to the plate. Don't lose hope in your team until you're statistically out of the running for a playoff spot, and even then - play spoiler! Check out our week 13 waiver wire picks below:
Quarterback Pickups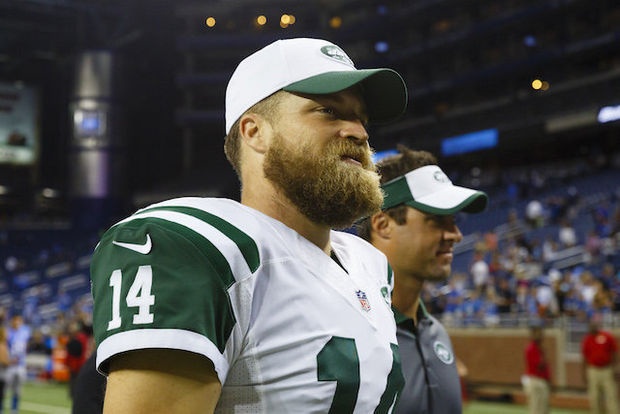 Alex Smith (KC @ OAK, 29% Owned): Smith has mostly been the game manager of a run-first offense, as expected, but last week's performance (255 passing yards, 2 TDs, 35 rushing yards) was fairly impressive against the Bills' stout passing defense. Week 13 brings the Chiefs to Oakland, where they'll face a defense giving up 18+ points to quarterbacks. Smith is a high-floor QB that can sometimes find good chemistry with Jeremy Maclin and this is shaping up to be one of those weeks.
Ryan Fitzpatrick (NYJ  @ NYG, 23% Owned): Fitzpatrick put up 4 TDs and almost 300 yards against the Dolphins in Week 12, and the Jets' passing attack does not look like it will be slowing down any as they travel to New York to face the Giants. Like the Raiders, the Giants have a porous secondary that has given up some big games this year and a smart guy like Fitzpatrick will surely take advantage of that.
Wide Receiver Pickups

DeVante Parker (MIA vs. BAL, 4% Owned): Dolphins' WR Rishard Matthews went down last week with a chest injury which turned out to be 'multiple fractured ribs' and will sideline him indefinitely. Too bad for Matthews, but it does shine a light on rookie DeVante Parker, who had 4 receptions for 80 yards and a touchdown. Parker is extremely talented, but still rough around the edges - still, with Matthews out the Dolphins will need him to play a more prominent role in the offense which should lead to relevant fantasy production. Playing Parker against the Ravens' terrible passing defense should allow for plenty of big play opportunities.
Cecil Shorts (HOU @ BUF, 11% Owned): We love Cecil Shorts here at drinkfive! He was a great PPR play on the Jaguars in garbage time, and the same applies in Houston except that he is also being used in 'gadget' plays like the wildcat touchdown that he threw in Week 11 or the shovel pass that he took in for a touchdown last week. The Texans are showing trust in Shorts by running these sorts of plays more often and I expect to see a few more tricks from Shorts down the stretch.
Running Back Pickups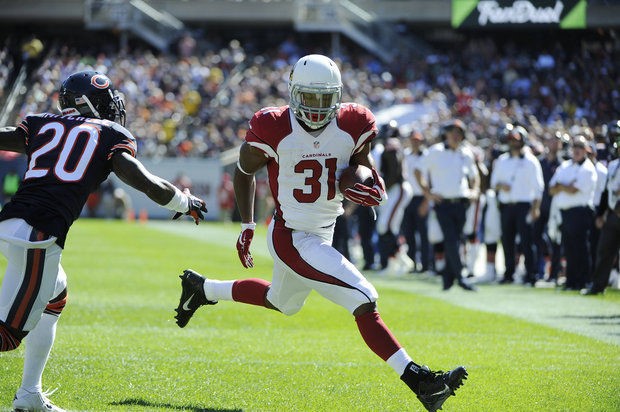 David Johnson (ARI @ STL, 27% Owned): Arizona RB Chris Johnson has a fractured tibia and Andre Ellington has been diagnosed with turf toe. It's likely, then, that David Johnson will get the chance this week to see if he can shoulder a larger load of carries (his previous high carry total this season was 8, just last week). Looking at his stats so far this year, it's not too much of a stretch to think that the lightning in a bottle (7 TDs on only 54 touches) may escape against the Rams.
Shaun Draughn (SF @ CHI, 28% Owned): When it was first announced that Draughn would be the 49ers lead running back after Carlos Hyde was sidelined, there was a distinct lack of fanfare. After all, Draughn had not really impressed in the previous seasons when he was given opportunities to do so. True, he's on the 49ers anemic offense, but he is the undeniable lead back and is playing nearly every snap. Regardless of how well the team performs, Draughn will continue to trudge ahead and pick up fantasy points each week.
Tight End Pickups

Scott Chandler (NE vs. PHI, 9% Owned): Gronkowski is down with an injury and the latest news from Adam Schefter is that he will miss multiple weeks. After all, the Patriots will not have any issues making it to the playoffs this season and if resting one of their best players will allow for his availability in the post-season then so be it. In the meantime, Chandler will be used as the TE1 on the Patriots offense, which means 4+ targets each week. Chandler was already known as a good red zone target even with Gronkowski on the field, so with this injury he immediately becomes a top 10 TE.
Defense/Special Teams Pickups

Chicago Bears (CHI vs. SF, 4% Owned): The Bears, you say? Well, we've seen some sparks and glimmers of a defense emerging this year and the 49ers are regularly giving up 9+ points per game to opposing defenses. This is not a slam dunk play, but in leagues where people own the better defensive plays the Bears DST should be available and I expect them to rack up the 9+ points without much trouble.