Happy New Year everyone!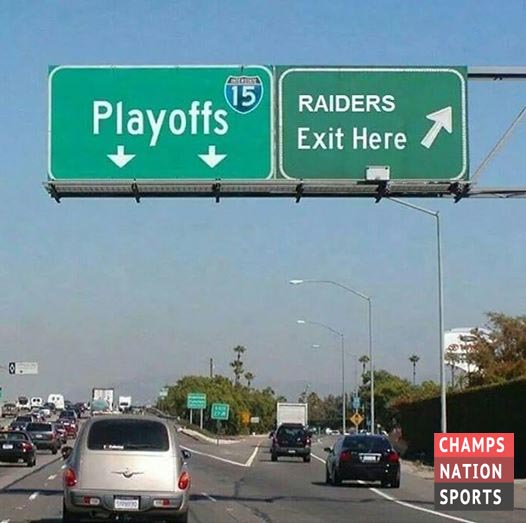 In our last push to get that full season championship, we get a week of divisional match-ups with almost no playoff scenarios finalized – that is a Christmas present in itself. We don't need to worry about the Panthers benching their starters – they are still playing for home-field advantage thanks to the Falcons. The Redskins have their playoff opening week set, but they play a depleted Dallas team, so no real need to think too much about that game.
It has been another exciting year of football. I think we can all agree that the biggest takeaway from 2015 to take into 2016…the Raiders will win Super Bowl 51!
Week 17 – HERE WE GO!!!!!!!!!
(HOME TEAM IN ALL CAPS)
16 – CAROLINA over Tampa Bay – Remember how I said that the Panthers still have something to play for? That's bad news for the Bucs.
15 – CINCINNATI over Baltimore – Baltimore just needs to look towards 2016 and the Bengals will be more than willing to help them put an end to a bad 2015.
14 – DENVER over San Diego – The Broncos always seemed to find ways to win a game in 2015…and the Chargers always seemed to find ways to lose a game.
13 – New England over MIAMI – Simply put, the Dolphins were a joke this year. Tom Brady and friends get to put the final punch line in Miami this season.
12 – Pittsburgh over CLEVELAND – In the spirit of the college bowl season, the Steelers get to play the equivalent of a mid-major college team.
11 – ARIZONA over Seattle – Wow the Cardinals are good! With such an explosive offense and a potentially dominating defense, the Panthers in the Super Bowl may not be a sure thing.
10 – INDIANAPOLIS over Tennessee – To say the season has been a letdown for the Colts would be an understatement. They can still sneak in the playoffs with a win and a Houston loss. They'll do their part and …
9 – HOUSTON over Jacksonville – …well it won't matter. Houston has been looking solid the last few weeks and should be able to wrap up the dreadful AFC South title.
8 – KANSAS CITY over Oakland – These two teams could very well rekindle their storied rivalry over the next few years. As for this year, the Chiefs look too strong.
7 – NEW YORK GIANTS over Philadelphia – At least the Eagles get to look forward to a non-Chip Kelly led team next year.
6 – New York Jets over Buffalo – The Jets have been a very pleasant surprise this season. A win here and some help will give them a seemingly improbably playoff berth.
5 – GREEN BAY over Minnesota – The regular season ends in Lambeau. The winner of this one wins the NFC North and hosts Seattle in the Wild Card round … the loser gets to play Washington … hhmmm …
4 – St Louis over San Francisco – Cheer up 9er fans – with the way the draft order is playing out, Jared Goff should be there for you to snatch up.
3 – Washington over Dallas – Kirk Cousins probably won't play the whole game … shouldn't matter against whoever is left to play for the Cowboys.
2 – Detroit over Chicago – The Bears have been horrible on the lakefront this year – why should this week be any different for them?
1 – ATLANTA over New Orleans – How the mighty have fallen! This game could have been an NFC Championship preview the last few years. My final BOLD PREDICTION of the season is that DREW BREES WILL NOT BE THE STARTING QUARTERBACK FOR THE SAINTS IN WEEK 1 NEXT SEASON.