Welcome back to the Rookie Report! It's been a long offseason, but hopefully you're ready for the season to kick into gear. If you aren't familiar with the column, each week I'll break down the matchups that the relevant fantasy rookies face and tell you which ones you should play, which you should sit, and which ones you should think twice about. Always fit the recommendations to your team, and read the reasoning before blindly starting a player based on the word 'Start' in my recommendation.
Week one is always the toughest one to project the rookies. We don't always know how their skills will translate, we don't have a track record of usage to go off of, and we have a hard time trusting players like that. Because of that, the list of players to consider for week one is a little shorter than it will be for the rest of the season…so guess what? You get a bonus section this week! Before we get to the matchups for week one, here's a look at my top 10 fantasy rookies for 2016 season: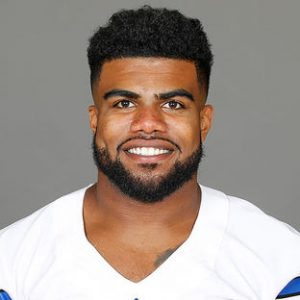 Ezekiel Elliot is set to impress1. RB Ezekiel Elliott, Dallas Cowboys: Zeke is the easy number one option here. He's the clear cut number one back in the most running back-friendly offense in the league. Darren McFadden ran for nearly 1,100 yards and caught 40 passes for another 328 last year, and he doesn't have the same talent as Elliott and wasn't the starter to open the year. I expect Dallas to try and repeat their formula from 2014 when they tried to dominate time of possession by pounding the rock with DeMarco Murray. Murray was the best RB in football that year, and that's Elliott's ceiling this year. Thanks to volume and that Cowboys o-line, his floor should still be an RB1.
2. WR Sterling Shepard, New York Giants: Shepard was a phenom at Oklahoma. He's probably the best route-runner in this draft class and uses his savvy and quickness to get separation consistently. He enters an offense that has been desperate for a number 2 receiver to take pressure off Odell Beckham and they finally found one. It's a long shot that Victor Cruz ever regains his previous form, so there is a huge role there for Shepard to take. Rueben Randle was awful as a Giant, and he was targeted 90 times last year. During the 2015 season at Oklahoma, the QBs throwing the ball had the equivalent of a 135.9 NFL passer rating when targeting Shepard. Eli is going to get attached to this kid quickly, and I expect him to top 100 targets as a rookie and be a solid WR3 in most fantasy leagues.
3. WR Corey Coleman, Cleveland Browns: Coleman was statistically the most prolific receiver in college in 2015, blowing by defenses in Baylor's aggressive spread attack to the tune of 1,363 yards and 20 touchdowns. He follows in a line of Baylor WRs that includes Josh Gordon, Kendall Wright and Terrance Williams…and he's likely to end up as the best one of the group. He gets dropped behind Shepard for this year because the Browns' offense remains suspect, and Josh Gordon will return before long and take a large share of his targets. I expect Coleman to have similar target numbers to Shepard (maybe even more of them), but expect that Shep will be more efficient with his chances due to playing in a more efficient offense.
4. RB Derrick Henry, Tennessee Titans: Henry was a bruiser in college, but there were a lot of concerns about his workload as a junior (395 carries) and his lack of agility, but he has put most of those concerns to bed with a torrid preseason. He has been terrorizing opposing defenses with 216 yards and 3 scores on 6.35 yards per carry in the exhibition season. In my opinion, his impressive camp has earned him a share of the workload this season despite the team acquiring DeMarco Murray, and he can be a touchdown machine if the Titans give him that chance. He should be drafted as an RB 3 or with the upside to become a strong RB2 if his role increases.
5. RB DeAndre Washington, Oakland Raiders: While Washington's role to open the season seems larger than Derrick Henry's, he lacks the same top-end upside. Washington will open the season as the team's passing down back, which likely has him ticketed for 50-60 catches and a few TDs, but if he can't steal some of Latavius Murray's early down work, he won't be much more than a weekly flex consideration. Washington ran for nearly 1,500 yards last year at Texas Tech, but their Air Raid offense is known for lining up 4+ wide receivers often, which creates some pretty soft fronts for the RB to run through. I'm yet to be convinced that he will run inside as effectively against NFL defenses. As I mentioned, he's a weekly flex consideration, and should be drafted as such.
6. WR Michael Thomas, New Orleans Saints: Thomas isn't the flashiest wideout who was drafted this year, be he may have landed in the best situation (at least as long as Drew Brees is around). He seemed ticketed to play the 'Big Slot' role as a rookie, but reports have him playing on the outside in 3-WR sets. Still, with Coby Fleener's struggles in camp he should see a nice target share in a very efficient passing offense. He replaces Marques Colston, who even through his decline averaged 60-788-4.7 over the past 3 years. Those numbers would have been good enough for WR37 last year, ahead of Donte Moncrief, Tyler Lockett, Marvin Jones and Alshon Jeffrey. Thomas should be in that ballpark. He will certainly have some usable weeks this year, and should be drafted as a WR4, or really good number 5.
7. WR Tajae Sharpe, Tennessee Titans: It was widely believed that the Titans were listing Sharpe ahead of Dorial Green-Beckham on the depth chart as a motivational tactic for the gifted 2nd year WR…but it turns out they were more than willing to stick with Sharpe if DGB didn't get his act together. Green-Beckham has been shipped off to Philly, and Sharped looks locked in as a starter alongside Rishard Matthews. It'll be an up and down year for both Titans WRs. The offense will certainly want to focus on the run game with Murray and Henry, and when it's working there will be some rough weeks due to low volume, but Sharpe caught 196 passes for 2,600 yards over the past 2 years at UMass. He'll make the opportunities count when he gets them. He should be drafted shortly after Thomas.
8. WR Will Fuller, Houston Texans: I'm not a big believer in Fuller. I think the dropsies that he showed last year in college will re-surface in the NFL, but hey, that happened to Kelvin Benjamin in his rookie year and he still produced as a top fantasy target. Fuller's speed is legit. He can take the top off the defense, and he has DeAndre Hopkins on the opposite side of the field to draw coverage away. Fuller will be boom-or-bust, and while I like my fantasy players to have a bit more consistency, there will be some strong games that can help your team, especially in DFS and best-ball formats.
9. WR Tyler Boyd, Cincinnati Bengals: Boyd was ultra-productive at Pitt, but a lot of experts question if he has the speed to separate from NFL defenders. His year one outlook is hurt by the fact that the Bengals are likely to be more run-heavy after losing their number 2 and 3 WRs (and missing their TE to start the year). It's also hurt by the fact that he hasn't passed Brandon LaFell on the depth chart yet. While he has an immediate role, it's possible that someone not ranked in this top-10 moves ahead of him if injury strikes or if they move into a starting role (Treadwell, Doctson, Leonte Carroo, Malcolm Mitchell, etc.).
10. QB Dak Prescott, Dallas Cowboys: The Dak Attack appears to be for real, and he is opening the year as the starting QB of an offense that is set up for success. Dak will be asked to hand off to Zeke, and occasionally throw to Dez Bryant and Jason Witten to keep the sticks moving. They won't put too much on his plate too soon, but he's passed every test so far this preseason. He completed 78% of his throws and threw for 5 TDs, 0 INTs, and also ran for 2 scores. The rushing upside makes him playable in 2-QB leagues when the matchup is right. I wouldn't feel comfortable doing that with Carson Wentz just yet. Jerry Jones has left open the possibility that Dak remains the starter once Romo returns if he plays well, so this might be a guy who starts all year. I think I'd still be afraid to draft him in a 10-team, 1-QB league even as a backup, but I'd be fine with it in deeper leagues. He has a solid shot to be a top-20 QB
Honorable Mention: K Roberto Aguayo, Tampa Bay Buccaneers: I wouldn't feel right putting a kicker in the top-10 rookies, but he is one of the best college kickers of all-time, was drafted in the 2nd round, and appears to be past his scuffles from early in camp. The offense there is improving, and Aguayo should have plenty of chances to put up points this season. He's likely to finish in the top half of the league in fantasy points for kickers.
Alright, on to week one…
Rookies to Start:
RB Ezekiel Elliott, DAL (Wk. 1: vs. NYG): You have to start Zeke this week. If you drafted him, it was in the first two rounds, and you didn't do it to sit him. His only competition for carries is from Alfred Morris, and the Giants allowed 19 fantasy points per game to opposing backs last year. The Cowboys are going to get back to their ball control formula from 2014, when they ran the ball on 49.64% of their offensive plays. With the workload expected for Elliott, he's an RB1 play this week.
Borderline Rookies: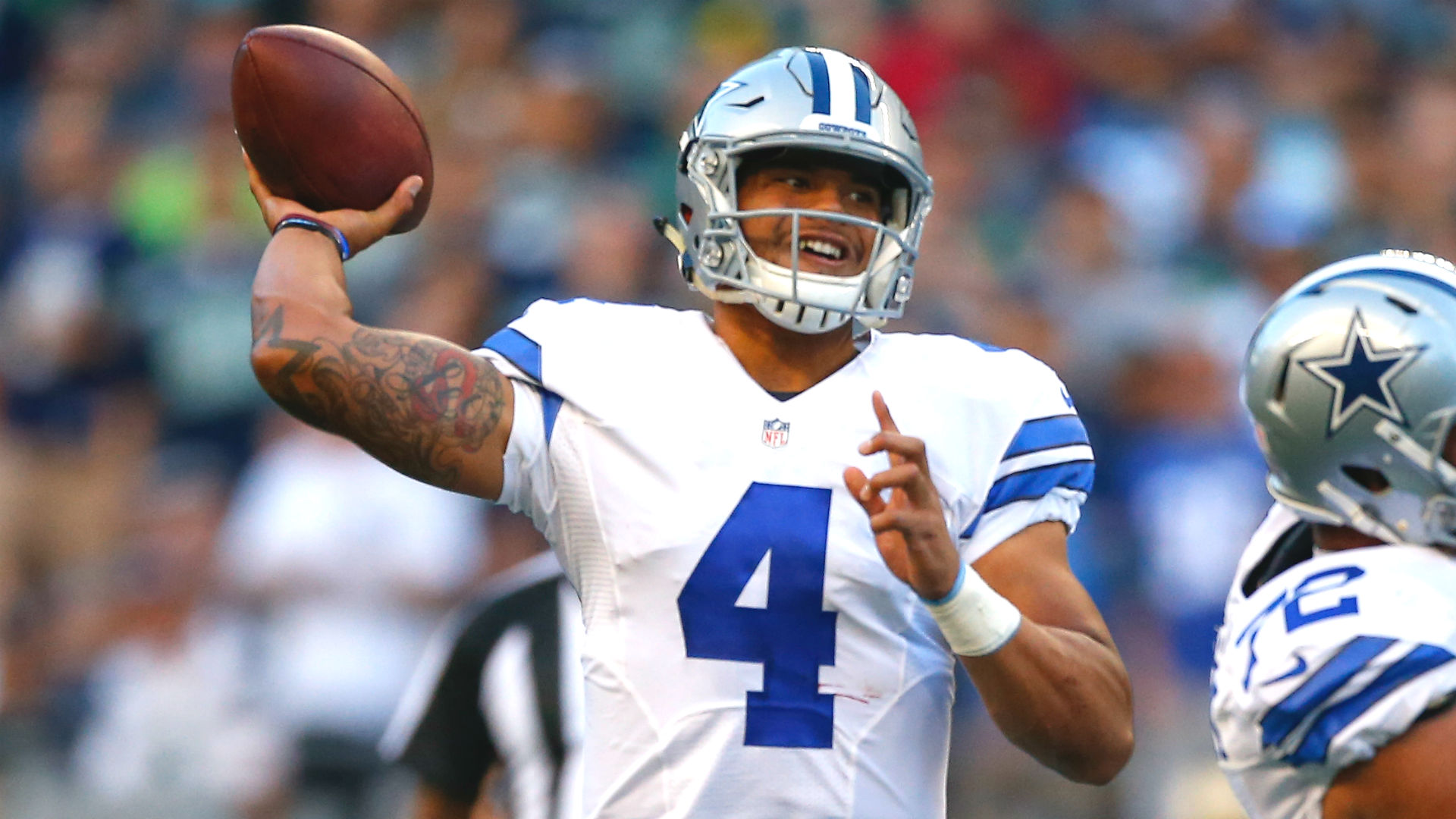 Can Dak succeed in Dallas?QB Dak Prescott, DAL (Wk. 1: vs. NYG): The Giants allowed the 2nd most quarterback fantasy points in the league last year and  their pass defense ranked just 28th in Football Outsider's DVOA stat which measures defensive efficiency. Dak likely won't have to throw a lot, but his rushing ability gives him a higher floor, and he has a shot at a strong QB2 day. I wouldn't consider him in anything but the deepest of 1-QB leagues though. This is more for 2QB formats.
WR Sterling Shepard, NYG (Wk. 1: @Dal.): Shepard should get fed the ball if the defense doubles up on Odell Beckham. The Cowboys were 30th in DVOA vs. #1 WRs last year, and 10th vs. #2's, so Beckham has a plus matchup, but there should be enough to go around for Shep. 70-80 yards out of Sterling would be a success in week 1.
WR Corey Coleman, CLE (Wk. 1: @Phi.): The Eagles were shredded by WRs in 2015 to the tune of almost 2,900 yards and 24 TDs (25.9 fantasy points allowed per game), but they upgraded the secondary this offseason. Both of their starting safties got grades of over 80 from Pro Football Focus in 2015(0-100 scale), so they should do a good job of limiting big plays, which are Coleman's specialty. The Browns will look to get him involved, but 5-60 sounds about right for this week.
Rookies to Sit:
QB Carson Wentz, PHI (Wk. 1: vs. Cle.): The matchup looks good on paper, but don't be fooled. Wentz isn't ready yet. He will play in one of the slowest offenses in the league. Head Coach Doug Pederson's Kansas City offense ran just 57.4 plays per game last year at home, 2nd fewest in the NFL. That's still about 20 more snaps than Carson Wentz has played against better than FCS-level competition. I'd expect a run-heavy attack and some growing pains for the rookie QB along the way. If everything goes right for him, he might be a low-end QB2. The upside just isn't there this week (or probably for the next few weeks).
RB Derrick Henry, TEN (Wk. 1: vs. Min.): I'm a huge fan of Derrick Henry's season-long potential to steal a big chunk of DeMarco Murray's workload and become a TD machine, but week one might not be his best opportunity. The Vikings allowed just 5 RB rushing scores in '15, and the 8th-fewest fantasy in the league to opposing running backs. Their defense should be stronger this year as their young core gains experience. He would have to find the end zone to have a usable day.
RB Rob Kelley, WAS (Wk. 1: vs. Pit): Kelley had a strong preseason, prompting one beat writer to project a 60-40 split of early down work with Matt Jones this season. He will likely have some big weeks, especially if Jones spends any time banged up this year, but week one is not an ideal matchup to make an impact. The Steelers are very vulnerable on the back end of the D, but they allowed the 2nd-fewest running back fantasy points a season ago. Kelley's a stash for now in deeper leagues.
WR Michael Thomas, NO (Wk. 1: vs. Oak.): Thomas will have an opportunity to make an impact in week one if reports of Coby Fleener's camp struggles are to be believed, but I'd be hard pressed to start him against Oakland's ascending defense. It sounds like Thomas will line up outside in 3-WR sets,  which means Willie Snead will square off with the weak link of the Raiders' secondary, DJ Hayden. Thomas should still be 3rd in the pecking order for targets, and I'd have a hard time pulling the trigger on him this week.
WR Tyler Boyd, CIN (Wk. 1: @NYJ): Boyd has some upside this week, but like Thomas I'm just not comfortable making the call to put him in this week. AJ Green will likely get the Revis Island treatment, and it may be tough sledding to run against the Jets' front, but they certainly will try to establish the run and Boyd is still running behind Brandon LaFell on the depth chart. I'm not sure he sees enough volume to be start-able.
WR Laquon Treadwell, MIN (Wk. 1: @Ten.): After failing to beat out Stefon Diggs and Charles Johnson for a starting role, Treadwell won't be playable in fantasy in the early part of the season. The Vikings are just too run-heavy for their WR3 to be of value in the lineup.
WR Josh Doctson, WAS (Wk. 1: vs. Pit.): Much like Treadwell, Doctson is yet to carve out a role with the first-team offense. His struggles, however, have been related more to health than on-field performance. He's going to work his way into the rotation sooner than later, but it likely won't happen in week one.
Deep League Sleepers and Cheap DFS Plays:
RB DeAndre Washington, OAK (Wk. 1: @NO): The Saints allowed a league-high 910 receiving yards to opposing backs last season and 7 receiving TDs (tied for league-high). They also allowed the 3rd most fantasy points to the position. While Latavius will be the lead back, Washington figures to have a prominent role in the passing game right away. He could make a decent flex-play in PPR leagues this week.
WR Will Fuller, HOU (Wk. 1: vs. Chi.): Fuller is a boom-or-bust punt play for DFS tourneys this week. His hands are an issue, but the Texans are likely to take a couple shots downfield against a suspect Bears defense. Fuller will have a chance to make a big play or two, and should cost the minimum on most DFS sites.
WR Tajae Sharpe, TEN (Wk. 1: vs. Min.): Like Fuller, Sharpe is more of a punt play in DFS tournaments. The Vikings were strong against WR1s in 2015, but they struggled vs. WR2s, ranking 25th in DVOA on passes to the number 2 wide receiver. If we assume Rishard Matthews is the number one, that makes Sharpe the de facto number 2. Delanie Walker will undoubtedly lead the team in targets in this one, but Sharpe will cost just the minimum in DFS and has some upside for a respectable day.
That's all I've got for this week. If there are any rookies not listed above, I wouldn't recommend playing them this week. Now it's time to sit back, put your feet up, and enjoy some NFL football that means something for the first time in 7 months. As always: Good luck, trust your gut, and have fun. It's just a game.