Welcome back to the Rookie Report! Week one was full of surprises, just like it always is. Raise your hand if you expected Jack Doyle to be the TE1...Or Dez Bryant scoring less than a point...Or the Lions having not one, but two top-10 RBs. Put your hands down. None of you called those things. As you know, we focus on the rookies here, so lets quickly discuss some of the surprises of the first week among the rookie crop:
Carson Wentz was a huge shock to me. Granted, he was playing against the Browns, who could be really bad, but I didn't expect a guy coming in from an FCS school with less than 40 preseason snaps under his belt to be able to come in and command an NFL offense with the kind of poise Wentz showed. I still think some growing pains are coming for Wentz, but right now I think the Rams are kicking themselves for taking Goff over him. Will Fuller showed that drops will continue to be a problem for him (he dropped an easy 87-yard TD), but he also showed that it might not matter, posting the 7th-most WR points of the week on a ridiculous 11 targets. He saw more looks than DeAndre Hopkins did. Ezekiel Elliott's much-hyped debut underwhelmed, but he salvaged his day with a touchdown. Also finding his way into the end zone was Sterling Shepard, who only saw 4 targets but certainly made the most of them. Tajae Sharpe impressed and appears to be the clear WR1 in Tennessee, and Corey Coleman also topped 60 yards on Sunday thanks in part to a 58-yard grab in triple coverage.
While it's fun to reminisce about week one, we're here to take a look ahead and see what to do with the rookies for week two. To save some time, here's a quick look at some rookies who shouldn't be owned in most redraft leagues...
Rookies not worth a redraft roster spot:
QB Jared Goff, STL -Unless you're in a 2 QB league or one with 14+ teams, there's no reason to own Goff.
RB Rob Kelley, WAS - The reports of a timeshare with Matt Jones were greatly exaggerated.
RB C.J. Prosise, SEA - Thomas Rawls and Christine Michael combined for 7 targets to CJ's 1. While his role will eventually grow, that's a bad sign for the 'receiving back.'
RB Josh Ferguson, IND - He split backup reps with Robert Turbin and recorded just 3 touches in week one.
WR Laquon Treadwell, MIN - He's clearly behind Adam Thielen for WR3 duties at this point. There's no telling when he'll get on the field.
TE Hunter Henry, SD - Henry may be utilized a bit more with the Keenan Allen injury, but not enough to be a fantasy factor this year w/o a Gates injury.
TE Tyler Higbee, LA - Higee seems to have a big role in the offense, but it's a miserable offense. He was targeted 4 times in the opener, and caught just 1 ball for 2 yards, and looked terrible in the process.
Others to avoid:
RB Wendell Smallwood, PHI; RB Tyler Ervin, HOU; WR Pharoh Cooper, LA; WR Chris Moore, BAL; WR Tyreek Hill, KC; WR Braxton Miller, HOU; TE Austin Hooper, ATL
Now that we have that out of the way, let's dive in and talk about the relevant rookies...
Rookies to Start:
RB Ezekiel Elliott, DAL (Wk. 2: @Was.): While I'm sure you were a little frustrated with Zeke in week one if you started him, he's in line for a bounce-back game in week 2. Washington ranked 22nd in the league in Football Outsiders' run defense DVOA stat in 2015, and were the worst in the league in week one after getting shredded by DeAngelo Williams on Monday night. Elliott should remain the focal point of the offense this week, and I think 80+ yards and a TD are a reasonable expectation, with the opportunity for more.
WR Sterling Shepard, NYG (Wk. 2: vs. NO): Shepard's target count left something to be desired in week one, but his performance did not. I'll chalk the target count up to the Cowboys painfully slow pace of play last Sunday. Things should move much more crisply with the Saints coming to town in week 2. New Orleans was historically bad as a pass defense last season, and they picked up where they left off last week against Oakland. Add in the fact that promising young corner Delvin Breaux was lost for the season, and the Saints pass D might be worse than last year. Shepard should be a safe WR3 in a game that figures to be a shootout, though maybe not as high scoring as the 52-49 contest last year.
WR Will Fuller, HOU (Wk. 2: vs. KC): Fuller might still be a weekly boom-or-bust proposition, but you can't ignore his week one target share, which really carries over from a strong preseason. Whether he draws Phillip Gaines or Marcus Peters, his speed will cause them problems. I expect Osweiler will still give him a few downfield looks, and I expect he'll convert a few into catches. He's an upside WR3 this week.
Borderline Rookies: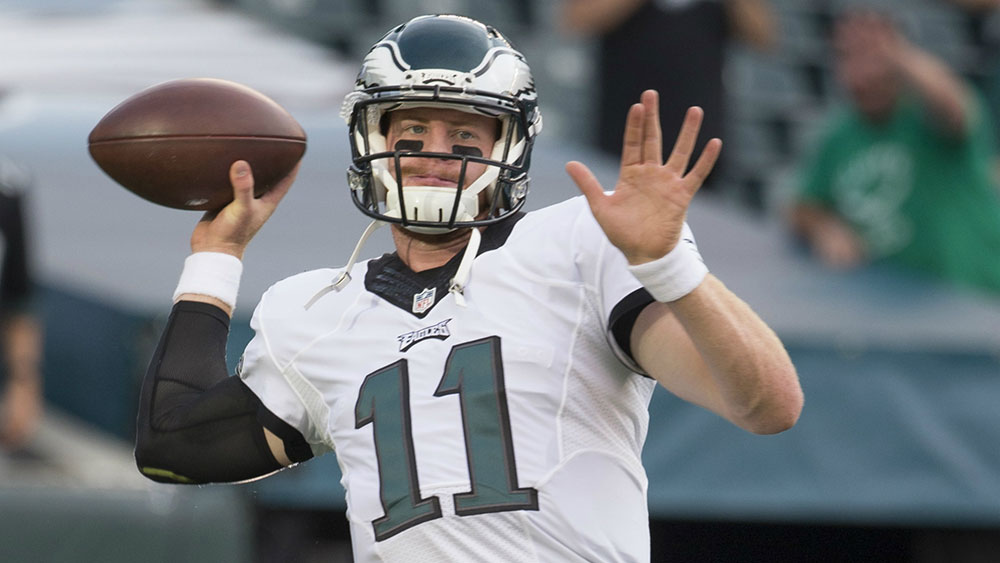 QB Carson Wentz, PHI (Wk. 2: @Chi.): Wentz should make for a decent streaming option in 2QB leagues this week, even if the Chicago defense is at least a little better than the one Wentz faced on Sunday. I'm still not sure if I underestimated Wentz or overestimated Cleveland in week one. The Bears are improved on defense from 2015, but they didn't really show that last week. Wentz will eventually take some lumps, but I'd expect him in the range of 220-250 yards passing and at least one TD this week.
QB Dak Prescott, DAL (Wk. 2: @Was.): Dak is in a similar spot to the one he was in last week, facing a defense that was unimpressive in 2015, but I'd like to see Dallas allow Prescott to let it loose a bit more this week. The week one gameplan was pretty vanilla, and Prescott wasn't able to use his legs the way he did in the preseason. I get that you don't want Dak to get hurt and be stuck with the Sanchize starting, but it doesn't make sense to me to make Dak the starter after he shows how dynamic he can be in the preseason, and then call plays that won't let him be dynamic. Improvement from Zeke should help Dak this week, as should Washington's defensive scheme if they don't change what they did in week one. Josh Norman played exclusively at left corner last week, and rarely ended up covering Antonio Brown. If Norman is deployed the same way again, look for Dez to move all around the formation to get some manufactured mismatches away from Norman. Dak is again a borderline QB2 option. If things go his way, he could push close to a top-12 performance this week.
WR Tajae Sharpe, TEN (Wk. 2: @Det.): There is no question that Sharpe is the number one receiver for the Titans, as evidenced by the week one snap counts. Sharpe was on the field for 64 of the Titans' 69 offensive snaps. No other receiver played more than 37. The only problem...the Titans' game plan is supposed to be a low-volume passing attack. They threw 41 passes last week, which is definitely more than they wanted to throw, and Sharpe was still just the WR38 for the week in standard scoring. The running backs and Delanie Walker are the priorities in this offense, and until that changes, Sharpe is going to be on the WR3/4 borderline every week. He'll be more of a steady WR3 in PPR. For what it's worth, the Lions offense is humming and the Titans should be playing from behind and throwing more than they want to again.
WR Michael Thomas, NO (Wk. 2: @NYG): The G-Men appeared to be improved from last year on the defensive side in week one, so the upside for Thomas may be limited, but he showed great efficiency last Sunday with 6 catches on 6 targets, and Drew Brees threw 7 TDs against the Giants a year ago. While the matchup with Dominique Rogers-Cromartie or Janoris Jenkins on the outside isn't appealing, there is some sneaky upside this week. He could be a high-risk, high-reward WR3/flex guy in this matchup.
WR Corey Coleman, CLE (Wk. 2: vs. Bal.): I'm not sure how the RG3 injury will affect Coleman going forward. Griffin's willingness to throw the deep ball played right into Coleman's wheelhouse, and it's a trait that Josh McCown lacks. McCown connected on just 7-of-25 throws (28%) that traveled more than 20 yards downfield last season. That efficiency will have to be better for Coleman to approach his ceiling. Corey is still the de facto WR1 while Gordon is out, and he'll remain a boom-or-bust option to roll the dice on as a fantasy WR3. The Ravens were 25th in pass defense DVOA last season, so the matchup is a decent one if Coleman can exploit it.
Rookies to Sit:
RB Derrick Henry, TEN (Wk. 2: @Det.): Based on what we've seen from Derrick Henry in college, the 41 receiving yards seem like an outlier for the reigning Heisman Trophy winner. He didn't show much receiving prowess at 'Bama, and while the team has said it's something he can do, I wouldn't expect that kind of receiving output regularly. He should make his money on the ground, especially in the red zone, but in week one he saw just 5 carries total, and picked up just 3 yards on them. That kind of workload won't create strong fantasy days, even if he does hit paydirt. I'd like to see that carry number increase, or a goal line role become clear before I'd consider playing him in fantasy lineups.
RB DeAndre Washington, OAK (Wk. 2: vs. Atl.): Week one was rough for Washington. He was talked up as the complement to Latavius Murray that the Raiders had been lacking last season, but he tallied just 6 touches (only one catch) for 24 total yards, and he was clearly outperformed by the number 3 back. This is a spot where you have to avoid starting Washington until he has a clear role as the receiving back.
WR Tyler Boyd, CIN (Wk. 2: @Pit.): Boyd saw just 3 targets in week one. There will be weeks where he sees more, but we saw what the offense is. It will be funneled through AJ Green and the running backs (and Eifert when he returns). Unless Boyd manages to jump Brandon LaFell on the depth chart, it will be hard to recommend starting him. There just isn't enough upside to justify playing a guy with such a low floor.
WR Malcolm Mitchell, NE (Wk. 2: vs. Mia.): Mitchell is an interesting option this week with the burnable Byron Maxwell and rookie Xavien Howard starting on the outside for Miami, but with Gronk returning, this offense just has too many mouths to feed to expect a big game from Mitchell. At best he's a DFS tournament punt play.
WR Leonte Carroo, MIA (Wk. 2: @NE): I was excited to talk up Carroo as a sleeper for this week until I realized who he would be matched up with all game. Carroo was quiet in week one with just 2 catches for 14 yards, but he was on the field for 45 snaps and squared off with Richard Sherman all day. Sherman praised Carroo's competitiveness after the game. If DeVante Parker is out again, I'd expect a big snap count for Leonte again, but this week he gets Malcolm Butler. Butler was a largely unknown player turned Super Bowl hero two years ago, and he really came into his own as a lockdown corner in '15. That matchup is enough for me to re-think Carroo as a sleeper for this week.
WR Josh Doctson, WAS (Wk. 2: vs. Dal.): You are probably aware not to play Doctson. He didn't get on the field until the game was already out of hand on Monday night. He will certainly work his way up the depth chart at some point, but until he does he needs to stay stashed.
Deep League Sleepers, Stashes, and Cheap DFS Options:
RB Jalen Richard, OAK (Wk. 2: vs. Atl.): Was Richard's 75-yard TD run on his first career carry a fluke? Can he be Antone Smith redux? Is he something more than that? I don't know the answers to these questions yet, but my gut feeling is that he has a chance to be something more. Latavius has been consistently inefficient as a starter and gotten his production on volume alone, and Richard looks like a better pure runner than DeAndre Washington. His running style reminds me of CJ Anderson. If he continues to impress in limited looks over the next few weeks, he'll almost certainly start to cut into Murray's workload, and could overtake him by as early as 2017. He's definitely worth a stash in dynasty if you have the room for him.
RB Dwayne Washington, DET (Wk. 2: vs. Ten.): Washington is another player who is more of a dynasty stash than the guy to play right away. He scored his first career TD in week one but tallied just 1 yard on 2 carries. It appears that his strong preseason helped him beat out Zach Zenner for the big back role that Joique Bell played admirably for the past few years in Detroit. He could be a desperation streamer in TD-only leagues, but dynasty owners are the ones who need to keep an eye on him. He's shown some upside...he ran for 104 yards in the Lions' preseason finale. If his role grows at all, he'll be worth an add.
TE Stephen Anderson, HOU (Wk. 2: vs. KC): Once again, as is the theme with this section today, we have another dynasty stash player...but this one could have value in re-draft leagues before long. Draft twitter was in love with Anderson in the spring and was stunned when he went undrafted. Somehow, he still may end up the Texans' starter before long. Anderson caught 3 passes for 25 yards in the opener and only has to beat out CJ Fiedorowicz and Ryan Griffin to be the top dog. Those two are both better known as blockers than receivers and combined for 3 catches and 23 yards on Sunday. Anderson is oozing with upside and just needs to earn Osweiler's trust to be pushing to be a top-15 TE. He's definitely one to keep an eye on if you are streaming tight ends or have a lackluster starting option.
That's all I've got for this week. Hopefully, it helps you dominate your week 2 matchups. Always make sure to use some common sense and fit the recommendations to your team. Don't just blindly start Sterling Shepard because of where I have him listed if you have 3 top-10 WRs. Also, make sure to keep a close watch on the injury report. With the removal of the 'Probable' designation, it's going to be even harder to tell who's actually going to play and who isn't. If you don't like what you see here (or do), feel free to hit me up on twitter (@Shawn_Foss) and tell me about it. As always...good luck, trust your gut and have fun. It's just a game.