Well, it was fun while it lasted! This was a tough week of injuries around the league. Incredibly tough on the Chargers. 2 weeks, 2 ACLs. Hopefully, you avoided most of the injury bug that is going around and good luck in week 3.
Quarterback
Josh McCown – Shoulder injury- Multiple week absence
Rough loss for the Browns who showed some life in the first half of the game. Cody Kessler is the next man up and will make the start this weekend. Bump down for all Browns players. Expect to see lots of pressure from Miami to force the Rookie to make some plays. Hopefully, McCown can make his way back by week 5 for Josh Gordon's return.
Jimmy Garoppolo – Shoulder- Questionable
To my surprise, Jimmy participated in walk trough's Tuesday morning but I would not expect him to start this week. Rookie Jacoby Brissett will get the nod. I would like to say this hurts everyone on the Patriots, but with Bill Belichick anything is possible.
Andy Dalton – Ankle – Played through injury
Was injured in the second half vs the Steelers and played through. Was limping after the game and will most likely be limited in practice this week. He will be good to go vs Denver on Sunday.
Jay Cutler- Ligament Damage right Thumb – Possibly out for weeks
Smoking Jay looks like he will be missing some time which leaves the door open for Hoyer the Destroyer. I do not see this hurting any of the fantasy options (what little there are) in Chicago. I expect Hoyer to pepper Jeffery with targets and the Bears will continue to be a below average team.
Running Backs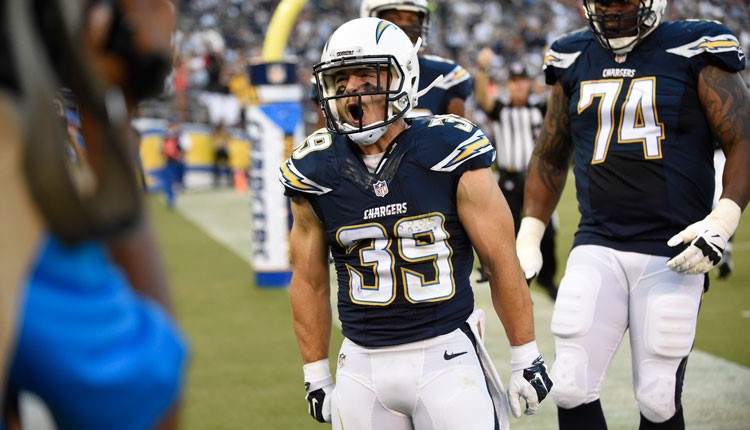 Danny Woodhead – Torn ACL- Out for the Season
Our favorite gym rat Danny is out for the year. Huge loss for owners in PPR and those zero RB drafters. Melvin Gordon will see 3 down duties and I expect Woodhead's passing targets to get spread around that offense. Melvin is trending up to RB1 play now and Tyrell Williams and Travis Benjamin will see more targets.
Jonathan Stewart – Hamstring – Left game and out at least a week or two
Stewart was forced out of the third drive of the game with a Hamstring issue. This left the ground game to Fozzy Whittaker who rushed for 100 yards after getting the nod. Whittaker will be a hot add this week but I expect a timeshare of Fozzy and Cameron Artis-Payne until Stewart is back.
Adrian Peterson – Torn Meniscus – Unknown timetable
I am sure we have all seen the highlights of AP being helped through a bar to the locker room in Minnesota's new state of the art stadium. There are a lot of conflicting reports on the timetable for return so we are sitting in wait and see mode. McKinnon will be the hot add this week but do not sleep on the TD vulture Matt Asiata. I expect McKinnon to continue his role of change of pace back and the Vikings using Asiata in the red zone and between the tackles until AP is back.
Doug Martin – Hamstring – Unknown Timetable
Martin suffered a "slight tweak" and will be getting an MRI Tuesday. He seems unlikely to suit up against the Rams but good news for owners is the injury does not appear to be too serious. Charles Simms will get the nod and a heavy workload on Sunday. If he is available pick him up, especially in PPR where even with Martin he is a borderline flex play.
Ameer Abdullah – Foot – Unknown Timetable
He left Sundays game with a foot injury. X-Rays came back negative, but Abdullah is visiting with the famous foot doctor, Robert Anderson. Not a good sign that they are seeking additional help here. Theo Riddick and Dwayne Washington will step into a timeshare here. Riddick may be owned but Washington is a guy to keep an eye on after showing some flashes of greatness in the preseason.
Arian Foster – Groin-  Unknown Timetable
According to sources, it is unlikely Foster will play this week but is just dealing with a groin strain. Regardless, this should not come as much of a surprise to owners. It wasn't a matter of "if" Foster would get hurt, it is "when" will he go down. Look for some combination of Ajayi, Drake, and Pead in the backfield this weekend.
Thomas Rawls – Leg Contusion- Should be good to go
Thomas Rawls exited the game after a poor performance and was replaced by Christine Michael (Who looked explosive). Rawls will be good to go vs the 49ers this weekend but expect a timeshare with Michael who has been the most effective rusher for the Seahawks through 2 weeks.
Rashad Jennings – Hand – Should be good to go
Jennings only played 34 snaps this weekend against New Orleans due to the injury but he should be able to wrap this up and get out there for week 3 against Washington. 
Wide Receivers
Donte Moncrief – Concussion/ Shoulder – Unknown Timetable
Originally taken out of the game for a possible concussion, it was later determined that a shoulder injury kept Moncrief out of the game. He had an MRI on Monday but no news has been released on the results. If he misses time, Phillip Dorsett becomes a must-add in all formats.
Julio Jones – Ankle – Julio doing Julio things
Julio owners should know the drill. He is going to get hit, he is going to look like a 70-year-old man getting up, then he is going to run a deep post and score a touchdown. Julio will be fine.
Brandon Marshall – MCL – Might take a week off
After what looked to be a gruesome knee injury, Marshall came back into the game Thursday. He is unsure if he will play this week and it is a situation to monitor. Can't question his toughness after coming back on the field after that play.
Doug Baldwin – Knee – Day to Day
MRI results came back negative and Baldwin said, "I'm good". The only issue is I am not sure that offense is good. Regardless of his playing time hopefully you have other options available while we wait for Wilson to get the offense moving
Tight End
Virgil Green – Strained Right Calf – Day to Day
After leaving the stadium in a walking boot, it seems Green missed serious injury and should be in the lineup on Sunday.
Eric Ebron – Concussion - Good to go
Eric Ebron left the game Sunday but then returned late. He will be good to go against the Packers and is turning into a sneaky TE1.
Photo credits - http://www.espn.com/nfl/story/_/id/17583949/minnesota-vikings-running-back-adrian-peterson-suffers-right-knee-injury
http://celebcafe.org/danny-woodhead-out-for-season-with-torn-acl-7293/