Welcome back to the Rookie Report! Hopefully, you survived the injury carnage in week 2 and managed to dodge some underperforming studs to come up with a W. I feel like week 2 is an unpredictable one every year, and this year was no different with several unexpected game outcomes, and several unexpected faces atop the fantasy scoring leaders. Week 2 was definitely a good one for the rookie crop, as the high real-life draft picks really asserted themselves in fantasy.
At running back, first round rookie Ezekiel Elliott managed to top 80 yards and score a TD. If you were disappointed with that week 2 output, keep in mind that in standard leagues he out-produced all but one RB with a top-10 ADP on any of the top fantasy league sites (David Johnson was that one). Not to be outdone by the top running back, the top WRs had a big week as well. Every WR not named Laquon Treadwell that was drafted in the first 2 rounds of the NFL draft outscored each of Allen Robinson, AJ Green, Antonio Brown, TY Hilton, and Sammy Watkins in standard scoring in week 2. That list of rookies is: Will Fuller, Josh Doctson, Corey Coleman, Sterling Shepard, Michael Thomas and Tyler Boyd. And on to the QB position...although Jared Goff and Paxton Lynch aren't playing yet, number 2 overall pick Carson Wentz lead his Eagles to another victory and outscored top QBs Russell Wilson, Andrew Luck and Eli Manning along the way this week.
It was a so-so week for the less-heralded rookies. Dak Prescott had another reasonable outing, as did Derrick Henry and Devontae Booker, despite not really putting up starting-caliber stat lines. Tajae Sharpe came back to earth a bit, as did Raiders' back Jalen Richard as DeAndre Washington asserted himself. Kenyan Drake and Dwayne Washington each found the end zone, and Austin Hooper used a 44-yard catch to help himself top 80 yards for the week. That's enough of a look at last week though...let's dig into the week 3 matchups:
Rookies to Start:
RB Ezekiel Elliott, DAL (Wk. 3: vs. Chi.): Don't let the fumbles last week scare you. Zeke's workload isn't going anywhere, and he will eventually hit his stride. The Bears have looked improved against the run this year, but they are far from a shutdown run defense and will play without Danny Trevathan, Lamarr Houston and Eddie Goldman this week. Elliott has a great chance to turn in a top-10 RB performance this week, and should be in the lineup.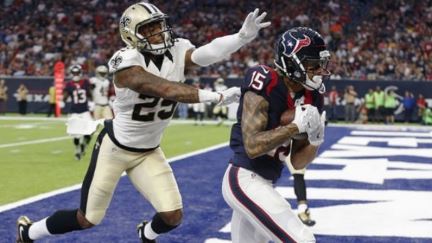 WR Will Fuller, HOU (Wk. 3: @NE): Fuller hasn't given us a reason to not play him yet. He topped 100 yards for the 2nd straight game in week 2, and this week gets a defense that has ranked 28th in Football Outsiders' pass defense DVOA stat through the first 2 games, and have allowed 385 total receiving yards to WR1s & 2s in those games. I'd feel confident firing up Fuller again this week.
WR Sterling Shepard, NYG (Wk. 3: vs. Was.): Shepard showed what he's capable of in week 2 with a line of 8-117 on 8 targets. Washington has ranked 20th so far in pass DVOA, and Shepard plays the majority of his snaps in the slot, which means he should avoid both Josh Norman and Bashaud Breeland. ESPN beat writers have reported that Norman will follow Odell in this one. Shepard should have every opportunity to follow up last week's gem with another nice day. He should be a decent WR3 option once again.
WR Tajae Sharpe, TEN (Wk. 3: vs. Oak.): This should be a great spot for a nice game from Sharpe. The Raiders rank 31st in pass defense DVOA, and have allowed 133 yards per game to the opposing WR1s. The two they faced were Brandin Cooks and Julio Jones, and while Tajae isn't nearly on that level, he should still find success in this one. He should finish as a solid WR3 in PPR leagues and more of a fringe WR3 in standard leagues.
Borderline Rookies:
QB Carson Wentz, PHI (Wk. 3: vs. Pit.): This should be Wentz's first loss of the year, but it doesn't mean he can't have a productive day. Pittsburgh has been impressive so far, allowing just 1 passing TD vs. 2 picks in the first two games while playing from comfortably ahead in one of them. They have however given up boatloads of passing yards...347 per game through the first 2 contests. It should be a real test for Carson, but given the poise he's shown, I like his chances of approaching 300 yards and flirting with a top-15 QB day, maybe even exceeding it with a little TD luck. He's a decent QB2 option, but would take a lot of guts to play in most 1-QB leagues.
QB Dak Prescott, DAL (Wk. 3: vs. Chi.): The Bears haven't impressed on defense so far, but they haven't given up huge games to QBs. They're just 19th in pass defense DVOA, but they've only allowed 210 yards and 1.5 TDs passing per game to Wentz and Brock Osweiler. It was nice to see Dak forge a connection with Dez Bryant, and I doubt the Bears have anyone who can contain Dez this week, but the conservative gameplan will keep Dak a borderline QB2 for now.
RB Derrick Henry, TEN (Wk. 3: vs. Oak.): The Raiders are a miserable 28th in run DVOA, and Henry may be closing the gap in playing time with DeMarco Murray. Murray out-snapped Henry 50-21 in week one, but that split was down to 41-31 in week 2. Both backs were effective on the ground against Detroit, and they are likely to continue getting Henry involved. The volume is capped for Henry, so you're hoping for a TD if you play him, but he should find another 40-50 yards on the ground if he sees a similar snap count this week. With all of the attrition at running back, I've heard of worse guys that are actually in some starting lineups.
WR Michael Thomas, NO (Wk. 3: vs. Atl.): I've got a hunch that Thomas will have a strong showing in week 3. New Orleans should get the passing game back on track as they go back home to the Superdome to face a bad Atlanta D, and I like Thomas's chances of finding the end zone. With each failed passing target to Coby Fleener, the Saints become more and more likely to stop targeting him so much and spread those looks to Thomas, Cooks, and Snead. Thomas has shown a nice floor, topping 50 yards in each of the past 2 weeks, and I like his chances of having his best day yet.
WR Corey Coleman, CLE (Wk. 3: @Mia.): Coleman put on a show in week 2 with Josh McCown at the helm, but he's going to be hard to trust with Cody Kessler under center. The matchup is a good one, with Miami ranking 21st in pass DVOA on throws to the other team's WR1. His explosive playmaking ability gives him a chance to make something happen, and I wouldn't fault you for taking a shot on Coleman, but his floor is LOW this week. Proceed with caution. Editor's note: Coleman suffered a broken hand at practice today and, as Rotoworld says, "Coleman needs his hand to catch footballs". Don't expect him in the lineup anytime soon.
Rookies to Sit:
QB Jacoby Brissett, NE (Wk. 3: vs. Hou.): The Texans have allowed the 2nd-fewest QB points through the first 2 weeks (just 7 points per game allowed). They also rank 4th in pass DVOA. While the Pats will do everything they can to come up with a game plan that Brissett can succeed with, I can't imagine it's one that will help him pile up fantasy points in a tough matchup. Playing on a short week, and possibly without Gronk, I'd be hard pressed to predict a top-25 QB performance from Brissett. The Pats should be hoping that Garoppolo manages to give it a go.
RB Devontae Booker, DEN (Wk. 3: @Cin.): Booker worked as the change of pace back to CJ Anderson last week and he did have some success, but the sledding will be tougher in Cincy. The Colts are 31st in run DVOA through two weeks, the game script was positive for Denver, and Booker managed to be just the RB37 in standard scoring. The game script likely won't be as positive this week, and Cincinnati is 18th in run DVOA. It's not great, but it isn't 31st either. Avoid Booker this week.
RB Dwayne Washington, DET (Wk. 3: @GB): With the news that Ameer Abdullah has been placed on IR, Washington's stock is rising quickly. He and Theo Riddick will split the backfield work going forward, and Washington is likely to field the goal line work. He's going to have some nice weeks along the way, but I don't feel confident that this will be one of them. GB has allowed just 81 RB rushing yards on 44 carries in the first two weeks, and they rank first in run DVOA. There's always a shot at a goal line score, but Washington might need 2 TDs to break double-digit points in this one.
RBs Jalen Richard & DeAndre Washington, OAK (Wk. 3: @Ten.): The Raiders' backfield timeshare is hurting the upside for both of the backups so far. After a huge week one from Jalen Richard, it was Washington who flashed in week 2, putting up 52 yards on just 7 touches. Head coach Jack Del Rio said that all of their backs are going to play, so this situation isn't getting clarity anytime soon. Until one of these two emerges as the clear number 2 back, both will hard to trust in your lineup. They'll have a nice game here or there, but good luck guessing when it happens. The worst part is that it's likely only a matter of time before they start hurting Latavius Murray's output.
RB Kenyan Drake, MIA (Wk. 3: vs. Cle.): Despite Arian Foster being a long shot to play this week, Jay Ajayi being perpetually in the doghouse, and the game script setting up to be very positive for the run game, I still would avoid Drake. Drake saw just 4 touches to Ajayi's 9 in week 2, and I would expect Damien Williams or Isaiah Pead to see some work as well this week. If there is any Dolphins' back worth playing this week, it's Ajayi. Drake may push for double-digit touches, but I wouldn't feel good with him in my starting lineup.
WR Josh Doctson, WAS (Wk. 3: @NYG): There were some promising signs for Doctson in week 2. He was targeted 5 times, including 3 in the red zone, and he did put up 57 yards on the week. He did only make one catch, and the matchup with the Giants is a tough one. No matter which corner he squares off with, it will be a challenge for Doctson to get going, especially considering he still is playing behind Garcon, D-Jax and Crowder.
WR Tyler Boyd, CIN (Wk. 3: vs. Den.): Wide receivers not named Kelvin Benjamin have totaled 10-112-0 against the Broncos in the first two weeks. Denver is quickly proving that they are once again an opponent to avoid playing your WRs against, and Boyd's draw of slot corner Chris Harris Jr. should make things tougher on him. He'll be lucky to approach 50 yards.
WR Leonte Carroo, MIA (Wk. 3: vs. Cle.): With DeVante Parker back in action in week 2, Carroo was relegated to the bench again, playing just 3 offensive snaps. No reason to consider him this week.
TE Austin Hooper, ATL (Wk. 3: @NO): Be careful here...don't fall in love with Hooper's week 2 output and think he's going to be a breakout star. He's still clearly behind Jacob Tamme on the depth chart, which puts him behind Julio Jones, Mohammed Sanu, Tamme, Devonta Freeman and Tevin Coleman in the pecking order for targets. He may eventually have a larger role, but for now, he's best left out of lineups, even in plus matchups.
Deep League Sleepers, Stashes, and Cheap DFS Options:
QB Cody Kessler, CLE (Wk. 3: @Mia.): You're probably laughing as you read this name as a 'sleeper,' and you're probably right to...but the situation could be worse for the rookie. He gets a pretty solid matchup against a team that just gave up 326 yards and 3 TDs to the combination of Jimmy Garropolo and Jacoby Brissett, and he does have some weapons to work with. He's nothing more than a shoot-the-moon DFS tournament play, but he could have a better fantasy day than most expect.
RB Josh Ferguson, IND (Wk. 3: vs. SD): Ferguson saw 5 targets in week 2, catching them all, and with Donte Moncrief out 4-6 weeks, the Colts may look to involve Ferguson more in the passing game in the short term. The opponent this week, the Chargers, did allow 153 RB receiving yards in week one. Ferguson has some sneaky upside as a cheap DFS play or as a flex option in really deep PPR leagues.
RB Jordan Howard, CHI (Wk. 3: @Dal.): If Jeremy Langford continues to struggle with his efficiency, it's just a matter of time before the Bears start giving Howard a bigger share of the workload to see what he can do. Howard had almost as many rushing yards on 3 carries on Monday as Langford had on 11 (22 yards to 28). Howard is more of a stash option than a guy to play this week, but if Langford gets off to a slow start against Dallas, who is 27th in run DVOA so far, Howard may see some extended work in this plus matchup.
RB Kenneth Farrow, SD (Wk. 3: @Ind.): Farrow is only a stash option at this point, but he's a name to know in San Diego. The undrafted rookie is the number 2 back behind Melvin Gordon now with Both Danny Woodhead and Branden Oliver out for the season. Farrow isn't much of a pass catcher, so the Dexter McCluster signing won't affect his role much...he'll be the backup to Gordon for early down work. Farrow ran for 2,000 yards and 26 TDs over his final 2 years at Houston and received Pro Football Focus's 4th-highest overall grade of any RB in the 2016 rookie crop. He's worth a flier in really deep leagues for now.
WR Jalin Marshall, NYJ (Wk. 3: @KC): Jalin Marshall is only on the radar for this week, and only because the rest of the Jets' WRs are dealing with injuries. It looks likely that Eric Decker and Quincy Enunwa will be able to play this week, but Brandon Marshall has been playing coy about his status. If B-Marsh is able to go, forget all about Jalin Marshall for now. If Brandon sits, Marshall could be in play. Enunwa and Decker have split time in the slot for the Jets, so Marshall would likely play on the outside, and Kansas City has struggled with perimeter receivers Will Fuller, DeAndre Hopkins and Tyrell Williams through two weeks. Marshall hauled in 3 passes for 45 yards last week filling in as guys went out hurt, and he could see more action this week. He's a DFS tournament punt play and also an option in deep leagues that include return yards. He's got 160 total return yards through 2 games.
That's all I've got for this week. Hopefully, it helps with the tough lineup decisions and you either continue a strong start or get things back on the rails this week. Feel free to hit me up on twitter if you have any questions, or just want to yell at me about any of this and tell me I'm wrong (@Shawn_Foss). With all of the injuries this week, make sure to keep an eye on the status updates on players throughout the week so you know who's in and out. As always: Good luck, trust your gut, and have fun. It's just a game.