Welcome back to the Rookie Report! We're starting to get deep enough into the season to have a better idea of who most of these rookies are...at least the ones that have been starting the whole year. Zeke Elliott and Sterling Shepard have been weekly fantasy starters. Will Fuller has been good, but a boom-or-bust proposition, and Tajae Sharpe and Michael Thomas have been weekly borderline producers. Thomas is coming off his best game of the season, and Sharpe his worst, but both have been worthy of flex consideration each week. Dak Prescott and Carson Wentz have proven themselves as capable fantasy QB2s, and even streamer QB1s some weeks, but not all of the rookies have been as lucky. Several others have been biding their time and waiting for their opportunity. Will that opportunity come this week? Let's dive into the week 4 matchups and discuss...
Rookies to Start:
RB Ezekiel Elliott, DAL (Wk. 4: @SF): With the volume Elliott is getting right now, you can't sit him. He got 30 carries in an easy win against the Bears, and while it was frustrating to see him get vultured at the goal line by Dak, Alf, and Dunbar, that won't happen every week. There should be a correction there this week. I would actually fade Zeke in DFS this week though. The 49ers have some drastic home-road splits going back to last season. The Niners allowed 15.4 fantasy points per game at home to RBs in '15 (ESPN standard scoring), which would have been the 18th-most if they did that over the whole season, but they allowed 27.4 per game on the road. That number was 6 points per game worse than the WORST RB defense in the league. They allowed at least 18 in all 8 road games. That split has carried over to 2016. SF gave up just 4 points to the Rams' backs in week one at Levi's Stadium, and 19 per game in weeks 2 and 3 on the road. This game is in San Francisco, so expectations for Zeke should be tempered a little bit. He's still a safe starter in season-long leagues.
RB Jordan Howard, CHI (Wk. 4: vs. Det.): Despite the signing of Joique Bell this week, look for Jordan Howard to be the clear lead back for the Bears. The Lions have allowed just 12 points per game to opposing RBs, but that is mainly because they've kept running backs out of the end zone. They've ranked just 27th in Football Outsiders' run defense DVOA, which measures defensive efficiency. Howard really increased his value by showing what he could do as a receiver. Many people thought he would not be a factor as a pass catcher after recording just 11 catches last year at Indiana, but he has 6 catches in the past 2 games. The volume he should see combined with the plus matchup should make Howard a low-end RB2 this week.
TE Hunter Henry, SD (Wk. 4: vs. NO): It was reported this week that Antonio Gates wasn't close to playing last week in Indy, which means there is a good chance he'll miss week 4 as well. If he sits, Henry should be a great option. Most people will only remember that he fumbled away the Chargers' last chance to win that game, but he was having a fantastic day before that happened. The Saints have actually limited tight ends so far believe it or not, but the list they've faced is hardly inspiring (Walford, Tye, Donnell, Tamme). I expect the Chargers to get Henry involved, and think he'll have a great shot at 60+ yards and a possible TD as long as Gates is out. He's a great streaming option if you're still waiting on Zach Ertz or Tyler Eifert.
Borderline Rookies: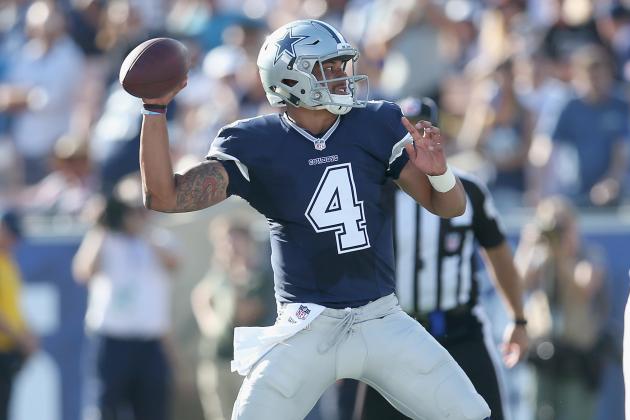 QB Dak Prescott, DAL (Wk. 4: @SF): This looks like a juicy matchup on paper, but the 49ers home-road splits apply to quarterbacks as well. They allowed 12.9 points per game to QBs at home in '15 (would have been 4th-fewest), and 19.4 on the road (would have been 4th-most). They didn't allow more than 17 points to any QB they faced in San Francisco. Again, the splits have carried over to '16. Case Keenum put up just 2 points in week one. I don't expect Dak to be shut down quite that badly, but I'd think of him more as a mid-level QB2 rather than a QB1 streamer. There is still upside against a bad 49ers team.
RB Dwayne Washington, DET (Wk. 4: @Chi.): Dwayne should definitely see more work this week after Theo Riddick fell flat on his face in his chance at lead back duties. Riddick managed just 9 yards on 10 carries. Washington managed 38 yards on the same number of carries. Head coach Jim Caldwell blamed the o-line for Riddick's struggles, but Washington was clearly the better between-the-tackles runner. The Lions would be wise to give him more of an opportunity. Riddick should maintain his passing-back role. The Bears rank 26th in run defense DVOA, and allow 20 RB points per game. The increased workload against that machup should put Washington squarely on the flex radar. He'll be better in standard leagues than PPR, and Riddick will be the opposite, but Washington will be more likely to hit paydirt.
WR Sterling Shepard, NYG (Wk. 4: @Min.): Shepard has been fantastic through the first 3 games, with a TD or 100 yards in each contest, but the Vikings are the best defense the Giants have faced yet...especially with Xavier Rhodes back in action. Expectations for this week should be a little lower with Shepard. On the plus side, Vikings' slot corner Captain Munnerlyn did struggle to contain Ted Ginn and Corey Brown in week 3, allowing 6 catches for 87 yards on 7 targets thrown his way. Shepard is a borderline WR3 this week.
WR Michael Thomas, NO (Wk. 4: @SD): I would expect Willie Snead to return this week, and while this offense can support 3 pass catchers, the emergence of Coby Fleener in week 3 could hurt Thomas's upside. If Snead is back, Thomas is more of a flex option than a locked in starter. If Snead sits again, Thomas should be a solid WR3 play.
WR Will Fuller, HOU (Wk. 4: vs. Ten.): The Titans' defense has been better than expected, and Fuller had a shaky week 3 performance against New England. Tennessee has allowed just 41 yards per game to WR2s despite 9.4 targets per game in their direction. There is still upside here, but this is just a reminder that there is some boom-or-bust to Fuller's weekly outlook.
WR Tajae Sharpe, TEN (Wk. 4: @Hou.): The reason that I have Sharpe listed as a borderline option this week is because you can't entirely write off any team's WR1, but I would lean towards sitting Sharpe this week. The Texans have allowed the 4th-fewest WR fantasy points through the first 3 weeks, and Sharpe has been inconsistent in his own right. He could go for 80 yards and a TD, or he could go for less than 40 yards. I'd feel better if I had a safer option.
Rookies to Sit:
QB Cody Kessler, CLE (Wk. 4: @ Was.): Kessler was surprisingly sharp last week, and this week he'll face a Washington team that is likely to be without their number 2 corner Bashaud Breeland and slot corner DeAngelo Hall. They will still have Josh Norman, however, and he will likely follow around Terrelle Pryor. If Pryor is taken away, it will severely limit what Kessler is able to do through the air. It would be really hard to trust Kessler as a QB2 unless you were desperate.
QB Jacoby Brissett, NE (Wk. 4: vs. Buf.): Jimmy Garoppolo should be back this week and would undoubtedly start if he is. If Brissett did get the nod, he would be a bottom-barrel QB2 option.
RBs DeAndre Washington & Jalen Richard, OAK (Wk. 4: @Bal.): Washington has been more effective than Richard in each of the past 2 weeks, but they're part of a full blown 3-way timeshare with Latavius Murray, and facing a tough matchup this week. The Ravens rank 3rd in run defense DVOA, and they've allowed just under 30 receiving yards per game to running backs. This is not the week to bet on either of these backs turning their limited touches into a productive day.
RB Derrick Henry, TEN (Wk. 4: @Hou.): The Texans have been just a middle of the road defense against running backs, but DeMarco Murray has cemented himself as the RB1 in Tennessee for the time being. Henry was out-touched 21-10 by Murray in week 3, and if that holds this week, I'd expect the Heisman winner to put up the typical 40 yards or so he's been putting up. It doesn't help that Murray is dominating the passing game work.
RB Josh Ferguson, IND (Wk. 4: @SD): Ferguson came up empty in a decent spot last week as Robert Turbin was a bigger part of the mix than expected. Turbin punched in a short TD, while Ferguson tallied just 4 touches and 31 yards. He's not involved enough to play at this point.
WR Tyler Boyd, CIN (Wk. 4: vs. Mia.): Boyd is still playing behind Brandon LaFell, and he faces a defense this week that has allowed 104 receiving yards per game to WR1s, and just 87 receiving yards per game to all other wide receivers. AJ Green should be a great option this week. Tyler Boyd...not so much.
WR Malcolm Mitchell, NE (Wk. 4: vs. Buf.): Mitchell seemed to have a pretty decent rapport with Jimmy Garoppolo the first two weeks, but still put up just 3 catches for 48 yards in those games...and Gronk didn't play in either game. With Gronk back (and presumably not a decoy this time), there just won't be enough volume for Mitchell to be a fantasy factor this week.
TE Austin Hooper, ATL (Wk. 4: vs. Car.): The Panthers have given up 28 fantasy points to TEs over the past 2 weeks, but 13 of them came on one long TD pass to Vance McDonald. Also, it'll be Tamme and not Hooper who would have the best shot at producing. Hooper followed his 3-84 line from week 2 with a zero target game in week 3.
Rookies on Byes: QB Carson Wentz, PHI, RB Wendell Smallwood, PHI - Just a quick aside on Smallwood...although he's on a bye this week, he makes for an interesting waiver wire pickup in deeper leagues. He played great last week after Ryan Mathews left with an injury, and the team will continue to keep Smallwood involved even when Mathews is healthy. The committee will obviously make him tough to predict most weeks, but we've already seen the upside.
Deep League Sleepers, Stashes, and Cheap DFS Options:
RB Kenyan Drake, MIA (Wk. 4: @Cin.): Arian Foster will be out again in week 4, and while the Dolphins insist they will stick with a 4-man rotation at RB, I like Drake's chances of the being the best performer of the group. He saw the most touches of the group in week 3 with 11 (the rest of the group totaled 16 touches), and he produced 48 yards with them. He's known as a passing game specialist, and the Bengals are 27th in pass defense DVOA on throws to running backs. There is an opportunity for Drake to make an impact despite the crowded backfield mix.
RB Paul Perkins, NYG (Wk. 4: @Min.): Perkins is mostly a stash for now. Rashad Jennings is still uncertain for this week, but so is the rest of the Giants' backfield. Orleans Darkwa is likely the guy who will get the early down work if Jennings sits, but the injury to Shane Vereen opens up the receiving back role. The only two realistic options to fill it are Bobby Rainey and Perkins. Most experts are expecting Rainey to take over in the short term, but Perkins was an effective receiver out of the backfield at UCLA, and head coach Bob McAdoo spoke this week about the rookie being 'ready to step up.' I expect him to get a shot to make an impact this week, and if he produces he'll earn a bigger role moving forward.
WR Josh Doctson, WAS (Wk. 4: vs. Cle.): Doctson sat out last week with an Achilles injury, but it sounded like it was up in the air whether or not he would play until the last minute. The Browns have given up 2 TDs to wide receivers each week this season, and Doctson was targeted in the end zone 3 times in week 2. If that happens again, I'd expect him to cash in at least one of them. He'll have a solid shot at his first career TD if he plays.
WR Ricardo Louis, CLE (Wk. 4: @Was.): Louis is a DFS punt play option this week. His speed makes him a big play waiting to happen, and Washington's banged up secondary will be focused on Terrelle Pryor. As I mentioned in the Cody Kessler breakdown, I'd expect Josh Norman to shadow Pryor whenever possible. Louis appears to have earned a role in 3-wide sets while Corey Coleman and Josh Gordon are out, and he caught 3 passes for 40 yards last week. Washington has allowed 14 pass plays of 20 or more yards this season, tied for 3rd-most in the league. With his big play ability, there will be an opportunity for Louis to have a big day out of nowhere.
That's all I've got for this week. Hopefully it helps you make some tough calls with your lineups. Keep a close eye on the injury report and make sure you don't end up starting a guy who doesn't suit up, or benching a guy who starts because of an injury to a teammate. If you have any questions, praise, or complaints, hit me up on twitter and let me know (@Shawn_Foss). As always: Good luck, trust your gut, and have fun. It's just a game.