Taking a look at the player trends over the past few weeks can reveal some surprising things - it's important, though, to temper expectations in some cases and realize that some great (and some awful) performances can be the product of gameflow as much as the talent and/or rising production of a player. But since each player can only be owned by one team at a time in most standard fantasy leagues, you've got to scoop them up before anyone else and make smart decisions as far as when to play a rising (or falling) star. What do you think about these scenarios? Will the players listed below live up to expectations based on recent weeks?
We discuss our thoughts on the below players on this week's podcast: 
Quarterbacks
Trevor Siemian (DEN, QB)
Week 1 vs. CAR – 18/26, 178yds, 1 TD, 2 INT, 11.12pts
Week 2 vs. IND – 22/33, 266yds, 0 TD, 1 INT, 12.34pts
Week 3 @CIN – 23/35, 312yds, 4 TD, 0 INT, 28.98pts
Siemian was an underdog from the beginning of the preseason, and had a rough start in 2016, but he lit it up against the Bengals in Week 3 and has constantly improved since the opening game against the Panthers. He is now the 12th highest scoring QB in standard scoring leagues after 3 weeks, can he score 18 points or more this week against the Bucs?
Kirk Cousins (WAS, QB)
Week 1 vs. PIT – 30/43, 329yds, 0 TD, 2 INT, 11.96pts
Week 2 vs. DAL – 28/46, 364yds, 1 TD, 1 INT, 19.56pts
Week 3 @NYG – 21/35, 296yds, 2 TD, 0 INT, 19.34pts
Similar to Siemian, Cousins has increased his effectiveness and gotten better at protecting the football every week so far in 2016. The Redskins go up against the Browns' lackluster defense in week 4 – can he put up 17 or more points?
Running Backs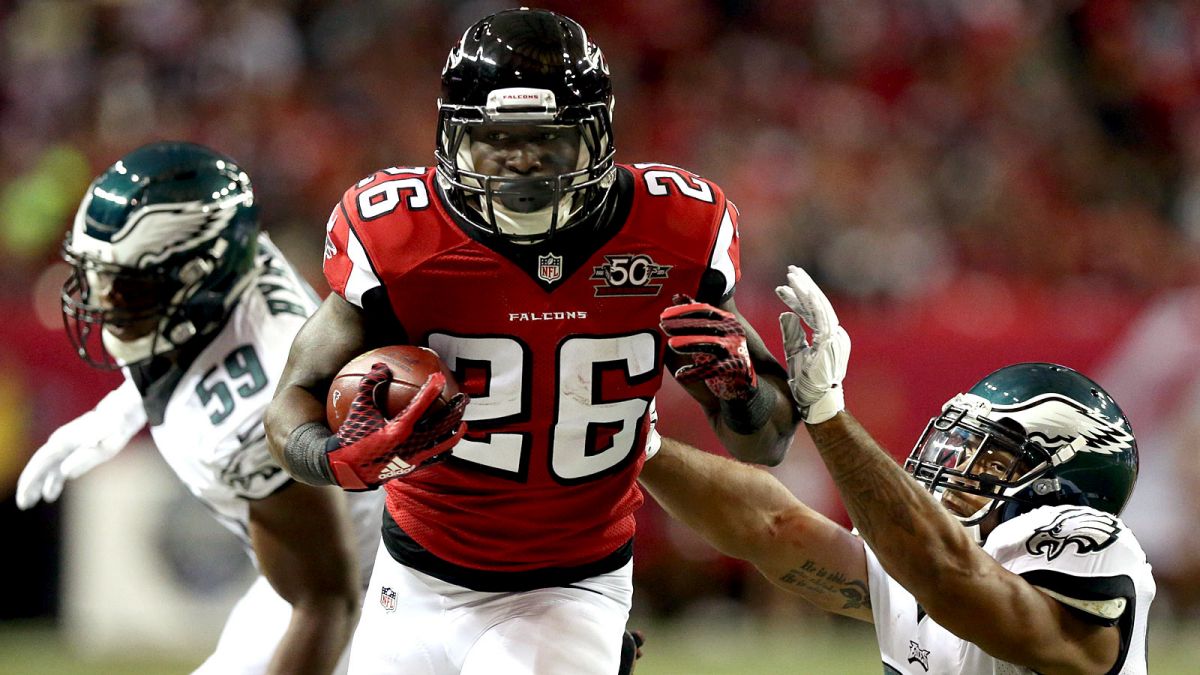 Tevin Coleman (ATL, RB)
Week 1 vs. TB – 8/22yds, 0 TD, 5rec, 95yds, 0 TD, 11.70pts
Week 2 @OAK – 12/46yds, 1 TD, 2rec, 25yds, 0 TD, 13.10pts
Week 3 @NO – 12/42yds, 3 TD, 3rec, 47yds, 0 TD, 26.90pts
Coleman has been more involved in the Falcons' offense this year and it doesn't look like that will change anytime soon. He does go up against the Panthers' defense in week 4, however. Will Coleman be able to continue this burst of productivity and put up 17 or more points?
Theo Riddick (DET, RB)
Week 1 @IND – 7/45yds, 1 TD, 5rec, 63yds, 1 TD, 22.80pts
Week 2 vs. TEN – 11/37yds, 0 TD, 4rec, 28yds, 0 TD, 6.50pts
Week 3 @GB – 10/9yds, 0 TD, 7rec, 39yds, 0 TD, 4.80pts
Riddick was a huge waiver wire add after week 1's performance, and was hyped up in the fantasy football world after it was revealed that lead back Ameer Abdullah may miss the entire 2016 season. The emergence of Dwayne Washington makes us give pause, however, and his sinking production isn't helping. Can Riddick step it back up in week against the Bears and score at least 11 points to make himself fantasy relevant once again?
Wide Receivers
Quincy Enunwa (NYJ, WR)
Week 1 vs. CIN – 7/8, 54yds, 1 TD, 11.40pts
Week 2 @BUF – 6/6, 92yds, 0 TD, 9.20pts
Week 3 @KC – 4/11, 37yds, 0 TD, 3.70pts
Enunwa has been a hot topic this year and since Marshall has been a little hobbled by his knee injury in week 2, it was assumed that Enunwa may be able to step up and provide some fantasy production. Granted week 3 was a terrible one for the Jets' offense in general, but with Marshall getting healthier once more and Fitzpatrick looking to get back on track in week 4 against Seattle is it possible that Enunwa gets lost in the mix? Will he be able to score at least 8 points among all of the other mouths to feed in that offense?
Jamison Crowder (WAS, WR)
Week 1 vs. PIT – 6/10, 58yds, 0 TD, 5.80pts
Week 2 vs. DAL – 6/8, 39yds, 1 TD, 9.90pts
Week 3 @NYG – 4/7, 78yds, 1 TD, 13.80pts
Crowder looks to be supplanting Pierre Garcon as the starting WR opposite DeSean Jackson. He has been displaying great elusiveness and doing everything that the team asks him to. Going up against the Browns in week 4 should certainly not prove any more difficult than the other teams that he has played so far this year. Will he continue this positive trend and put up at least 10 points this week?
Tight End
Jimmy Graham (SEA, TE)
Week 1 vs. MIA – 1/1, 11yds, 0 TD, 1.10pts
Week 2 @LA – 3/4, 42yds, 0 TD, 4.20pts
Week 3 vs. SF -  6/9, 100yds, 1 TD, 14.00pts
Graham had a gruesome injury last year (patellar tendon) that many athletes never return from in full-form. Even when he was healthy he was still having some issues gelling with the Seahawks offense and finding his place within it. Amazingly, it looks like he did make a full recovery and was doing Jimmy Graham-like things in week 3 and playing a full complement of snaps. Can Graham keep it up against the Jets in week 4 with a backup QB and score at least 7 points?