Welcome back to the Rookie Report! We're a quarter of the way through the NFL season, and it's pretty clear that this season will be a wild one...like every NFL season. The Falcons managed to drop 500 passing yards on the defending NFC champs, the Rams (?!) topped the Cardinals to go to 3-1, and the Patriots finally proved to be beatable, much to the dismay of Ben Affleck. They get Tom Brady back this week, so their vulnerability may be short-lived. The Cowboys' rookies had a field day against the 49ers, Will Fuller found the end zone twice, and Jordan Howard showed that he was ready for a full workload. The rest of the rookies weren't quite as successful, but there were still some noteworthy performances like the debuts of Paxton Lynch and Paul Perkins. Week 4 is in the books, and the decisions don't get much easier this week with 4 teams and several productive fantasy players on byes. Let's take a look at which rookies could help get you through...
Rookies to Start:
QB Carson Wentz, PHI (Wk. 5: @Det.): I've been hesitant to buy into Wentz as a QB1, but it's hard not to consider him a top-10 play this week with Brees and Russ Wilson on byes. Wentz gets to square off with the Lions hapless pass defense. Through 4 weeks, the Lions have allowed a 12:1 TD:INT ratio, and a league-worst 120.2 QB rating to opposing signal-callers. The Lions also rank dead last in Football Outsiders' pass defense DVOA stat, which measures defensive efficiency. I think the Lions will play a little better at home than they have on the road, but it's hard to not see Wentz as at least a lower-end QB1 this week.
RB Ezekiel Elliott, DAL (Wk. 5: vs. Cin.): I don't think you need me to tell you that you should be playing Zeke, but let me give you some numbers to support it. The Bengals have been decent against the run and are likely to stack the box against Elliott (especially if Dez is out), but for the season Elliott has put up a 28-128-2 line on carries against an 8-man box. He also likely put to bed the worries that he'd keep getting vultured at the goal line after scoring a short TD last week. He's got 12 carries in the red zone on the year, and the rest of the team has 7. His volume gives him a safe floor, and those stats I listed should make you feel comfortable starting him in a slightly tougher matchup.
RB Jordan Howard, CHI (Wk. 5: @Ind.): Howard is clearly established as the Bears' lead back after a strong performance against a weak Lions defense. The competition doesn't get that much tougher this week. The Colts rank 26th in run defense DVOA, and have allowed the 4th most RB fantasy points on the season. He should easily return RB2 value this week, and likely more if he's able to get in the end zone.
TE Hunter Henry, SD (Wk. 5: @Oak.): Make sure that Antonio Gates is officially inactive before pulling the trigger here, but Henry has shown that he has a great connection with Philip Rivers thus far and has made good on most of his chances. The Raiders have allowed the 11th-most fantasy points to opposing TEs. Henry is a solid streaming option again this week, and a great pickup if your starter is on a bye this week.
Borderline Rookies: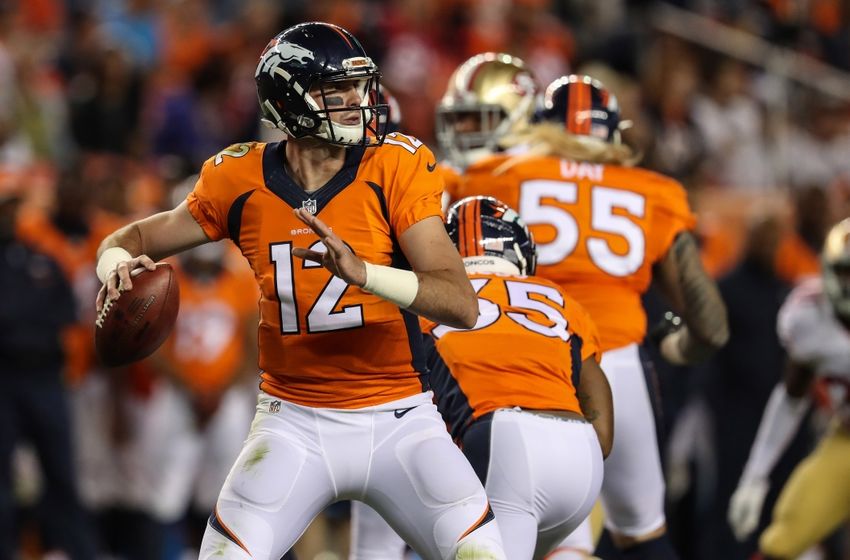 QB Paxton Lynch, DEN (Wk. 5: vs. Atl.): Lynch acquitted himself well in his first regular season action, and there is a chance that Trevor Siemian could miss a game or 2 with a shoulder injury in his non-throwing shoulder. If Lynch does get the call, he's got a great chance at a top-15 week, which would make him a solid QB2 option and even a low-end QB1 play in really deep leagues. The Falcons allow the most QB points in the league and have allowed at least 3 passing TDs in each of their first 4 games. Lynch has shown that he can pick apart a bad defense last week against Tampa, and I'd like his chances to do it again if he gets the nod.
QB Dak Prescott, DAL (Wk. 5: vs. Cin.): The Bengals have allowed 10 passing TDs in 4 games, but they've been better versus the pass than that number would imply. They've ranked 10th in pass defense DVOA thus far, and the Cowboys may be without Dez Bryant again. WIth that said, Prescott has been a top-16 QB in each of the past 3 weeks. He's still a viable option as a low-end QB2, but I don't see a lot of upside for a top-10 performance.
WR Tajae Sharpe, TEN (Wk. 5: @Mia.): Sharpe has been inconsistent so far, but this is a plum matchup for him. The Dolphins have allowed at least 22 fantasy points to WRs each week, and have been absolutely shredded by WR1s to the tune of 117 yards per game. You're probably a little gun-shy with Sharpe after the way he's played over the past couple weeks, but he actually makes for a nice fill-in option if you have some byes to get through.
WR Sterling Shepard, NYG (Wk. 5: @GB): Green Bay has been torched by opposing WRs, allowing the 2nd-most points to the position, but the Giants' offense hasn't exactly been on track and the Packers' secondary is getting healthier and had an extra week to prepare. Shepard has been fairly consistent despite a less than stellar outing against the stingy Vikings. He's in play as a WR3/Flex option again this week. I'd be surprised if he totaled less than 50 yards, but I wouldn't bank on this being a big game even though the Packers have been giving up so much to WRs.
WR Will Fuller, HOU (Wk. 5: @Min.): Fuller's blazing speed has helped him to be a difference-maker for the Texans so far, and likely frustrated some DeAndre Hopkins owners. The Vikings have been excellent against WRs though. They've allowed the 2nd-fewest points to wide receivers so far and just one WR touchdown. Only 3 different teams have allowed fewer completions of 20+ yards than the 9 allowed by Minnesota. This week is more likely to be a bust than a boom for Fuller, but he's still a borderline option with several top wideouts on byes.
Rookies to Sit:
QB Cody Kessler, CLE (Wk. 5: vs. NE): The return of Tom Brady could lead to the Patriots running up the score on Cleveland as they get out some frustration from last weekend's loss to Buffalo. As a result, there could be some garbage time stats for Kessler, but I wouldn't count on much here. The Patriots have allowed the 15th-fewest points per game to opposing QBs, and Kessler's previous two opponents had allowed the 14th- and 16th-fewest (Miami and Washington), and Kessler tallied just 9 and 10 points in those games. Expecting much more here would likely be a mistake.
RB Dwayne Washington, DET (Wk. 5: vs. Phi.): Washington's breakout was put on hold when he suffered an ankle injury early on against the Bears. He had put up 14 yards on 3 touches before the injury, but now he's questionable for week 5 at best and faces a much tougher defense. The Eagles allow the 2nd-fewest points to opposing RBs, and I'd expect Zach Zenner to see some work even if Washington is able to play. The Lions also continue to force a square peg into a round hole with Theo Riddick mixing in on early down work as well.
RBs DeAndre Washington & Jalen Richard, OAK (Wk. 5: vs. SD): The Raiders' backfield has quickly become a situation to avoid. Even Latavius Murray isn't a safe play at this point as things devolve into a full-blown 3-way split. Jack Del Rio talked up DeAndre Washington last week and mentioned that he would see more action, but he received just 8 touches on Sunday. He's averaged 7.25 per game. In the past 2 weeks, Latavius has handled 21 touches, Washington has had 15, and Richard 10. While San Diego is a great matchup, none of these guys are safe options. Even if you play Latavius, you're hoping he finds the end zone.
RB Josh Ferguson, IND (Wk. 5: vs. Chi.): Ferguson had his best opportunity yet in week 4, but failed to take full advantage of it as the Colts tried to battle back from behind in London. The rookie did pull in 7 receptions, which is nice in PPR leagues, but he totaled just 31 yards from scrimmage on 10 touches. Chicago is hardly an imposing matchup, but I would have to be really desperate in a really deep PPR league to even consider playing Ferguson this week.
RB Devontae Booker, DEN (Wk. 5: vs. Atl.): Booker remains just a handcuff for CJ Anderson. He's a really talented handcuff, but the volume just isn't there for him to have stand-alone value. He's seen just 25 touches for 114 yards through 4 games (6.25 for 28.5 per game).
RB Derrick Henry, TEN (Wk. 5: @Mia.): You probably aren't playing Henry this week anyway, but if you were considering him as a bye week fill-in, just be aware that he played only 9 snaps in week 4 and the Dolphins have allowed just one rushing TD. His snap share has been steadily declining as DeMarco Murray's strong play has continued. The volume won't be there for Henry to be a viable option this week.
RB Paul Perkins, NYG (Wk. 5: @GB): Perkins may still be worth a stash, but for now he's best left on the bench. He managed to put up 80 yards in week 4, but he did so on just 4 touches. Bobby Rainey saw 11 touches and seems to have the receiving back role for now. Rashad Jennings should also be back before long.
WR Ricardo Louis, CLE (Wk. 5: vs. NE): Louis has been playing a lot of snaps over the past 2 weeks with Corey Coleman out, but he hasn't turned it into much production with just 6 catches. He's a burner and is capable of beating the defense for a deep ball, but Cody Kessler has the shortest average target depth in the league thus far, and the Patriots are one of just 2 teams that haven't allowed a pass play of 40 or more yards. There isn't much upside here. Louis likely winds up with 30-40 yards on 2-3 catches.
WRs Charone Peake & Robby Anderson, NYJ (Wk. 5: @Pit.): Eric Decker is very likely out for this week (and potentially quite a bit longer), and the matchup is decent for the Jets, with the Steelers ranking 17th in pass defense DVOA. There's a decent chance that Peake or Anderson will make an impact this week, but good luck guessing which one. Anderson got the start last week, but Peake out-produced him on half as many targets, and also scored a TD on a fumble return. Because of that, I think I'd lean towards Peake if I were picking one of these two, but neither is more than a DFS tournament punt play.
TE Austin Hooper, ATL (Wk. 5: @Den.): Hooper did crack double-digit fantasy points last weekend, and the Broncos stout defense has been vulnerable to tight ends (Cameron Brate just went for 5-67 against them), but he produced those double-digit points on just one target. Jacob Tamme is the tight end you'd want in this matchup, not Hooper.
Rookies on byes in Week 5: RB CJ Prosise,SEA, WR Michael Thomas, NO, WR Tyreek Hill, KC
Deep League Sleepers, Stashes, and Cheap DFS Options:
RB Wendell Smallwood, PHI (Wk. 5: @Det.): The Lions still haven't allowed a running back TD this season, but they've allowed over 140 scrimmage yards per game to them and they rank 31st in run DVOA. It's only a matter of time before the TDs follow. Ryan Mathews should be back in this game, but head coach Doug Pederson has already said that they will use more of a committee approach, and Smallwood is coming off a very impressive game in week 2. He'll still have to contend with Mathews and Darren Sproles for touches, but I think he gets more work than Mathews this week and has some legitimate flex appeal in leagues with 12+ teams.
RB Kenneth Dixon, BAL (Wk. 5: vs. Was.): John Harbaugh declined to endorse Terrance West as the lead back despite his impressive week 4 performance, and Dixon seems to be on track to play in week 5. There isn't necessarily a ton of upside this week for Dixon, but with Justin Forsett gone, Dixon should absolutely be owned. West has never shown much ability as a receiver, and Marc Trestman's offense has averaged 9 passing targets per game to RBs after averaging 10.5 last year. Dixon should be the receiving back going forward, and he'll have a chance to earn a bigger role if West struggles. He's a better PPR add right now, but there is upside for him to become a viable standard league option as well.
WR Tyler Boyd, CIN (Wk. 5: @Dal.): Boyd hasn't made the splash that many predicted he would, still struggling to beat out Brandon LaFell in the pecking order, but this week's matchup may work in his favor. The Cowboys rank 24th in pass DVOA, and 3 of the 4 passing TDs they've allowed to WRs have been to slot WRs (Sterling Shepard, Jamison Crowder, and Jeremy Kerley). Boyd runs most of his routes in the slot. If Eifert returns this week, it'll hurt Boyd's outlook, but he's got a real shot to find the end zone this week.
That's all I've got for this week. Hopefully, it helps you make some of the tougher lineup decisions this week to deal with your bye weeks. Keep an eye on the injury report throughout the week to not be caught off-guard on Sunday if someone winds up sitting at the last minute. The lack of the 'Probable' injury designation has made it tougher than ever to stay on top of who's in and out, so stay vigilant. If you want to tell me how wrong I am or have any specific questions, feel free to hit me up on twitter and let me know (@Shawn_Foss). As always, good luck, trust your gut, and have fun. It's just a game.