The final preseason games of any meaning claimed three more fantasy starters over the weekend. On Friday night, Julian Edelman and Spencer Ware both went down with knee injuries. Then, on Sunday, just as the Bears offense looked like it was really clicking, the Bears WR1 Cameron Meredith destroyed his knee.
Your draft may have already happened, or maybe it's coming up. Either way, you need to look to these fast rising replacements to keep your fantasy team stocked up before the season starts.
Danny Amendola & Chris Hogan - With Julian Edelman going down, the Patriots have a huge hole to fill, even with the offseason acquisition of Brandon Cooks. Danny Amendola might be the most likely to fill the slot role that Edelman was in, and comes with a very cheap price tag right now.
Amendola, ADP WR64, is currently going after Hogan, ADP WR53. I expect both to shoot up the ADP list by this time next week, so scoop them up before the final rounds of your draft if these are the guys you want.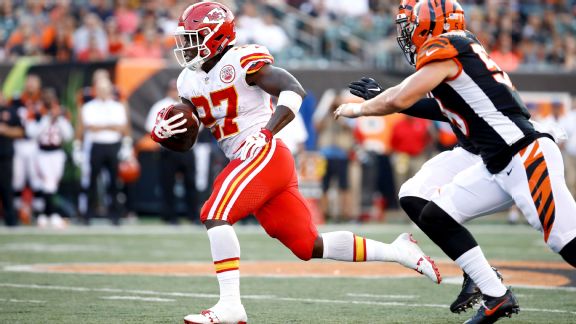 Kareem Hunt - Rocketing up the ADP chart, Hunt may be a rookie, but he's going to have a very large role in the Chief's offense right away. Spencer Ware was already giving up carries to Hunt before his knee injury. Now, according to Coach Andy Reed, Hunt will be the "featured back".
This is great news for anyone who can get their hands on Hunt. He is unlikely to have to share many carries with Charcandrick West and C.J. Spiller. Hunt's current ADP is RB28, but is certainly now an RB2 with lots of potential RB1 upside. He will need to be drafted the first half of the draft now, as his stock is rising sharply.
Kevin White, Kendall Wright & Victor Cruz - Replacing the Bears' breakout WR from 2016, Cameron Meredith, will be a tough job from a WR core that's rather lacking. One of these guys will rise to the top and be startable throughout the season. Right now, Kevin White is the only guy even being drafted, and he certainly seems to have the inside track.
With White's ADP sitting at RB63, I would recommend Amendola over him. I do suggest a flyer, however, on Kendall Wright. He has shown some great flashes at camp and in the third preseason game, all three of his receptions were third-down conversions. If he winds up being the go-to guy, he will be a great PPR play every week. He can currently be had at the end of the draft, or perhaps off your waiver wire.