Welcome back to the Rookie Report! We've finally been able to watch meaningful pro football again, unless you, like Jim Carrey, believe nothing has any meaning. It was an exciting first week, with several strong rookie performances. There were hits and misses from me on what to do in the opening week with those rookies, but that'll be the case every week, and overall I'll take last week's results.
I was spot on with the top-5 picks of most rookie drafts (Corey Davis, Dalvin, Fournette, McCaffrey and Mixon), but I was off on Kenny Golladay and was way too tepid with my expectations for Kareem Hunt who wound up the top scoring fantasy player. I had Tarik Cohen pegged as a sleeper for week 1, but not even I expected the outburst he put up against Atlanta. My biggest miss of the week was probably Zay Jones, who I had pegged for 5+ catches, and he wound up with just 1-for-21 on 4 targets. I should get a clearer picture of who these guys are as the year progresses, but I'd chalk up week one as a success. Let's dive in to what to expect in week 2…
Rookies to Start:
RB Kareem Hunt, KC (Wk. 2: vs. Phi.): I liked Hunt as a season-long option, but was unsure about how he would do last week. I was wrong to be unsure. After fumbling on his first touch of the game, he was fantastic and dismantled the Patriots' defense. He might never duplicate the point total he put up on opening night, but there is no way you can sit him after what he did in New England. You should temper expectations a little bit with his matchup against Philly. The Eagles allowed the 12th fewest RB points last year, but Hunt should have no problem returning RB2 value this week.
RB Leonard Fournette, JAX (Wk. 2: vs. Ten.): The Jaguars are going to run Fournette until the wheels fall off. He handled 29 touches last week (20 in the first half!), and had success against a stout Texans defensive front. The Titans gave up 76 yards to Marshawn Lynch in week one, and Lynch hadn't played in an NFL game since January of 2016. If Leonard approaches the kind of volume he saw in week one, he's got a solid shot of ending as an RB1 again.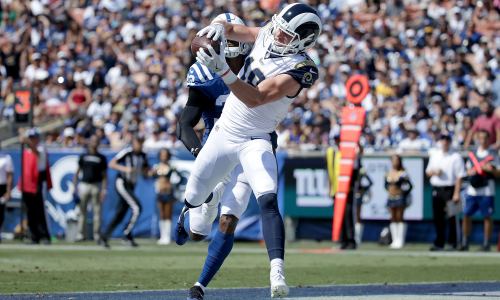 WR Cooper Kupp, LAR (Wk. 2: vs. Was.): The Rams will likely have to throw a bit more this week if Todd Gurley continues to be as ineffective as he was on Sunday, and Kupp was targeted  a team-high 6 times in the opener. Sammy Watkins will likely be shadowed by Josh Norman in this matchup, and Washington ranked 29th in Football Outsiders' pass defense DVOA stat on throws to #2 receivers last season. They also just gave up 6-86-1 to Nelson Agholor last weekend. I like Kupp more than I did in week 1, when he posted 4-76-1. He should be targeted early and often, and he could easily wind up as a WR2 this week, especially in PPR leagues.
Borderline Rookies:
RB Dalvin Cook, MIN (Wk. 2: @Pit.): Cook was impressive in the opener, but it was against a bad Saints defense that ranked 23rd in run defense DVOA a season ago. The Steelers ranked 11th in that same stat, and they held Isaiah Crowell to a 17-33 rushing line on Sunday. Cook should still be involved in the passing game, but I'd be surprised if he approached the 137 scrimmage yards he posted on Monday night. Volume will keep him in play as a RB2/Flex option, and you're probably starting him, but there some reason for pause this week.
RB Christian McCaffrey, CAR (Wk. 2: vs. Buf.): Week one was both good and bad for McCaffrey. On the one hand, he was given 18 touches and was an integral part of the offense as promised. On the other hand, Jonathan Stewart remained the goal line back and saw more touches than CMC, and the game script won't always be positive enough for them to combine for 38 touches. Head coach Ron Rivera has already talked about not wanting to "wear his batteries out," so I'm not sure I'd expect the volume to continue at that level. This week CMC gets to face the Bills, who were really bad against RBs last year (allowed 5th most points), but they did hold the Jets' backs to 13-38 on the ground and 8-37 through the air on 11 targets in week one. Granted, it's the Jets, who are terrible. At the end of the day, McCaffrey's outlook in week 2 is similar to what it was in week one. He's an upside RB2/Flex option with a plus matchup. His speed and playmaking ability gives him week-winning potential, but he could just put up another 80 scoreless yards.
RB Tarik Cohen, CHI (Wk. 2: @TB): Cohen was a shock to even most Bears fans last weekend, and while his results may have been due to a sweet matchup with the Falcons, he's clearly going to be a featured part of the offense going forward. The Bears are desperate for playmakers in the passing game, especially with Kevin White done for the season yet again, and Jordan Howard demonstrated once again that it won't be him after dropping a game-tying touchdown in the closing seconds. Enter Tarik Cohen, who turned a ridiculous 12 targets into 8-47-1, while also rushing for 66 yards. He isn't going to put up those numbers every single week, but his skill set and the way the Bears will deploy him reminds me a bit of Dion Lewis from two years ago with the Patriots. Before getting hurt that year, Lewis averaged 5 catches and 89 scrimmage yards per game, and he scored 4 TDs in 7 games. If Cohen continues to be used like this and stays healthy, he has legitimate top-15 RB upside in PPR leagues. He gets another favorable matchup this week against Tampa Bay. We haven't seen the Bucs yet this season, but last year they allowed the 11th most fantasy points to RBs, and ranked 26th in run defense DVOA and 26th in pass defense DVOA on throws to running backs. I doubt he sees another 12 targets, but Cohen is on the RB2 map in PPR leagues and a flex option in standard formats.
RB Chris Carson, SEA (Wk. 2: vs. SF): Seattle head coach Pete Carroll has already said that he expects Thomas Rawls to play this week, but I think it's very possible that he's eased in. If that's the case, it's Carson who would spell him on early downs, not Eddie Lacy. The Seahawks are a 2-touchdown favorite against the 49ers, so Carson would likely see extra work in the case of a blowout, and he impressed in limited opportunities against Green Bay. There is a very low floor here with Rawls back, but Carson is an upside flex option who could be a week-winner if things break his way. The 49ers allowed 3 more points per game to opposing RBs than any other team in the league last year, and allowed 27.8 to the Carolina backs in the opener. They also lost linebacker Rueben Foster to a high ankle sprain in that game. All Carson needs is the opportunity.
WR Corey Davis, TEN (Wk. 2: @Jax.): Davis came out with a strong debut after missing the entire preseason, posting 6-69 on a team-high 10 targets, despite playing fewer snaps than Rishard Matthews and Eric Decker. Davis played 42 snaps while Decker played 60 and Matthews played 52. Another week removed from his return, I'd expect Davis to play a higher snap percentage. The matchup is tougher this week, and he may have to lock horns with standout corner Jalen Ramsey. Hopefully he's able to avoid the shadow treatment. The Jaguars allowed the 7th fewest points to WRs in 2016. Given the tough scenario, a repeat of last week's numbers would be a successful day, even with an increased snap count.
WR Kenny Golladay, DET (Wk. 2: @NYG): Golladay was a big-time performer in week one, with a 4-69-2 line while splitting WR3 snaps with TJ Jones. I'd expect that split to move even more in favor of Golladay going forward (Kenny outsnapped TJ 44-18 in week 1). Unfortunately for BabyTron (thanks @LateRoundQB), a repeat of Sunday's performance will be hard to come by against the stingy Giants secondary. The Giants ranked 4th in pass defense DVOA last year, and despite struggling to defend the Cowboys last week, they allowed just 2-43 to Dez Bryant on 9 targets. Golladay is a boom-or-bust WR3 option this week.
TE Evan Engram, NYG (Wk. 2: vs. Det.): Engram clearly has a prominent role in the Giants' passing game, and he may actually get better with Odell Beckham back and drawing coverage away. Brandon Marshall struggled mightily in the opener, so Engram may get more red zone opportunities than expected. The Lions coughed up the 3rd most TE points last year, so Engram should make for a reasonable streaming option this week whether OBJ is back in the lineup or not.
Rookies to Sit:
QB DeShone Kizer, CLE (Wk. 2: @Bal.): Kizer had some good moments in an impressive debut vs. Pittsburgh, but this week he goes on the road to face a defense that forced 5 turnovers from Andy Dalton last Sunday. The best-case scenario for Kizer would be a repeat of last week, but I think it's more likely that he takes a step back. He's just a low-end QB2 option with upside this week.
QB DeShaun Watson, HOU (Wk. 2: @Cin.): No one was surprised that Watson was forced into action in week 1, but he didn't look ready for prime time just yet. He posted just 4.44 yards per attempt and turned the ball over twice in a blowout loss. I don't expect things to get much better this week. He's battling an ankle injury, has a short week with a Thursday night game, and the Texans o-line should continue to struggle. The returns for Watson were mixed in week 1, but he should be avoided in week 2.
RB Joe Mixon, CIN (Wk. 2: vs. Hou.): The Texans struggled to contain Jacksonville's rushing attack on Sunday, but they look like a tough run defense on paper and Mixon didn't exactly impress in his limited week 1 role. He led the Bengals' backfield with 11 touches, but totaled just 24 yards. The touches were split fairly evenly between Mixon, Gio Bernard and Jeremy Hill. Until Mixon is able to separate himself from the other 2, this looks like a situation to avoid.
RB Jamaal Williams, GB (Wk. 2: @Atl.): Ty Montgomery proved this is his backfield in week 1. TyMo played 90% of Green Bay's offensive snaps, and after posting PFF's highest pass protection grade among RBs for the week, I'd expect that workhorse role to continue for him going forward. Williams received just 2 carries in the opener, and at this point likely needs an injury to Montgomery to return value any time soon.
RB Marlon Mack, IND (Wk. 2: vs. Ari.): The Colts offense was predictably a mess while helmed by Scott Tolzien last weekend, and although Mack scored a TD, he also had 9 carries for zero yards outside of his longest carry of the day (24 yards). He also only had 4 touches in the first 2 and a half quarters of the game, and didn't see extended run until the Colts were being blown out. They may very well get blown out again this week and turn to Mack in garbage time, but it's hard to bank on. The Cardinals didn't play well as a team last week, but they did hold the Lions' RBs to 58 yards on 25 carries. The Lions don't boast a great run offense, but neither do the Colts. Mack should be left on the pine.
WR Zay Jones, BUF (Wk. 2: @Car.): It was promising that Tyrod Taylor looked better in the opener than he did in the preseason, but disheartening that Zay was out-targeted by both Charles Clay and Shady McCoy. The Bills will be a low-volume passing attack all year, and 4 targets won't cut it for fantasy purposes for Zay. There will be game scripts that call for more passing, but you'd like to see more of a connection between Zay and Tyrod before running Jones out there in fantasy lineups.
WR Taywan Taylor, TEN (Wk. 2: @Jax.): There may be even fewer snaps for Taylor this week than the 6 offensive snaps he played last week now that Davis is closer to 100%. He did manage 2-14 on those 6 snaps, which is nice efficiency, but he belongs firmly planted on the bench until his role increases.
WR ArDarius Stewart, NYJ (Wk. 2: @Oak.): It'll be tough to consider any Jets pass catcher until the offense demonstrates they can throw the ball. Stewart may lose snaps to Jeremy Kerley this week, and was mostly a non-factor on Sunday while Kerley was a healthy scratch, posting 2-10 on 5 targets. It's going to be an ugly season for the Jets.
TE OJ Howard, TB (Wk. 2: vs. Chi.): Howard should be used mostly as a blocker early in the year, with Cameron Brate serving more in the receiving TE role. The Bears allowed just the 22nd most points to opposing TEs a year ago, and didn't allow a single target to Austin Hooper until a long TD on a broken play in the 4th quarter. Howard is a dynasty stash who might not do that much damage in redraft leagues this year.
TE David Njoku, CLE (Wk. 2: @Bal.): Njoku was targeted just twice in the opener, and this week faces off with a defense that allowed the 7th fewest TE points a season ago and held Tyler Eifert to 1-4 on 1 target on Sunday. You would be best off avoiding Njoku this week.
TE George Kittle, SF (Wk. 2: @Sea.): The Iowa product showed he was over his hamstring injury with 5 catches in the opener, but the Panthers allowed the 2nd most TE points in the league last year. Seattle allowed the 4th fewest. Kittle will be targeted a handful of times this week, but I wouldn't expect him to have much success with them.
Deep League Sleepers and Cheap DFS Options:
RB Alvin Kamara, NO (Wk. 2: vs. NE): Although the Patriots allowed the fewest RB points in the league last year in standard scoring, only the Atlanta Falcons allowed more receptions to the position, and Kansas City's backs just shredded them in week 1. Kamara led New Orleans RBs in snaps and touches in week 1, and he is likely going to be their primary receiving back. This game could turn into a shootout, so he may increase the 50% snap share he played a week ago. Kamara's volume is probably too low to trust him as anything more than a flex option in deep PPR leagues, but he could be a great DFS tournament option at just $3,500 on DraftKings.
WR Chris Godwin, TB (Wk. 2: vs. Chi.): Godwin is strictly a boom-or-bust punt option for DFS tournaments. He's at least behind Mike Evans and D-Jax on the depth chart, but he might also play fewer snaps than Adam Humphries. His floor for this week is zero points, but he has dazzled in every opportunity he's been given. He's been compared to Roddy White by his head coach this preseason, I expect them to try to get Godwin involved a handful of times on Sunday. I wouldn't be surprised if he makes a couple of big plays.
TE Gerald Everett, LAR (Wk. 2: vs. Was.): Just like last week, the Rams face a defense that was below average against TEs last year (Washington allowed 10th most points to them), and McVay likes to use the position a lot. Everett turned his only target last week into a 39-yard gain. I'd expect him to see a few more targets this week, and is a nice TD dart throw that will cost the minimum in DraftKings.
That's all I've got for this week. Hopefully it helps you with the tougher lineup decisions you have to make involving your rookies. Keep a close eye on the injury report through the week, and make sure to check for any surprise inactives on game day. If you have any questions, or want to yell at me about anything written above, feel free to hit me up on twitter (@Shawn_Foss). As always: Good luck, trust your gut, and have fun. It's just a game.