Welcome back to the Rookie Report! Week 3 was certainly an interesting one. Between all of the anthem protest drama, there were some intriguing football games. Almost nothing went according to plan, which should have been predictable with 10 road favorites (6 of them lost). The chaos started right away on Thursday night with an unexpected Rams-49ers shootout that was full of fantasy goodness. Sunday stunners included the Ravens getting housed in London with Joe Flacco throwing for 28(!) yards, the Steelers being topped in OT by a Bears team that completed just 1(!) pass to a WR the entire game, Case Keenum throwing for 369 yards in an easy Viking win, the tanking Jets demolishing the Dolphins, and the Lions losing on an incorrect call that cost them the opportunity for a final play. It was a whirlwind. If your team was one of the ones that got stunned, hopefully your fantasy team came out of week 3 in better shape than your real one. I wonder what week 4 will give us for an encore. Take note that for the players listed within the same category at the same position, they will be listed in the order I would rank them. Any point totals listed will be PPR scoring unless otherwise noted. Let's take a look at what to expect from your rookies this week…

Rookies to Start:
RB Kareem Hunt, KC (Wk. 4: vs. Was.): There's a down week coming at some point for Hunt, but you obviously have to keep riding the wave right now. Washington isn't a matchup to fear, and Hunt played a season-high 70% of the snaps last week against the Chargers. His role is getting bigger, not smaller. Andy Reid also said this week that he has no plans to scale back the rookie's workload. Plug him in as an RB1 again.
RB Dalvin Cook, MIN (Wk. 4: vs. Det.): Cook is probably licking his chops this week as he watches film of Devonta Freeman dismantling the Lions' defense last Sunday. He's coming off his best game as a pro, and the Lions have been coughing up 150 scrimmage yards per week to opposing RBs. With his usage, Dalvin is a borderline RB1 this week.
RB Christian McCaffrey, CAR (Wk. 4: @NE): As expected, CMC's receiving usage blew up against the New Orleans defense with Greg Olsen out and Kelvin Benjamin leaving the game early. The Saints had allowed the most receiving yards to RBs going into that game, and that hasn't changed after McCaffrey hung 101 receiving yards on them. The team that has allowed the 2nd-most is the New England Patriots, who McCaffrey faces this week. He should have a great receiving floor and easily be an RB2 this week in PPR leagues. He's more of a low-end RB2 in standard leagues, but one with big upside.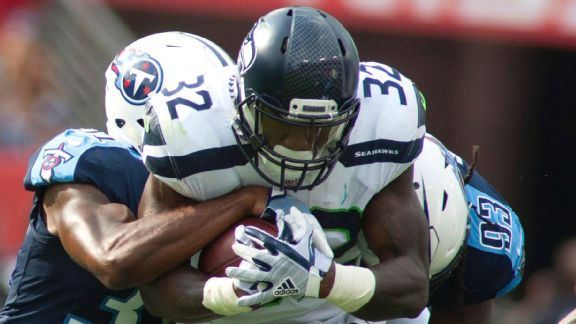 RB Chris Carson, SEA (Wk. 4: vs. Ind.): Any doubts about Carson's role were put to bed last week and Thomas Rawls played just 1 snap. I'd expect Rawls to play a few more this week, but that's mostly because C.J. Prosise has already been ruled out for the Seahawks and Carson isn't going to play 100% of the snaps. The Colts are allowing just 3.2 yards per carry so far, but they've allowed the 11th-most RB points and Seattle opened as an 11.5-point favorite this week. The game script should very much in Carson's favor, and he should be a rock solid RB2 option this week.
RB Leonard Fournette, JAX (Wk. 4: @NYJ): Even after limiting the Dolphins running backs to 21 yards on 14 carries, and just 7.8 PPR points last weekend, the Jets have still allowed more RB points per game than any other team in the league, and a 4.1 ypc average on the season. Perhaps the Jets' week 3 improvement is a sign of things to come, but even if it is Fournette should still manage an RB2 day on volume alone. The upside is big in this one if the Jags get ahead early.
Borderline Rookies:
QB Deshaun Watson, HOU (Wk. 4: vs. Ten.): Watson impressed last week against a Patriots D that typically feasts on rookie QBs. The Titans have allowed the 3rd-most QB points per game after being shredded by Russ Wilson last weekend, and DeAndre Hopkins should have a great shot to breakout and help out his quarterback. The Titans have allowed 22-243-2 to opposing number one WRs through 3 weeks. With the extra boost that Watson's rushing gives him, he's a borderline option for 2-QB leagues this week. There's always a low floor with a rookie passer in a run-heavy scheme, but the ceiling Watson showed last week was nice.
RB Joe Mixon, CIN (Wk. 4: @Cle.): Week 3 was a promising one for Mixon. He may finally be breaking out of the 3-man timeshare the Bengals started with now that they have a new coordinator. Mixon played 56% of the offensive snaps and saw 62% of the running back touches in week 3. OC Bill Lazor seems to be turning the backfield over to him, and I expect him to play better with extended opportunities that will allow him to get in rhythm. The increased work is just a one week sample, and the Browns have been decent against the run so far this year, so there is some risk. If the increased usage continues this week, he should finish in the RB2 range.
RB Tarik Cohen, CHI (Wk. 4: @GB): If you own Cohen in a non-PPR league, I'd probably lean against using him this week. This stacks up as more of a Howard game with the Packers allowing 97 RB rushing yards per game compared to 29 RB receiving yards. Then again, last week stacked up as a Cohen game and it was Howard who blew up. For PPR leagues, Cohen remains a steady flex option with big play upside. The Bears completed just 1 pass to a wide receiver last week, and Mike Glennon clearly has a connection with Cohen. I'd still expect him to be peppered with targets in a game the Bears should be trailing in as a 7.5-point road underdog.
WR Cooper Kupp, LAR (Wk. 4: @Dal.): Sammy Watkins and Tavon Austin are both dealing with concussions this week, so Kupp should see plenty of targets if Watkins can't play. He disappointed last week with just 2-17 on 2 targets despite the team's gaudy passing numbers, but I'd look for a bounce back against Dallas. The Cowboys are allowing the 6th-most points per game to opposing WRs. Cooper is on the flex radar in PPR leagues.
WR Kenny Golladay, DET (Wk. 4: @Min.): It's been a quiet couple weeks for the sax man (Kenny G). He's always going to have a bit of a boom-or-bust element with the way the Lions use him, but I kind of like his chances to boom this week. The Vikings have allowed the 2nd-most WR points per game (44.3) despite strong play from top CB Xavier Rhodes. I'd expect it to be Marvin Jones who tangles with Rhodes most often (Rhodes is unlikely to go to the slot to cover Tate). Kenny still has a really low floor, as evidenced by the 3-33 totals he's put up in the past 2 games, but I love his upside this week.
TE Evan Engram, NYG (Wk. 4: @TB): Engram seems to have established a pretty reliable 4-40 floor so far, which should make him a borderline weekly TE1 in PPR leagues. He's been the TE14, TE9, and TE14 in PPR in the first 3 weeks. Tampa has been solid against TEs so far, but their defense is dealing with some injuries this week and Engram has seen 7 targets in each of the past 2 games. Engram should be a safer bet than some of the other streaming options available (I'm looking at you Hunter Henry).
Rookies to Sit:
QB DeShone Kizer, CLE (Wk. 4: vs. Cin.): I'm not as confident in Kizer's outlook this week as I was for week 3. The Bengals struggled to contain the Packers' passing last week, but Aaron Rodgers is special. Prior to that game, Cincy held the Ravens and Texans to a combined 246 passing yards and 1 score. They did allow a 50-yard rushing score to Deshaun Watson, but those can be kind of fluky. I don't expect a high volume passing game from Kizer, so even with his rushing upside it will be tough for him to return QB2 value this week.
RB Alvin Kamara, NO (Wk. 4: @Mia.): There is still a little upside here for DFS tournaments, but the matchup for Kamara this week isn't ideal. It's a small sample size, but through 2 games the Dolphins have allowed the 4th-fewest RB points per game. They've allowed just 3.25 yards per carry and 3.5 receptions per game to opposing backs. They'll also be playing angry after an embarrassing loss in New York last weekend. It's probably best to avoid rolling the dice on Kamara this week.
RB D'Onta Foreman, HOU (Wk. 4: vs. Ten.): Foreman made two nice plays in the passing game Sunday, putting up 65 yards on the 2 catches, and the Titans have coughed up 175 receiving yards to opposing backs so far. This doesn't mean much for Foreman though. His receiving plays should be viewed as outliers, not the norm. For now, this is still Lamar Miller's job. There has been a lot of talk that Foreman has been outperforming Miller so far, but Miller is averaging 3.7 yards per carry to Foreman's 3.3, and Lamar out-snapped D'Onta 50-17 in week 3. Foreman will continue to get change of pace work, but not enough to make him a viable option this week.
RB Semaje Perine, WAS (Wk. 4: @KC): It was a little bit surprising that Rob Kelley sat out last weekend with injury, but Perine didn't do much with his starting opportunity. He totaled 49 yards on 19 carries, and added a 6-yard catch, but he also lost a fumble. He's now at 2.9 yards per carry on 40 totes. Even if Kelley were to miss another game, Perine is a low-end flex play with little to no receiving upside.
WR Curtis Samuel, CAR (Wk. 4: @NE): The Patriots have allowed at least 32.9 PPR points to the opposing WR group each week so far, and Carolina is running low on WRs at this point with KB questionable. There is a little upside for Samuel, but the Panthers have struggled to show they know how to use him and have struggled to get their passing game clicking in general. If Benjamin sits, Curtis might be worth a roll of the dice in really deep leagues, but I'm struggling to trust much in the Carolina passing game at this point aside from McCaffrey.
WR Chris Godwin, TB (Wk. 4: vs. NYG): It was nice to see Godwin get involved a little bit in game 2, putting up a 3-44 line on 3 targets as TB tried to play catch-up. The Giants likely won't score enough to keep Tampa throwing all game again, and New York has allowed just 22.6 PPR points per game to opposing WRs. Most of those points are earmarked for Mike Evans and D-Jax.
WR Zay Jones, BUF (Wk. 4: @Atl.): LeSean McCoy and Charles Clay each have more catches on the year than Zay has targets. Until that trend changes, there isn't much reason to even consider Zay in your lineups.
WR John Ross, CIN (Wk. 4: @Cle.): Ross looks unlikely to play this week. Even if he is active, I'd like to see him actually do something on the field before I put him in any lineups.
TE Jonnu Smith, TEN (Wk. 4: @Hou.): With Corey Davis out with injury last week, Jonnu played about 65% of the Titans' offensive snaps, and scored his second TD in as many weeks. He also has just 3 catches in those 2 weeks, and gets a tougher matchup in this one. The Texans rank 13th in Football Outsiders' pass defense DVOA stat on throws to tight ends, and they've allowed just 4 catches for 60 yards to the position in the two games where they didn't face Gronk. This is probably not the best week to use Smith as a TD dart throw.
TE OJ Howard, TB (Wk. 4: vs. NYG): Howard has played about 65% of the Bucs' offensive snaps each week, but has just 2 catches and 4 targets to show for it. He's being used primarily as a blocker for now. Until that changes, there's no place for him in your lineup.
TE George Kittle, SF (Wk. 4:  @Ari.): The Cardinals just held an ageless Jason Witten to one catch for 3 yards on Monday night, and Kittle has 3 catches for 21 yards in the past 2 weeks combined. It's not a good spot to consider him.
TE Gerald Everett, LAR (Wk. 4: @Dal.): You would think his outlook would be better this week if the Rams are without Sammy Watkins, but he has been slowly ceding playing time to Derek Carrier. His snap count has gone from 29 to 16 to 11 in the first 3 games. He might still make a downfield play in this one, but it's hard to rely on a player who isn't on the field much.
Deep League Sleepers, Stashes, and Cheap DFS Options:
RB Wayne Gallman, NYG (Wk. 4: @TB): This is mostly just a hunch, but Gallman may get some opportunity this week if Orleans Darkwa is out and Paul Perkins gets off to a slow start. The Bucs are dealing with a myriad of maladies on their defense right now: Lavonte David, Kwon Alexander, Chris Baker, and Gerald McCoy are all banged up, and Tampa just allowed 33 fantasy points to the Vikings' running backs. Gallman is only worth considering as a DFS punt play, and he's a risky one at that. He played zero snaps last week. If Darkwa dresses, I'd take a long look at Shane Vereen for DFS lineups. He could have a strong day.
RB Corey Clement, PHI (Wk. 4: @SD): Clement likely has little to no value for this week, but with Sproles done for the year he's worth a stash in really deep leagues. He's the primary backup to LeGarrette Blount, and he put up 22 yards and a score in just 9 snaps and 6 carries a week ago. The Eagles backfield is still very much in flux in the wake of the Sproles injury.
WR JuJu Smith-Schuster, PIT (Wk. 4: @Bal.): The Ravens have allowed the 5th fewest WR points per game so far this year, but they've allowed 53.2 points to opposing tight ends in the last 2 weeks including 4 TDs. The Steelers will likely be using JJSS as a de-facto tight end if Jesse James is out with injury. He's been playing plenty of snaps and has averaged 5 targets per game in the past 2 weeks. I like his chances for a TD in this one.
WR Trent Taylor, SF (Wk. 4: @Ari.): Taylor played almost 50% of the week 3 snaps and was targeted in the red zone, scoring his first career TD. He also was the victim of a terrible OPI penalty on the 49ers final drive. The Cardinals have struggled against WRs so far, allowing the 5th-most WR points per game to them. The 49ers are a 6-point underdog, and Pierre Garcon could be shadowed by Patrick Peterson. Taylor has the chance for a really nice game.
WR Josh Reynolds, LAR (Wk. 4: @Dal.): This is contingent on Watkins and Tavon being out with their concussions. He needs both out to see the snaps needed to produce. If both are out, I'd expect Reynolds to play in 3-wide sets with he and Robert Woods on the outside and Cooper Kupp in the slot. The Cowboys have been bleeding points to WRs the past 2 weeks (46.4/game). There is a chance that J-Rey surprises in this one.
TE David Njoku, CLE (Wk. 4: vs. Cin.): Njoku is probably a TD or bust option, but the Bengals are not as tough a matchup as their #5 rank at limiting TE points would suggest. They faced Baltimore in week 1, who only threw 17 passes all game (3 to TEs), and then played the Texans in week 2 who were missing ALL of their tight ends with concussions. In week 3 they allowed 2-52-1 to Lance Kendricks. The Bengals rank just 24th in pass defense DVOA on throws to TEs, and Njoku has hit paydirt each of the last 2 weeks. Limited snaps and splitting time with DeValve have hurt his output, but the Browns don't have a ton of other red zone weapons.
That's all I've got for this week. Hopefully it helps you with the tougher lineup decisions involving these guys. If you have any questions, arguments, or opinions, feel free to hit me up on twitter and let me know (@Shawn_Foss). As always: Good luck, trust your gut, and have fun. It's just a game.