Another week in the books and more injuries to many promising fantasy players. Although I do not have Dalvin Cook in any leagues, it is tough to see an exciting young rookie hit the deck. It was a rough week but hang on tight and be sure to check Jim Hutchins' suggested pickups for this week to keep the dream alive.
Quarterback
Derek Carr (Back) – Derek Carr has a transverse process fracture in his back and is out 2-6 weeks according to Rotoworld. This is a tough blow to the Raiders and all of those around Carr will suffer from his absence. Keep monitoring the injury reports and his activity. Amari Pooper and Crabtree owners will have to temper expectations until Carr is healthy. To read more about what the hell a transverse process fracture is, check out this article: http://www.sportsinjuryclinic.net/sport-injuries/low-back-pain/transverse-process-fracture
Marcus Mariota (Hamstring) Déjà vu with two young QB's going down in the same week again. Last year both Carr and Mariota went down to season-ending injuries and it is not as severe this time around. Mariota is considered Day to Day and the Titans are prepping both Matt Cassel and Mariota to start. Same as Carr, temper your Titans in case Mariota is out this week.
Running Back
Dalvin Cook (ACL) – And just like that one of the most promising rookie backs this year is out for the season. Rough night for a Vikings team that has already been playing without Sam Bradford. Look for Latavius Murray and Jerick McKinnon to pick up the slack. Murray will be a hot add on the waiver wire this year, but if you are in a PPR league I would be looking to grab McKinnon.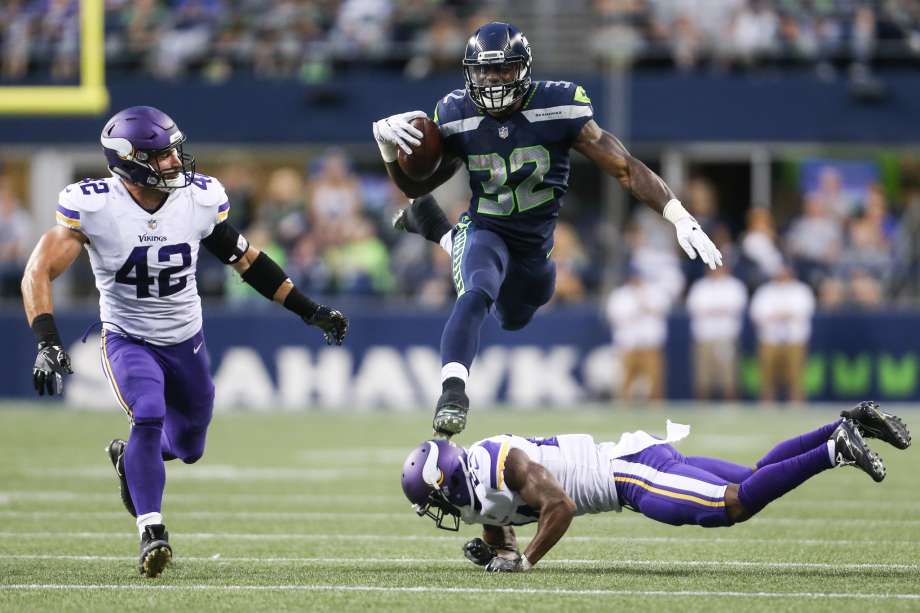 Chris Carson (Leg) – Another promising rookie, another season-ending injury. Carson fractured his leg and has been placed on IR. He was looking to take over that backfield and was a hot add in the weeks leading up to the injury. This backfield just turned ugly with Eddie Lacy, C.J. Prosise, and Thomas Rawls all in the mix. Eddie Lacy is the hungriest of the bunch, but I would proceed with caution.
Ty Montgomery (Ribs) – New broke this morning that TY is dealing with multiple broken ribs. Although this is a painful injury, Montgomery has a shot to play this week and he said he will be fine. If he is starting, it is tough not to play him. This injury makes me nervous though. This could linger throughout the year and he is only one big hit away from leaving the game at any moment. Look for Aaron Jones to pick up the rock if he were to miss time. I like Aaron Jones as an add this week. Not only does he share a name with Rodgers, he has been getting praises from the gun-slinging A-A-Ron stating, "I've been a big fan of his since the beginning."
Ameer Abdullah (Ankle) – Ameer rolled his ankle late in the game after looking rock solid against a stingy Vikings defense. Abdullah should be good to go this week but keep an eye on the injury reports. If he continues to be fed the rock, Abdullah could be a strong RB2 play for weeks to come.
Paul Perkins (Ribs) – I contemplated not even including this injury because the Giants and running backs go together like peanut butter and anchovies. It is worth noting because 4th round rookie Wayne Gallman came in and looked like a competent runner and could see more playing time. He should be worth a look in a backfield I would usually recommend avoiding. The Giants need to shake things up and McAdoo could be coaching for his job. Gallman looked like the best runner on the field and McAdoo would be crazy for not giving the kid a larger role moving forward.
Wide Receivers
Julio Jones (Hip) – Julio is no stranger to the injury report and left the game in week 4 and did not return. Thankfully the Falcons are on bye this week and it gives Julio some much-needed rest early in the season. He is not expected to miss any time.
Jordan Matthews (Thumb) – Jordan Matthews' thumb injury does require surgery and he is expected to be out at least a month. Matthews developed some great chemistry with Tyrod Taylor and this will be a blow to the "potent" passing attack of the Bills. I expect Charles Clay to get peppered with targets and Zay Jones to take on a bigger role in the passing game.
Mohamed Sanu (Hamstring) – Sanu is expected to miss 2-3 weeks with a hamstring injury. With Sanu out and Julio hobbled, expect Taylor Gabriel and Justin Hardy to pick up more looks.