Welcome back to the Rookie Report! Hopefully the fantasy gods have smiled upon your teams for the first 5 weeks of the season. Now that we're this deep into the season, we're starting to get a better picture of which teams are legit, which teams are not, and which teams are the Giants. Sorry Giants fans, it's going to be a long few months, but you should get to see a bunch of Evan Engram! As far as the rookies go, week 5 featured the debut of one heralded rookie QB, and the benching of another. Mitch-a-palooza didn't quite go according to plan for the Bears on Monday night, but Trubisky did show some flashes that will give Bears fans hope. DeShone Kizer, on the other hand, needs a few weeks off to get his head clear. He may eventually get the starting job back from Kevin Hogan, but the turnovers were just getting to be too much. Both Kizer and Trubisky have nothing on Deshaun Watson at this point. Aside from the QBs, we also got breakout games from Aaron Jones and George Kittle, Christian McCaffrey's first TD, and ho-hum RB1 days out of Kareem Hunt and Leonard Fournette. Let's check in on what to expect from week 6:
Rookies to Start:
QB Deshaun Watson, HOU (Wk. 6: vs. Cle.): Watson has been throwing straight fire the past few weeks even if the Texans aren't putting up a ton of wins as a result. In his 4 starts this year, Deshaun has been the QB7, QB15, QB1, and QB1. The Cleveland Browns allow the 4th-most QB points per game (all ranks and point totals listed are in PPR scoring), so the good times should keep rolling this week. I'm not sure there's another 4 or 5 TD game in the offing this week, but Watson might be worth his price tag in DFS lineups. It would be hard to sit Aaron Rodgers or Drew Brees for the rookie, but I would rank only Tom Brady higher than him for this week.
RB Kareem Hunt, KC (Wk. 6: vs. Pit.): Obviously you weren't considering sitting Hunt this week, but this is a week you should consider paying up for him in DFS lineups. The Steelers' run defense has been shredded by Leonard Fournette, Jordan Howard and Dalvin Cook in the past 4 weeks. They gave up over 200 rushing yards and 2 TDs to both the Jaguars and Bears RBs. Hunt has been held scoreless in each of the past 2 games, but I expect him to find the end zone at least once in this one. He is the premier running back play of the week.
RB Leonard Fournette, JAX (Wk. 6: vs. LAR): Just like Hunt, Fournette is a weekly RB1 who you wouldn't think of sitting in season long leagues, but also someone you should be getting into your DFS lineups this week. I'd have Hunt as the top RB play this week, but Fournette isn't far behind. The Rams had allowed a top-6 RB performance in 3 straight contests before facing the Seahawks' mess of a backfield last weekend, and even after that game still allow the 2nd-most fantasy points per game to RBs. Fournette has seen 20+ touches in 4 of the past 5 games, so his volume is pretty much a given. Leonard could put up a monster game this week.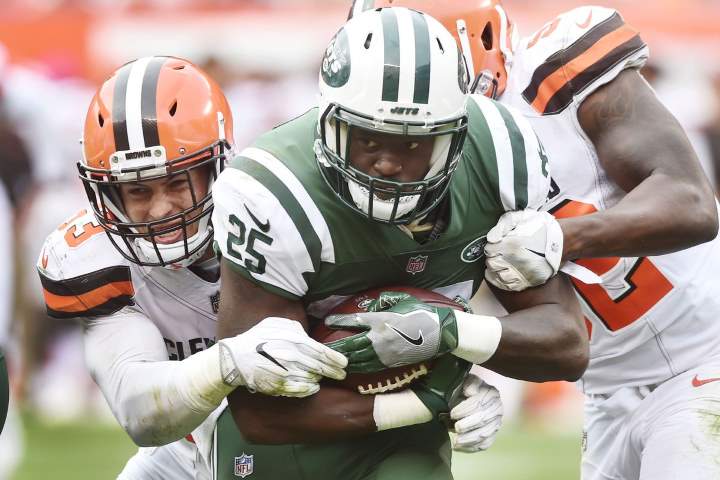 RB Elijah McGuire, NYJ (Wk. 6: vs. NE): The stars have aligned for McGuire this week. Bilal Powell and Matt Forte should both miss this game, and the Patriots allow the most running back fantasy points per game and rank 27th in Football Outsiders' run defense DVOA stat. There is a little hesitation from the fact that the Jets are 10-point underdogs at home, and will face a negative game script all day, but that shouldn't be too big a worry. McGuire has shown receiving ability at the NFL level so far, and he caught 130 passes in his college career. Also, the Patriots have allowed the 3rd most receptions, most receiving yards and most receiving TDs to opposing RBs. If the Jets get blown out, McGuire's receiving usage should still get him through to an RB2 day. He's a great value in DFS at just $4,600 on DraftKings.
Borderline Rookies:
RB Aaron Jones, GB (Wk. 6: @Min.): Jones's status hinges largely on whether or not Ty Montgomery is able to play this week. Updates on Thursday were that TyMo took some hits in practice and that his ribs 'felt fine' afterward. He's been wearing a flak jacket in practice and has said it isn't uncomfortable. There has been some speculation that Jones will take over as the lead back on early downs from local beat writers given the success he's had the past couple weeks and the struggles Montgomery had running between the tackles early on. I'm not sure I buy this. I think this is still TyMo's backfield for now. If both guys play, I'd consider each guy a flex option, but the matchup is a tough one. The Vikings have allowed the 2nd-fewest RB points per game so far. If Montgomery sits again, consider Jones a solid RB2 option. This offense has been too good to run from this matchup if there's a clear lead back.
RB Christian McCaffrey, CAR (Wk. 6: vs. Phi.): McCaffrey has been pretty much an RB2/flex performer each week, with weekly finishes ranging anywhere from RB10 to RB36. We haven't seen much of ceiling here yet, but the floor has been fairly steady. The matchup this week is somewhat favorable for CMC. The Eagles have allowed just the 7th-fewest RB points per game so far, but they've also allowed nearly as many RB receiving yards as they have RB rushing yards (239 rushing, 228 receiving). McCaffrey remains a PPR flex play.
RB Alvin Kamara, NO (Wk. 6: vs. Det.): I'd lean toward playing Kamara in PPR formats this week. The Adrian Peterson trade doesn't have a huge impact on Alvin, but it may get him a small uptick in snaps and gives the backfield more clarity in general. The Lions allow the 17th-most RB points per game, but 58.5% of the PPR points they've allowed have come from receiving numbers. Kamara should be a solid flex play in PPR leagues.
RB Semaje Perine, WAS (Wk. 6: vs. SF): With Rob Kelley likely out this week, Perine should get the bulk of the early down work in a plus matchup. The 49ers have allowed the 3rd-most points per game to opposing backs, but I'd still only view Perine as a low-end RB2 or flex option. He's struggled when given extended opportunities this year. In weeks 2 & 3, he totaled 116 rushing yards on 40 carries (2.9 ypc), and both of those games were against teams in the bottom half of the league in run defense DVOA. The 49ers rank 14th. Chris Thompson is the Washington running back who should benefit the most from the matchup.
TE Evan Engram, NYG (Wk. 6: @Den.): Engram unexpectedly put up a goose egg last week, but he should be peppered with targets this week with Brandon Marshall, Odell Beckham Jr., and Sterling Shepard all sidelined. The Broncos will probably pay him some extra defensive attention this week as New York's de-facto number 1 target in the passing game, but tight end has been where the Broncos' defense has been most vulnerable. They have allowed the 6th-most tight end point per game, and rank 26st in pass defense DVOA on throws that target the tight end. Engram should rebound and post a low-end TE1 game, even if he doesn't find the end zone.
TE George Kittle, SF (Wk. 6: @Was.): Kittle played only about half as many snaps in week 5 as he did in week 4, but he still managed to post a breakout game with 7-83-1 on 9 targets. It's hard to imagine the 49ers wouldn't give him more looks going forward. I wouldn't expect that kind of game every week, but he should be able to flirt with TE1 numbers in PPR formats again this week. The 49ers face off with a Washington team that allows the 3rd-most TE points per game and ranks 31st on pass defense DVOA on throws to the tight end. He's a decent streaming option if you're without Charles Clay, Jimmy Graham or Jason Witten this week.
Rookies to Sit:
QB Mitch Trubisky, CHI (Wk. 6: @Bal.): Trubisky looked impressive at times during his Monday Night Football debut, but ultimately he didn't have enough weapons to finish off a win and made a bad rookie mistake on a late interception. He should clean up some of the mistakes as he gains more experience, but the weapons issue isn't going anywhere this season. Mitch gets an awful matchup this week. The Ravens at home have been tough on QBs, allowing only 2 of the past 10 QBs they've faced in Baltimore to top 12 fantasy points dating back to the beginning of last season. I don't think Mitch makes it 3 of 11.
RB Marlon Mack, IND (Wk. 6: @Ten.): Mack put up a strong performance last week in his first game back from injury against the 49ers, scoring a TD and setting up the game-winning field goal. It should lead to more work going forward, but that doesn't mean you should start plugging him into lineups this week. He should be rostered in most leagues, but I still expect Frank Gore to lead the way in snaps and touches, especially after the comments from Chuck Pagano today that Mack is still a 'work in progress.' The Titans are also not a great matchup for RBs, allowing the 13th-fewest RB fantasy points per game.
RB Matt Brieda, SF (Wk. 6: @Was.): Like Mack above, Brieda should be rostered in most leagues, but not plugged into lineups just yet. The 49ers announced they'll be employing a 'hot hand' approach at RB going forward, but I would expect Hyde to still be the better option on a weekly basis. There might not be enough production to make Brieda useful this week even if he does get the hot hand. Washington allows the 12th-fewest RB points per game and ranks 8th in run defense DVOA. They are also a 10-point favorite in this game. Brieda's got an uncertain workload, a tough matchup, and likely a negative game script. That's not a recipe for fantasy success.
RB Tarik Cohen, CHI (Wk. 6: @Bal.): With a fully healthy Benny Cunningham around, Cohen's snap share has slipped to under 30% the past 2 weeks, and he hasn't been making the most of the opportunities he's been getting. He looked indecisive with the ball on Monday night, dancing around too much and causing negative plays for the offense. I would like to see his snap count start to go back up before considering him in lineups for season long leagues again. His game-breaking ability still gives him a ceiling as a DFS tournament play, but at $5,100 in DraftKings, that's a lot of cost with that risk. The Ravens aren't a great matchup for him either. They've allowed the 3rd-fewest RB receptions so far this season.
RB Wayne Gallman, NYG (Wk. 6: @Den.): The Broncos' defense has been dominant so far, and the Giants' offense is falling apart with injuries. The Broncos allow the fewest RB fantasy points per game, and Gallman will have to split RB snaps with Orleans Darkwa and Shane Vereen. He's been the most effective rusher the Giants have had so far, but that doesn't mean much in a game where the team's implied total is 13.5 points (and I would actually bet the Giants end up under that).
RB Corey Clement, PHI (Wk. 6: @Car.): Clement's snap percentage has increased each week this season from 0 in week 1 to 1%, 9%, 24%, and 34% since, but his touch totals haven't really spiked and Philly seems content with a 3-man timeshare. Even with Wendell Smallwood out in week 5, the Eagles found a new 3rd guy getting Kenjon Barner 17 offensive snaps. Until we see an increase in usage, it's hard to trust Clement anywhere.
WR Cooper Kupp, LAR (Wk. 6: @Jax.): Only 4 wide receivers all year have made it 50 yards in a game against Jacksonville, and only Antonio Brown last week has made it to 60. The only one who got to 50 yards as primarily a slot receiver was JuJu Smith-Schuster last weekend. Jacksonville has also allowed just 1 TD to opposing WRs. I doubt Kupp breaks those trends. The volume will likely be low enough that he needs a TD for a productive day, and the odds of that TD aren't great.
WR Curtis Samuel, CAR (Wk. 6: vs. Phi.): His role clearly hasn't increased as a result of the injury to Greg Olsen. The Eagles allow the 2nd-most WR fantasy points per game, but Samuel has just 4 catches on the season, and I don't expect that number to go up much this week.
WR Trent Taylor, SF (Wk. 6: @Was.): This might have actually been a nice spot to use Taylor in DFS tournaments if Josh Norman were healthy. Taylor has seen increased usage when Garcon faces a shutdown corner. He was peppered with 10 targets a couple weeks ago when Pierre was shadowed by Patrick Peterson, but he hasn't topped 4 in any other game. I don't expect that to change this week, and with the short distance targets he gets, you need volume for him to be useful.
WR Travis Rudolph, NYG (Wk. 6: @Den.): The Giants just signed this Florida State product off the street this week and may already be inserting him into 3-WR sets as soon as this Sunday assuming Sterling Shepard can't go. He's worth keeping an eye on over the next couple weeks with the Giants' pass catching group decimated by injuries, but there is no New York WR who should be anywhere near your lineups this week with a daunting matchup with the Broncos on tap.
TE David Njoku, CLE (Wk. 6: @Hou.): The switch from DeShone Kizer to Kevin Hogan may lead to better results for Njoku, but I would take a wait & see approach here. He's still splitting snaps fairly evenly with Seth DeValve, and is yet to top 3 catches in a game. You're basically counting on a TD for him to be useful to you. This week's matchup isn't great for that. The Texans have allowed just 1 tight end score this season, and have been tough on the TEs they've faced that aren't Rob Gronkowski or Travis Kelce.
TE Jonnu Smith, TEN (Wk. 6: vs. Ind.): Jonnu had a season-high 5 targets come his way last Sunday and he caught all of them, but he totaled just 21 yards. Marcus Mariota is expected to return this week and that should help the Titans' offense, but I doubt it helps Jonnu all that much. The Colts have been a good matchup for opposing TEs, but it should be Delanie Walker who benefits from that this week. Jonnu is still a name to know in dynasty formats.
TE OJ Howard, TB (Wk. 6: vs. Ari.): If Howard can put up a goose egg against the Patriots, I'm not sure there is any matchup you can use him in as long as Brate is healthy. It was nice to see OJ get targeted in the end zone on the game's final play last Thursday, but it was his only target of the night. This is essentially a redshirt year for Howard in dynasty leagues, but no reason to own him anywhere else right now.
Rookies on Byes: RB Joe Mixon, CIN, WR Zay Jones, BUF, WR John Ross, CIN
Deep League Sleepers, Stashes, and Cheap DFS Options:
RB D'Onta Foreman, HOU (Wk. 6: vs. Cle.): Foreman has some upside as a DFS tournament punt option. Houston is a 10-point favorite, and if Deshaun Watson goes supernova again, Foreman should see some extra work in a blowout. The Browns don't have the offensive firepower to keep pace the way the Chiefs do. Foreman saw 13 carries in the blowout win over Tennessee a couple weeks ago, and something similar could be in the offing this week.
WR JuJu Smith-Schuster, PIT (Wk. 6: @KC): JJSS is a screaming value in DFS formats this week in my opinion. He'll cost just $3,600 on DraftKings. The Chiefs have been roasted by WRs this year, allowing the 5th-most WR points per game, and the Steelers were talking about giving Martavis Bryant 'a break' this week. I doubt they would sit him completely, but even if they scale him back it should mean more work for JuJu. Smith-Schuster has averaged nearly 6 targets a game in the past 3 weeks, and his yardage has increased each week. I like JuJu a lot as a cheap DFS tournament option.
WR Kenny Golladay, DET (Wk. 6: @NO): Golladay has missed the last 2 games, but if he's able to suit up this week, this is a matchup where he can come up big. The Lions have desperately needed a vertical receiver the past couple weeks to open up the offense, and the Saints have allowed the 3rd-most pass plays of 20+ yards. I wouldn't thrust Kenny G back into lineups in season long leagues just yet, but he's an intriguing DFS tournament option.
WR Mike Williams, LAC (Wk. 6: @Oak.): Mike should finally get on the field this week, but he likely won't see a ton of targets in his first go-round after missing all of the preseason and the first 5 weeks. He's still worth a stash in deeper leagues to see how his role develops. Chargers may wind up with the two Williamses on the outside (Mike and Tyrell), and Keenan Allen in the slot in 3-wide sets. Mike projects as a matchup nightmare in the red zone at 6'4", 218.
WR Kasen Williams, CLE (Wk. 6: @Hou.): Ok, so Williams isn't technically a rookie, but I wanted to mention her here as a guy to potentially stash in really deep leagues and dynasty formats. The Browns want nothing to do with Kenny Britt at this point, Ricardo Louis is one of Pro Football Focus's lowest graded WRs (ranks 100th in the league), and Kevin Hogan showed the ability to move the team down the field last week. Williams has a little bit of appeal as a DFS punt play since the Texans' secondary has been pretty burnable. Kasen flashed in training camp with the Seahawks before becoming a casualty of roster limits. He played 45% of the offensive snaps last week for Cleveland, and posted 4-33 on 5 targets. I expect him to get more involved going forward, and he has a chance to develop into the Browns' number 1 target until Corey Coleman returns.
That's all I've got for this week. Hopefully it helps you with some of your tougher lineup decisions this week. Make sure to keep an eye on the injury reports throughout the week. Plenty of situations are still fluid: Mariota, TyMo, Derek Carr, etc, that can have huge impacts on fantasy, and you don't want to get stuck with a goose egg because you weren't paying attention. As always: Good luck, trust your gut, and have fun. It's just a game.