Welcome back to the Rookie Report! Hopefully the regular season has been good to you and you've managed to find yourself in the fantasy playoffs. This is what the last 13 weeks have been for…making the playoffs and setting yourself up for an extremely gratifying victory or a soul-crushing defeat, at least if you weren't able to secure a bye. If you do have a playoff game this week, you've likely been aided by a rookie or 2 at some point to get here. If you have Alvin Kamara and didn't make the playoffs, you should maybe give up at this fantasy football thing.
Plenty of rookies have made a big impact this season: Deshaun Watson, Christian McCaffrey, Leonard Fournette, Cooper Kupp, JuJu Smith-Schuster, Evan Engram, and plenty more. Plenty of those rookies will continue to make an impact in the fantasy postseason as well. As usual, I'll tell you which guys you should be starting, which you should be sitting, and provide some insight into some of the borderline options as well. If you have a bye or missed the playoffs, there will be some DFS tidbits along the way as well. There are plenty of sleepers this week for DFS tournaments. Alright, that's enough chit chat, let's dive into week 14…
Rookies to Start:
RB Alvin Kamara, NO (Wk 14: @Atl.): If you own Kamara, the Mark Ingram injury probably feels like Christmas come early (unless you own Ingram too). While it's true the Ingram injury certainly helps Kamara's outlook for this week, I wouldn't expect him to suddenly handle a workhorse load. Ingram has averaged 20.6 touches per game since Adrian Peterson was traded, and Kamara has averaged 13.9 and hasn't handled more than 18 in any game. I think he'll end up somewhere around 20 this week if Ingram is out. Ultimately, that doesn't matter when it comes to your fantasy lineups. He's still an obvious start in season-long leagues, and should be in just about every DFS cash game lineup imaginable. He's been the overall RB1 in 4 of the past 5 weeks, and was tied for 4th in the other week. The Falcons rank 31st in Football Outsiders' run defense DVOA stat, and rank 23rd in pass defense DVOA on throws to opposing RBs. The hot streak should continue for Kamara with no problem.
RB Leonard Fournette, JAX (Wk. 14: vs. Sea.): This is a tough spot for Fournette this week. The Seahawks allow the 4th-fewest RB points per game, rank 7th in run defense DVOA, and Fournette has averaged just 50.5 rushing yards per game since returning from injury (and a disciplinary benching) 4 weeks ago. Before being injured, he was only held below 59 yards rushing once in 6 games. The volume and TD upside keep Fournette a must-start this week, but you should probably treat him as a fade or at most a contrarian play in DFS lineups. He should be treated as an RB2 this week in season-long leagues.
RB Jamaal Williams, GB (Wk. 14: @Cle.): I believe that Williams' production over the past few weeks has bought him at least one more week as the lead back. The Browns are actually a pretty tough matchup, allowing just the 9th-fewest RB points per game, but the game script should be at least neutral in this one, and the Packers have been leaning more on the run game with Brett Hundley under center. Aaron Jones will likely play a little bit more this week, and should cut into Williams receiving work at the very least, but I still like Jamaal to return starting value at least one more time.
WR Cooper Kupp, LAR (Wk. 14: vs. Phi.): Kupp is averaging 6.25 catches and 73.8 yards per game in past 4 games, and he's seen 17 targets in the 2 games that Robert Woods has missed. Woods isn't practicing as of Wednesday. The Eagles have been a middling defense against WRs, allowing the 16th-fewest points per game to the position. Kupp's floor has been rock solid of late, and the Eagles aren't a defense to shy away from. Cooper should be a solid WR3 this week.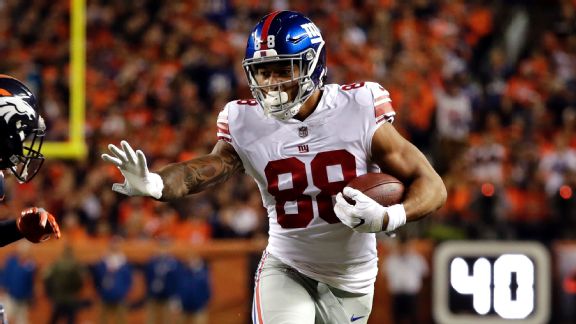 TE Evan Engram, NYG (Wk. 14: vs. Dal.): Engram got back on track last weekend with a 7-99-1 game catching passes from Geno Smith, and this week he gets back Eli Manning. Despite his struggles over the past couple weeks, the targets never went away for Engram. He's still seen at least 6 of them in every single game since Odell Beckham was lost for the year. The Cowboys rank 25th in pass defense DVOA on throws to the tight end. Get Engram in there if you've got him.
Borderline Rookies:
QB DeShone Kizer, CLE (Wk. 14: vs. GB): It may feel reckless to even consider starting Kizer in a fantasy playoff game, but he's quietly been a QB1 in 3 of his past 5 games and gets a great matchup this week against the Packers. Green Bay has allowed over 270 passing yards in 5 of their past 6 games, and the other was against Joe Flacco. They also placed starting CB Kevin King on IR this week. King was their top pick in the draft last April. With Corey Coleman and Josh Gordon back and looking good, and David Njoku coming on, this could quickly turn into a dangerous passing attack if Kizer can limit the turnovers and get them the ball. Kizer is actually a pretty good play this week in 2-QB formats, and his a ton of upside this week. The concern is that you know what kind of floor comes with it.
RB Christian McCaffrey, CAR (Wk. 14: vs. Min.): The matchup is a tough one this week for McCaffrey. The Vikings rank 6th in run defense DVOA and 6th in pass defense DVOA on throws to the running backs. McCaffrey's rushing production wasn't there last week, but he's been a pretty steady RB2 or better just about every week. I'd still lean towards getting him in there this week, especially in PPR formats, but I would temper expectations a bit and probably avoid him in DFS formats.
RB Samaje Perine, WAS (Wk. 14: @LAC): Last week was a bit of a letdown in what appeared to be a good matchup on paper. Washington shot themselves in the foot early in the game and got in a negative game script, and Byron Marshall starting cutting into Perine's receiving workload. The end result was Perine finishing as the RB33 for the week.  He gets another solid matchup this week, but Washington needs to stay in a positive game script for him to really hit his ceiling. Playing from behind last week, Byron Marshall handled 43% of the running back snaps. The Chargers rank 28th in run defense DVOA, and have allowed the 3rd-most RB rushing yards and 6th-most RB fantasy points. The ingredients are there for Perine. If Washington sticks to the recipe, he should be a strong flex play in non-PPR leagues, and at least a passable one in PPR formats.
RB Kareem Hunt, KC (Wk. 14: vs. Oak.): I'm sure there are plenty of Hunt owners who don't want to go to this well again. It feels as though Hunt should have 'missing person' posters up around Kansas City at this point, but it hasn't been quite as bad as it feels. Aside from one real clunker against the Bills, Hunt's floor has still been pretty stable. He's topped 60 yards from scrimmage in every other game this year, and had at least 3 catches in all but that game and the one against the Chargers in week 3. Nobody was complaining about his lack of catches that week though. The problem is that his ceiling disappeared after the hot start. He's topped 9 points in 4 of his past 5 games, but he didn't get to 11 in any of them. There is some hope for this week. The Chiefs turned over play-calling duties to the offensive coordinator last week, and had their best offensive game in at least a month, and Hunt also put up 117 scrimmage yards in his first meeting with the Raiders. I'd probably lean towards playing Hunt, but I'd understand if you couldn't do it. I'd certainly be afraid to go to Hunt in DFS lineups.
RB Joe Mixon, CIN (Wk. 14: vs. Chi.): It seems unlikely that Mixon will play this week after suffering a concussion on Monday night, but he would be a decent option if he does. Mixon has looked great when he's been on the field the past 2 weeks, and the Bengals should be in a positive game script as a 6-point favorite. The Bears' defense has been decent against RBs, but not really imposing. They rank 12th in run defense DVOA. If Mixon is able to clear the protocol, he should be an RB2 this week. Keep an eye on the situation and make sure he's really good to go before plugging him in.
WR Dede Westbrook, JAX (Wk. 14: vs. Sea.): Westbrook's fantasy star is on the rise right now. He played more snaps than Keelan Cole for the first time last weekend, and he's now handled 19 targets in the past 2 weeks. The Seahawks' defense had shown vulnerability against WRs even before Richard Sherman and Kam Chancellor were injured, and it's gotten a little worse since. Seattle has allowed 37 fantasy points per game to WRs in the 3 games the duo missed. That number would rank as the 4th-most in the league over the full season. Westbrook is in the mix for WR3 or WR4 status for the week.
TE Ricky Seals-Jones, ARI (Wk. 14: vs. Ten.): The numbers RSJ has been putting up on the number of snaps he's been playing is ridiculous. In the past 3 weeks, his snap count has gone from 8 to 17 to 15, and he's handled 5, 6, and 5 targets in those games. Blaine Gabbert has targeted him on an absurd 53% of the routes he's run in the past 3 weeks. I can't imagine the Cardinals don't get him more involved down the stretch. The matchup this week is pretty good, with the Titans allowing the 12th-most TE points per game. He's got a floor that won't kill you, and a ceiling worth chasing. If you don't have a starting tight end you believe in right now (Vernon Davis, Jared Cook, injured Zach Ertz), Seals-Jones is a solid replacement option.
TE David Njoku, CLE (Wk. 14: vs. GB): Njoku has been enjoying a mini breakout of sorts in the past 2 weeks, but the Packers pose a tough matchup. Green Bay has allowed the 4th-fewest TE points per game on the year, but they have shown cracks lately. They've given up 3 TDs to the position in the past 2 weeks. Defenses aren't able to focus on Njoku now that Coleman and Gordon are back, and he's seen 6+ targets in 3 of his past 5 games. His floor is lower than Ricky Seals-Jones, but his ceiling is similar.
Rookies to Sit:
QB Mitch Trubisky, CHI (Wk. 14: @Cin.): This is a pretty easy call, even for 2-QB leagues. John Fox refuses to take the training wheels off Mitch and let him throw. He threw fewer than 20 times for the third time this season last Sunday, and the Bears want him throwing as little as possible. He's topped 150 passing yards just 3 times in 8 starts, and has yet to throw for more than 1 score in a game. The Bengals aren't the team that's going to let him break those trends. They've allowed the 12th-fewest QB points per game. Trubisky could be next year's version of Jared Goff, who got an innovative offensive head coach in his second year and looked like a different player.
RB Aaron Jones, GB (Wk. 14: @Cle.): As I mentioned earlier, I like Jamaal Williams this week, and with the Browns allowing the 9th-fewest RB points I just don't think there's enough to go around for both guys to have a productive week if Williams plays as much as I expect. Jones looked good on his one carry last week, but I don't think the Packers are going to put him back in the lead back role after playing just 1 snap a week ago. Track this status throughout the week though, because the Packers' coaches might not be on the same page as me here. If they make an announcement that Jones will start, both guys become flex options.
RB Austin Ekeler, LAC (Wk. 14: vs. Was.): You could make a case for Ekeler as a flex option in deeper leagues, but I'm not going to this week. He had just 6 touches last week, his lowest total since October. He does more damage as a receiver than a runner, putting up 58% of his scrimmage yards through the air, and Washington has allowed the 8th-fewest receiving yards to backs. I think there are better options to be had this week.
RB Corey Clement, PHI (Wk. 14: @LAR): The Rams are a prime matchup for running backs, but touches for Clement are far from a sure thing. He's totaled just 17 of them in the past 3 games, and his biggest performances have come in blowout wins. The Eagles are actually a 2-point underdog in this game. I'd stay away from CC.
RB Matt Breida, SF (Wk. 14: @Hou.): Don't chase last week's carries for Breida. He handled 12 carries last week, but played just a third of the offensive snaps. This is still Carlos Hyde's backfield, and the matchup this week is a tough one. The Texans allow the 3rd-fewest RB points per game and rank 10th in run defense DVOA.
WR Zay Jones, BUF (Wk. 14: vs. Ind.): This could have been excellent spot to try Zay Jones. The Colts allow the 6th-most WR points per game and just coughed up nearly 50 points to the Jaguars' WRs last Sunday (49.3). The problems for Zay are that his inefficiency problem has come back, and Kelvin Benjamin should be active again. Zay has just 5 catches for 55 yards on 17 targets in the past 2 weeks, and he likely gets Nathan Peterman at QB this week with Tyrod battling injuries. The situation is too volatile to trust the rookie as anything more than a DFS punt, even in a great spot.
WR Corey Davis, TEN (Wk. 14: @Ari.): There is some upside for Davis if Patrick Peterson chases around Rishard Matthews this week, but you can't rely on him in a fantasy playoff matchup with the way he's been producing. Davis is yet to reach 8 fantasy points in the 5 games he's played since returning from his hamstring injury. The Cardinals have also been improving against WRs as the season has gone on. They've allowed 8 fewer points per game to the position after their bye week than they did before it. Davis could be worth a shot in DFS tournaments, but I can't advocate playing him in the fantasy playoffs.
WR Josh Reynolds, LAR (Wk. 14: vs. Phi.): Reynolds played 72% of the snaps and had a second straight 6-target game last weekend, but he tallied just 2 catches for 6 yards. Robert Woods looks likely to miss another game, so there should be a solid target share again, but he should be just a DFS option. There's too much risk involved to play him with the season on the line. The Eagles are a tougher matchup than the Cardinals, who he had the aforementioned 2-6 line against.
WR Keelan Cole, JAX (Wk. 14: vs. Sea.): Cole is still playing a healthy snap count, but he's been jumped on the depth chart by Dede Westbrook. He was out-targeted by Dede 9 to 3 last week, and that kind of volume isn't going to make him usable this week despite his 3-49-1 line last week. Seattle may be vulnerable, but they're nowhere near as bad as the Colts.
TE George Kittle, SF (Wk. 14: @Hou.): The Texans allow the 6th-most TE points per game, but Kittle was targeted just 3 times last week and hasn't reached 30 receiving yards since week 6. There are better streamers available.
TE Gerald Everett, LAR (Wk. 14: vs.Phi.): Don't chase last week's touchdown here. Everett hasn't reached 10 receiving yards in any of the past 4 games.
Deep League Sleepers, Stashes, and Cheap DFS Options:
QB Nathan Peterman, BUF (Wk. 14: vs. Ind.): Peterman's second NFL start should go MUCH better than his first one assuming Taylor misses this game. The Colts have been abysmal at defending the pass. Indy allows a league-worst 271 passing yards per game, and has coughed up 53 pass plays of 20+ yards (also league-worst). They had finally started showing signs of improving when they sat Vontae Davis and made Rashaan Melvin their top corner, but they went back in the tank with his injury. After Peterman's 1st start, it would be crazy to tell you to play him with your season on the line, but at just $4,400 in DraftKings, he's an appealing cheap DFS play in a fantastic matchup.
RB Tarik Cohen, CHI (Wk. 14: @Cin.): Cohen's usage seemed to take a step back last week when he played just 16 offensive snaps, but the Bears' ran just 37 offensive plays all game. He actually played 43% of the snaps. He's now played 49%, 35% and 43% in the last 3 weeks after clocking in below 30% for the 3 games before those. Cohen still handled 6 touches in those 16 snaps and showed his playmaking ability with a punt return TD and another long return that was called back by penalty. The Bengals have allowed the 4th most RB receptions and the 5th most RB receiving yards for the year. Tarik has some nice upside if his usage holds.
RB Marlon Mack, IND (Wk. 14: @Buf.): The Bills are allowing 37.3 running back points per game over the last 6 games. That number is nearly 10 more per game than the 49ers allow. The 49ers are the 2nd-worst RB defense. The Colts were finally in a negative game script early last week, and Mack was a beneficiary. It didn't translate to a big fantasy day, but Mack out-snapped Frank Gore 30-22 and put up 54 scrimmage yards on just 7 touches. Facing one of the worst RB defenses in the league, Mack is worth considering in the deepest of leagues or as a cheap DFS option.
RB Trey Edmunds, NO (Wk. 14: @Atl.): As I mentioned at the beginning of this article with Kamara, I don't expect all of Mark Ingram's work to go to AK-41 if Ingram is out. The guy who would pick up that slack is Edmunds. Edmunds got extended run against the Bills in a blowout win a few weeks ago, and he put up 48 yards and a score on just 9 carries. I'd expect him to reach double-digit touches if Ingram is out, and as I mentioned earlier the Falcons are 31st in run defense DVOA. Edmunds has some value as a flex for really deep non-PPR leagues, and also as a cheap DFS play. He costs the minimum this week on DraftKings.
RB Tion Green, DET (Wk. 14: @TB): Green was active for the first time in his NFL career last Sunday, and he flashed his talents when given the opportunity. He finished the game with 11 carries for 51 yards and a TD, and nearly scored a second one. He showed burst and overall looked better than Ameer Abdullah has for much of the season. Abdullah has been limited again this week, and if he sits out there is solid upside for Green. The Bucs rank 22nd in run defense DVOA and allow the 11th most RB points per game. Considering how long the Lions run game has been a problem, Green is an intriguing dynasty stash as well.
WR Kenny Golladay, DET (Wk. 14: @TB): The matchup couldn't be much better for Golladay this week. Tampa has allowed the most WR points per game (by a margin of nearly 3 points per game over everyone else), and they've also struggled to limit big plays. Tampa has allowed the 5th-most pass plays of 20+ yards, and is tied for the 3rd-most 40+ yard passes allowed. Golladay hasn't caught more or less than 2 balls in any game since he returned from a hamstring injury, but he's averaging 55 yards per game in those contests (27.5 yards per catch) and he played 76% of the snaps last Sunday. This is a real chance for Golladay to post his best game since week 1. He's intriguing as a flex for deep non-PPR leagues.
WR Travis Taylor, SF (Wk. 14: @Hou.): The Texans have allowed the 9th-most points per game to WRs, and Taylor posted his best day of the year in Jimmy Garoppolo's first start with the 49ers. Taylor caught all 6 of his targets for 92 yards, and made a crucial play that helped set up their game-winning field goal. I expected last week that Taylor would see a bump in usage with Jimmy G inserted, and that has proven true. I don't see why it will stop this week. Taylor should handle another 6-7 targets this week and should develop into a nice PPR asset with Garoppolo in town.
TE O.J. Howard, TB (Wk. 14: vs. Det.): As I expected, with Jameis back under center Howard went back to playing second fiddle to Cam Brate. Brate was targeted 6 times and scored 2 touchdowns while OJ posted 1-17 on 2 targets. I don't expect OJ to go back to being the top tight end for the Bucs this week, but he has shown to be a better big-play receiver than Brate this year, and the Lions have allowed 6 catches of 30+ yards to opposing tight ends this year, and they've given up 3 tight end scores in the past 2 weeks. Brate will likely see more targets than Howard this week, but I like Howard as a shoot-the-moon option for DFS tournaments.
That's all I've got for this week. Hopefully it helps enough that you're coming back next week to see what to do for the semifinals. Keep a close eye on the injury report this week. Mark Ingram, Robert Woods, Ameer Abdullah, Matt Stafford, Joe Mixon, and Tyrod Taylor all could change the fantasy landscape depending on their status. If you have any specific questions or want to yell at me about anything written above, feel free to hit me up on twitter (@Shawn_Foss) and let me know. As always: Good luck, trust your gut, and have fun. It's just a game.