Netflix is taking over the TV market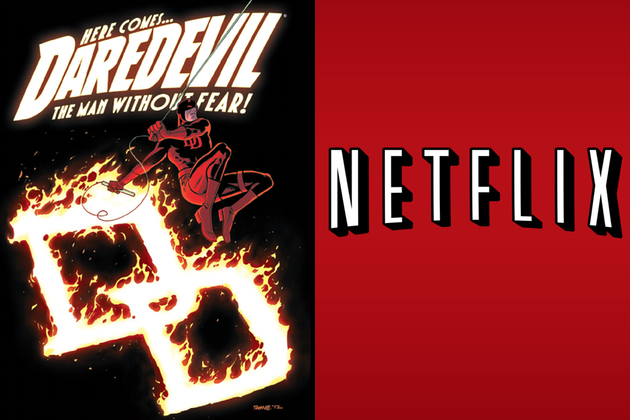 They're doing it slowly, but they're doing it. Over the past few years there have been marked declines in TV ratings on traditional, cable and premium networks. Executives scrambled to try and figure out the cause(s), thinking that it may stem from incorrectly measured statistics, etc but recent data shows that it may have been the growing use of Netflix and other similar streaming services all along. 
In fact, Netflix now represents close to 6 percent of total TV viewing in the United States, according to analyst Michael Nathanson. This trend does not currently seem to be in any danger of slowing, so if Netflix is able to keep up its current frenzied pace of promotions and the development of successful original programming, we're going to see a more drastic shift in viewing habits over the next few years. I'm not sure yet how I feel about this going forward, but as a lover of well produced, serialized content that you watch on a screen - bring it on!
Full disclosure - I didn't read the comics
It would be remiss of me to start off this review without first mentioning that I am not a Daredevil expert. Far from it, actually. I've seen the 2003 movie starring Ben Affleck, which I don't regret seeing but was certainly not memorable. I haven't read any of the comics and I'm not familiar with any other version(s) of the story that may be out there in the media from years past. But I'm not here to compare this new original series to anything that already exists out there.. I'm going to review it on its own merits.

Starting on a good note
Daredevil was created by Drew Goddard, who worked with both J.J. Abrams (Alias, Lost, Cloverfield) and Joss Whedon (Buffy the Vampire Slayer, Angel, The Cabin in the Woods) on numerous projects. Initially, he was given the role of show-runner, but he had to step down when he was offered a chance to write and direct Sinister Six, a Spiderman spin-off featuring a group of super villains. For whatever reason, though, Sony decided to put Sinister Six on the shelf for the time being and instead move forward with a new Spiderman reboot.

Why a new Spiderman reboot, you ask? Haven't there been enough?! Right, well.. apparently Sony has decided to share Spiderman and Marvel, Sony and Goddard are hatching a plan to cast an actor for the long haul and mix Spidey in with the rest of the Marvel Cinematic Universe. Cool!


---
Daredevil S01E01 Review, "Into the Ring"
"The Incident"
Daredevil is immediately linked to The Avengers and the rest of the Marvel Cinematic Universe (MCU) by mentioning that the events that occurred in The Avengers had just happened (referred to as "the incident" or "death and destruction raining down from the sky") and the resulting devastation is allowing criminals to breed in the underbelly of the city. It's refreshing that Daredevil doesn't feel like it has to hold our hands through this back-story and actually glazes over it rather quickly to get back to the characters and story at hand. 
Nelson and Murdock, Attorneys at Law
Matt Murdock (Charlie Cox) and Foggy Nelson (Elden Henson) form Nelson and Murdock.. a brand new law firm trying to find clients in order to keep their lights on. The banter between Matt and Foggy works pretty well and Foggy is a likable character providing some comic relief. We don't have very much background on their relationship together and how it first started yet, but that would shed some much needed light on the situation. Based on their interactions, it seems like Matt and Foggy have been close for quite a long time. 

Karen Page (Deborah Ann Woll) was previously in HBO's True Blood (in fact she actually started filming Daredevil less than two days after True Blood wrapped).. and her initial appearance here would not have looked out of place in Bon Temps, Louisiana. We are first introduced to her character with the striking visual of Karen racked with emotion, quivering on the floor, holding a knife and covered in the blood of her former co-worker who is lying next to her. Yikes. She is not, of course, a vampire - but at a high-level her character is not that different from the one that she previously played in True Blood - innocent, but harboring secrets. 
(Tune in to the TV Soup Podcast - Daredevil, "Into the Ring" & "Cut Man" Review) 

Now that she has been saved by Nelson and Murdock, it looks like she has signed on as their permanent secretary. She could be trouble though.. she lied to the people that were helping her, and stole the file that got her into trouble in the first place (called 'pension master', apparently containing evidence of some illegal activities disguised as rebuilding and renewal projects for the city). Did she actually have bad intentions in mind such as blackmail or worse? Perhaps not, but having taken the file at all shows us that Karen is strong-willed and able to act swiftly if necessary. Karen lies to Matt about having taken the file when he questions her about it, so we know there will be some turbulence between these two characters going forward.
Origin story
As I said earlier, I am not familiar with Daredevil's original back-story from the comics, but in Netflix's Daredevil, young Matt has saved an older gentleman by pushing him out of the way and in the process gotten a toxic chemical all over his face and eyes, blinding him. It's not clear exactly what the chemical is at this point, but it doesn't appear to have caused any superhuman abilities for Matt. It's no radioactive spider, if you know what I mean.

That doesn't mean, however, that Matt has not benefited in several ways from the loss of his sight. We can observe that Matt is able to hear incredibly well.. using people's heartbeats to see how anxious they are under duress, etc and picking out voices from very far away. He's also very athletic and able to take a tremendous amount of abuse. Traits picked up from his father, surely, and whatever training he has engaged in along the way to becoming who he is today.
A more reasonable take
Matt gets his ass kicked several times in this first episode. I hate to say it, but it's nice that they are showing his weakness and mortality early. This guy could definitely die - he's not from some alien planet that gives him invulnerability, etc - and apart from the obvious similarities (vigilante, no demonstrable superpowers) he is very much unlike Batman in that physical confrontations for him appear to be incredibly difficult and cause extreme consequences each time he engages in them. I appreciate this more reasonable take, especially considering that Matt cannot see in the traditional sense of the word. He may be amazing, but he is also obviously going to take a beating each time he pulls on the mask and heads out into the night.

We haven't yet seen Vincent D'Onofrio, who is playing the Kingpin in this series, but we do get to know Wesley (Toby Leonard Moore) as the guy running the operation so far. He's great at being an extremely unlikable, yet strangely charismatic character.
---
Daredevil S01E02 Review, "Cut Man"
Character development
Like other Netflix shows, there is not that sense of urgency at the beginning of new series that usually exists in linear network or cable tv programs. These series get the 'benefit of the doubt' from fans, who tend to watch several episodes before deciding to continue or cut and run. That is probably a good thing for shows like this that need to develop a large back-story and foster the relationship of the characters before more major plot developments take place.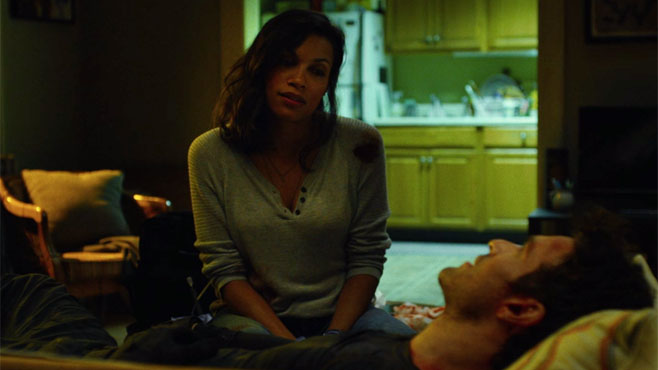 This episode mainly exists to show (again) that Matt Murdock can be killed and is still made of the same flesh and blood as everyone else, and also to introduce Claire Temple (Rosario Dawson), presumably as someone that Matt will lean on and have a relationship with throughout the series. She's a nurse. How great is that for a vigilante that comes back from fights with more than just his share of cuts and bruises? Claire seems to quickly understand Matt and not have an issue with the way that he handles himself. She has also seen his face and they both realize that this forced relationship that started with a chance meeting at a dumpster will have long-reaching consequences.

It's difficult to understand why Claire wouldn't have called the cops on Matt when she found him dying in a dumpster outside her apartment, and we have to trust in the writers of the show until the very end when she reveals that she knew who he was and what he had been doing. It's a nice pay-off for what initially seems like it could have been a poorly thought out sequence. Referring to the title of the episode, a cut man is someone who is responsible for treating the wounds of a fighter in between rounds and after the fight. Matt was his father's cut man, and now Claire is shaping up to be Matt's.
Bravery, or insanity?
It makes sense that in this time after 'The Incident', people are a little more willing to accept things that are out of the ordinary, as the ordinary got blown out of orbit by The Avengers, but Matt seems to have a questionable conscience. He doesn't appear to have any issues with torturing people for information, breaking bones or dropping Russians off of roofs. How much of that is bravado, how much is necessary and how much is insanity? Would we be surprised to see Matt kill?
I think more of Matt's back-story including the events that occurred after his father's murder until the present day will shine some light on his motivations. I don't believe that we've seen Matt actually kill anyone on purpose yet in this series, but it seems to be heading in that direction. Likely there will be some upcoming fights or events that lead to a moral dilemma for Matt. How far should he be taking things? That goes all the way back to the beginning of "Into the Ring", the premiere episode, when he goes to confession not to be forgiven for something he had already done, but for something that he was yet to do.

The backstory here with Matt's father Jack gives us a little insight into his psyche. Jack seems (so far) to have constantly thrown fights for money and was beaten to a pulp because of it. He left his son home alone, let him drink scotch and had him stitch up his cuts after particularly bad fights. Obviously, Matt had to grow up quickly. Even more so when Jack finally had enough and tried to give his son (and himself) a little pride by refusing to throw a fight against one of the big names in the game. It remains to be seen if any of the money that Jack bet on the fight (likely all of the cash that we saw in the envelope earlier in the episode) came back to Matt and his mother. But I hope so, because Jack certainly didn't.
All the extremes
In the meantime, Foggy and Karen go drinking to forget their problems. It's a fun sequence for the most part that shows us they are still people outside of the context of Matt Murdock but I'm not sure where they are headed. Is Karen trying to get close for nefarious reasons? Are there any inklings of romance there? I think most of those scenes were placed there simply in order to provide a stark contrast to how Matt and Claire's nights were going.

Ultimately, Matt was on a mission to rescue a kidnapped boy – and he ended up doing just that. In a great fight scene with lots of close combat. My favorite parts about the way that the fights work in this show are that people are slow to get up, techniques are not perfect and the camera is not constantly cutting. Sure, we have to suspend our disbelief in order to swallow Matt beating up a whole warehouse full of henchmen. Still, that's certainly easier for me to do when it looks like he's on the verge of losing quite a few times. Again, this guy kicks his ass.. but he also gets his ass KICKED!