So far, I've loved how the episode pairs that we've watched seem to all go together. Episodes 5 and 6 went together very well - if it was a cheesy network show, there would have been a "To be continued........." after episode 5. Thankfully, this is Netflix and we can watch at whatever pace we want.
(Tune in to the TV Soup Podcast - Daredevil, "World on Fire" & "Condemned" Review)
Episode 5 – "World on Fire"
Matt & Claire's relationship gets much more serious as he's trying to protect her from the Russians. We get a little more insight into his "abilities" – he can taste the copper in the air when someone is bleeding, he can hear the bones inside someone's body to tell if they're broken. As Claire says, "You see….so much".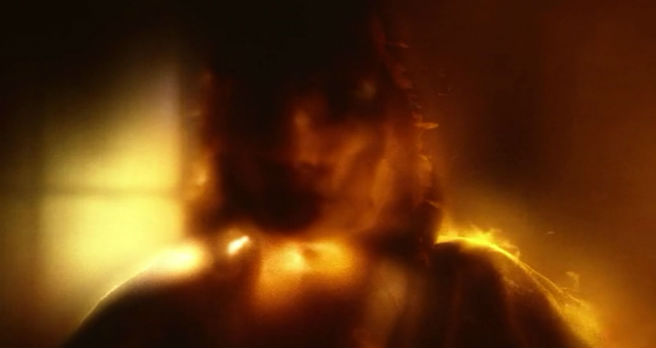 We get a "vision" of what Matt sees, which is a "World on Fire". I'm not sure what this is referring to, if this is because he's trying to save the world, or if he really does "see" something, but it's nothing like traditional vision. He did have sight until he was 9-years-old, so he does know the difference.
Wesley goes to talk to Vladimir and witnesses the seeds being planted that the man in the mask (Matt) was the one who killed his bother. Vladimir sees it as a declaration of war, which it was, but against the wrong man. This isn't something I saw coming, but makes perfect sense. Fisk is very calculating and we see it on an even greater level later on in this and the following episode.
We find ourselves in a car wash that seems to be taken right out of Grand Theft Auto. Of course, in Fisk's line of work, you need a shop on retainer that doesn't shy away from hosing blood and brains off of your car door. GTA VI: Hell's Kitchen anyone?
Matt is on a mission to get after the Russians and tracks them to a cab in the middle of an alley. This is a really well shot scene. As long as the guy working for Madame Gao is alive, they stick with the camera in the back seat next to him and slowly rotate it around to view what's going on. Matt finds out that he's being framed for killing Anatoly and the cops show up – they're getting closer every time.
Back in the real world, Foggy and Karen are having technical difficulties with the equipment they bought – a paranoid person would think that the previous owners (Karen's evil ex-employers) have bugged it. Mrs. Cardenas, their newest client, comes to them to report on a slumlord who is trying to kick her out of her rent-controlled apartment by forcing her to live in squalor. Their case of the week does a good job, as usual, in tying into the rest of the overarching story (and eventually becoming much more than a case of the week).
While digging for more info, Matt hears a couple of cops kill a guy in an interview room just because he dropped the name "Wilson Fisk". This is yet another guy that winds up dead after giving up Fisk's name. Looks like people take that "we don't say his name" very seriously.
Foggy and Karen stop by Mrs. Cardenas's to help fix up the place, and she winds up fixing them up. She can certainly make a decent meal while living in terrible conditions. The date goes very well, and yes, it is a date now. Goes to show that being a lawyer will help you net a girl that's way out of your league. Of course, that all changes once the city starts blowing up...
Meanwhile, Fisk manages to get a second date with Vanessa. Somehow, the scene at their last date didn't scare her off entirely. She's clearly attracted to power and doesn't know that she's walked right into a scheme that Fisk has been working on. This is all just a part of his grand plan to trap Vladimir and the man in the black mask at the same time. It's very well unraveled, as the misdirection works and nobody ever figures out what's going on right away. Vladimir takes the bait and rallies his troops for an attack on Fisk, even offering $1 million for his location.
Claire is trying to keep Matt from spiraling out of control. He's saying he will do "whatever it takes" and a few other worrisome phrases. She's worried that he is getting closer and closer to the guys that he fights every night. She has a point, he's quite ruthless, even if he seems to sorta draw a line at actually killing people.
Vanessa and Fisk's date continues with plenty of creepy vibes, but apparently Vanessa is attracted to creepy. Fisk goes on about his "business" and you can see that he's justified everything that he does through his excuse that he is trying to "clean up the city". I have no idea what his ultimate motivations are, apart from probably just being a psychopath who wants power.
So, Fisk's first part of his plan goes pretty well and he winds up blowing up all four of the Russian's hideouts, in a stunt that makes it look like the city is under attack. Just a continuity note - later on Foggy is injured from the blast, but he's not bleeding at all right after, in fact his shirt seems to be entirely intact.
Fisk and Vanessa have a "Fight Club" moment, where they romantically watch a bunch of explosions from a high-rise. Vanessa is totally drinking the kool-aid. The episode leaves on quite a good cliffhanger, but of course, this is Netflix, so on to the next episode!
Episode 6 – "Condemned"
This episode opens in spectacular fashion, with Matt taking out 3 cops while handcuffed, surely one of his best performances yet. Immediately after, Matt has to drag Vladimir away so he can get more information out of him, even though he's just trying to kill Matt the whole time. I suppose that prison bond with his brother is just as strong as they were implying.
Ben is back, and he appears that he's going to be our window into the outside world solving this case. I suppose if that's as deep as his character gets, that's fine with me. I do like his use of a deck of cards to build the hierarchy of the enterprise without any photos handy. He shows up at the "hostage" situation, if only to be a pain in the ass, but it causes Fisk to call the TV networks to drown out Ben (and get a big audience for what comes next).
The pair of asshole cops, and boy are they assholes, are canvassing the area for "survivors" and changing their status quickly (aka putting a bullet in their heads). Matt sneaks Vladimir into an empty warehouse and they have a friendly conversation (I have counter-proposal - suck my dick).
At the hospital, they have a fun time crossing story-lines left and right and we see at least 5 characters that we know by name. Matt asks Claire for help and she starts settling into a little comic relief, in this ridiculously dark moment in the show. "It's not like in the movies! I don't watch movies, I like records though".
Matt has to (gets to?) cauterize the wound on Vladimir's side and his screams wind up giving them away to a cop. Matt kind of assumes that all cops work for Fisk, and if that's not true, they certainly don't work for him and the rookie cop doesn't cooperate. Matt finally hears what he wants to hear from Vladimir about Fisk. While it seems like it's the truth, it's a distraction so that Vladimir can catch Matt off guard, because, well, he did make counter-proposal and all. It becomes apparent during all of this, that Vladimir never realizes that Matt is blind.
Fisk comes up with an excellent, though crazy, plan on the fly. He doesn't seem to mind sacrificing people that he employs to reach his ends. A sign of his power is when he gets a police radio and can get the officers in charge at the scene to get on a private channel so they can all talk together. You have to own a whole lot of cops to even risk doing something like that, and Fisk doesn't seem like a guy who takes too many risks. This is his last stage of his plan, framing Matt for the bombings, pointing out that he's taken a cop hostage (he really did do that), and then framing him for the shooting that takes place right outside the building. Blake (asshole cop #1) is taken out first, and it's probably because he gave up the cell phone to Matt last episode. Anybody who disappoints Fisk is pretty much screwed.
By the end of the episode, Vladimir and Matt are besties and make it out to the tunnel. Vladimir sacrifices himself and Matt is able to get away without being either killed or captured by the cops. Vlad gives him a name that he really needs, someone who is easier to get at than Fisk. Leland Owlsley, basically the money man for Fisk and the cabal that they've formed. Now that this is done, we can move on to episodes 7 & 8!