"I love deadlines. I like the whooshing sound they make as they fly by."
Whooooooooosh. That's how I felt when I finally got around to beginning the herculean task of digging deep into the history of Douglas Adams and his works. Obviously we can't cover everything here, but since there are already so many biographies and profiles out there detailing the basics – why not just quickly cover the bases and dive right into the fun stuff? Why not, indeed.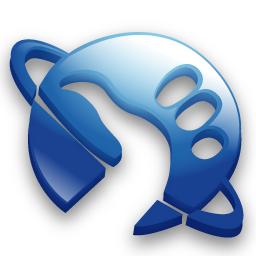 First of all, if you stumbled here by accident or ignorance and you're not sure who Douglas Adams is, he is most well-known as the author of The Hitchhiker's Guide to the Galaxy, a book series that grew into an empire of media and is supported by legions of die-hard fans. But we'll get back to all of that.
Tune into the drinkfive Retrospectical Podcast (Episode 02: Douglas Adams, The Life and Times of)
Born on the 11th of March, 1952 in Cambridge, England, the Adams family (just the one 'D', mind you) actually moved to and lived at a RSPCA (Royal Society for the Prevention of Cruelty to Animals) shelter in Brentwood, Essex shortly after his sister, Susan was born. He was about 5-years old at the time, when his parents divorced and he went with his mother and sister to live at the shelter with his grandparents. It makes sense that this time in his life may have sparked his love for animals and nature and he went on later in life to become a well-known environmentalist and wrote Last Chance to See, a novel and radio series on the BBC about witnessing species near extinction first-hand over several trips.
Back to School
Known for his humor and writing prowess at an early age, Adams went through his school years being noticed not only for excellence in creative writing (he was the only student ever awarded a 10/10 by his English teacher Frank Halford in prep school) but also because he was already a towering 6-feet tall when he was just 12-years old (he would top out at 6'5"). By all accounts he breezed through university on nearly wit alone and was able to explore quite a few avenues of his creativity – not only on the page, but also onstage as a comedian.
In addition to the adventures he surely had while staying at his grandparent's animal shelter, Douglas hitch-hiked from Cambridge to Istanbul (not Constantinople) and elsewhere around Europe in the years surrounding his education at St. John's college. Not being from a particularly affluent family, he needed some way of making money to support himself while traveling and among other short-lived professions he worked as a barn builder, a chicken-shed cleaner and a hospital porter (for those not familiar with the job, it involves running laundry, patient hygiene and other similar tasks).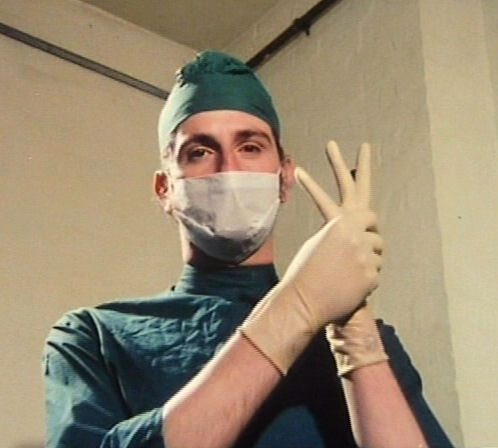 It becomes clear when looking over what has been recorded of Adams' life that he had no qualms whatsoever about taking whatever job could get him through the next few months or years between writing projects. My personal favorite was Adams' stint as a bodyguard to a Qatari family of oil tycoons while they were staying in London. According to Adams, that particular job involved "opening and shutting doors and running away if anyone turned up with a hand grenade". Yikes.
Anyway, it was a very uneven path that Adams walked after his days at St. John's and since falling in love with comedic performance (he had been involved with several during his days in Cambridge) he was bent on getting into TV and/or radio as a comedy writer. He was one of only two people outside of the original cast of Monty Python to get a writing credit (in this case for a sketch called "Patient Abuse") and later even appeared in 2 episodes (one of them being episode 42, no less!) of Monty Python's Flying Circus.
Frustration & Inspiration
Unfortunately - after enjoying some successes - Adams' opportunities slowed to a crawl. It was during this time that he tried to support himself through the mess of odd jobs mentioned above. He had a hard time dealing with this lack of interest in his work and that was reflected in his opinions of himself at the time. From Adams' The Salmon of Doubt, "I have terrible periods of lack of confidence [...] I briefly did therapy, but after a while I realized it was like a farmer complaining about the weather. You can't fix the weather - you just have to get on with it".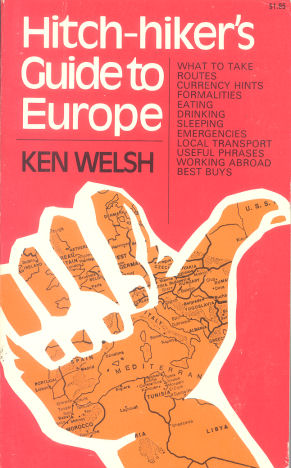 So, how did The Hitchhiker's Guide to the Galaxy get its start when it looked as though Adams was already nearing the end of what would have been a rather short career? First, let's go back to one of those nights he spent hitchhiking around Europe (Innsbruck, Austria in this case) before heading back to his studies in Cambridge. At the time, Adams had been using a copy of Hitch-hiker's Guide to Europe to make his way around and one night when he was "frantically depressed" in Innsbruck he stared [drunkenly] up at the stars and thought that maybe there should be a Hitchhiker's Guide to the Galaxy because it "looked a lot more attractive out there than it did around me."
It wasn't immediately, but rather when he was backed into a corner and nothing else seemed to be working out for him did Adams come back to this idea of writing a Hitchhiker's Guide to the Galaxy. Like so many other artists before him, it seemed as though all of his worldly experiences up to that point came together in one creative surge to produce the story-line and characters in their original form. Originally, Hitchhiker's was developed as a sci-fi comedy radio play composed of six episodes (Douglas called them Fit the First, Fit the Second, etc as an homage to The Hunting of the Snark by Lewis Carroll) and quickly became a cult favorite in spite of the lack of advertising (in fact, the first episode aired at the awkward time of 10:30pm on a Wednesday night).
There were several things about the radio series that contributed to its popularity and uniqueness among all of the other material on BBC Radio at the time:
Peter Jones was the voice of The Book in the series; the creators were actually looking for someone with a 'Peter Jonesy sort of voice'. When they failed in their search, they hired Peter Jones himself.
It was the first comedy series on BBC Radio to be made in Stereo. Sound effects were among the things deemed most important for the show.
The theme song was a cover of a song from The Eagles' album One of These Nights, called "Journey of the Sorcerer." It was covered several times for different releases of the program, but the whole point was that the arrangement of the song sounded futuristic while still keeping a "hitchhiking feel" because of the predominance of the banjo throughout the piece.
Moving Right Along..
With the success of the radio show, Adams was given a job at the BBC as a radio producer but he was never really interested in the position, instead wandering over to work on Doctor Who as a script editor. He later went on to pen several Doctor Who episodes including "City of Death" which is widely regarded as one of the best classic Doctor Who stories of all time. Nice work, Douglas. A few notable things from these days:
Life, the Universe and Everything (the 3rd novel in the Hitchhiker's series) was apparently first born into the world as a Doctor Who story, with the working title "Doctor Who and the Krikkitmen". When the screenplay was never produced, Adams re-wrote the story with characters from Hitchhiker's to fit that universe instead. Slartibartfast as the Doctor, Starship Bistromath as the TARDIS and the Krikkiters for the Daleks.
A permanent part of the Doctor Who universe, the Sixth Doctor mentions him in saying that "my old friend Douglas" used to say the response to "What's wrong with getting drunk?" is "Ask the glass of water." Also, in the novel version of a Doctor Who story that Adams wrote called "Shada," a character claims to have replaced a copy of The Worshipful and Ancient Law of Gallifrey with The Hitch- (and is at that point interrupted).
When at school, Adams wrote and performed a play that he called Doctor Which.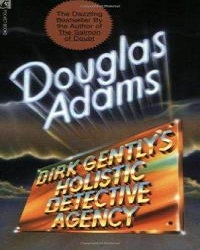 Douglas Adams eventually finished 5 novels in the Hitchhiker's Guide series as well as two radio series (Fit the First through Fit the Twelfth) and there have been additional radio series' and novels but they were all finished and produced after Adams passed away in 2001. So far the series has been a radio broadcast, multiple theater productions, a "trilogy" of books, a BBC TV series, a computer game, a comic book mini-series and a Hollywood movie. He also wrote two novels in a different universe with different characters, called Dirk Gently's Holistic Detective Agency (described as "a kind of ghost-horror-detective-time-travel-romantic-comedy-epic"). These novels had some critical success but never reached the level of his most famous series.
So Long and Thanks for All the Fish..
Other stuff you may not know about Douglas Adams:
He was an atheist who was "convinced that there is not a god". A friend of Richard Dawkins, he was outspoken on religion and religious topics.
After achieving success with Hitchhiker's, Adams was able to pursue his own projects free of financial constraints. He used this freedom to champion environmentalism, traveling across the world in order witness endangered species in their native habitats and write about them in Last Chance to See. He climbed Mt. Kilimanjaro in a rhino suit to support Save the Rhino International. Since Adams' death, Save the Rhino has had a memorial lecture in Adams' name to raise money featuring many notable personalities. 2015 found Neil Gaiman speaking on Immortality and Douglas Adams, for example.
An early supporter of the Apple Macintosh, Adams was an "Apple Master", a program that Apple ran which featured celebrities that were also users and evangelists for the Macintosh. It is said that he was the first person to buy a Macintosh in all of Europe, but some say that it was actually Stephen Fry.
Douglas wrote a documentary film called Hyperland starring Tom Baker (of Doctor Who fame) in 1990 – it basically details how hypertext could create interconnected pathways of text, audio and video that we could explore in real-time through a network. In other words, the World Wide Web. Very much into technology and on the cusp of new ideas, Adams started a company called The Digital Village in 1994 who produced the game Starship Titanic and started H2G2.
For his 42nd birthday, Pink Floyd guitarist David Gilmour invited Douglas to play guitar on stage with the group at a concert. Shortly afterward, Gilmour asked Adams to help the band name their latest album - he did just that which resulted in Division Bell.