Welcome back to the Rookie Report! I hope you managed to cash in on the big days of Todd Gurley, TJ Yeldon, Duke Johnson & Karlos Williams in an eventful week 4. Gurley's breakout came a week earlier than I expected, and Andrew Luck's absence kept the Jaguars running deep into the game allowing Yeldon to break the century mark. The other two guys I was already high on in last week's Rookie Report. Unfortunately, Melvin Gordon didn't carry over the good vibes from that quartet. At WR, Amari found paydirt again, and some less heralded rookies like Willie Snead and Jamison Crowder made a splash as well. Let's take a look at what we can expect in week 5…
Rookies to Start:
RB Todd Gurley, STL (Wk. 5: @GB): Wasn't this guy impressive last week? Facing a really tough run defense, he gashed the Cardinals in a big way in the 2nd half and led the Rams to a huge upset win. Pounding the rock with Gurley will be the formula going forward for the Rams, and the Packers' run defense isn't one I'm afraid of. The Packers will likely load up to stop him, and very well could run away with the game, making the run game useless, but I think Gurley is good enough to overcome that. I think the Rams feed him early and often, and they stay in this game en route to an RB1 day for Gurley. He's ready to be unleashed.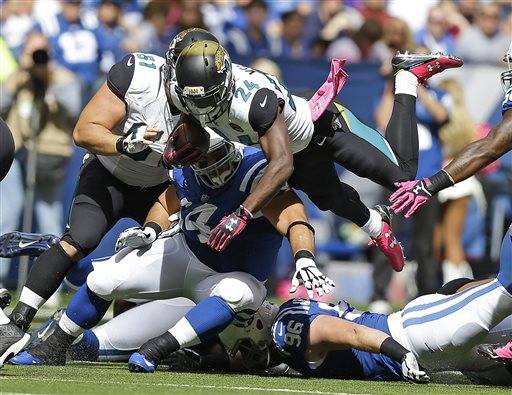 Yeldon has 70 carries and 14 targets this season.
RB TJ Yeldon, JAX (Wk. 5: @TB): Yeldon didn't quite have the coming out party that Gurley did last week, but he did have his best day as a pro and topped the century mark in rush yards for the first time in his career. He has a good chance to make it two in a row, and a solid shot to find the end zone as well. Yeldon is surprisingly 3rd in the NFL in total carries, and also has at least two receptions each game. The Bucs have allowed over 100 rushing yards and at least 1 rushing TD in 3 of their 4 games this year, and with no one around to threaten Yeldon's workload, he could produce like a borderline RB1 this week.
RB Karlos Williams, BUF (Wk. 5: @Ten.): Obviously this hinges on whether or not Karlos can play. He's still in the concussion protocol, but if he's able to play, he should probably be in the lineup. His talent is real, Shady McCoy should be out again, and the Titans have allowed 104 RB rush yards per game and 3 rushing scores in the past 2 games. Williams should be a very solid RB2 if he starts.
WR Amari Cooper, OAK (Wk. 5: vs. Den.): I'm not nearly as high on Cooper this week as I have been the past couple…the Broncos' pass defense has been pretty impressive. Let's face it though, if you have Amari, you're going to play him. If you want a bright spot, the Broncos did look less than impressive in week 4 against the Vikings WRs. They allowed WRs to put up totals of 25 catches, 246 yards and zero touchdowns in the first 3 weeks combined. The Vikings WRs tallied a 21-249-1 line in week 4. Go ahead and get Amari in there, but know there is some risk.
Borderline Rookies:
QB Marcus Mariota, TEN (Wk. 5: vs. Buf.): The Bills sound like a daunting matchup on paper with their great d-line and Rex Ryan's aggressive schemes, but they have been shredded through the air so far. The Bills are allowing the 3rd most QB fantasy points per game so far, and have allowed at least 15 points and multiple TDs to each QB they've faced. The guys they've faced are pretty good (Brady, Luck, Eli & Tannehill), but this defense shouldn't be feared as much as you'd think. Mariota has low QB1 upside and is a solid option in 2QB leagues.
QB Jameis Winston, TB (Wk. 5: vs. Jax.): This recommendation is for 2 QB leagues, but Jameis could be a decent low end QB2 option this week. The Jaguars have allowed 293.5 yards passing and 1.5 TDs per game, and it's only a matter of time before Winston starts clicking with Mike Evans. What should make this really interesting is that the turnover-prone QB faces a defense that has just one interception on the year. There is decent upside, and a 250 yard, 2 TD day is within reach.
RB Matt Jones, WAS (Wk. 5: @Atl.): It's hard to get a read on how Jones and Alf are going to split carries, but there is some upside against Atlanta. The Falcons allow a league-worst 26.3 fantasy points per game to opposing RBs, but there is some reason to believe that the biggest beneficiary of the matchup will be Chris Thompson. Thompson is clearly the receiving back in this offense, and Atlanta has allowed 365 receiving yards to RBs and just 318 rushing yards. The good news for Jones…the Falcons have allowed 7 rushing TDs, and Jones has received 9 red zone carries in the last 3 weeks to 6 for Alfred Morris. I love Matt's chances of finding the end zone this week, but his yardage may be limited. View him as a boom-or-bust flex option.
RB Melvin Gordon, SD (Wk. 5 vs. Pit.): Gordon failed to break out in a great matchup last week. It's hard to see him doing so in a much tougher matchup this week. I'd lean toward sitting him this week, but you might not have any better options. Pittsburgh did struggle to slow down Justin Forsett last Thursday on the short week, but they allowed just 167 total RB rush yards in the first 3 games. The Steelers have 11 days to get ready for Gordon and the Chargers. The sledding could be tough.
RB Duke Johnson, CLE (Wk. 5: @Bal.): The matchup gets much tougher for Duke this week. The Ravens did allow 100-yard rusher for the first time since 2013 last week, but the guy who broke the century mark was LeVeon Bell. I'm not ready to put Duke at that level yet. With the way he's played the last couple weeks, Johnson has earned a bigger role and is worthy of flex consideration. His best area of point production is as a pass catcher though, and Baltimore has allowed just 19 RB receptions through 4 games. Tread carefully with Duke.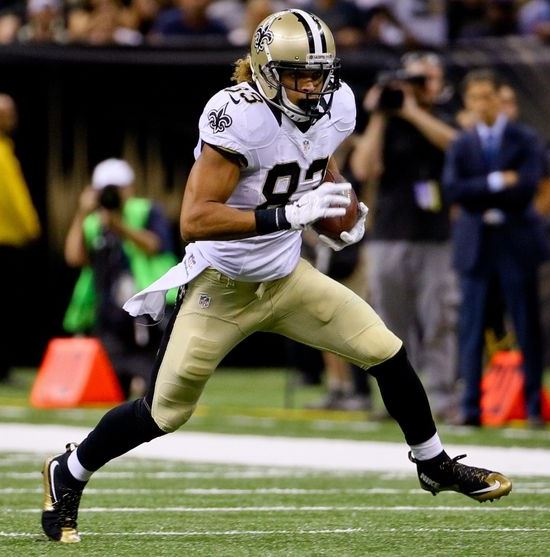 In case you aren't getting it, this is Willie Snead.
RB Ameer Abdullah, DET (Wk. 5: vs. Ari.): The Cards have been tough on every RB they've faced other than Gurley, and the Lions' run game has been abysmal. When you add in that he's ceeding passing game work to Theo Riddick, it's hard to see a big day for Ameer. He'll get a decent amount of volume in this one in a game I think the Lions will actually be competitive in, but like Gordon, if you have better options you should probably use them instead.
WR Willie Snead, NO (Wk. 5: @Phi.): You may be asking yourself 'Who is Willie Snead?' You should already know the answer. While the Saints' offense has struggled to get going, Snead has quietly made his way up the depth chart, clearly passing Brandon Coleman and now possibly climbing over Marques Colston as well. He's developing a great rapport with Drew Brees, and this week he faces off with an Eagles' defense that has allowed at least 25 WR fantasy points to every team they've faced except the Dez-less Cowboys. Willie has caught at least 4 passes each of the last 3 games, and put up a season best 6-89 line against Dallas last week. He has a real chance to at least duplicate that against Philly. He's a reasonable WR3 option this week, especially in PPR.
WR Nelson Agholor, PHI (Wk. 5: vs. NO): Agholor made the most impressive play of his young career last Sunday, making a ridiculous one handed catch on a deep ball from Sam Bradford. On the very next play, he fumbled a pitch on a reverse. That's the kind of season it's been for Agholor…a frustrating one, but there are reasons for optimism. His playing time hasn't dipped, and the Eagles finally looked like they were getting the deep passing game figured out in week 4. I'm still scared to start him, but there's upside for a decent day against a mediocre defense. The more this offense gets rolling, the better things will get for Agholor.
Rookies to Sit:
RB Thomas Rawls, SEA (Wk. 5: @Cin.): The Seahawks are hopeful that Marshawn Lynch will be back this week, and if he is, you want no part of Rawls. The Bengals' run defense is no joke with Geno Atkins terrorizing the middle of the line again, and the Seahawks' run game hasn't been the same without Max Unger at center and with non-blocker Jimmy Graham at TE. The Bengals are vulnerable to backs catching passes out of the backfield, but it was telling that FB Brandon Coleman was lining up at running back in some passing situations after Fred Jackson went down. I'm not sure Rawls has the skills to take advantage. If he gets the start, I'd expect similar output to what he produced on Monday night.
RB David Johnson, ARI (Wk. 5: @Det.): Johnson did factor in again last week with Andre Ellington out another week, but AE is all but certain to return for week 5. DJ should slip to 3rd in the pecking order for touches this week against a defense that has allowed just 9 RB fantasy points in each of their last 2 games. Arians referred to him as the odd man out.
WR Ty Montgomery, GB (Wk. 5: vs. StL): Montgomery was very quiet against a very suspect 49ers secondary. The Rams are much better than SF on the back end. Despite getting a bunch of snaps, Montgomery isn't producing enough to be a viable starting option this week.
WR Tyler Lockett, SEA (Wk. 5: @Cin.): It was a good sign that Lockett finally got involved in the passing game a bit more this week, but the Seahawks just haven't had enough passing game volume to make any of their WRs a weekly start. Lockett remains a standout WR3 if your league awards points for return yards, but for now he's more of a WR4 or 5 in regular PPR leagues.
WR Chris Conley, KC (Wk. 5: vs. Chi.): I considered putting Conley in the 'sleeper' section this week, but I'm just not sure there will be enough extra to go around after Charles, Kelce and Maclin get their touches for Conley to have a big day. I'd expect his increased playing time to continue if Albert Wilson is out again, but I doubt it turns into a big fantasy day even in this plus matchup.
TE Maxx Williams, BAL (Wk. 5: vs. Cle.): Even if Gillmore is out again, Maxx is still struggling to make an impact. Granted, the Ravens are even more short-handed for pass catchers with Steve Smith out, but I still think Maxx will be hard-pressed to top 50 yards this week. I personally think Gillmore will be able to play, which would hamper Williams's value even more.
Deep League Sleepers and Cheap DFS Options:
WR Keith Mumphery, HOU (Wk. 5: vs. Ind.): Mumph appears likely to get the start this week with both Nate Washington and Cecil Shorts already ruled out for Thursday night's tilt with the Colts. Jaelen Strong was drafted higher than Mumphery, but he was beaten out by the MSU product in training camp. Vontae Davis is questionable for this week, and if he plays, I'd expect a few extra targets to go Mumphery's way while Davis covers DeAndre Hopkins. Even if Davis is a go, Mumphery still managed to see 7 targets while Hopkins saw 22 last week. Expect a healthy workload for the rookie, and even with Ryan Mallett at QB should have a pretty solid game.
WR Dorial Green-Beckham, TEN (Wk. 5: vs. Buf.): Here's a quick fun note on Dorial…he ruined the NFL's shot at an arrest-free month on September 30th. The offense? Unpaid parking tickets. He was released after paying the $92 ticket. Arrests aside, DGB is a red zone monster, and the Bills have allowed 7 passing TDs to WRs in just 4 weeks. Green-Beckham is the best bet to get one this week, and coach Ken Whisenhunt has talked about getting him more involved. He's a great punt option in DFS tournaments this week.
WR Jamison Crowder, WAS (Wk. 5: @Atl.): It looks like there is a good chance that DeSean Jackson is out again, and Crowder has really come on in the last two weeks, tallying 13 catches and 110 yards in those contests. The Redskins figure to be throwing plenty once again to keep pace with the high-powered Falcons' offense, and the likely absence of Jordan Reed should increase Crowder's targets. He has great upside as a PPR WR3 this week in a plus matchup, and he'll be dirt cheap in daily leagues.
That's all I've got for this week. Hopefully it helps decide some of those tough rookie lineup decisions this week. As always, good luck, trust your gut, and have fun. It's just a game.