Welcome back to the Rookie Report! Week 11 was a coming out party for some less heralded rookies.  Buck Allen showed he can carry the load in Baltimore with Justin Forsett down to a broken arm. Tyler Lockett continued to produce against the 49ers, scoring his 2nd and 3rd TDs against SF of the season. JJ Nelson put on a late night show on Sunday, torching the Bengals for over 140 yards and a TD. Devin Funchess also put up the best game of his career, and Jameis Winston put up an incredible FIVE touchdown passes. Those 5 guys were all great, but the king of week 11 was Thomas Rawls. When Marshawn Lynch showed up as a late scratch on Sunday, Rawls stepped in and didn't miss a beat. He piled up 209 rushing yards and over 250 yards from scrimmage while tacking on 2 TDs as well. I had Rawls pegged as a sleeper a week ago, expecting him to get some additional run in garbage time, but I certainly didn't anticipate a 37-point outburst. With Marshawn questionable going forward, Rawls may continue to be a stud while BeastMode sits. Let's dive into what we can expect in week 12...
Rookies to Start:
RB Todd Gurley, STL (Wk. 12: @Cin.): Even as the offense implodes around him, Gurley has found the end zone and/or topped 100 yards in each of his 7 starts this season. He's shown that he's a locked-in RB1 even in less than ideal matchups like the one he has this week. I'd expect him in the 12-15 point range this week in standard leagues, and a couple points higher in PPR, but he's good enough that there is upside for more.
RB Thomas Rawls, SEA (Wk. 12: vs. Pit.): Don't expect another near 40-point outing from Rawls, but Lynch is going to miss 4-5 weeks after having sports hernia surgery, and Rawls will continue to start in his stead. In his 4 starts this season, Rawls has 86 carries for 530 yards and 2 TDs (6.16 ypc) and he's chipped in another score through the air. He is facing the defense that allows the fewest fantasy points to opposing RBs, so he's more of a contrarian play in DFS tournaments, but the Seahawks aren't getting away from their run-first approach. Rawls should be a top-10 RB this week.
RB TJ Yeldon, JAX (Wk. 12: vs. SD): Yeldon gets the best matchup possible this week. The Chargers allow the most RB points in the league. They also have allowed the 2nd most RB scrimmage yards (Saints are number 1), they're tied with the Falcons for the most total RB touchdowns allowed, and they are the worst in the league in Football Outsiders' run defense DVOA stat. Yeldon's volume has remained steady with at least 16 touches in every game he's played since week 3, and this is an ideal spot to do damage with those touches. The Chargers are fresh off getting shredded by unknown backup Spencer Ware. Yeldon should be close to being an RB1 this week.
RB Buck Allen, BAL (Wk. 12: @Cle.): With the injury to Justin Forsett, Allen has virtually no competition for the number one RB job in Baltimore. He hasn't been overly impressive or efficient, averaging 3.9 yards per carry with no TDs on the season, but he's going to see a ton of volume, and gets a great matchup in his first start. The Browns are ranked 30th in the league in run defense DVOA, and allow opposing RBs 122 rush yards per game. WIth Flacco out, I would expect the Ravens to lean on the run and short passing game even more than usual. Allen carried 22 times last week and was targeted 6 times in the passing game. With Marc Trestman as OC, you know the targets will continue. He should be a solid RB2 this week thanks to the ample volume he should continue to receive.
WR Amari Cooper, OAK (Wk. 12: @Ten.): Amari is coming off his worst game as a pro, with just 1 catch for 4 yards and 2 bad drops with Darius Slay shadowing him. The Titans are a better matchup for him, although they are 13th in pass defense DVOA on throws to WR1s. The Raiders should look to pepper Cooper with targets to get him and the whole offense back on track, and he should be able to return to WR2 status this week as a result.
Borderline Rookies: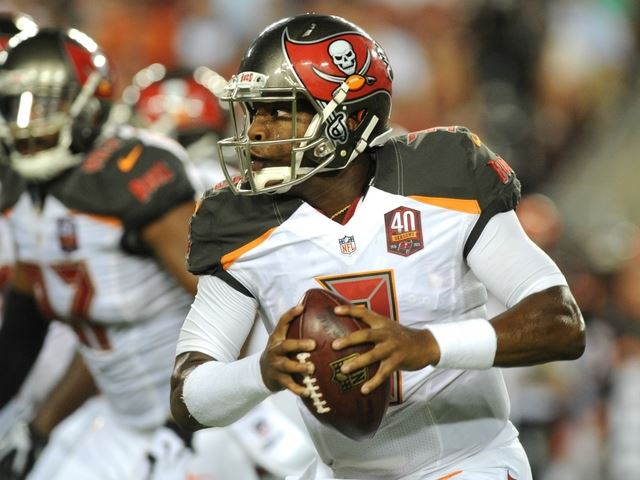 QB Jameis Winston, TB (Wk. 12: @Ind.): After he put up 5 TDs last week, it's almost impossible to sit Winston this week I'm sure. He does have a solid matchup again, and I'm sure the Colts won't be sleeping on Doug Martin after he ran for over 200 yards last week. I expect the defensive focus to be on stopping the Dougernaut, so Winston should have to throw a few more times this week. Indy has allowed 280+ passing yards in 7 of their last 8 games, multiple TD passes in 6 of those 8, and 13+ QB points in all 10 of their games this year. Don't expect a repeat of the 5-TD ouburst, but Jameis should be right on the cusp of the top-10 QBs this week.
QB Marcus Mariota, TEN (Wk. 12: vs. Oak.): The Raiders have allowed 20+ QB points in 4 of their last 5 games, and in the one game they didn't Adrian Peterson ran for 200 yards on them. The loss of Aldon Smith is a big blow to their pass defense. I don't expect Antonio Andrews to run for 200 yards, so Mariota will be thowing some. Mariota was actually the QB10 in week 11 against Jacksonville despite just 1 TD (rushing), and the return of Kendall Wright should be a big help. The increased emphasis on Mariota rushing should give him a higher floor going forward, and his ceiling this week is a mid-level QB1 due to the matchup. I'd be willing to fire him up as a high-QB2, or as a low-end QB1 in a 12 or 14 team league.
RB Jeremy Langford, CHI (Wk. 12: @GB): The Packers' run defense has been improving of late, and Langford's role for this week is in doubt with the potential return of Matt Forte. Forte has as much as said he's playing for his next contract, so expect Langford to remain involved, but the Pack have allowed just 22 RB points total in the past 3 games. Sure, one of those games was against the hapless Lions' rush attack, but they also held the Panthers' RBs to 86 scoreless yards and held Adrian Peterson to 45 and a TD. They've also allowed the 5th fewest RB receiving yards on the season. If Forte is out, Langford should be fired up as an RB2 despite the matchup, but it sounds like Forte will play, which makes Langford a low floor flex option.
RB Matt Jones, WAS (Wk. 12: vs. NYG): After the roller coaster Jones has put his owners through the last 2 weeks, people are likely off using him. He put up 187 scrimmage yards and a TD on just 14 touches in week 10, then followed it up with 12 yards on 7 touches the following week and also lost a fumble. The ball security issues are concerning, and he has a basement-level floor each week, but the Giants can be run on. The G-Men gave up over 100 rush yards to RBs every game from week 5 to week 9 as well as 3 rush TDs in that stretch. If Jones gets going early, he could be an upside flex play in deeper leagues.
RB Duke Johnson, CLE (Wk. 12: vs. Bal.): The  benching of Johnny Manziel should help out Duke quite a bit. Johnson makes his living in the receiving game, and he caught 6 passes for 56 yards in Manziel's 2 starts, and 33 for 331 yards in the previous 6 games with McCown starting. The Ravens do a good job limiting RB fantasy points, but they rank just 15th in run defense DVOA, and 18th in pass defense DVOA on throws to running backs. Johnson did catch  6 passes for 55 yards and ran for an additional 22 the last time the Browns faced the Ravens. He's back to being a PPR flex play as long as McCown is under center. He might even start to see more carries after Isaiah Crowell put up 5 rushes for -4 yards in the Browns' last game.
WR Stefon Diggs, MIN (Wk. 12: @Atl.): Diggs has 6 receptions or more in 5 of his last 7 games, but he gets a stiff test this week. The Falcons have a solid pass defense DVOA against all WRs and TEs (only struggling vs. RBs), and allow the 3rd fewest WR fantasy points in the league. Diggs should see a fair amount of Desmond Trufant, who is one of the better CBs in the NFL. I'd also expect the Vikings to have more success running the ball than throwing it this week, which will limit the overall passing volume. All this adds up to Diggs being a questionable WR3 play this week. If he topped 60 yards and scored a TD it would probably be his most impressive game of the year despite better numbers in other weeks.
WR Devin Funchess, CAR (Wk. 12: @Dal.): Funchess has continued to emerge over the past few weeks, posting a 9-172-2 line over his last 3 games, benefitting from a Corey Brown injury on Sunday. Brown is doubtful to play in Dallas on the short week, so there will be opportunities for Funchess to make some big plays again. It looks like he may draw rookie Byron Jones in coverage, and Jones has been impressive this year, but Funchess has 4 inches and 38 lbs on Jones. He's a decent bet to find the end zone for the 3rd time in 4 weeks.
WR Jamison Crowder, WAS (Wk. 12: vs. NYG): After a brutal week 11 performance against the Panthers, Crowder should return to 5-50 land this week. His snap share hasn't dropped over the past 2 weeks, so I'm not scared off by DeSean Jackson being back at full strength. He should be a low-ceiling PPR WR3 this week against the Giants. New York has allowed stat lines of 5-55 (Adam Humphries) and 10-79 (Danny Amendola) to slot-type WRs in the last 2 games. I think Jamison gets back to the kind of production we were seeing before last week.
Rookies to Sit:
RB Melvin Gordon, SD (Wk. 12: @Jax): The San DIego offense has been crumbling with their top receiving threats all out with injury, and Gordon gets a less than favorable matchup anyway this week. The Jaguars have given up just 244 rush yards to RBs in their past 4 games (61 yds/gm), and Gordon isn't likely to get his yardage in the receiving game either (just 9 catches for 45 yards in his past 3 games). The upside just isn't there for Gordon this week even if he gets decent volume. I'd avoid Melvin if you can.
RB Karlos Williams, BUF (Wk. 12: @KC): The touchdown streak finally ended for Karlos last week, and it resulted in a brutal fantasy week if you played him. The Chiefs' defense is coming together of late and, outside of their game against Cincinnati, KC has only allowed 1 rushing TD all year. I expect this to be the 2nd week in a row Karlos fails to find pay dirt, and I would keep him benched in this one.
RB Tevin Coleman, ATL (Wk. 12: vs. Min.): Coleman wasted a golden opportunity last Sunday to take back a share of the workload he lost to Devonta Freeman early in the year. Freeman went down early with a concussion, but Coleman managed just 48 yards on 17 carries (2.8 ypc) and also lost a fumble in a loss that could end up being the difference between making and missing the playoffs. The Colts aren't exactly an elite run defense. Freeman looks on track to return this week, and if he does, Coleman goes back to his role as no more than a handcuff. If Freeman misses, Coleman would be a low upside flex option against a decent Viking defense.
RB David Cobb, TEN (Wk. 12: vs. Oak.): I really wish Cobb had looked better last week. He carried 4 times for -3 yards in his season debut while Antonio Andrews bounced back from a terrible game against the Panthers to post 78 yards on 15 carries last Thursday. The Raiders are a great matchup for running backs lately. They've coughed up an average of 22 fantasy points per game to opposing RBs even though they allowed just 4 points to the Jets in that stretch. Even the Lions put up 15 on Oakland. Coach Mularkey talked up getting Cobb more work this week, but with how effective Antonio Andrews was last week, I'll believe it when I see it. I expect Cobb will still see single-digit touches.
WR Tyler Lockett, SEA (Wk. 12: vs. Pit.): Apparently Tyler Lockett owns the 49ers. He's scored 3 receiving TDs in 2 games against SF, and has 0 in his other 8 games, and his target volume just hasn't been consistent enough to trust him. If you could count on 5 targets each week, Lockett would be a reasonable desperation WR3, but you can't. He's had 4 or 5 targets in 5 of his last 7 games, but just 1 total in the other 2. Until the consistency is there, you can't use him in your season-long lineups or in DFS cash games.
WR Nelson Agholor, PHI (Wk. 12: @Det.): The Lions' pass defense has been rapidly improving since they started using Darius Slay in shadow coverage on the opposing team's top outside WR (24.2 WR points per game allowed before, 12.3 in 3 games since vs. KC, GB & OAK). Since Slay doesn't often venture into the slot (he shadowed James Jones in GB rather than Cobb), Agholor should be the one who sees Slay the most. It doesn't help that Mark Sanchez showed no ability to throw the ball outside the numbers last week, instead focusing the pass attack on the RBs and TEs. Agholor wasn't producing before Sanchez took over, and I don't expect him to now in a tough matchup.
TE Maxx Williams, BAL (Wk. 12: @Cle.): Maxx's role seems like it's stabilizing and maybe even expanding a bit since Steve Smith Sr. went down, but it should still be safe to keep him benched this week. He has put up 7-60-1 in the last 2 games on 8 targets (4 in each game), but Crockett Gillmore is still the one looked to most often in the red zone. Maxx has just 1 TD to Gillmore's 4, and Gillmore has almost as many yards in the past 2 weeks (143) as Maxx has for the whole season (168).
Deep League Sleepers and Cheap DFS Options: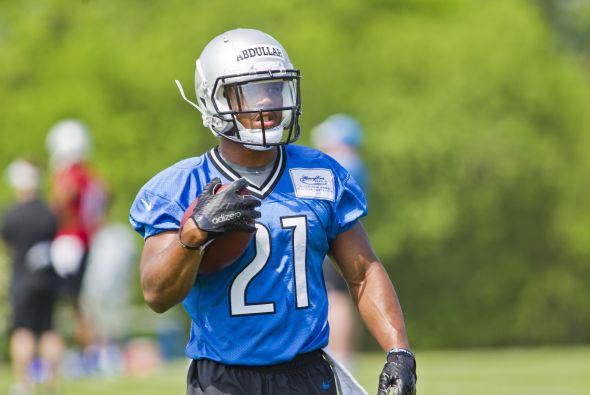 RB Ameer Abdullah, DET (Wk. 12: vs. Phi.): Abdullah finally got double-digit carries again in week 11, and may have worked himself out of the doghouse that his fumbles got him into earlier in the season. He definitely should give the Lions more in the lead back role than they're getting from Joique Bell. This could actually be a great spot for Abdullah to get on track. The Eagles' once solid run defense has been crumbling the last 4 weeks. Philly allowed a rushing line of 77-349-1 (4.5 ypc) to opposing RBs before allowing 38 rushes for 283 to the Buccaneers. I wouldn't be surprised in Abdullah has his best game since his NFL debut.
RB David Johnson, ARI (Wk. 12: @SF): If there was ever a week for Johnson to get extended work, this is it. This one has all the makings of a blowout. The Cardinals' offense has been locked in of late, and Arizona is a 7-point favorite at SF. If the rout is on early, DJ should see more touches than we're used to him seeing. He does have 7 TDs in 10 games with the limited work he's been seeing. He's an intriguing DFS punt option.
WR Dorial Green-Beckham, TEN (Wk. 12: vs. Oak.): While Kendall Wright's return could take a couple of snaps and targets away from DGB, I would expect it to take some of the defensive attention off him and be a good thing for this offense as a whole. The Raiders have been bleeding pass yards all year (only 1 game with under 260 yards allowed, 4 with over 330), and I think DGB bounces back from his underwhelming game last week and approaches the 5-77 line he put up on the Saints.
WR JJ Nelson, ARI (Wk. 12: @SF): What a show Nelson put on last week. He made the most of his opportunity with Michael Floyd out to show off his blazing 4.28 deep speed. The Cardinals have said they're going to be cautious with Floyd and his hamstring injury, so Nelson should be the WR3 again this week in a good matchup. Only 2 teams have connected for more pass plays of 40+ yards than Arizona, and only 3 have allowed more of those passes than the 49ers. Bruce Arians likes to have 6 'shot plays' in every gameplan, and I'd expect the majority of those to target Nelson or Smokey John Brown. JJ might get loose for another long TD and would be a great punt play in DFS.
WR Chris Humphries, TB (Wk. 12: @Ind.): The Colts will have to choose whether they want to put Vontae Davis on Mike Evans or on V-Jax, but one person I can say for sure he won't be on is Adam Humphries, which could free him up for another solid week. He's tallied 11 catches for 130 yards on 14 targets over the past 3 weeks, and Indy is 30th in the league in pass defense DVOA on passes thrown to WRs other than number 1 or 2. With the defensive focus on Doug Martin and the twin towers outside, Humphries may pull in 5 or 6 catches this week.
TE Clive Walford, OAK (Wk. 12: @Ten.): Walford is a TD dart throw and DFS punt play yet again this week. The Titans have allowed 8 TE touchdowns in 11 games, and have been especially bad over the past 3 games, giving up a 26-228-4 line to TEs in that span. Clive has scored 3 TDs in the past 5 games. 20-30 yards and a TD are very much a possiblity for the Oakland rookie.
TE Will Tye, NYG (Wk. 12: @Was.): Tye is more of a dynasty stash than a sleeper for this week. Larry Donnell was uninspiring before going down with an injury, with just 2 TDs in 8 games and a season-high of 38 yards in a game. Will Tye got the start in week 10 and put up 5 catches for 56 yards and looked noticeably more athletic than Donnell. Larry will return this week and likely slot right back in as the starter, but if his poor season continues, Tye will undoubtedly start to eat into his snaps.
That's all I've got for this week. Hopefully it helps with your tougher lineup decisions involving rookies. If you have any sit/start questions or want to reach out just to yell at me about the article, you can hit me up on twitter (@shawn_foss). Make sure to fit the suggestions to your league rules and your roster. As always, good luck, trust your gut, and have fun. It's just a game.