The playoffs are here! This week's waiver wire adds a different element. You might be playing defense to keep your opponents team weak or stashing some depth for your run at the championship. In any case this is a chess match and the waiver wire is your opening move. The second season starts in week 14.
Quarterbacks
Tyrod Taylor, BUF – The multitalented Tyrod Taylor is the hot streamer pick heading into week 14. Admittedly more passing attempts on average would be preferred, but Taylor continues to add value through his work on the ground. In his last two weeks he has 6 passing TD's and a rushing TD to cap off his 502 passing yards and 75 rushing yards. More impressive still are the defenses he went through. Kansas City and Houston both pose a larger challenge than any of his coming playoff matchups. Philadelphia is a cupcake matchup for week 14 and Taylor is wide open for the taking in 64% of leagues.
Running Backs
James White, NE – The Patriots have a "next-man-up" mentality. When Dion Lewis went down they clearly had to find a back capable of making plays out of the backfield. James White finally showed that value last week. There is very little to go on with White and I am not claiming he isn't a risk. His upside is something to be excited about after scoring 3 times in 3 weeks. Last week was his best week statistically with 10 receptions, 115 yards and a TD. Three weeks ago he found the end zone twice, but was ineffective statistically. Either way the Patriots have started using White more often. Injuries on the offense are going to open up his role and the Patriots need to stop the losing streak down the stretch.
Darren Sproles, PHI – It is about damn time the Eagles feature Darren Sproles over Darren McFadden! Whether it remains that way is yet to be seen. Sproles had a great game with 66 yards on 15 carries and an additional 34 on 6 catches. His running style suits Chip Kelly's offense and his success last week should lead to the same, if not more usage down the stretch. The Eagles play Buffalo next week who are surprisingly mediocre against the run this season. Sproles is only owned in 41% of leagues.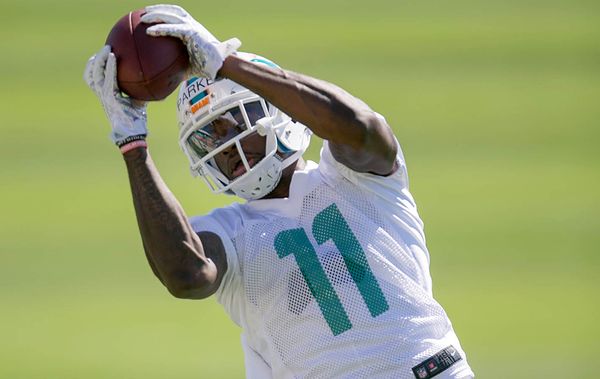 Wide Receivers
DeVante Parker, MIA – He is a very late bloomer apparently but DeVante Parker has come on as of late for Miami. His last two weeks have netted him 143 yards and 2 touchdowns. His 15 targets over those two weeks are definitely a huge positive too. Rishard Matthews continues to mend his broken ribs and his status remains uncertain. Miami has two favorable match ups coming up with games against the Giants 20th rated pass defense and the Chargers 27th rated pass defense. He is available in 70% of the leagues.
Markus Wheaton, PIT – Two weeks ago Markus Wheaton had 9 catches for 201 yards and a touchdown. Grant it a large reason behind that was mostly due to Richard Sherman's coverage on Antonio Brown. That is why I like Wheaton's outlook over the next two weeks. The Steelers matchups include the 5th ranked Bengals pass defense and 2nd ranked Broncos defense. Neither of which have Richard Sherman, but both of which who are going to focus their efforts on Antonio Brown. This should force Wheaton into a larger role.
Tight Ends
Richard Rodgers, GB – This one is a bit of sore subject as I missed the playoffs in a league due to my benching of Richard Rodgers. His consistency leaves a lot to be desired but his size and play making ability can't be ignored. His game winning Hail Mary catch highlighted his impressive game this past Sunday. He caught all 8 of his targets for 146 yards and a TD. Green Bay has continued to struggle without a consistent pass catcher. Rodgers won't be Jordy Nelson, but if you are looking for Tight End help he is a promising option still available.
Kickers
Matt Prater, DET – Detroit has sort of figured out how to move the ball again, but only enough to improve Matt Prater's value. Over the last 3 weeks our favorite lush has 37 points. Drinking beers and kicking field goals. What a life! The Lions have St. Louis and New Orleans coming up. Both those match ups favor the Lions. Then we all just rely on them committing some idiotic penalties in the red zone and watch Prater collect.