Each new fantasy football season brings along its own sets of dos and don'ts during the draft that depend on a ton of different variables: among them changing schemes in the NFL, teams forming committees at a specific position and your league's specific rules and draft inclinations. This show is all about how to identify those things and use them to your advantage to draft the best possible team this season.
Listen to the Fantasy Football Podcast, 8/2/16: How to Draft a Winning Team in 2016
Important off-season moves and updates in 2016:
Fitzpatrick finally re-signed with the Jets – One year, 12 million dollar contract.. ups the values of all offensive players on the Jets. Thoughts on the Jets chances this year? As good or better than in 2015.
Arian Foster signs with the Dolphins – And he looks like he's in great shape and will easily take over the #1 role in Miami. The issue is that by mid-season the Dolphins may not have a healthy RB between Foster and Ajayi!
Rams relocating to Los Angeles from St. Louis – This news seemed like an eventuality.. how will the team moving affect their performance this season? As they're a rebuilding team, will it even matter at all? Probably not.
Josh Gordon is back in the game – He'll miss the first four games but will be back in uniform.. after last year it may be tough to trust this guy but he is the only receiver in the NFL to ever record back-to-back 200 yard games, he's only 25-years-old and he's clearly making an effort to turn things around.
Philadelphia Eagles sketchy QB situation – Not only are they keeping Sam Bradford and Chase Daniel (and paying them a decent amount to boot), but they traded up to No. 2 in order to draft Carson Wentz as their up-and-coming guy. Not to mention the fact that new head coach Doug Pederson will likely tone down the formerly pass-happy offense.
Steelers are shooting themselves in the foot – With all of the suspensions and injuries so far this year (Le'Veon Bell - 4 games, Martavis Bryant - 2016 season, Senquez Golson – Lisfranc injury, 12 weeks) the Steelers need to straighten up and fly right. The season hasn't started yet, guys!
Eddie Lacy – A P90X workout all off-season with founder Tony Horton has helped Lacy get back into shape and he could once again be a top 5 RB option for the 2016 season.
Peyton Manning finally retires – and backup Brock Osweiler walks to Houston where he'll be the starter. I think I could throw a few passes to Deandre Hopkins, but in all seriousness this is actually a decent landing spot for the new QB. Lamar Miller looks to finally have a bellcow role there as well. Can the Texans be a playoff team in 2016?
Tom Brady – Looks like Brady will finally be getting those 4 games that he was able to avoid in 2015. Jimmy Garoppolo will stand in for him during those first few games.
Draft Strategies for 2016:
Best Overall – Regardless of the many draft strategies out there, this is always a good option. Simply put, it means either creating or grabbing a set of overall rankings that you trust and believe in and then taking the best player available at all times (with the possible exception of later when you have too many of a particular position, etc). Even if you end up taking more RBs or WRs than you wanted early, for example, you could trade them off for the types of players that you might be looking for later.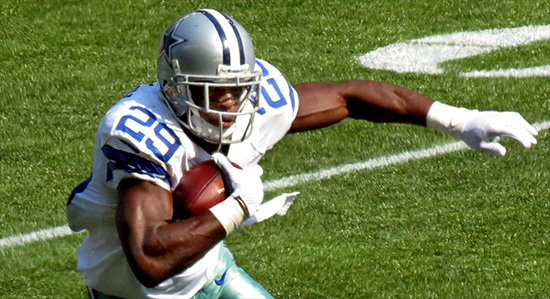 Zero RB – A lot of writers out there have done pieces on the Zero RB strategy for fantasy football, but it was pioneered by Shawn Siegele at RotoViz several years ago. The idea is basically that going RB heavy has long been a fixture of fantasy football drafts since there are not usually many 'bellcow' RBs available. This draft strategy is setting up your team to steadily improve as the season goes on and gambling against the injury risks that seem to occur more often with RBs than with WRs due to their exposure and frequency to big hits. A team that drafts RB heavy in the first few rounds may start off strong but not be able to get over the mid-season or playoff hump as the injury issues begin to take their toll. This is not to say that WRs are immune to injury themselves, of course!
If we look at statistics from past years, it's common that the top RBs at the end of the season are not even close to the top RBs that were drafted – according to research by 4for4.com, for example, less than half of RBs drafted in the top 10 in the last 5 years ended up providing top 10 value.
Contingency-Based Drafting – Another way to draft which can piggyback on the Zero RB strategy is to draft against injuries. Author and former day trader Nassim Taleb came up with a term for this – something that benefits from chaos – called antifragility. This would refer to a team that is built so that if a random injury, etc was to happen the team may actually get better, or at least doesn't struggle. If RBs touch the ball more than WRs than we wouldn't want to draft them using high picks because they would be more likely to succumb to the randomness of injuries. RBs are also more replaceable by their counterparts.. with some exceptions, an average running back can become a fantasy stud if you put him behind a great offensive line. If your 1st round pick tears an ACL, that is far more damaging than an 8th, or 9th, or 10th round pick.
This strategy, therefore, champions drafting multiple RBs in a committee, or grabbing RBs from the waiver wire during the season. The other teams that are drafting RBs early are the same ones that pick up handcuffs that may not be worth anything, and have weak WRs because of their early dependency on RBs.
Grab pass-catching RBs – Whether in PPR or not, grabbing RBs that also have a role in the passing game like Charles Sims, etc is a good bet for teams that want to wait for most of the draft before picking up players in the RB position. Also guys that may be in a committee but are behind a strong offensive line.