Welcome back to the Rookie Report! We're finally almost through the bye weeks, but this is one last week where you may need to find some fill-ins. We've made it through 10 weeks so far, so in most formats there are just 3 weeks left of the regular season. You should have a pretty good idea of where you stand heading into the home stretch. Do you have to win out? Are you just jockeying for seeding heading into the playoffs? While these things can affect how you set your lineup, don't go too crazy trying to play upside guys and shoot the moon. Taking big swings can result in big hits (see Rex Burkhead), but it can also result in big misses (see Paul Richardson). The best way to win at this time of year isn't much different than it is in the early weeks, with one caveat: Pay attention to the weather reports. Cold and snow have a way of deflating the passing game and boosting the running game.
It was an interesting week for the rookie crop in week 10. DeShone Kizer, Austin Ekeler, Alvin Kamara, JuJu Smith-Schuster and Christian McCaffrey all had banner days. Leonard Fournette, Tarik Cohen, Aaron Jones, and Corey Davis weren't quite as fortunate. There will be more ups & downs to be had this week, so let's take a look at how things shape up for the rookies in week 11…
Rookies to Start:
RB Kareem Hunt, KC (Wk. 11: @NYG): Hunt has clearly failed lately to reach the lofty heights he was hitting with ease the first few weeks of the season. Hopefully, the bye week is just what the doctor ordered. If it's not, then maybe the New York Giants are. The Giants have been in the middle of the pack in terms of fantasy points allowed to opposing RBs, but they have allowed 269 rushing yards and 3 scores to the position in the past 2 games, and rank just 27th in Football Outsiders' run defense DVOA stat. The Chiefs should be able to play from ahead and pound the ball. Kansas City is a 10-point road favorite and Andy Reid teams are 16-2 in the game following the bye week in his career. It all adds up to a get-right spot for Hunt, who is long overdue for one. He should be an RB1 this week, and should absolutely be in all season-long lineups. I would understand, however, if you were gun-shy about paying up in DFS formats.
RB Alvin Kamara, NO (Wk. 11: vs. Was.): The Redskins have been decent against running backs this season, allowing the 12th-fewest points per game to the position (all scoring numbers are in PPR format), but you have to continue to ride Kamara's hot streak this week. In 5 games since the team traded Adrian Peterson, Alvin has been the RB22, RB12, RB9, RB1, and RB4. You can't sit AK-41 in season-long leagues. I'd consider fading him in DFS formats with his $7,500 price tag in DraftKings, but he's been fantastic for the past 5 weeks now, and the Saints are a 7.5-point favorite and have the highest implied team total of the week.
RB Leonard Fournette, JAX (Wk. 11: @Cle.): I know Fournette was a huge let down last week, and despite drawing the 0-9 Browns this week, this matchup is actually a lot worse than the one Fournette just faced. The Browns allow the 10th-fewest RB points per game, and rank 2nd in run defense DVOA. I still expect the Jaguars to lean heavily on Fournette and the run game with Allen Hurns already ruled out for the week. That volume should be enough to make Leonard a usable asset. He's still handled at least 16 touches in every game he's been active for, and scored double-digit PPR points in every game but last week's. I'd probably set expectations for more of an RB2 day than RB1, and I'd be unlikely to use him at his price tag in DFS lineups, but he should probably remain locked-in for season-long leagues.
WR JuJu Smith-Schuster, PIT (Wk. 11: vs. Ten.): I was nervous that the volume wouldn't be there for JuJu last week with the Steelers a heavy favorite in Indy. Things didn't quite go the way Vegas predicted. The Steelers played from behind for much of the day and JuJu actually outscored Antonio Brown and finished as the weekly WR11. He gets another favorable matchup this week, and one that I expect will also remain competitive throughout. The Titans allow the 9th-most WR points per game, and they rank a miserable 29th in pass defense DVOA on throws to the opposing team's WR2. Tennessee boasts a better run defense than pass defense, so that should keep the Steelers throwing enough for JJSS to at least return WR3 value. He's handled 17 targets in the last 2 games after being officially elevated above Martavis Bryant on the depth chart.
TE Evan Engram, NYG (Wk. 11: vs. KC): The Chiefs aren't a great matchup for tight ends, allowing the 8th-fewest points per game to the position, but you can't sit Engram regardless of matchup. Since Odell Beckham and Brandon Marshall were lost for the season, Engram has been the weekly TE3, TE4, TE4, and TE5. He's seen at least 7 targets in all 4 of those games, and scored a touchdown in each as well. Unless your starting tight end is Travis Kelce, it's hard to justify sitting Engram this week. You could even flex him if you do have Kelce and lack a solid WR or RB option.
Borderline Rookies: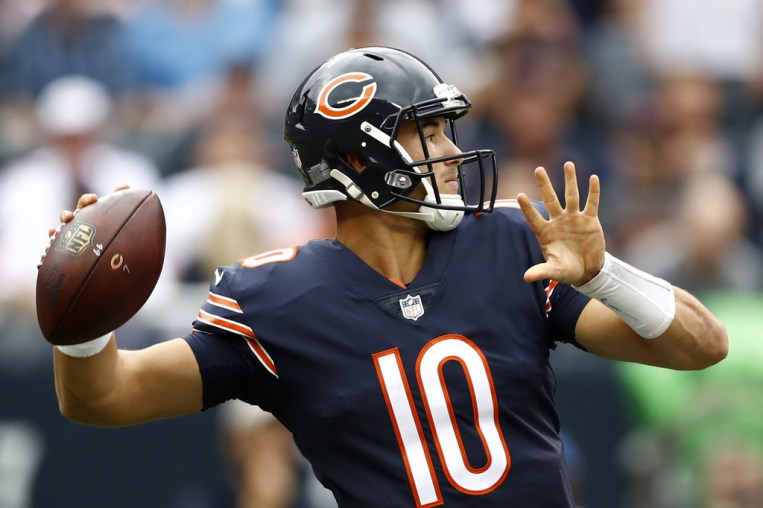 QB Mitch Trubisky, CHI (Wk. 11: vs. Det.): Trubisky had his best game of the season last week, throwing for nearly 300 yards and a TD against one of the worst secondaries in the league, and he was still just the weekly QB14. That doesn't exactly scream "Upside" in a week where he gets to face a tougher secondary, but I think he could be in play as a 2-QB league streaming option. It's kind of a mess at the bottom of the QB rankings these days, and despite the Lions ranking 10th in pass defense DVOA, they've allowed Brett Hundley to finish as the QB13 and DeShone Kizer to finish as the QB6 in the last two weeks. I like Detroit to play from ahead in this one, so the volume should be there for Mitch to flirt with QB2 value.
RB Jamaal Williams, GB (Wk. 11: vs. Bal.): Williams will be a reasonable option this week based on volume alone. Aaron Jones is already ruled out, and it sounds like Ty Montgomery will miss this game as well. In the 4 games Brett Hundley has played, the Packers' running backs are averaging 26 touches per game. The matchup isn't all that imposing, with the Ravens ranking 19th in run defense DVOA and allowing the 16th-most RB fantasy points per game. They're a bit more imposing with nose tackle Brandon Williams back healthy, but as long as Green Bay stays in this game, Jamaal Williams is a reasonable flex option if you're in need of help this week.
RB Joe Mixon, CIN (Wk. 11: @Den.): I don't really know what to say about Mixon at this point. His offensive line has been bad, and the Bengals haven't been committed to establishing the run. Even with Jeremy Hill on injured reserve, Mixon was limited to just 9 carries in a game where the 2 teams were never separated by more than 8 points. Since the team's bye in week 6, Mixon is averaging 10 carries and 33.5 yards per game. He's managed to salvage his fantasy games with TDs and a long screen pass, but there really isn't much of a ceiling here. This week's matchup is a brutal one for Mixon too. The Broncos currently allow the 11th-fewest RB points per game, but they were first in the league before getting shredded by Philadelphia and New England for 92.8 PPR points in the past 2 weeks. Those teams both have much better offenses than the Bengals. Denver still ranks 1st in run defense DVOA, and will be excited to face an offense that has struggled as much and Cincy's has. Mixon's production keeps him in the RB2/flex discussion, but there is more risk of a dud this week than usual.
WR Corey Davis, TEN (Wk. 11: @Pit.): Davis's game last week nearly included his first career TD, but he fumbled on his way into the end zone. The final fantasy line wasn't exciting, but there is a lot to be excited about going forward. Davis played the same number of snaps as Rishard Matthews, and he was targeted a team-high 10 times. I'd expect him to continue to see a great deal of volume moving forward. The matchup this week isn't a good one on paper, with the Steelers allowing the 4th-fewest WR points per game, but they might struggle a bit with Joe Haden out for the season. If Davis is targeted 8+ times again, he's firmly on the WR3 radar for this week, and the schedule moving forward gets much easier. The Titans draw the Colts, Texans, Cardinals and 49ers from weeks 12-15. If Davis is already owned in your league, and doesn't post a strong game in week 11, it would be a great opportunity to try and deal for him if you have a late trade deadline.
WR Cooper Kupp, LAR (Wk. 11: @Min.): Kupp is overdue for a TD considering Goff has thrown for 7 TDs in the past 2 weeks and Kupp has as many red zone targets as the rest of the team combined for the year, but he's continued to show a floor that won't kill you when he doesn't find the end zone. Granted, 8.4 and 10.7 points aren't totals to get excited about in PPR scoring, but tell that to someone who started Marvin Jones or John Brown last week. His target share continues to give him that stable floor with some TD upside. The Vikings are a decent matchup this week. Robert Woods likely has the best individual matchup against the burnable Trae Waynes, but Minnesota ranks 20th in pass defense DVOA on throws to opposing WR3s (or any other non-WR1 or 2s). Kupp is a flex/WR3 option as usual.
Rookies to Sit:
QB DeShone Kizer, CLE (Wk. 11: vs. Jax.): Jacksonville has allowed the fewest passing TDs in the league (6) and the 5th-fewest QB rushing yards. Only 3 QBs have managed to even post 10 points against them this season. Kizer is a shaky play in good matchups. This is a terrible one. I'd love to see him build on last week's performance, but it probably isn't happening this week.
RB Samaje Perine, WAS (Wk. 11: @NO): Perine should be the early down back for Washington for the foreseeable future with Rob Kelley hitting IR this week, but we've seen this play out a few times this year, and the results haven't been great. Samaje has handled 10+ touches in 4 games this year, and in those games he's averaged 16 touches and 8.2 PPR points per game. He topped 10 points just once, against the lowly 49ers. The Saints are in the middle of the pack in terms of fantasy points allowed to RBs (allow 14th fewest per game), but during their 7-game win streak they've given up 18.9 points per game to the position. That would rank 3rd-best in the league if it were over the full season. Perine should handle a decent amount of volume, so you could test your luck if you're desperate in a non-PPR league, but I wouldn't.
RB Wayne Gallman, NYG (Wk. 11: vs. KC): In week 10, Gallman basically appeared on the outside looking in for this running back rotation. Shane Vereen led the team in RB snaps and handled most of the passing down work, and Orleans Darkwa handled the early downs. If Gallman is going to be limited to a change of pace role behind Darkwa, there's no reason to start him this week, especially with the Chiefs allowing the 6th-fewest RB points per game.
RB D'Onta Foreman, HOU (Wk. 11: vs. Ari.): Foreman got the start last week and handled the first carry out of the Texans' backfield, but he was out-touched 12-7 and out-gained 74-18 by Lamar Miller. Nothing has changed in the pecking order of this backfield despite Foreman's start last week. There isn't enough work behind Miller to make D'Onta usable in this lackluster offense.
RB Tarik Cohen, CHI (Wk. 11: vs. Det.): The Bears' offensive coordinator referred to Cohen as "our best playmaker" just 4 short weeks ago. Since then his usage has dried up. He has still turned in a couple respectable lines thanks to a few big plays, but it was ugly for Tarik in week 10. The Bears seem to insist on using Benny Cunningham over Cohen when Cohen is healthy. Maybe that changes down the stretch if the Bears continue to lose games, but you can't bank on it. According to the Bears' coaches, he needs to improve his pass protection to increase his playing time in the hurry-up offense. There's always a chance at a long TD for Cohen, but his lack of snaps and touches makes him unusable right now.
WR Kenny Golladay, DET (Wk. 11: @Chi.): Golladay finally returned last weekend, and he made an impact with 64 receiving yards. The issue is that he put up those yards on just 11 offensive snaps. That number may increase going forward, but Golladay will remain a boom-or-bust option that will rely on deep balls. He has just 9 catches on the year in 4 appearances, and has catches of 50, 45, and 24 yards among them. The other 6 catches amount to 47 total yards. 71.5% of his fantasy production has come on his 3 longest catches. The Bears have done a pretty good job of limiting the deep ball, allowing the 5th-fewest 20+ yard completions in the league, and they rank 10th in pass defense DVOA on deep throws. There's always upside with a big-play threat like Kenny G, but I don't like his odds of hitting that upside this week.
WR Dede Westbrook, JAX (Wk. 11: @Cle.): Westbrook is expected to be activated from IR this week, but the Jaguars have expressed concern that he might not be ready to be fully unleashed. They'll need him to play a role with Allen Hurns ruled out, but there is a real chance he's eased in. The Browns will likely still lean on the run game with Fournette, and Marqise Lee is still option number 1 in the passing game. Marcedes Lewis should also factor in with the Browns allowing the 3rd-most TE points per game. There's likely a 3rd player ahead of Dede in the target pecking order as well (see the Sleeper section to find out who). Even if Westbrook is activated, I'd be hesitant to get him into lineups this week.
WR Zay Jones, BUF (Wk. 11: @LAC): There is just too much in flux with the Bills to trust Zay this week. Buffalo has made a QB switch, and will likely lean heavily on the run game. We still haven't seen what Zay's target share will look like with Kelvin Benjamin in the lineup, and Buffalo also has Charles Clay healthy now. I'd probably take a wait-and-see approach before getting Jones into any lineups.
WR Mike Williams, LAC (Wk. 11: vs. Buf.): This isn't a good spot to expect a Mike Williams breakout. The Chargers haven't been utilizing their WRs a ton, and may have Kellen Clemens starting at QB on Sunday. Wide receivers were targeted a total of 14 times last week for the Chargers, and Williams received just 2 of them. If any wideout is going to get going this week for them, it's Keenan Allen. Buffalo ranks #7 in pass defense DVOA on throws to the WR2, and #1 on throws to the WR3 or lower. There is very little upside here this week for Mike Williams.
WR Chris Godwin, TB (Wk. 11: @Mia.): Godwin will be relegated to the bench with the Mike Evans suspension over. It was nice to see him come through with a 5-68 line in his first extended playing time of the year. If anything were to happen to Evans, Godwin would immediately become a WR3 going forward. As long as Evans is healthy though, there's no reason to hold on to him.
TE David Njoku, CLE (Wk. 11: vs. Jax.): The Jaguars have allowed double-digit points to tight ends just once in the past 6 games after allowing 12+ points to them in each of the first 3 weeks. Kizer played his best game of the season last week, and TE has been the best place to attack the Jacksonville secondary, but Njoku's limited volume makes him impossible to trust this week. He'd need a TD to be relevant, and I'd be mildly surprised if Cleveland throws for any scores.
TE Adam Shaheen, CHI (Wk. 11: vs. Det.): Trubisky had to throw for nearly 300 yards to get Shaheen involved, even with Zach Miller and Dion Sims both out, and he was still just the TE21 for the week. I'd expect Sims back since it was an 'illness' and not an injury that kept him out. That should make Shaheen an afterthought again. If Sims sits, Shaheen still isn't worth a start.
Deep League Sleepers, Stashes, and Cheap DFS Options:
QB Nathan Peterman, BUF (Wk. 11: @LAC): If you had asked me a week ago, I'd have guessed Davis Webb would be the next rookie QB to see significant playing time, but the fact that the Giants haven't announced HC Bob McAdoo's job status means he'll likely be coaching to try and save it. That means Eli Manning keeps starting. An interim coach might have been directed to see what the team has in Webb. Instead it's the Bills, who have set Tyrod Taylor up to be benched since the offseason that made a QB switch. The Bills forced Taylor to take a pay cut to stay on the team, then brought in an offensive coordinator whose scheme isn't a great fit for Taylor's skill set. Then they jettisoned ALL of his WRs. Taylor's at his best improvising and making splash plays downfield, but his two best downfield targets, Sammy Watkins and Marquise Goodwin, were sent packing. The final nail in Taylor's coffin was the trade of Marcell Dareus. Prior to the trade, the Bills were playing pretty well and sitting at 5-2, but since the trade their run defense has fallen off a cliff. They've allowed 492 rushing yards and 9 rushing TDs in the last two weeks, both ugly losses, and Taylor is being turned into a scapegoat to make way for Peterman. Peterman is admittedly better suited for the Buffalo offense, but he's not much more than a game manager. I list him here not as a sleeper for this week, but as a stash in deep 2-QB leagues. The matchup with the Chargers isn't a good one, but he has a very favorable schedule that follows. He's worth a flyer in 2-QB formats, especially dynasty leagues.
RB Austin Ekeler, LAC (Wk. 11: vs. Buf.): This is absolutely a point-chasing after Ekeler's RB3 finish in week 10, but as I mentioned above with Peterman, the Bills run defense has been a dumpster fire of late and Ekeler has seen double-digit touches in 2 of his last 3 games. His late fumble last week probably doesn't help his case moving forward, but I expect him to still have a sizable role spelling Melvin Gordon the rest of the way. 10 touches against this Buffalo defense could put him on the RB2 radar, especially in PPR formats. He's risky since it's not impossible that the Chargers could scheme him out of the offense altogether this week, but I like him as a flex option in deeper leagues.
RB Corey Clement, PHI (Wk. 11: @Dal.): If Tyron Smith is out again this week, the Dallas offense is in trouble, and their defense isn't good enough to slow down the Eagles. There is a real chance this game gets out of hand in that scenario. Clement has already proven he can be effective in mop up time, and has handled 23 touches in two blowout wins over the 49ers and Broncos. If he gets the opportunity in this one, the Cowboys rank just 26th in run defense DVOA and 19th in pass defense DVOA on throws to RBs. There is some decent upside for DFS tournaments or if you're desperate in deeper leagues. Just make sure Smith is out before pulling the trigger.
WR Keelan Cole, JAX (Wk. 11: @Cle.): I mentioned above that I don't like Dede Westbrook in his first game back, and a big part of the reason why is Keelan Cole. Jaguars beat reporter Michael DiRocco said that Westbrook won't be a big part of the team's game plan even if he's active, and Hurns has already been ruled out. That leaves Cole as the WR2 with the Jaguars facing the Browns' pass funnel defense. They rank 2nd in the league in run defense DVOA, but just 27th in pass defense DVOA. If the Browns manage to slow Fournette, the Jaguars will have to throw it, and Cole has seen his role increase of late and has shown an ability to make big plays. He's averaging 21.5 yards per catch on the season and has been targeted 16 times in the past 3 games. He's totaled 173 receiving yards in those 3 contests. Cole is worth a shot as a punt option in DFS tournaments or as a flex in deep leagues.
WR Mack Hollins, PHI (Wk. 11: @Dal.): I mention Hollins here because I continue to believe that he eventually overtakes Torrey Smith for a starting spot in Philadelphia. He's caught 9 of 10 targets for the season, and he actually played just 1 fewer snap than Smith in week 9 before the team's bye. Hollins only caught 1 pass in that game, but the Cowboys' secondary is much more burnable than the Broncos'. Hollins isn't anything more than a GPP tournament punt play this week, but he remains an intriguing dynasty stash.
TE OJ Howard, TB (Wk. 11: @Mia.): This week is a great spot for OJ in DFS tournaments. He played his 2nd-highest snap count of the year last week while Cameron Brate played his lowest total. It was also the 2nd week in a row that Howard ran more pass routes than Brate. So far, that hasn't amounted to much fantasy production for Howard, but Brate has only been targeted twice in those 2 weeks. Miami has allowed TDs to the tight end position in 3 of their last 4 games, and gave up 126 receiving yards to the TEs in the game where they kept them out of the end zone. With Howard's increasing snaps and Brate's diminishing role, this could be a spot to roll the dice on OJ.
That's all I've got for this week. Hopefully, it helps you secure a crucial week 11 victory. Keep close tabs on the injury report this week if you have any players who may be affected, and make sure to check back before kickoff to make sure there are no surprise inactives. If you have any questions for me, or just want to yell at me about anything above you can find me on twitter at @Shawn_Foss. As always: Good luck, trust your gut, and have fun. It's just a game.