Welcome back to the Rookie Report! We're one step closer to championship week after an intense slate of action in week 14. Hopefully your team is still alive and kicking. If your game last week wasn't impacted by a rookie, it was one of the few. Week 14 saw 2 rookie QBs finish in the top-12, (Trubisky & Kizer), 4 rookie running backs in the top-15, 3 rookie wide receivers in the top-16, and 3 rookie tight ends in the top-13. There were some guys in these groups that you certainly didn't start: Trubisky, Wayne Gallman, Keelan Cole, and Adam Shaheen probably weren't in many lineups, but Kareem Hunt, Jamaal Williams, Leonard Fournette, Cooper Kupp and Dede Westbrook might be carrying you through for an extra week. There were some rookie letdowns last week as well (McCaffrey) and injuries (Kamara), but hopefully those landmines didn't knock you out. The rookies should continue to have a huge impact on fantasy outcomes again this week, so let's dive in and see what to expect from them in week 15:
Rookies to Start:
RB Alvin Kamara, NO (Wk. 15: vs. NYJ): It's very possible Kamara's early exit in week 14 knocked you out of the playoffs. It was a tough blow to overcome. If you were lucky enough to survive it, and Kamara plays this week, you have to go back to the well again. The Jets have been reasonably stout against running backs this season, allowing the 6th-fewest points per game to the position, but last Sunday against Denver they coughed up the most points they've allowed to RBs since week 5. They also rank a less than daunting 13th in Football Outsiders' run defense DVOA stat, and a miserable 26th in pass defense DVOA on throws to running backs. Game script should also be in the Saints' favor as 15-point home favorites. There's no way you can sit Kamara if he suits up. He's shredded every defense he's been healthy enough to face in the last 6 weeks, and is likely to do so again.
RB Leonard Fournette, JAX (Wk. 15: vs. Hou.): This should be a great spot for a big Fournette game. The Texans are onto their 3rd-string QB TJ Yates, and Jacksonville is an 11-point favorite. We know the kind of volume Fournette has piled up this season. In the 11 games he's played, he's had at least 15 touches in all of them, and he's fallen short of 20 just 3 times. He's also cleared 13.5 fantasy points in 9 of those 11 games. The Texans look like a difficult matchup, allowing the 3rd-fewest RB points per game and ranking 6th in run defense DVOA, but they've shown cracks of late. In the past 3 weeks, they've allowed 126 rush yards per game and 4 rushing TDs to opposing backs, which works out to 27.9 fantasy points per game in that stretch. The Buffalo Bills are the worst in the league with 27.8 allowed per game for the year. The Jaguars should play from ahead in this one and ride Fournette to victory.
RB Christian McCaffrey, CAR (Wk. 15: vs. GB): It was tough sledding for McCaffrey last week in a tough matchup with the Vikings. The matchup gets considerably easier this week, and he should be a week healthier in recovering from a shoulder injury he suffered in week 13. Green Bay has yielded the 8th-most RB points per game, and has been especially vulnerable to receiving backs. They've allowed the 3rd-most running back catches and 6th-most RB receiving yards per game. This is an excellent spot for McCaffrey to bounce back into the RB2 ranks. With the way the Packers have been playing on defense, there is a lot of upside here for DFS lineups as well. Green Bay has allowed 3 top-11 RB finishers in the past 4 weeks. The one week they didn't let someone crack the top-11, they allowed finishes of RB17 & RB21 to a pair of teammates. Get McCaffrey back in there.
RB Kareem Hunt, KC (Wk. 15: vs. LAC): Last week we FINALLY saw Kareem Hunt get back in the end zone and top 100 yards again, but is he really back on track? The performance against the Raiders was certainly promising, but Kareem isn't out of the woods just yet. The Chargers' defense has looked rejuvenated against the run of late. They've held their last 3 opponents to a combined 36.5 fantasy points from the RBs (12.2 per game). There is reason for optimism though for Hunt. The opponents they've faced consisted of a Zeke-less Cowboys' team, Cleveland, and Washington. Hardly a murderer's row of good run offenses, and they still rank just 26th in run defense DVOA. There's still reason to be nervous with Hunt too, but after last week you should still be firing him up. His early season surge probably got you the cushion you needed to make the playoffs. It's time to repay him with a little faith now.
WR JuJu Smith-Schuster, PIT (Wk. 15: vs. NE): I know, this is a big leap to say you should start JuJu this week. He has a total of 8-64-0 in the last 4 weeks (granted, only 2 games he actually played in). This projection is about how the Patriots will try to defend the Steelers. Bill Belichick makes it a point to take away the other team's best player in the passing game and make someone else beat them. For Pittsburgh, that means Antonio Brown. In those same 4 weeks that JuJu put up the above stat line, AB has tallied 39-627-6. There's no guarantee that the Pats will be able to stop him, but I expect them to double-team him to try. I'd also expect Stephon Gilmore, graded as the #21 corner in the league this year by Pro Football Focus, to be matched up on Martavis Bryant. This should open the door for a big week from JuJu. It would be a big step to plug him in for a semifinal game, so I can understand if you don't pull the trigger, but I'm in for this week. Big Ben is averaging over 360 yards and 2.5 TDs in the past 4 weeks. JuJu should be a great DFS option with a reasonable price tag, and should make for a fine WR3 this week.
TE Evan Engram, NYG (Wk. 15: vs. Phi.): Unless you have Travis Kelce, Zach Ertz, or Rob Gronkowski, you probably don't have a safer TE play than Engram. He's put up at least 6 targets all 8 games since Beckham and Marshall were hurt, hauled in 4+ catches in 6 of them, 50+ yards in 5 of them, and scored a TD in 5 of them as well. The Eagles aren't a defense to run away from. They rank just 19th in pass defense DVOA on throws to tight ends, and Eli Manning will continue to feature the rookie.
Borderline Rookies:
QB Deshone Kizer, CLE (Wk. 15: vs. Bal.): Kizer had one of his best games of the season last week against a decimated Packers' defense, and this week gets to face a Ravens' defense that lost top CB Jimmy Smith for the season and then promptly surrendered a 500-yard passing game to Ben Roethlisberger. He's started to show what he can do now that he has some legit weapons. The turnovers will continue to be a problem, but this is another great spot where Kizer could perform as a top-15 QB.
RB Jamaal Williams, GB (Wk. 15: @Car.): There should be no question at this point that Jamaal is the lead back in Green Bay. He's been playing well in every phase of the game while Aaron Jones mostly watches from the sidelines. The Panthers are the toughest matchup Williams has faced yet, but there are reasons for optimism. Aaron Rodgers will return this week, which should give the entire offense a boost, and over the past 3 weeks Jamaal has been the RB2, RB9, and RB3 against defenses that rank 14th, 17th, and 22nd at limiting RB points. The Panthers rank 5th, so the sledding will be tougher, but from what we've seen I think you have to give him the benefit of the doubt. There's risk here, but I see Jamaal as a strong low-end RB2 option.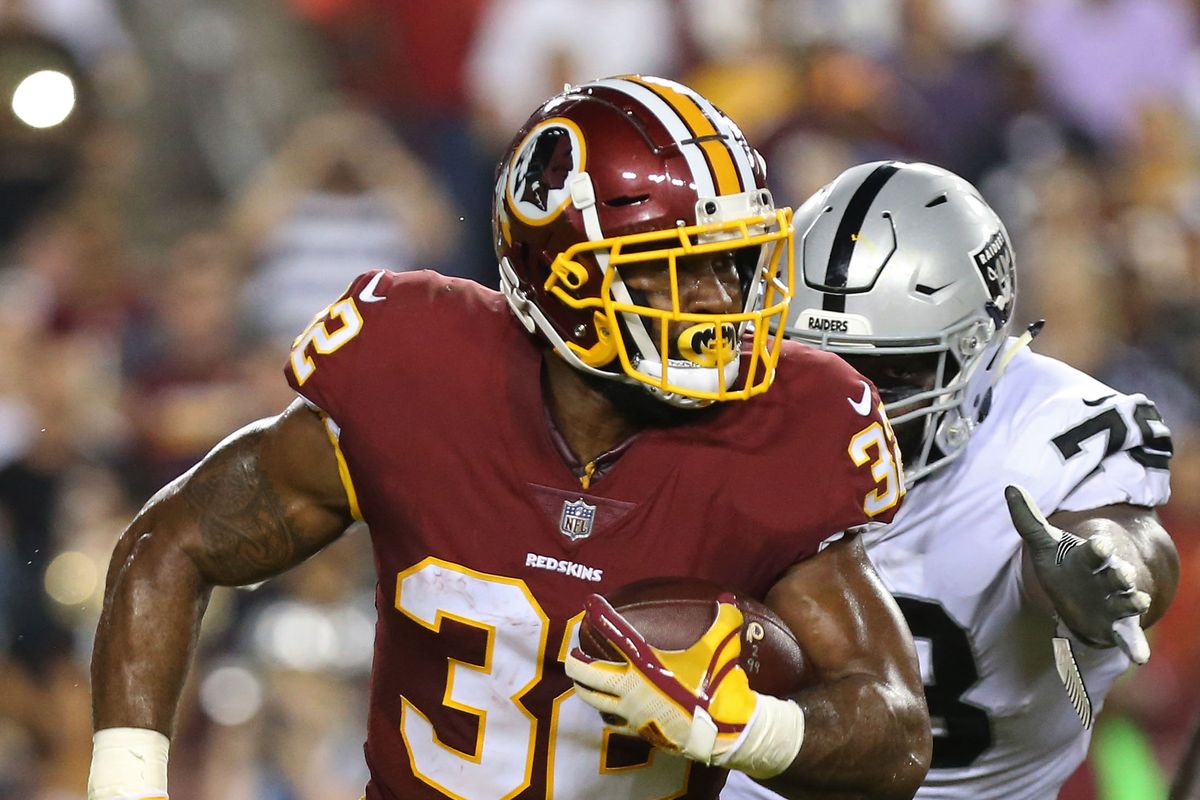 RB Samaje Perine, WAS (Wk. 15: vs. Ari.): Perine seems to have turned back into a pumpkin the past couple weeks with just 83 rushing yards on 29 carries (2.86 ypc) since his back-to-back 100-yard games. The Cardinals allow just the 8th-fewest RB points per game, but the volume will be there for Perine as long Washington doesn't get routed again. The Cardinals have 6 wins on the year, and only one of them was by more than 5 points. Volume alone puts Samaje in play as a flex option. With Byron Marshall on IR now, Perine should see a few passing targets as well, so don't write him off in PPR leagues.
RB Joe Mixon, CIN (Wk. 15: @Min.): I'd probably lean on the side of not playing Mixon this week, but he had been playing at a high level prior to being concussed in the slugfest with Pittsburgh. There is reason for optimism for Mixon since he may not have any competition for backfield touches (Gio Bernard is questionable), but he still has to clear the concussion protocol himself. The matchup this week is a brutal one. The Vikings allow the fewest running back points per game, and are a 10.5-point favorite. If Mixon is able to play, I'd view him as a low-end flex option.
WR Dede Westbrook, JAX (Wk. 15: vs. Hou.): Westbrook has quickly established himself as a major target in the Jacksonville passing attack. After seeing 6 targets in his season debut, he's averaged 9 targets per game and posted 5.7 catches and 67 yards per game in the 3 games since, finally scoring his first TD last weekend. The Texans have allowed the 9th-most WR points per game this year, and have coughed up 37.7 per game since their bye in week 7. Game script may lean towards the run in this one, but Westbrook has a 28.4% target share in the past 3 games, and Bortles has averaged about 28 attempts per game in contests the Jaguars have won by multiple scores. If Dede's target share holds up, 28 attempts would mean about 8 targets against a pretty bad secondary. It's a great opportunity to get Dede in there as a WR3.
WR Cooper Kupp, LAR (Wk. 15: @Sea.): Robert Woods is set to return this week, and that will likely put a damper on Kupp's overall outlook. Kupp has been fantastic with Woods out, averaging 6 catches, 8 targets, and 100 receiving yards per game in the past 3 weeks. With a healthy Robert Woods in the lineup, Kupp has reached 6 catches just once, 8 targets twice, and has topped 70 receiving yards just once. I'd still view Kupp as a WR3 option thanks to what now appears to be a juicy matchup with the Seahawks. Since losing Richard Sherman and Kam Chancellor 3 weeks ago, Seattle has given up 43.1 WR points per game. Kupp's floor has fallen back to that 3-4 catches for 40-50 yards range, but it's not out of the question that his stat line winds up closer to the way he's produced the past 3 weeks.
TE Adam Shaheen, CHI (Wk. 15: @Det.): The Lions have given up 5 tight end scores in the past 4 weeks, and in the past 5 they've allowed 16.2 points per game to the position. Shaheen has emerged as a popular target for Mitch Trubisky, especially in the red zone. Mitch has thrown 3 TDs in the past 4 games, and 2 of them went to Shaheen. He's posted at least 4-40-1 twice in those 4 games, including once against these same Lions in week 11. He's still not playing as many snaps as I would like for a fantasy starter, but the matchup is right if you need a streamer.
Rookies to Sit:
QB Nathan Peterman, BUF (Wk. 15: vs. Mia.): Peterman seems less likely to play this week than Tyrod Taylor, but if he does manage to get the start I'd still steer clear. The Dolphins' defense has been solid over the past 2 weeks, dominating Trevor Siemian and then shutting down Tom Brady for an encore. Those two passers combined for 12.9 fantasy points and 5 interceptions. While I'm not sure I buy into this as being the real Miami defense, I certainly wouldn't count on Nathan Peterman to be the guy to break the trend.
RB Corey Clement, PHI (Wk. 15: @NYG): This would be an intriguing spot to use Clement in DFS tournaments if not for the Carson Wentz injury. Clement seems to have passed up LeGarrette Blount on the depth chart, out-snapping him 27-15 last Sunday, but with Wentz sidelined, the whole offense should take a step back. The Giants are a great matchup, allowing 29.8 fantasy points per game to RBs since their week 8 bye. Clement has topped 6 fantasy points in 5 of the past 7 games, but has only reached double-digits twice. The matchup here is right for him to get garbage time work if the offense doesn't miss a beat without Wentz. If you believe Nick Foles keeps the Eagles humming, there's decent upside here for Clement as a DFS punt play. I for one do not believe in Foles.
RB Austin Ekeler, LAC (Wk. 15: @KC): Ekeler has totaled just 10 touches in the last 2 weeks, both multiple score wins for the Chargers. If he's not seeing more opportunity than that in games the Chargers win comfortably, I'm not sure how you can expect him to play more in a game that's expected to be more competitive. The Chargers are just a 1-point favorite. Ekeler has done more of his damage as a receiver than as a runner (273 yards and 3 TDs as a receiver vs 247 & 2 as a runner), and the Chiefs allow the fewest RB receiving yards in the league. This isn't the best spot to use Ekeler as a DFS tournament dart throw.
RB Aaron Jones, GB (Wk. 15: @Car.): The last 2 weeks have made it clear that Jamaal Williams will be the starter in Green Bay going forward. Jones has touched the ball just 5 times in the past 2 weeks compared with 45 times for Williams. This is Jamaal's backfield for now. You can't start Jones in hopes of ineffectiveness or injury for Williams, especially in a tougher matchup. As mentioned with Williams above, the Panthers allow the 5th-fewest RB points per game.
RB Marlon Mack, IND (Wk. 15: vs. Den.): Mack has failed to reach 7 PPR points in any game since week 8, and this week he faces a Broncos' team that allows the 7th-fewest RB points per game and looked rejuvenated last week against the Jets. There's probably a big game coming for Mack at some point, but nothing in his recent usage or the matchup suggests this will be it. With the team playing on a short week after a bruising OT game on Sunday, I'd expect the whole offense to be lackluster.
RB Matt Breida, SF (Wk. 15: vs. Ten.): Breida has seen his role increase in the two games that Jimmy Garoppolo has started, but he's still being considerably out-snapped  and out-produced by Carlos Hyde. Despite seeing 12 carries in each of the past 2 games, Breida has totaled just 8.6 PPR points in those contests. Hyde has nearly triple that amount with just 9 more touches. The Titans allow the 10th-fewest RB points per game, so it would be tough to expect this to be the week that Brieda starts producing.
WR Corey Davis, TEN (Wk. 15: @SF): Davis gets a golden opportunity this week against a bad 49ers' defense, but nothing we've seen from Davis in the past few weeks suggests he'll take advantage of it. The Titans have leaned heavily on the run of late. Marcus Mariota has averaged just 26 pass attempts and 16 completions per game in the past 3 weeks, and Davis has just 9 catches on 14 targets in that span, with a troubling 8.9 yards per catch. Running backs Alvin Kamara, Gio Bernard, and Austin Ekeler all average more yards per catch on the year than Davis. You could take a shot at Davis in DFS tournaments, but you'd probably be wasting your money at this point.
WR Kenny Golladay, DET (Wk. 15: vs. Chi.): Golladay finally caught more than 2 passes last weekend, but he also put up just 17 yards on his 3 catches. He'd put up at least 44 in each of the previous 4 contests on exactly 2 receptions. He remains too much of a feast or famine kind of player to trust, even in DFS formats. The Bears are just a middle of the pack defense against WRs and Golladay put up 2-52 against them in Chicago, but he hasn't shown a much higher ceiling than that since week 1.
WR Keelan Cole, JAX (Wk. 15: vs. Hou.): Cole has managed to produce back-to-back quality games the last 2 weeks and gets a pretty good matchup this week, but I would stay away. The target share has been bad and the game script should allow the Jaguars to run the ball a bunch. Cole has posted 3 catches and a score in each of the past two games, but he's was targeted just 6 times total in those contests. Compare that to 17 for Dede Westbrook and 16 for Marqise Lee. Even with the Texans allowing the 9th-most WR points per game, I don't like Cole's chances of continuing to produce usable stat lines with such a small portion of the targets.
WR Trent Taylor, SF (Wk. 15: vs. Ten.): After a sparkling performance in Jimmy Garoppolo's first start, Taylor showed his floor in the 2nd one, putting up just 2 catches on 3 targets for 11 yards. I'd expect him to be more involved this week, but the Titans have been tough on slot receivers. The only WRs who play predominately in the slot to reach 50 receiving yards against Tennessee were Doug Baldwin back in week 3 and Jeremy Maclin in week 9. They also haven't allowed a TD to a slot WR since week 5. Taylor hasn't put enough good weeks together this year to warrant the benefit of the doubt.
WR Chris Godwin, TB (Wk. 15: vs. Atl.): Godwin surprisingly played the 2nd-most snaps of any Tampa WR last week and finished with a decent 5-68 line. It was the 4th time in the past 5 games that he's tallied multiple catches. While he's certainly trending in the right direction, I don't think he's supplanted DeSean Jackson  or Adam Humphries just yet. I'd view last week as more of a blip than something that will become the norm going forward. If he's available in your dynasty leagues, he's probably worth a stash though.
WR Zay Jones, BUF (Wk. 15: vs. Mia.): The QB situation is still in flux with both Nathan Peterman and Tyrod Taylor questionable for this game, and the matchup isn't great. The Dolphins allow the 6th-fewest WR points per game. Zay has also fallen well off the fantasy radar lately with just 5-55-1 in his last 3 games combined. Last week's goose egg is understandable given the weather, but the production just hasn't been there for Zay to be relied on.
WR Josh Reynolds, LAR (Wk. 15: @Sea.): It looks like Robert Woods is on track to play this week, which would push Reynolds back to the bench. Even if Woods remains sidelined, J-Rey has 4 catches for 23 yards in the past 2 weeks in matchups more favorable than this one. It's best to avoid him here.
WR Tommylee Lewis, NO (Wk. 15: vs. NYJ): Lewis has some intriguing potential in dynasty leagues that give points for return yardage, but don't be drawn in by the TD he scored last week. At 5'7" it'll be an uphill battle for him to become fantasy relevant at any point without the added bonus for return yards or use as more of a gadget player.
TE OJ Howard, TB (Wk. 15: vs. Atl.): It appears that Howard has fully overtaken Cam Brate for the lead TE job in Tampa after out-snapping Brate 56-25 in week 14. I'd expect those numbers to be a little closer together this week. The Bucs were down all day against Detroit, and were throwing often. They are underdogs against Atlanta, but I expect them to stay in this game at home and keep game script fairly neutral. The Falcons have been reasonable against TEs, allowing the 12th-fewest points per game to them. Howard himself tallied 3-52 on 4 targets the last time around. I think something like that is what I would expect in this one. You can chase the TD, but Atlanta has given up just 3 of them to TEs so far this year. There are other streamers I like more than Howard this week.
TE George Kittle, SF (Wk. 15: vs. Ten.): This should be fairly obvious at this point. Kittle still hasn't topped 30 receiving yards since week 6. The Titans have struggled to defend tight ends lately, giving up an average of 6 catches and 81 yards to the position in the past 3 weeks, but if any 49er TE will take advantage it's likely to be Garrett Celek.
Deep League Sleepers, Stashes, and Cheap DFS Options:
QB Mitch Trubisky, CHI (Wk. 15: @Det.): The Bears have finally started to let Trubisky throw the ball a bit, and they've had some reasonable results. The Lions' defense has been good at forcing turnovers for much of the year, but they've also been pretty good at letting lower-end QBs post strong fantasy games against them. They allowed Deshone Kizer to finish as the QB6 without Corey Coleman or Josh Gordon. They let Brett Hundley finish as the QB13; they let Case Keenum finish as the QB3, and they let Joe Flacco finish as the QB7. All of those performances have come in the past 6 weeks. There's considerable downside here as Fox may suddenly decide to lean on Jordan Howard and the ground game again. If he doesn't, Trubisky is an interesting streaming option in 2-QB leagues and costs just $4,600 on DraftKings.
RB Tarik Cohen, CHI (Wk. 15: @Det.): We've now seen Tarik Cohen play more than 40% of the team's offensive snaps in 3 of the last 4 games, reaching 49% twice. He's scored at least 10 fantasy points in all 3 of the games where he topped 40%, including 15.9 against these Lions in Chicago week 11. Detroit has been bleeding points to running backs since losing Haloti Ngata for the year in week 5. Since then, Detroit has allowed 27.8 RB points per game with at least one rushing score in each contest (11 rushing TDs in 8 games total). They've also allowed at least 100 yards rushing in each of the last 5 games. There's always a chance that the Bears make like Lucy and pull away the football on us, but the recent usage and matchup put Cohen in play as an upside flex in deeper leagues. He's a great dart throw in DFS lineups with just a $3,700 price tag in DraftKings.
RB Wayne Gallman, NYG (Wk. 15: vs. Phi.): You could make a case for Gallman as a DFS punt play, and possibly even a sneaky PPR flex for deeper leagues. There is no guarantee that his usage carries over to this week, but Orleans Darkwa fumbled early in the game, and it was mostly Gallman the rest of the way last Sunday. Wayne totaled 99 yards on 19 touches, including 7 receptions. There is a chance that the Giants go back to Darkwa more this week, and even if they don't, Gallman gets to face a defense that has allowed the 2nd-fewest RB points per game thus far. It's not a great matchup, but the Eagles have allowed 71 receptions to opposing RBs. With McAdoo gone, the new coach may want to see what they have in Gallman. At the very least, he's earned a bigger share of the work going forward.
TE Ricky Seals-Jones, ARI (Wk. 15: @Was.): The snap count just isn't high enough to list Seals-Jones as a 'borderline' option this week. It seemed like his role had been growing, but he played just 18 offensive snaps on his way to a 1-20 line on Sunday. He did still see 3 targets, but his PPR upside isn't great. He needs a score to really return value. Luckily this week he gets to face Washington, who has given up a tight end score in 8 of their 13 games. RSJ has 3 TDs in the last 4. This is as good a spot as any to take a shot on him in DFS tournaments. Washington has allowed the 3rd-most TE points per game on the year.
TE David Njoku, CLE (Wk. 15: vs. Bal.): The Ravens have allowed 70+ receiving yards to opposing TEs in 3 of their past 5 games and they rank 31st in pass defense DVOA on throws to opposing TEs. Njoku was a big letdown last week with just 1 catch for 3 yards to follow his breakout 4-74-1 game from the week before. I think the improved matchup will help. Despite the lack of production last week, Njoku was still on the field for 34 offensive snaps. That's a promising sign with a plus matchup coming up. He's in play as a cheap DFS option.
That's all I've got for this week. Hopefully it helps you get through to the fantasy finals. Keep a close eye on the weather and injury reports for this weekend. Things look clear right now for most games, but situations like that Buffalo-Indy game can have huge fantasy implications. There are plenty of things still up in the air this week, so keep your finger on the pulse of the news that comes out. Remember, there are 2 Saturday games this week, so make sure your lineup is set in time and you don't give away points because you weren't aware. If you have any specific questions or want to yell at me about anything written above, feel free to hit me up on twitter (@Shawn_Foss). As always: Good luck, trust your gut, and have fun. It's just a game.