Welcome back to the Rookie Report! We've finally made it. It's championship week! All of the weeks of agonizing over lineup decisions and waiver wire pickups have come down to this. The key to this week is avoiding landmines. In most of the tough decisions you have this week, the rule of thumb should be to play the guy whose volume you feel the most confident in. You don't want to get stuck with LeGarrette Blount getting 6 touches, or Sammy Watkins getting 4 targets. This week it's all about trust. I'll still list a few players who are mostly worth DFS consideration, but I'll try to be as definitive as possible with my opinions on most of the rookies for this week. Remember, players that are under the same header and at the same position are listed in the order I like them for this week. Let's dive in and look at what to expect in week 16…
Rookies to Start:
RB Alvin Kamara, NO (Wk. 16: vs. Atl.): While Kamara wasn't quite as studly in his return from a concussion last week as he had been the 5 weeks prior to sustaining the injury, he still topped 20 PPR points and finished as the RB10 for the week. The Falcons seem like a tougher matchup on paper, allowing the 12th-fewest RB points per game this season, but they've been vulnerable to receiving backs all year. No team has allowed more than the 91 RB receptions that Atlanta has given up, and only 4 teams have given up more receiving TDs to running backs. Kamara is averaging over 28 PPR points per game in his last 6 healthy games with at least 20 in each. You have to play him this week if you've got him, and his high-end DFS price might actually be worth it to have him in your lineup. He should be a cash game staple this week.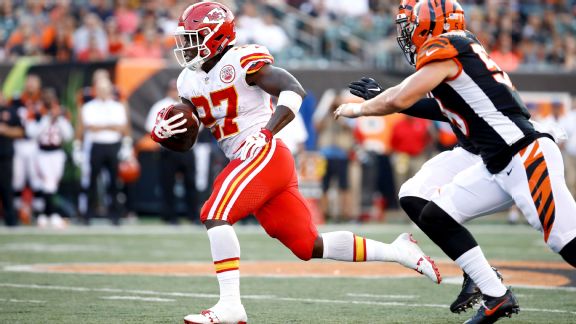 RB Kareem Hunt, KC (Wk. 16: vs. Mia.): Good Kareem Hunt has finally returned! Hopefully it was in time to keep your season alive. As I said last week, you have to play him if you've got him. The upside is tremendous. Miami is a great matchup for Hunt this week. They've given up the 3rd-most RB points in the league, and game script should be heavily in Hunt's favor with the Chiefs a 10-point home favorite. In the past 2 weeks, both comfortable wins where the Chiefs played mostly from ahead, Hunt handled 29.5 touches per game. Strong volume should be there again this week, and Hunt should be right there with Alvin Kamara as the premier running back plays of the week.
RB Leonard Fournette, JAX (Wk. 16: @SF): It was a surprise that Fournette missed last week's game, but he should be ready to go this week. A win this week would clinch the division for Jacksonville, so don't look for them to rest any starters or limit their snaps just because they clinched a playoff spot. When healthy, Fournette's volume is consistent enough that you could set your watch by it. He's handled at least 15 touches in every game he's been healthy and 20+ in 8 out of those 11 games. The 49ers have been much improved against running backs since Reuben Foster got fully healthy in week 9. In the first 8 weeks, the 49ers were coughing up 31.7 RB points per game, and at least 23 points in 7 of them. In the 5 games since, no opponent has reached 23 RB points and they've allowed an average of just 16.5 per game. Despite that improved play by the 49ers D, Fournette's volume should carry him to a low-end RB1 day. I'd prefer Kamara or Hunt for DFS purposes, but Fournette should be in your championship week lineups in season-long leagues.
RB Christian McCaffrey, CAR (Wk. 16: vs. TB): McCaffrey returned to the RB1 ranks last week with his 3rd 60+ yard rushing day and his 7th touchdown of the season. This week he gets to square off with a Tampa Bay defense that has allowed the 7th-most RB points per game and ranks 21st in Football Outsiders' run defense DVOA stat. It should be another great opportunity for CMC to finish as a top-15 running back. He's shown an incredibly stable floor with at least 8.3 PPR points and 4 targets in every game this year. He's a reliably safe RB2 option this week in a plus matchup.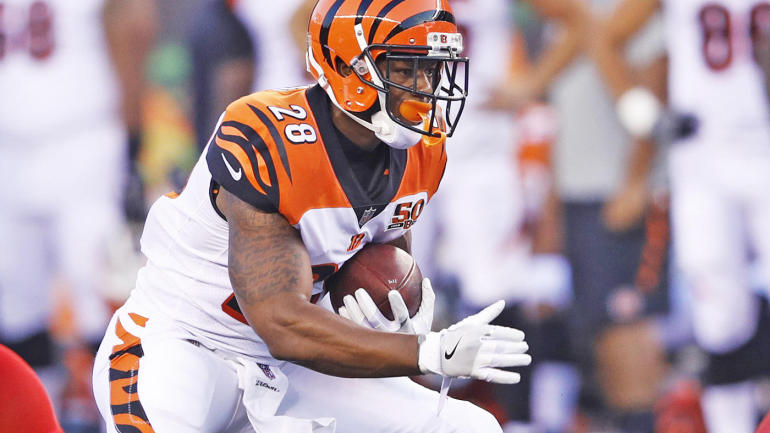 RB Joe Mixon, CIN (Wk. 16: vs. Det.): It's still not a done deal that Mixon returns this week, but if he does, he comes back to an ideal matchup. The Lions have allowed the 3rd-most RB points per game for the season, but since Haloti Ngata went on IR they've been coughing up 28 points per game to the position, and a large chunk of that has come on the ground. Detroit is giving up 109 rushing yards per game and has surrendered 11 rushing scores in the 9 games Ngata has missed. They've also allowed the 7th-most RB catches and 11th-most RB receiving yards for the season. The Lions are bad in every aspect of defending the opposing backs. If Mixon is a full go, he should be slated as an RB2 this week.
WR JuJu Smith-Schuster, PIT (Wk. 16: @Hou.): This week could be as good an opportunity as JuJu has had all year to shine. The Steelers will be without leading receiver Antonio Brown and his absurd 11.6 targets per game (12.2 if you don't include his shortened outing against the Pats). That volume has to go somewhere. There is a chance the Steelers will lean more on Le'Veon Bell and the run game to make up the difference, but the Texans rank 6th in run defense DVOA and might force the issue. Houston ranks 23rd in pass defense DVOA, and has allowed the 5th-most WR points per game. This is a golden opportunity for JuJu, and you should treat him as a WR2 this week. He should pretty much be chalk in DFS lineups, especially at his $5,400 price tag on DraftKings.
TE Evan Engram, NYG (Wk. 16: @Ari.): The Cardinals have been fairly stingy to opposing tight ends of late, allowing just 17-155-1 total to the position in their past 5 games (7.3 PPR points per game), but the Giants entire passing game revolves around Engram and Sterling Shepard, and there is a good chance Shepard is going to be chased around by Patrick Peterson in this one. Engram may not be an ideal choice for DFS lineups in this tougher matchup, but he should remain a top-5 or 6 option for season-long leagues. The Giants have to throw it to someone, and all year long Engram has consistently been that someone.
Borderline Rookies:
QB Mitch Trubisky, CHI (Wk. 16: vs. Cle.): Trubisky has thrown for 585 yards in the last 2 weeks, and the Browns have allowed at least 17 fantasy points to 6 of the last 7 quarterbacks they've faced. There's always a concern that the volume dries up on Mitch if the Bears play from ahead (and they are a 6.5-point home favorite), but the Browns have given up at least 19 fantasy points to all 4 QBs that have attempted fewer than 30 passes against them. That list of QBs includes Jacoby Brissett and Andy Dalton. Mitch is far from a sure thing despite the great matchup, but he is an intriguing streaming option for 2-QB leagues or leagues with 14+ teams.
RB Wayne Gallman, NYG (Wk. 16: @Ari.): With Eli Manning having a shortage of WRs, he's been leaning on the running backs in the passing game over the past couple of weeks, and Gallman has been a primary benefactor. Shane Vereen has still been involved with 9 targets in the past 2 games, but Gallman has seen 16 targets to go along with 20 carries in those 2 contests. He's failed to find the end zone, but he's finished as the RB15 and RB18 in those games. The Cardinals pose a tough test for most running backs, allowing the 9th-fewest points per game to the position, but they've also given up the 10th-most RB receptions and 11th-most RB receiving yards. If Gallman's usage remains the same, he should finish as a low end RB2 or high-end flex again. He's definitely an option who could be available if you are trying to avoid using either Green Bay running back.
WR Cooper Kupp, LAR (Wk. 16: @Ten.): Kupp's numbers took a big hit last week with the return of Robert Woods and the game script getting away from the passing game. The Rams built an insurmountable lead early and didn't need to throw much in the 2nd half, but I don't expect this week's game to be 34-0 by halftime, so Goff should be throwing at least a little more than the 21 times he threw last week. The Titans are vulnerable to WRs. Tennessee has allowed the 9th-most WR points per game, and has been especially vulnerable over the middle, where slot receivers like Kupp do a big chunk of their damage. The Titans rank dead last in the league in pass defense DVOA on throws over the middle. Kupp has a chance to eat them up. He's back in play as a WR3 option this week.
WRs Keelan Cole & Dede Westbrook, JAX (Wk. 16: @SF): I was fully bought in on Westbrook last week, but it was Cole came up big, finishing as the WR1 for the week in a stunning turn of events. If he's not already owned in your dynasty leagues, he should be a priority stash right now with Allen Robinson and Marqise Lee both hitting free agency this offseason. While Westbrook has been getting all of the attention as the snaps and targets headed his way have piled up, it's been Cole who has been the better fantasy player. Cole has scored a TD in each of the past 3 games, and now has put up 18-388-3 on 28 targets (5.6 per game) over the past 5 games while Westbrook has tallied 22-256-1 on 35 targets (7 per game). With Marqise Lee already ruled out for this week, both Cole and Westbrook are intriguing flex options in a decent matchup as the 49ers rank 31st in pass defense DVOA. The fact that Jaydon Mickens caught 2 TDs last week is a little concerning, but I wouldn't expect a repeat performance this week. I'd expect Mickens to be mostly in the slot, and the 49ers rank 4th in pass defense DVOA on throws over the middle, and 30th or worse on throws to both the left side and right side of the field. Cole has shown a higher ceiling, but Westbrook has shown the safer volume.
Rookies to Sit:
QB DeShone Kizer, CLE (Wk. 16: @Chi.): This week should present a legitimate opportunity for the Browns to get their first win of the season, but to get it Kizer will have to manage to limit the turnovers, something he's failed to do all season. He's turned the ball over 7 times in the past 3 weeks and 25 times on the year. Being yo-yo'd in and out of the lineup by coach Hue Jackson has clearly stunted his development and hurt his confidence level. The Bears have the 3rd-fewest interceptions in the league as a defense, but they also allow the 8th-fewest QB fantasy points. Given how poorly Kizer played last week, you'd have to be much braver than I am to trust him in any lineups this week.
RBs Jamaal Williams & Aaron Jones, GB (Wk. 16: vs. Min.): This is a situation best avoided. Green Bay is eliminated from playoff contention, and the Vikings are still alive in the race for the number 1 seed and homefield advantage throughout the playoffs. The motivation in this one could be pretty one-sided. Shutting Aaron Rodgers back down will probably increase Green Bay's rushing volume, but it's hard to be confident that Williams will still see the vast majority of the work, and the Vikings allow the fewest RB points per game in the league. Green Bay will also be without Hundley's favorite passing target, Davante Adams in this one, giving Minnesota one less weapon to worry about defending. If you want to take a shot at one of these guys in a DFS tournament, go ahead. There's a chance that one of them has a nice game. I'd be more inclined to try Aaron Jones than Williams thanks to the discounted price tag, but there is nothing certain about either of these two this week.
RB Samaje Perine, WAS (Wk. 16: vs. Den.): Perine has gone in the tank the past 3 weeks while the Broncos' defense appears to have righted the ship in the past 2 after struggling mightily for a 5-game stretch. Denver has allowed 90 rushing yards total to opposing backs in the past 2 weeks and held the Jets' and Colts' offenses to a combined 13 points in 2 convincing wins. Perine posted back-to-back 100-yard rushing games a month ago, but he's totaled just 120 rushing yards in the 3 games since, finishing as the RB33, RB33, and RB36 in those games. Denver is a tougher matchup than any of the 3 teams he just faced, and he also tweaked his groin in practice on Thursday. If Perine is able to play, he shouldn't find his way into your lineup.
RB Austin Ekeler, LAC (Wk. 16: @NYJ): Ekeler has just 7 touches in the last 2 weeks and managed to lose a fumble on one of those touches, and this week he might not even play. As of Thursday he looks like a true game-time decision, and there is no way to trust him even if he does play. I'd stay away in all formats.
RB Corey Clement, PHI (Wk. 16: vs. Oak.): Clement played just 15% of the offensive snaps last week in Nick Foles' first start for Philly, reversing a trend that had him playing ahead of LeGarrette Blount in week 14. He hasn't seen more than 7 touches in any of the past 5 games, and hasn't reached 7 PPR points in any of the past 4. Oakland's defense isn't anything impressive, but Clement hasn't been receiving the kind of volume you can bet on, even against a bad defense.
RB Elijah McGuire, NYJ (Wk. 16: vs. LAC): If I believed Matt Forte was actually going to miss this game, I would probably have snuck McGuire into the 'Sleeper' section below, but I don't think he will. If the running back role stays a 3 person committee, it'll be too muddled to rely on McGuire. The Chargers have been vulnerable to the run, allowing the 10th-most RB points per game and ranking 29th in run defense DVOA, but McGuire has seen just 19 touches total in the last 4 weeks. He needs an injury ahead of him to see the field enough to be useful.
RB Marlon Mack, IND (Wk. 16: @Bal.): Mack is averaging about 40 yards on 7 touches per game in the past 3 weeks, and this week the Colts' implied point total is around 14 points. You can do better than Mack this week. He's nothing more than a punt option for DFS tournaments, but one who hasn't produced in weeks and costs $1,000 more than the minimum in DraftKings.
WR Kenny Golladay, DET (Wk. 16: @Cin.): Don't fall into the trap of thinking that Golladay's opportunities will increase with TJ Jones now on IR. Over the past 3 weeks Golladay has out-snapped Jones 154-32, and in that time he's posted just 9 catches for 90 yards on 12 targets. The deep balls are fun when they happen for Kenny G, but they've dried up of late, and the Bengals allow the 3rd-fewest WR points per game. There are better places to look for an upside DFS punt play.
WR Corey Davis, TEN (Wk. 16: vs. LAR): In case the pedestrian stat lines Davis has been putting up aren't enough to convince you to bench him this week, the Rams have allowed the 8th-fewest WR points per game so far this year. Davis hasn't reached double-digit fantasy points since week 1. I still believe in Corey long-term, but if you don't you should be able to find a buyer who will still be willing to pay a pretty penny for him this offseason in dynasty leagues. I think a coaching change in Tennessee would help that entire offense a great deal.
WRs Trent Taylor and Kendrick Bourne, SF (Wk. 16: vs. Jax.): As well as Jimmy Garoppolo has been playing, I have a simple rule of thumb here…don't trust fringe fantasy WRs against the Jaguars. They haven't been quite as impenetrable over the past few weeks as they were for most of the year, but they've still only allowed 4 receivers all year to reach 80 receiving yards: Antonio Brown, DeAndre Hopkins, Corey Coleman, and Tyler Lockett. Taylor and Bourne don't belong in that group. If you wanted to buy into one of these guys as a contrarian play, I'd go with Bourne. The Jags have allowed 10 passing TDs in the last 6 weeks, and all of them have traveled over 20 yards. Nine of them went 25+ yards, and 4 of them went 40+ yards. Only Marquise Goodwin averages more yards per catch for San Francisco than Bourne's 16.7. Taylor averages 10.1.
WR Zay Jones, BUF (Wk. 16: @NE): Zay saw just 2 targets last week while playing 70% of the offensive snaps. This has pretty much been a lost season for him, and I wouldn't count on him getting it turned around this week. The Pats have allowed the 2nd-most WR points per game, but Jones has just 25 catches on 70 targets for the season. Steer clear.
TE George Kittle, SF (Wk. 16: vs. Jax.): Kittle had his best showing since week 5 last Sunday, but he finished as just the TE18 for the week, and I wouldn't count on a repeat performance. He was still comfortably out-snapped and out-produced by teammate Garrett Celek, and he goes from facing off with the team allowing the 8th-most TE points per game to the team allowing the 3rd-fewest. There's no reason to test out Kittle in any format this week.
TE David Njoku, CLE (Wk. 16: @Chi.): Njoku has just 1 catch for 3 yards on 5 targets in the last 2 weeks, and the Bears are in the top half of the league at limiting TE points. There's no reason to chase a TD that is unlikely to happen. There are better dart throws out there this week. See below for two specific ones.
Deep League Sleepers, Stashes, and Cheap DFS Options:
RB Tion Green, DET (Wk. 16: @Cin.): Green has seen 10+ carries in 2 of the 3 games he's been active for, and this week Detroit faces a Bengals team that has allowed a league-worst 131.5 rushing yards per game. Theo Riddick was questionable earlier this week, but it looks like he'll be able to play. If Detroit manages to get out in front in this game, they may rest Riddick and give Green extended run. With Riddick playing, Green will be no more than a DFS punt option (a better option in formats that aren't full PPR), but he could have a really nice day if he finds his way to 15+ carries.
RB Tarik Cohen, CHI (Wk. 16: vs. Cle.): Cohen's touches have been up and down of late, but his snap share has been fairly consistent over the past month or so. He's played at least 35% of the offensive snaps in each of the past 5 games, and pushed up near 50% in two of them. This week's matchup plays more into Cohen's strengths than Jordan Howard's. The Browns rank 1st in run defense DVOA and allow a league-low 3.3 yards per carry, but they rank 30th in pass defense DVOA on throws to running backs. Cohen has twice as many catches as Howard on the year. I like Cohen if you are looking for a cheap DFS option at running back this week. He'll cost just $3,700 on DraftKings.
WR Chris Godwin, TB (Wk. 16: @Car.): Godwin could be a DFS tournament winner this week. DeSean Jackson looks unlikely to play Sunday (he's not practicing as of Thursday), and Godwin costs the minimum on DraftKings. He posted a 5-68 line the last time a Tampa starting WR was out, and he's played over 50% of the offensive snaps in each of the past 2 games. Tampa has also started to throw the ball with a little more success, putting up at least 270 passing yards & 2 TDs through the air in each of the last 3 games. The Panthers have allowed the 7th-most WR points per game for the season, and over the past 6 games they've been especially bad, coughing up 44.4 points per game to the position. The Bucs are the worst team in the league at defending WRs, and they allow 40.7 per game. Godwin also may benefit from OJ Howard being on IR, as the Bucs could use another big, physical playmaker in his place. If Jackson is out, Godwin has serious upside this week.
WR Mike Williams, LAC (Wk. 16: @NYJ): I mention Williams here solely as a stash option for dynasty leagues. If by some chance he's landed on your waiver wire as he's scuffled along to just 10 catches for 87 yards on 19 targets, you should be scooping him up before we hit the offseason and rosters lock. Tyrell Williams will be a restricted free agent this offseason, so there may be some targets that open up  in the Chargers' offense, and top-10 draft pick rookie WRs rarely are available on the wire.
TE Ricky Seals-Jones, ARI (Wk. 16: vs. NYG): If you're looking for a DFS dart throw at TE this week, you're not going to find one much better than Seals-Jones. The Giants have allowed 50+ receiving yards to the tight end position in 11 of their 14 games this year, and have allowed a tight end score in 11 as well. There is a little concern since RSJ's connection seemed to be with Blaine Gabbert who was benched, and his snaps have been limited, but he's clearly shown himself to be the best receiving tight end in the desert. If you're throwing a dart at any Cardinals' TE against the worst TE defense in the league, it should be Seals-jones.
TE Adam Shaheen, CHI (Wk. 16: vs. Cle.): I mentioned under Ricky Seals-Jones that the Giants are the worst TE defense in the league. The Browns are the 2nd-worst. Shaheen was inactive last week with a chest injury, but he was starting to show a nice rapport with Mitch Trubisky prior to that. You'll need to monitor his health situation and make sure he plays this Sunday, but Shaheen is a great DFS dart throw option just like RSJ, and he's $300 cheaper on DraftKings than Seals-Jones.
That's all I've got for this week. Hopefully it helps you parse through your toughest lineup decisions this week. I'll be back next week for a quick look at the rookies for the week 17 slate. Most leagues will be over with by then, but there are a few outliers that continue through the final week of the season, and DFS will of course continue. Keep a close eye on the injury report this week. DeSean Jackson, Allen Hurns, Theo Riddick and Leonard Fournette's health situations could all have a major impact on some of the players included above, so keep an eye on this throughout the week. If you have any specific questions, or want to yell at me about anything above, feel free to hit me up on twitter (@Shawn_Foss). As always: Good luck, trust your gut, and have fun. It's just a game.