Candied bacon can be a bit time intensive and tedious, but it's definitely worth it and destined to become something your friends and family keep asking you to make. (The whole recipe is listed at the bottom.) First of all, you want to start off with some thick-ass bacon. I usually use smaller slices (about 1oz each), but for these pictures, I had some extra thick stuff, these slices were about 1.7 oz each. This definitely made an excellent end product, but regular butcher's cut thick bacon is sufficient as well.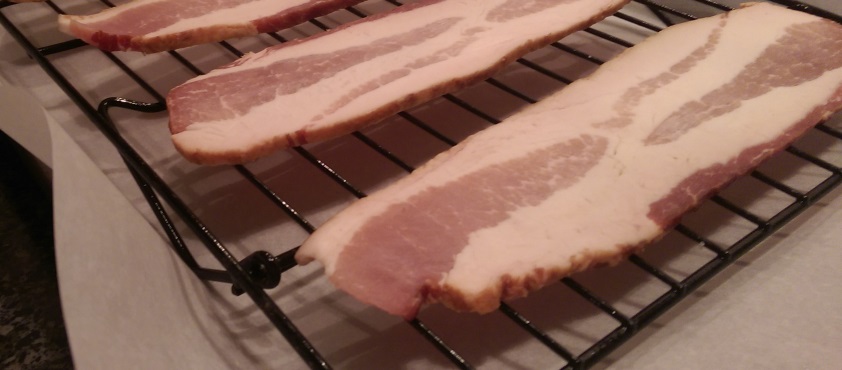 Get a baking sheet, parchment paper and an oven-safe baking rack. Don't be an idiot, spray some Pam on that rack first. Prep the bacon by throwing it in an oven preheated to 350 degrees. Leave it in for 10 minutes, then flip and cook for 5 more minutes. While this is going on, prepare the glaze. You'll need rice vinegar, maple syrup, dark brown sugar and black pepper.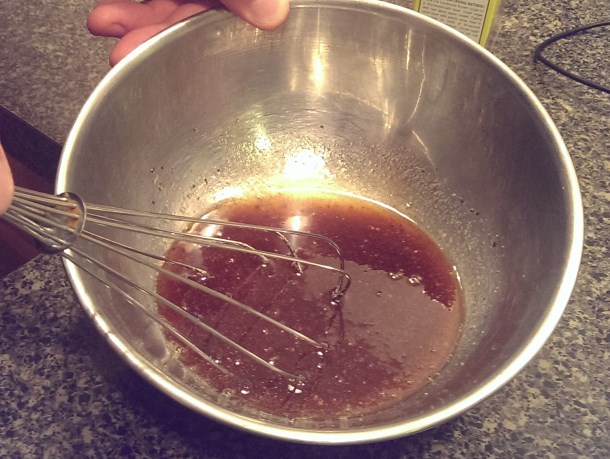 Measurements: 1/4 cup brown sugar, 2 tbsp rice vinegar, 4 tbsp syrup, black pepper to taste. It's hard to get the black pepper to stick on the bacon, so if you like black pepper, use a whole lot of it in the glaze. I like to use a lot of black pepper, it gives a good contrast to the sweetness. Once you've got the bacon prepped (cooked for about 15 minutes), brush both sides with the glaze, and put it back in the oven for 6 minutes.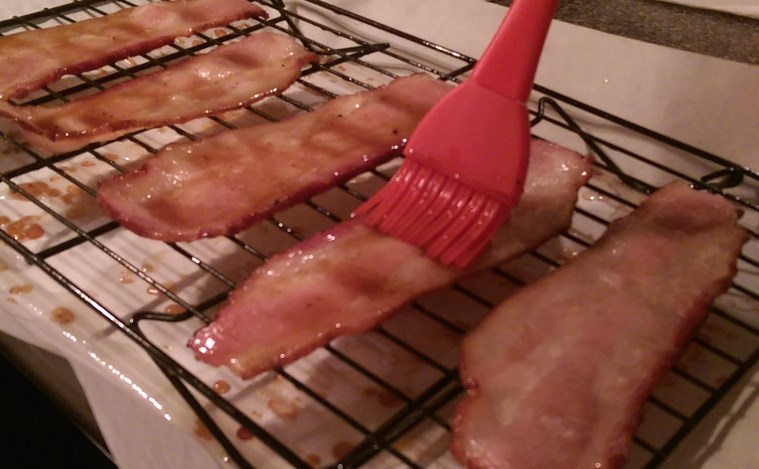 You'll need to flip the bacon every six minutes and spread more glaze on the top side of the bacon. You want to repeat this every 6 minutes until you're out of glaze. It will start to shrivel up and the bottom of the pan will fill with sugar and grease, so make sure to use parchment paper - otherwise you'll never get the pan cleaned.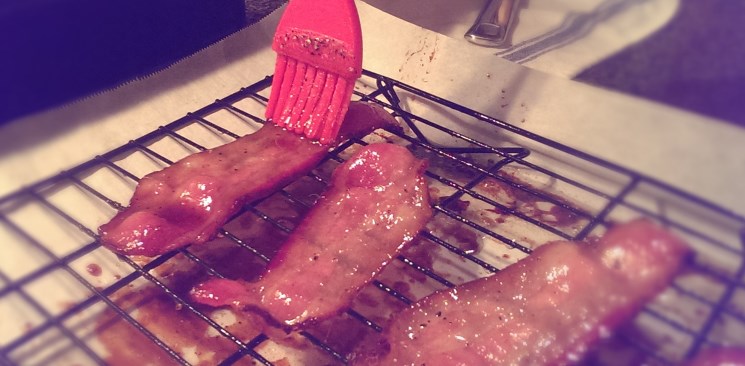 Once you're out of glaze, leave the bacon in the oven until it's finished. This will take 15-20 minutes. Keep an eye out, because it will burn quickly when finished, but you need to make sure it gets crispy first. Resist the temptation to turn the oven up, as the sugar will burn at temps above 350 degrees.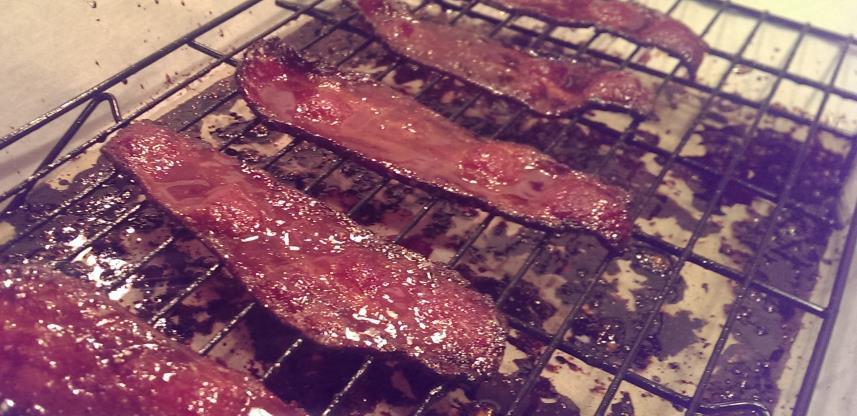 When it's done, the bacon will be a dark leathery color (though quite shiny). The sugar on the pan is burnt, but the bacon only has a tiny bit of burning on the ends. Trust me, these burnt ends are fucking delicious. Move it away from the heat and let it cool down. Make sure to pull it loose from the grate once everything starts to set. If you wait too long, it will stick very badly and you will have torn up pieces of bacon instead of nice sexy strips.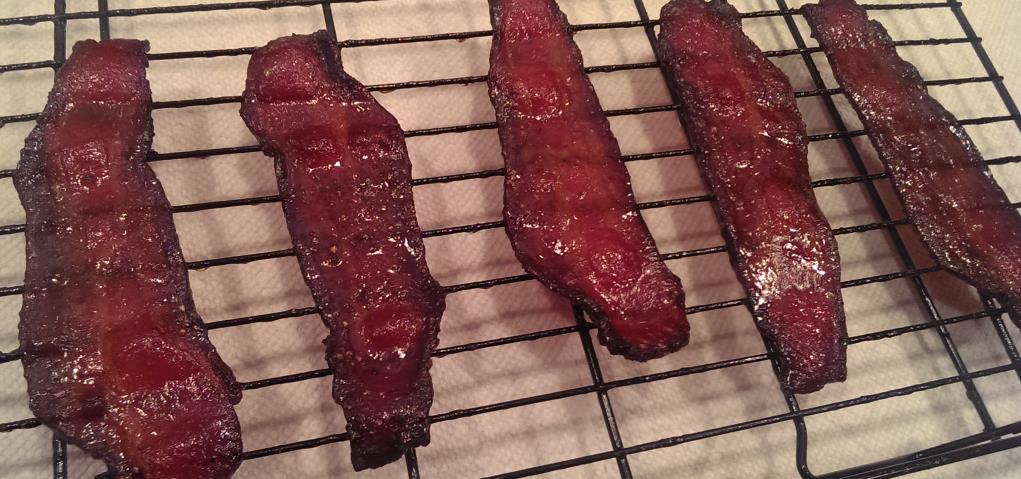 Have fun making this, you're probably going to find yourself doing it more than once. Here's the whole recipe laid out:
8-10 oz of bacon (regular thick bacon is about 1oz per slice, the bacon in the pictures was 1.7oz each before cooking)
1/4 cup - dark brown sugar
2 tbsp - rice vinegar
4 tbsp - maple syrup (use the real stuff!)
black pepper to taste (as in, if you have taste, you'll use lots of it)
Preheat oven to 350. Prep the bacon for glazing - cook it for about 15 minutes, then pull it out and glaze both sides of it. Cook the bacon for 6 minutes, flip it and glaze the top. Repeat until the glaze is gone, then cook for 15-20 minutes to crisp up the bacon. Let it cool completely before devouring entirely.
(Listen to the Retrospectical Podcast Episode 06 all about bacon, including an interview with Baconfest Chicago co-founder, Seth Zurer)